Maybe you're dreaming of moving to South Carolina and want to know how much it costs to live there. Or maybe you're already living there and just want to know if you're getting a good deal. Those are great questions!
To help you learn the true cost of living in South Carolina, we've studied how much people there pay for things like groceries, health care and more. Plus, we'll see how those costs compare to the rest of the country.
Ready to see for yourself? Let's do this!
What's the Average Cost of Living in South Carolina?
The average cost of living in South Carolina is 6% lower than in the average U.S. city.1 So living in South Carolina is cheaper than some states (like California) and more expensive than others (like Tennessee).
Of course, that cost of living varies depending on where you go in the state—anywhere from 10% below the national average in Greenville to right at average in Charleston.2
To learn about South Carolina's cost of living, we looked at a cost of living index that compares hundreds of cities around the country. On the index, the number 100 represents the national average cost of living. Anything below 100 means South Carolina is cheaper than average in that category. Anything above 100 means South Carolina is more expensive. Make sense?
Let's take a look:
| | | |
| --- | --- | --- |
| Cost of Living Category | South Carolina | U.S. |
| Housing | 78 | 100 |
| Utilities | 109 | 100 |
| Groceries | 100 | 100 |
| Transportation | 97 | 100 |
| Health Care | 96 | 100 |
| Miscellaneous | 100 | 100 |
| Total | 94 | 1003 |
So what do all those numbers mean? Let's dig into each category and find out.
Housing
In 2021, the average home price in South Carolina was 22% below the national average.4 That's just wild! Of course, housing prices have changed a ton in the past couple years, so let's see what's happening more recently.
In March 2022, the median home price in South Carolina was $330,708.5 That's still well below the national median of $404,950.6 Rent isn't too expensive, either. Monthly rent for a two-bedroom apartment was $1,165—nearly $140 less than the national median of $1,306.7
Of course, housing costs vary a ton depending on which city you live in. Check out the cost differences between these South Carolina cities:
| | | |
| --- | --- | --- |
| Metro Area* | Median Home Price | Median Monthly Rent** |
| Charleston | $576,750 | $1,514 |
| Columbia | $303,900 | $1,284 |
| Greenville | $335,480 | $1,113 |
| Spartanburg | $299,000 | $1,0459 |
| Sumter | $250,7458 | $858***10 |
*Metro Areas include the city and surrounding urban and suburban areas.**Median Monthly Rents refer to two-bedroom apartments.
***This number comes from 2016–2020 census data, so it's not as up-to-date as other rent prices in our list. Rent prices in Sumter have likely gone up since 2020.
Okay, you get it. Homes are pretty affordable in South Carolina (well, minus Charleston). But that doesn't mean you should rush out and grab just any mortgage—or lease, for that matter. Let's talk about the best way to pay for your dream home in South Carolina.
How to Handle Housing Costs in South Carolina
Whether you're buying or renting, you can still approach housing costs the same way. Here's what you do:
Set a housing budget. Our rule of thumb is to spend 25% or less of your take-home pay on housing. For mortgages, that includes property taxes, all types of insurance, and homeowners association (HOA) fees.
Search for places within your budget. Look, you may have your heart set on a particular neighborhood, but you don't have to live there. If it's too expensive, keep looking until you find a place you can truly afford—without becoming house poor.
Choose the right mortgage. Okay, if you're renting, this doesn't apply to you. But for home buyers, a 15-year fixed-rate conventional mortgage is the cheapest possible mortgage—and the fastest way to own your South Carolina home (unless you pay cash!). Talk to our friends at Churchill Mortgage about finding a mortgage that fits your financial goals.
Save up for a down payment or security deposit. When you're renting, the landlord will tell you how much money you owe up front, so you only have to save that much. With a mortgage, you have some wiggle room. We recommend saving up to put at least 10% down—or 20% so you can avoid wasting money on private mortgage insurance.)
And that's it! Once you complete those steps, you're ready to go find your perfect South Carolina home.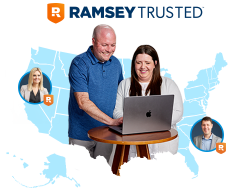 Don't buy or sell without an agent you can trust.
There are RamseyTrusted real estate agents all over the country who are ready to help you win.
Find a Local Agent
Utilities
Utilities like electricity, water and natural gas cost 9% more in South Carolina than the average state.11 But there's a really wide range in how much utilities cost around the state.

Find expert agents to help you buy your home.
On the far west side of the state in Anderson, utilities typically run 8% below the national average.12 So you'd be looking at a monthly energy bill of around $147.13 But that jumps to $259 a month in Columbia—where utilities cost a whopping 30% above average.14
Generally, you'll find that utilities in South Carolina are most expensive on the coast and in the state capital (Columbia). They're cheapest on the west side of the state, near Georgia and the Appalachian Mountains.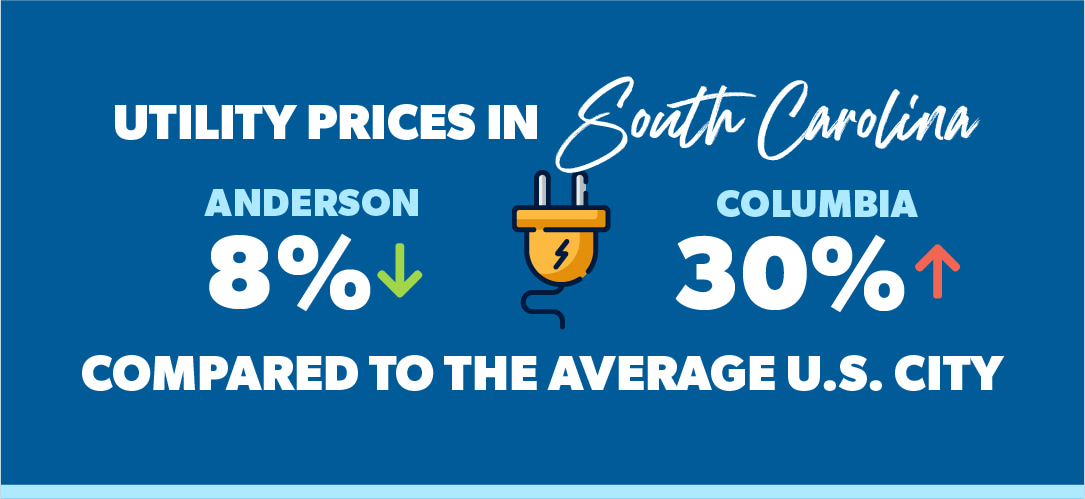 Groceries
In South Carolina, you can do your grocery shopping at Publix, Trader Joe's or Piggly Wiggly (which is just fun to say). When you get to the checkout lane, you'll pay prices that are right on par with the national average.15
Plot twist: Even though living in coastal cities often costs more than living inland, South Carolina's cheapest groceries are actually in the beach city of Charleston. You can expect to pay about 6% less than average there.16
Oh, and if you find yourself paying too much for groceries because of where you live or how much your family eats, stay calm and learn how to save at the grocery store from our friend Rachel Cruze, the grocery-budgeting queen!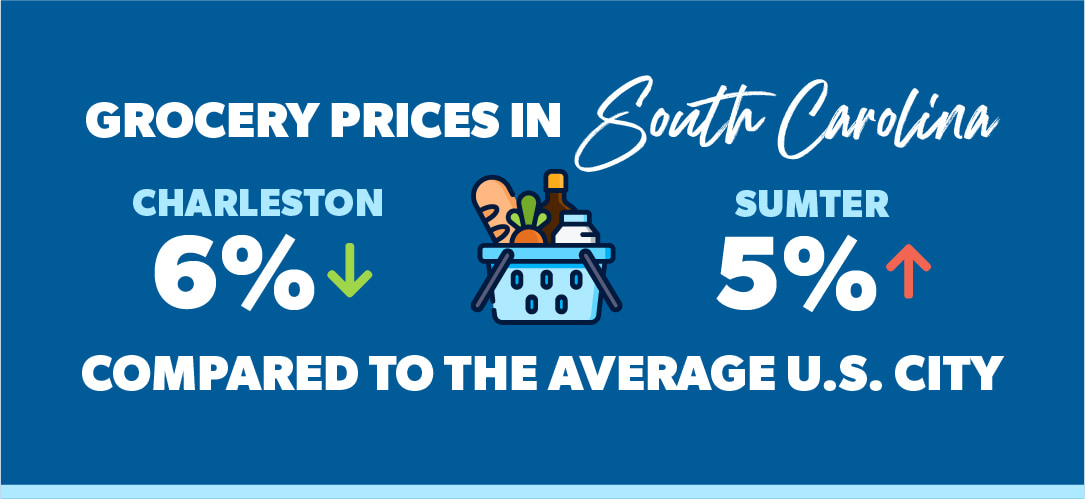 Transportation
Transportation includes things like gas, oil changes and car insurance costs—and in South Carolina, you'll typically pay about 3% less for these things than the average American does.17
That said, transportation costs really vary based on where you are in the state: You'll pay 8% above average in Sumter . . . and an insane 17% less than average in Columbia!18 (Kinda helps make up for Columbia's high utility bills, doesn't it?)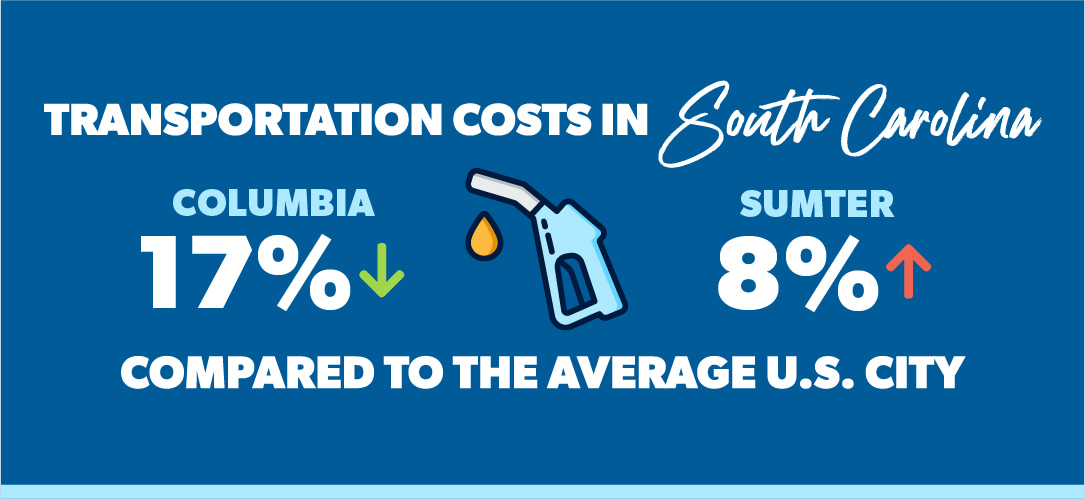 Health Care
South Carolina health care costs range anywhere from 19% lower to 8% higher than the national average.19 On the Cost of Living Index, Columbia is the cheapest city for health care, while Spartanburg is the most expensive.
Greenville charges about the average among South Carolina cities—about 4% below the national average.20 Here's how much common health care services and products cost in Greenville compared to the average U.S. city:
| | | | |
| --- | --- | --- | --- |
| Health Care Type | Greenville Cost | Average U.S. City Cost | Cost Difference |
| General doctor | $102 | $118 | -14% |
| Dentist | $96 | $101 | -5% |
| Eye doctor | $101 | $109 | -7% |
| Ibuprofen | $11.02 | $9.93 | +11% |
| Prescription drug | $493 | $470 | +5%21 |
Miscellaneous Goods and Services
Miscellaneous goods and services are things like your new shoes, your kid's school supplies, your pet's latest trip to the vet—all the things you need and all the extras that make life fun.
South Carolinians pay about the national average for these items, although the cost varies from 4% higher than average in Columbia to 3% lower in Spartanburg.22
Sumter represents the state average. There, you can go to the movies for $9.92, get a haircut for $18.39, and buy a new shirt for $51—compared to $11.01, $20.36 and $30.77 in the average U.S. city.23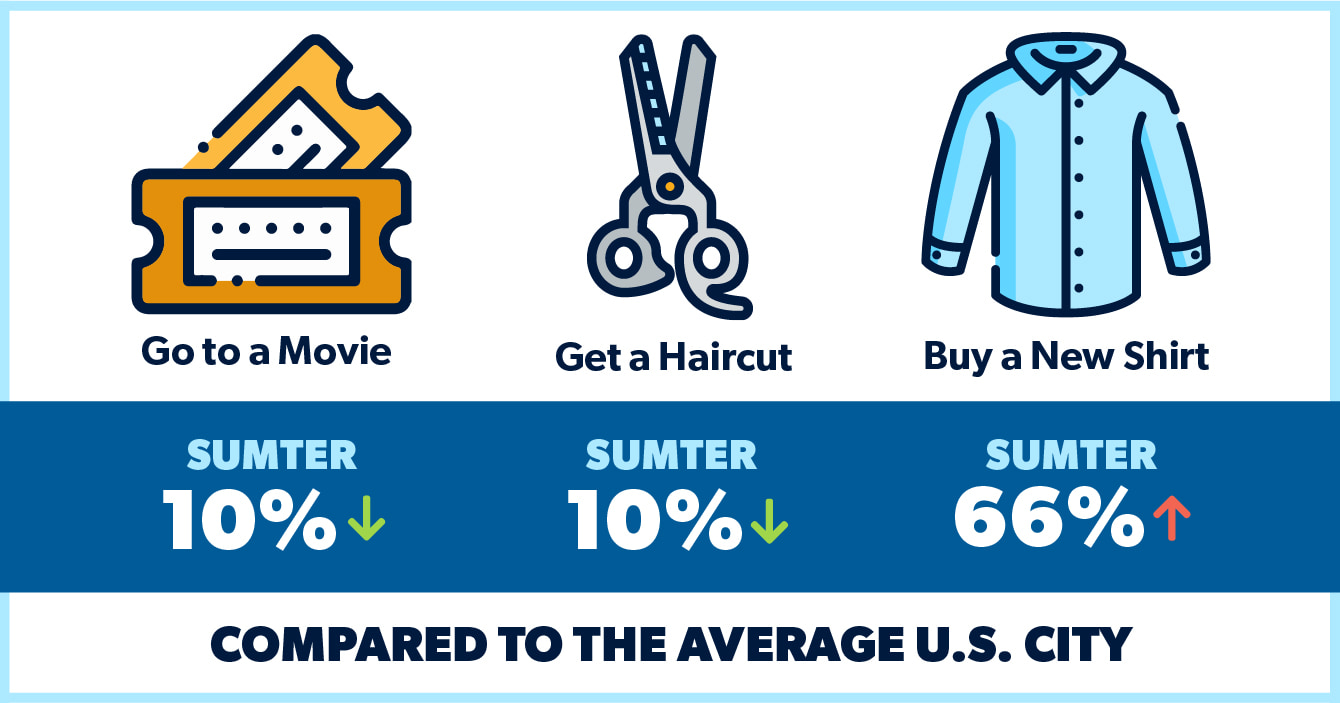 Taxes
Like most states, South Carolina has a graduated-rate income tax—where some residents pay more than others based on their income. In South Carolina, the tax rate runs from 0–7%.24
But while some states require your income to go up a bunch before your taxes go up, South Carolina's "graduation" requirements are a lot lower. Anyone who makes over $16,040 per year pays the 7% tax rate—whether they're single or married.25 That's the 12th-highest maximum income tax rate in the country.26 (Womp womp.)
On top of that, South Carolina's state sales tax is 6%, and local sales taxes run about 1.44% on average.27 South Carolina ranks 18th for highest combined sales tax rate.28 Oh, and here's some good news if you move to Beaufort County: That county just got rid of its 1% transportation tax at the end of 2021.29
If all this tax talk makes your head spin, don't worry. You can find out exactly how moving to South Carolina will impact your taxes by connecting with one of our trusted tax advisors.
Lowest and Highest Cost of Living Cities in South Carolina
If you're thinking of moving to South Carolina, it pays to find out which cities cost the least and most.
Greenville has the lowest cost of living—10% below the average U.S. city.30 Anderson is a close second at 9% below average.31 The highest cost of living in South Carolina is in Charleston. But even then, Charleston residents pay about the national average cost of living.32
If you're looking for a middle ground, you may want to check out Columbia, Spartanburg and Sumter. They tend to run right around the state average at 5–6% below the national cost of living.33
How Much Money Do You Need to Live in South Carolina?
Everyone knows money goes a lot further in places with a low cost of living. But what's a good salary in South Carolina?
The median yearly salary is $54,864—which is $10,130 below the national median.34 But salaries vary by city. Fort Mill and Tega Cay are two of the best places to live in South Carolina and have median salaries over $100,000.35,36 The median salary in Clemson is $46,075 . . . but it's also one of the best cities in South Carolina.37
The truth is, how much money you need to make depends on your situation. Try our free Cost of Living Calculator to get a better idea what's right for you. It'll show you a side-by-side comparison of salaries and common costs of living to help you decide which South Carolina cities you can afford.
If your dream city in South Carolina is too expensive, don't worry. You can still make that dream come true. Try one of these ideas:
And remember, money is more about behavior than math! You can negotiate for a higher salary, find a great-paying remote gig that lets you work wherever you want, and most importantly, follow a proven plan to win with money.
Moving to South Carolina
Alright—you learned about South Carolina's cost of living, you made your budget, you found out which South Carolina cities are safest, and you're ready to move to South Carolina! But you need somewhere to move to.
That's where Endorsed Local Providers (ELPs) come in. These RamseyTrusted real estate agents are on a mission to serve you—even if it means less money in their pockets. And since they're local, you can find a great agent to help you sell your current house and one to help you find the perfect place in South Carolina.
Connect with a RamseyTrusted real estate agent!
Where Did We Get Our Data?
We use the Cost of Living Index published by the Council for Community and Economic Research (C2ER) to get the data for this article and to power our Cost of Living Calculator. Since the cost of living in any area is constantly changing, you can always check our calculator to find the most recent data.
Did you find this article helpful? Share it!