So, you're planning to buy a house—awesome! Maybe you're about to start a new job in a new city, or maybe you're about to become a homeowner for the very first time.
Whatever the reason is you're looking to buy a home, you've probably got one big question: How long is this going to take? Don't sweat it! We'll show you how long it usually takes to buy a house so you can tackle your moving goals with confidence.
How Long Does It Take to Buy a Home From Start to Finish?
On average, it takes about four to five months to buy a house. That range includes the two to three months it takes to find the right house.1 And another one to two months to go from contract to closing.2
Keep in mind, that's just a rough average. There are a ton of variables that go into buying a house that could make things go faster or slower. So, let's break down each home-buying step to get even more detail.
First, though, you should know that it's really important to save up a strong down payment before you launch into the home-buying process. If your down payment is too low, your monthly payments will wind up being too high—that's a recipe for winding up house poor.
First-time home buyers should save enough cash to make a down payment of at least 5–10%. The best option, though, is saving up for a 20% down payment, since putting that much down keeps you from having to pay for private mortgage insurance (PMI). That may take a few years, but it will be worth it in the long run. Big time.
1. Finding a Real Estate Agent
Time: A few days
A whopping 89% of home buyers work with a real estate agent to buy their home—and that's the way it should be.3 Having a great agent on your side is a must when you're buying a house for a ton of reasons. They'll coach you through the entire buying process, help you find a home in your price range, and handle a lot of the paperwork. A good agent is worth every penny, and they'll only take a few days to find.
You could find an agent in your area by making a quick Google search, but don't do that—it's a great way to wind up with someone who doesn't really know what they're doing. Instead, connect with a local agent through our RamseyTrusted program, which matches you with multiple top-notch, experienced agents in your area.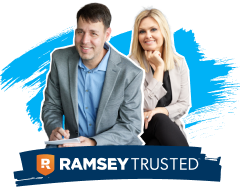 With the right agent, taking on the housing market can be easy.
Buy or sell your home with an agent the Ramsey team trusts.
Connect for Free
2. Searching for a Home
Time: 2–3 months
That's right—shopping for a house is a pretty big time commitment! There's a ton that goes into it.
First, you need to make a list of your must-haves. Chances are, there are a few things a home's got to have before you'll even consider buying it—like a certain number of bedrooms, bathrooms, stories or some yard space. You also may prefer to live near schools, community spaces or shopping centers that fit your lifestyle.
After your agent knows your must-haves, they'll get busy finding homes for you to visit. That means you'll also be busy balancing your schedule with trying to make it to those viewings and open houses.

Find expert agents to help you buy your home.
The housing market also plays a huge role in how long it takes to find a house. When you're up against a ton of buying competition in a market with fewer homes listed for sale, the best homes at the lowest prices get snatched up quick.
With that said, you may have to be extra patient to find a house that fits your budget and lifestyle. Don't give up, and don't go over budget!
3. Making an Offer and Negotiating a Contract
Time: A few days
Once you've found the house for you, make a formal offer through your real estate agent ASAP. This offer is the contract agreement between you and the seller, which they'll either accept, reject or counter.
If they make a counteroffer, you might find yourself going back and forth to negotiate the best deal—that's why this part could take more than a day or so.
4. Scheduling a Home Inspection
Time: A few days to schedule—but only a few hours to inspect
If all goes well and the seller accepts your offer, you should schedule a home inspection. Depending on what the inspection says, the seller might need to make repairs before you can close the deal—which is why you want to get the inspection done as soon as you can.
5. Finalizing Your Mortgage
Time: 1–2 months
After you and the seller settle on a contract, your lender will start finalizing your mortgage. This process includes something similar to a home inspection—the home appraisal.
Again, the appraisal itself will probably only last a few hours, but it may take a few days to schedule one. If the appraiser determines that the home value is drastically different than the selling price, it could set you back to square one on the mortgage process.
While the appraiser is doing his thing, your lender will review all of your financial documents and your state or local policies to write up the terms for your loan.
During this time, your title attorneys will also search and check the title of the home. They'll make sure there are no issues stopping them from transferring your name to the title and deed.
6. Getting Home Insurance
Time: A few days
The next thing you'll need to do is set up home insurance for your new home. This payment is usually rolled into your monthly mortgage payment.
This step may take extra time if your insurance provider has to send a representative to inspect your home to help determine your coverage and policy.
7. Closing on Your House (Woo-Hoo!)
Time: A few hours
The final step is closing day! The only time commitment here is to meet with the pros who have been helping you transfer the house into your name. You'll sign a ton of paperwork, and then the keys are yours!
How Can You Speed Up the House-Buying Process?
Buying a house is going to take some time no matter how you slice it up, but there are some steps you can take to speed things up a little bit.
Here are a few things that could help you accelerate the process of buying a home.
Pay Cash for Your Home
Want to put the home-buying process into overdrive? Pay for it with 100% cash. That's right—no mortgage.
Think about it: If you don't need a mortgage, you won't have to deal with all the time-sucking aspects of nailing one down. No need for an approval process, loan paperwork or anything else like that.
Now, we get that buying a home with 100% cash isn't for everyone, but more people do it than you probably think. These days, around 30% of homes are bought with cash—no mortgage.4 Those folks probably didn't spend nearly as long in the home-buying process as the average Joe!
Get Preapproved for a Mortgage
If you do decide to get a mortgage, getting preapproved before you go house hunting gives you a head start. It shows the seller you've seen a mortgage lender and have confirmed you can afford the house you're looking at.
From contacting a mortgage company to getting the letter, preapproval takes a few days. But the extra time usually pays off later by helping make contract to closing go a lot faster. Our friends at Churchill Mortgage can lend a hand with this step.
By the way, the only type of mortgage you should consider is a 15-year, fixed-rate conventional mortgage—going with a 15-year instead of a 30-year will save you tens of thousands in interest. You should also steer clear of FHA and VA loans because of all the fees involved.
You should also make sure the monthly payment on your mortgage, plus the cost of homeowners insurance and HOA fees, is no more than 25% of your take-home pay (even though a lender may approve you for more than that). That way, you'll have enough money left in your budget to put toward other important financial goals like saving for retirement.
Gather Important Paperwork
If you've been preapproved by a mortgage company, you'll already have all your pay stubs, bank statements and tax returns at hand.
But keep them close and make sure they're as recent as you can get. You'll need them again during the mortgage application process.
Have Your Closing Funds Ready
When you're saving for a house, don't forget to save up for closing costs too! You'll want to keep these funds somewhere you can easily access them. That way, you'll be ready to move that money to the right place when the time comes.
What to Do if Your Plans Are Delayed
If closing day is delayed for any reason, have a backup plan ready. You might need a place to stay in case you have a fixed move-out date from your current home. That's why it's always worth giving yourself a buffer of a few extra days (after your closing date) to allow for delays.
Find an Expert Agent on Your House-Buying Journey
Like we talked about earlier, one of the best ways to stay on track with your timeline when buying a house is to work with a great real estate agent. And you can find one really easily through our RamseyTrusted program.
RamseyTrusted agents are experienced, high-volume pros who know the ins and outs of your local market. We only recommend agents who meet our high standards for excellent service—so you know you're getting someone who will help you get the job done right and on time.
Find a RamseyTrusted agent today!
Frequently Asked Questions
What is the longest part of the home-buying process?

The longest part of the home-buying process is searching for and finding the right home. That takes two to three months on average.

How can you speed up buying a house?

There are several ways you can speed up the home-buying process. Some of the best are getting preapproved for a mortgage, getting a handle on paperwork early in the process, and having your closing costs ready to go in cash.

How much should you save for a house?

First-time home buyers should save enough cash to make a down payment of at least 5–10%. If you can wait a little longer and save up a 20% down payment, that'll be even better since you'll avoid having to pay private mortgage insurance (PMI). Remember: A bigger down payment means smaller monthly payments on your mortgage.
Did you find this article helpful? Share it!