There's no doubt you've seen them on a street corner in your neighborhood. Those signs advertising a home for sale—sometimes accompanied by balloons, streamers, maybe even a wacky waving tube man to get your attention. And very often, you'll see a smiling face on these signs. That's the smiling face of your friendly neighborhood real estate agent.
So, you probably know that real estate agents help people buy and sell their homes. But what do real estate agents actually do? If you're in the market for a new home, how much does working with an agent cost? And does it even make a difference to work with one in the first place?
We'll help you unpack all the ways a real estate agent can help you and what separates the good ones from the greats. Let's get to work!
What Do Real Estate Agents Do?
A real estate agent is a professional, licensed by your state to help people buy and sell property—which includes residential (homes) or commercial (offices, stores, etc.). This license requires them to take classes and pass a test to become certified, which is not as easy as it sounds.
Some agents take it a step further and get specialized knowledge in different types of properties. Lots of them pay for a membership in the National Association of REALTORS®, which is basically just an extra certification. An agent doesn't have to be a REALTOR® to serve you well . . . but it doesn't hurt if they are!
It's true that you don't have to work with a real estate agent to buy or sell a home. But it certainly is a popular thing to do, seeing as almost 90% of people worked with an agent in the last year.1
And with good reason! Real estate agents make buying and selling a home much easier. We'll always recommend you work with one because a top-notch agent will help you get the best deal.
What Do Real Estate Agents Help With?
A real estate agent's job is to guide you through the entire home-buying or home-selling process. When an agent is on their game, they care about their craft and they care about you, the client. They'll work to find homes near the schools and neighborhoods you like, research the area to get you plugged in with the community, and be hands-on and present throughout the whole process from start to close.
Here's how buyers' and sellers' agents serve their clients:
What a Real Estate Agent Does for Buyers
A buyer's agent will guide you through the process of purchasing a home. They'll help you find a house that fits your budget, meets all your must-haves and—ideally—fulfills your wish list too. Let's check out what they do, both on camera and behind the scenes.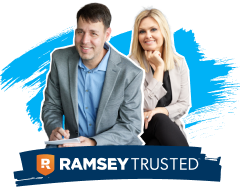 With the right agent, taking on the housing market can be easy.
Buy or sell your home with an agent the Ramsey team trusts.
Connect for Free
First, your agent should make sure you're preapproved for a mortgage before you go house hunting. That way, you're ready to swoop in and make a competitive offer when you find a place you love (if you're not preapproved yet, you can get started with a mortgage lender we trust).
Here's what else a buyer's real estate agent will do for you:
Help you find the right house. Once you're preapproved for a mortgage, the house hunt can begin! Local agents know what's for sale in your price range. They'll search for houses in advance, help you weigh your options, and arrange for viewings on your schedule so you can take your time in each house and really picture living there.
Guide you to make the right offer and negotiate a good price. The best agents are expert negotiators. They know what similar houses are selling for in your area, so they won't let you lowball an offer so much that you miss out on a great buy—but they won't let you overpay, either.
Walk you through the paperwork. Buying a house generates a mountain of paperwork. Your agent will help you stay organized and on time—making sure all your i's are dotted and t's are crossed.
Advise you on the home inspection. Your agent should be able to recommend a good home inspector and guide you on what to do if the inspection uncovers serious flaws.
Soothe your nerves when things get tough. Whether it's a problem with the appraisal or a hitch in your financing, a great agent knows how to keep things moving smoothly.
When you're looking to buy a house, having a good buyer's agent on your team is an absolute must. For more help, check out our Home Buyers Guide.
What a Real Estate Agent Does for Sellers
A listing agent walks you through everything you need to do to get your home ready for sale on the real estate market. They know what it takes to get the home sold on your timeline and for the best price.

Find a trusted real estate agent we recommend in your area.
Here's a closer look at exactly what a seller's real estate agent will do for you:
Determine a good price. Your agent has access to the most accurate and up-to-date pricing data in your neighborhood. They'll help you set a price that increases both the chance of a sale and the amount of money you'll make. If your emotions start to take over, your agent's job is to validate your feelings while also helping you set a realistic asking price so your home will actually sell.
Help with curb appeal and staging. You may not notice the peeling paint on the porch rail, the overgrown bushes out front, or your kids' handprints all over the kitchen walls, but potential buyers sure will! Your agent will help you enhance the look of your house from the inside out so potential buyers will be able to imagine themselves living there.
Drive all marketing efforts. Your agent will make sure the right buyers see your home—including advertising your home online. They'll take professional photos and videos and, if they're particularly tech savvy, maybe even use a drone to take aerial shots of the property.
Negotiate offers without emotion. While consistently keeping you in the loop, your agent will handle the back and forth with the buyer's agent. Emotional ties could make negotiating the price of your home difficult, but your agent can help you think clearly and make decisions without emotion.
Reassure you if things get hard. Crazy stuff happens when you try to sell a house—whether the real estate market takes a sudden nose dive or a prospective buyer has totally unrealistic expectations. Your agent has seen it all before and will be able to walk you through the ups and downs.
If you want more guidance throughout the home-selling process, check out our Home Sellers Guide.
What a Real Estate Agent Does at Closing
Whether you're a buyer or a seller, closing is always one of the most exciting and nerve-wracking times of a home purchase. Here's what your real estate agent does to make it simpler:
Answer your questions. Closing on a house can be confusing no matter which side of the fence you're on. Your real estate agent should be there to answer your questions—just like they have been all along.
Communicate the details of the deal and renegotiate if necessary. It's amazing how often buyers or sellers make last-minute demands, even after they've already agreed to a good deal. Your real estate agent has been talking to the other party and their agent the whole time, so if there are any last-minute changes or hiccups, your agent will find out, let you know, and help you decide what to do next. And if you're the one with a last-minute change, your agent will help you decide the best way to address it—or if it's better to let it go.
Schedule a final walkthrough just before the closing date. That lets the buyer make sure nothing's been torn up or broken since the initial contract was drawn up.
Double-check the paperwork. One mistake could delay closing and add costs for either the buyer or the seller. Nobody wants that! Your agent is your last and strongest line of defense against those kinds of mistakes. They'll make sure all the paperwork and legal stuff is done right so you can move into your new home (or be rid of your old one) as quick as possible.
Represent you (and your best interests) at meetings and contract signings. There's a lot of preparation and back and forth in real estate, especially on closing day. Whether you're meeting with a mortgage lender, the other party's real estate agent, a title or escrow agent, or even a real estate attorney, your agent has your back during all the closing talks.
Celebrate! Yes, your agent is probably celebrating their paycheck a little. But they're also celebrating with you! Good real estate agents are in this business because they care about helping you buy the house of your dreams—or sell the house you no longer need. A lot of agents make it a tradition to bring you a gift, take pictures, or do other fun things to celebrate your closing day.
Qualities of a Great Real Estate Agent
We've found that the best agents can be picked out with just a few qualities:
They're in the top 10% of their market. Or they've closed on at least 35 homes per year.
They've been in the industry for more than four years. We appreciate new agents, but for something as big as buying or selling a home, you need someone experienced in the market.
They work with both buyers and sellers. That means they've got a feel for what a real estate agent needs to do for both sides.
They're full-time agents. There's no shame in a side gig (in fact, we're all about side gigs here at Ramsey), but again, for as big of a deal as this is, you should only work with someone who is 100% committed to this job.
It can be hard to find these diamonds in the rough—that's why we did it for you! We've found thousands of rock-star agents like these across the country—they've been vetted and coached by our Endorsed Local Providers (ELP) program, meaning they've earned our RamseyTrusted seal of approval. These agents are the best of the best and are committed to sharing your values.
Do I Really Need a Real Estate Agent?
Again, you don't have to work with a real estate agent when buying or selling a house. You also don't have to change the oil in your car. But in both cases, things start falling apart pretty quickly if you don't! Just like regular oil changes, working with a real estate agent prevents a ton of problems and keeps more money in your pocket. With what real estate agents can do, they're more than worth the cost!
Why Buyers Need Agents
When buyers try to do it all themselves, they're shouldering all the stress home buying brings. But beyond that, there's a chance they could make some pretty crucial home-buying mistakes.
A lot of self-represented home buyers get themselves into a lot of trouble by not saving up enough money for a solid down payment. Sometimes they miss something crucial in the pre-purchase inspection—or skip the inspection altogether (please, for the love of all that is holy, don't do this!). Or they get just one interest rate quote instead of shopping around for a good mortgage rate, which could cost them thousands down the road.
Unless you yourself are a real estate expert, you may not know what to look for and where, how much you should be paying, or what and how to negotiate. Home buying isn't the time to mess around. An expert could save you thousands of dollars and a grey hair or two.
Why Sellers Need Agents
But what about sellers? After hearing that you'll be paying the commission for the buyer's agent and your agent, you may be tempted to tackle everything a real estate agent does by yourself to save the cost of hiring one. If that's you, just remember, you'd be one of the few—less than 1 in 10 home sellers go the For Sale by Owner (FSBO) route.2
That's partly because selling something as expensive as a house usually comes with a ton of hassles and headaches. And you're going to make a lot less money—we're talking tens of thousands of dollars less.3 Even if you think you're an expert on the market or that you're great at bargaining, the truth is that if you're not selling houses every day like a full-time real estate agent, you don't have the inside scoop or experience in the real estate industry to land the best deal!
Plus, the buyer's agent will still expect you to pay them a 3% commission. So you're not even saving the whole commission. You're only saving half, and you're still paying 3% to an agent who's busy getting the best deal for the buyer—not you. That's just silly! By the time it's all said and done, you'll lose more money than if you had just paid a seller's agent in the first place.
Trust us. Paying an agent to help sell your home is worth it. After all, that's what sellers' real estate agents do! They'll help you get a way better offer so you can make real progress toward your financial goals when you sell your home.
How Much Do Real Estate Agents Cost?
All that being said, you're now probably wondering how much an agent is going to cost you. The cost of hiring a real estate agent depends on the home's purchase price. Real estate agents earn a commission and the standard commission for a home sale is around 6% of the purchase price. The seller's agent and the buyer's agent split that, getting 3% each. Then that usually gets split between the agent and their brokerage firm—so each agent finally ends up with 1.5%.
The commission is normally paid out of the seller's profit. So, for example, if you sell your home for $300,000, the commission will cost you $18,000. That's split between both agents. Then they split their $9,000 with their brokerage firm, and each agent ends up with $4,500.
Don't let that the commission freak you out—it's not as bad as you think. With what real estate agents do, they more than pay for themselves.
Traditionally, buyers don't have to pay the commission because the seller usually covers both. So if you're a buyer working with a real estate agent, you'll probably get that agent's help at no cost to you. How cool is that?
For sellers, even though you're technically the one shouldering the weight of the commission, you don't have to worry. If you use a high-quality agent, they'll add so much value that you're still making money on your sale even after paying two agents' commissions. And we're not blowing smoke—research backs it up.4 What a beautiful thing it is to work with pros who do their jobs well!
Find a Great Real Estate Agent in Your Area
Take a deep breath. That was a lot of information to process.
Just to recap, working with a real estate agent is totally worth it whether you're buying or selling. But here's the catch: If you're going to buy or sell your most expensive asset (your house), then you need to get the best real estate agent to help you.
That's where Endorsed Local Providers (ELPs) come in. ELPs go through an intense vetting process, and they uphold the highest standards of customer service. They're the absolute best of the best—that's why they've earned the RamseyTrusted seal of approval.
Find your local RamseyTrusted real estate agent today!
Frequently Asked Questions
Are Real Estate Agent Fees Included in Closing Costs?

Yes, real estate agent fees are included in home closing costs. The commission fees are typically 6% of the home price. This commission is split in half—3% for the seller's agent and 3% for the buyer's agent. It's common for the seller to pay for both agent commissions. In other words, working with an agent is usually free for the buyer—woo-hoo!

How Do You Ask Someone to Be Your Real Estate Agent?

Most real estate agents are easily reached by phone or email. Our Endorsed Local Providers (ELP) program makes it super simple to find real estate agents who are RamseyTrusted and highly qualified to serve you with excellence. All you have to do is share some info about your home purchase or home sale, and then we'll send you top agents in your area who you can trust. Hop on a call to ask the agents a few interview questions so you can choose the one you like best.

Can You Change Real Estate Agents?

Yes, in most cases, you can switch real estate agents. The only time this gets tricky is if you've signed an agreement to work with the agent for a period of time. If the time period hasn't ended yet and you changed real estate agents, that'd violate the agreement. But if you have a really good reason for ending the agreement early, talk it out with the agent. A good agent will likely let you break the contract in order to maintain a solid reputation in the community.

Can You Negotiate a Real Estate Agent Commission?

Yes, you're allowed to negotiate the real estate agent commission. Keep in mind, commission fees are usually 6% of the home price. So if you're going to try and knock them down in price, make sure you do your research and have a specific reason why. You'll want to ask any questions you have about the commission early in the process before you sign any legal documents agreeing to pay your agent a specific amount.

What Can You Expect From a Real Estate Agent?

Simply put, real estate agents help you buy or sell a house. The best ones work in real estate every single day as their full-time job. If you're selling your home, a seller's agent (also known as a listing agent) should help you with a bunch of things, like deciding on the right price for your home, arranging for a home inspection and guiding you on what to fix, planning how to stage your home for buyers, creating a marketing strategy to find buyers, helping you pick the right offer, negotiating the best deal, and walking you through the closing paperwork.

If you're buying a house, a buyer's agent should help you find a home for sale in your price range, research neighborhoods for best fit, attend open houses and showings, make a competitive offer within your budget, negotiate the contract, handle the home inspection, and gather all the paperwork due on closing day.
Did you find this article helpful? Share it!