Home is where the heart is and, as they say, there's no place quite like it. A good home is priceless. But how do you know how much those four walls are really worth?
If you're buying or selling your home, getting a home appraisal is an important early step in the process. It's the official "price stamp" of your home's value from an independent professional. That last part is important. You don't want just anyone making a guess about the value of your house.
So how much does a real estate appraisal cost? And why is it important to get one?
Let's find out.
What Is a Home Appraisal?
A real estate appraisal is an objective look at a property to determine how much it's worth. It's done by a licensed professional who calculates the value of the property based on things like its age, location, square footage and upgrades, along with recent sales in the area.
Real estate agents or websites may be able to give you an educated guess about value, but an appraisal is generally required as the official paperwork to prove that a seller doesn't wildly overprice or underprice a home.
The mortgage company then uses the house appraisal report to make sure they loan a suitable amount of money to the buyer—and not more or less than the home is actually worth!
What do appraisers look for in a home?
A home appraiser considers the size, type and location of the home in their assessment. They also factor in amenities (think things like outdoor living spaces or covered garages) and compare those to what's standard in the current market.
Is the home in a popular part of town? Check. Is it in a good school district? Check. Does it have a remodeled kitchen or a full basement? Check. All of these things go into the official assessment of how much moola a home might be worth on the open market.
Basically anything about the home that's not changing is what an inspector will take into account. That means things like hot tubs or appliances don't get factored in because those things can be taken out of the home.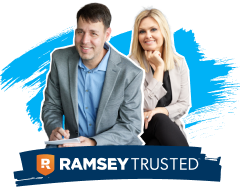 With the right agent, navigating the housing market can be easy.
Buy or sell your home with an agent the Ramsey team trusts.
Connect for Free
How are home appraisals different from home inspections?
Good question. Home inspections are about checking the house in detail to see if it's in good condition from basement to roof. An inspection doesn't tell you how much the house is worth.
Instead, a home inspection will flag any issues or damage the seller needs to address before the buyer agrees to close on the deal.
A home inspection usually paves the path to a later real estate appraisal. And if the inspection and appraisal go well, it means a buyer can be confident they're buying a home with solid value!
If an appraisal doesn't go so hot and you end up with a home valuation that's less than you were hoping for, that can be a major disadvantage for the homeowner. You can always throw a flag and challenge the valuation—but usually those appraisers are pretty thorough and it's not often their number changes.
What are home appraisals used for?
Home appraisals are mainly used by mortgage lenders to approve the loan they're about to give to someone who wants to buy a house. In fact, it's a requirement if you want to get a mortgage.

Find expert agents to help you buy your home.
This gives the lender a green light to proceed with your mortgage application because an unbiased source—not a seller or real estate agent—told them what the house is worth.
Here are some other reasons house appraisals are handy:
If you want to make improvements or renovations to increase the value of a home, you could have it appraised before and after to see how much it's worth.
If you plan to sell your home, getting an appraisal gives you an accurate value based on current market conditions and recent sales in your neighborhood.
An appraisal can also help you figure out how much you should pay in real estate taxes. Without one, you could end up paying more than you need to.
How Much Does a Home Appraisal Cost?
If you're getting a single-family home appraised, it'll cost you about $300–400.1 The home buyer usually pays for the appraisal along with the other closing costs when buying a house.
Keep in mind, the home appraisal cost will be higher if:
The house is large.
The bigger the house, the more the appraisal will cost. That's simply because the appraiser has more to cover and assess.
You're getting a jumbo loan.
A jumbo loan is a mortgage that's higher than the usual limits, and it's usually for a home that's larger than average or in a highly desirable area. Because they're lending you more money, the appraisal costs more. Some lenders even ask for two separate appraisals to double-check a home's value.
The house is in a unique location.
If you're lucky enough to be in the market for a mansion that overlooks the ocean or sits on a secluded mountaintop with very few neighbors nearby, the real estate appraisal costs more—partly because there aren't many similar homes to compare it to.
Why Are Home Appraisals Important?
Okay, as we've mentioned before, appraisals are important because they're an objective and unbiased assessment of how much a house is worth at the time of the appraisal.
An appraisal can be a huge benefit to buyers. You can use the appraisal to feel good about the house you're about to buy because you know it's worth what the seller is asking for it.
If the appraisal comes back lower than the seller's price, the buyer could use it to negotiate a reduction by asking the seller to match the appraisal price. There may even be a contingency in the contract that protects you from buying a home at a higher amount than the appraised value. If not, you may have to meet the seller in the middle with cash—and that's risky business.
On the flip side, if the house appraisal comes back a bit higher than the asking price, the buyer will know they're buying a house that's already going up in value. That'll be another great benefit when it comes to selling it!
When Should You Get a Home Appraisal?
As a buyer, you need to get a house appraisal if you want to get a mortgage. The mortgage company itself will organize the appraisal once the seller accepts your offer and your mortgage is being processed.
A house appraisal is also important when you want to sell your home because you'll learn a realistic price to put on it. And if you want to refinance your home loan at some point, you'll need to get your house appraised so the mortgage company can see how much it's worth compared to when you bought it.
Ready to Jump Into the Housing Market?
From home appraisals to home inspections and escrow to closing costs, the world of real estate can be complex! If you're buying or selling a home, you'll need trusted experts to help you successfully navigate everything from the first bid to appraisal to closing day.
Our RamseyTrusted real estate agents are just the folks to do that. They're top agents in your area who our team vets and coaches. RamseyTrusted agents are skilled at communication, customer service, negotiating—and they know what it takes to get a home sold from start to finish.
Did you find this article helpful? Share it!