What costs about the same as a weekly latte and protects your belongings from bad things that could happen?
No, it's not a barbed-wire fence. It's renters insurance!
Renters insurance is one of the most affordable types of insurance out there. If you're wondering, How much is renters insurance? you're in the right place. We'll break down everything you need to know.
What Is Renters Insurance?
Renters insurance protects your personal belongings if they're ever damaged, vandalized or stolen. Home renters insurance is a type of property insurance that covers catastrophes like fires, electrical surges and explosions. Similar to homeowners insurance, it's a way to transfer risk from you to an insurance company.
Here's how it works: You pay your monthly premiums, and the insurance company pays to replace your things if something goes wrong—after you've paid your deductible. This way you're not draining your bank account when Murphy strikes.
Since your landlord's insurance only covers their building, not your things, you need renters insurance. Period.
How Much Is Renters Insurance?
We'll say it again. Home renters insurance is some of the most affordable insurance you can get. While homeowners insurance and auto insurance can easily cost over $100 per month, renters insurance costs around $15 per month on average, or $173 per year.1
Even if you're on an extremely tight budget, working the Baby Steps, you can put away 50 cents a day to insure $30,000 to $50,000 worth of stuff.
Let's take a closer look at the average cost of renters insurance by state.
How Much Is Renters Insurance in Your State?
State

Cost of Average

Yearly Premium

State

Cost of Average

Yearly Premium

Alabama

$225

Montana
$153

Alaska

$186

Nebraska
$143

Arizona

$164

Nevada
$179

Arkansas

$210

New Hampshire
$147

California

$171

New Jersey
$154

Colorado

$161

New Mexico
$180

Connecticut

$180

New York
$173

Delaware

$151

North Carolina
$160

Florida

$182

North Dakota
$116

Georgia

$212

Ohio
$162

Hawaii

$176

Oklahoma
$226

Idaho

$148

Oregon
$154

Illinois

$157

Pennsylvania
$152

Indiana

$164

Rhode Island
$183

Iowa

$136

South Carolina
$186

Kansas

$162

South Dakota
$118

Kentucky

$157

Tennessee
$187

Louisiana

$247

Texas
$216

Maine

$148

Utah
$147

Maryland

$160

Vermont
$151

Massachusetts

$172

Virgina
$152

Michigan

$181

Washington
$158

Minnesota

$134

West Virginia
$179

Mississippi

$256

Wisconsin
$128

Missouri

$172

Wyoming
$146­­2
Most Expensive States for Renters Insurance
Location matters a lot when it comes to renters insurance cost. If you live in these five states, you can expect to open up your wallet a little wider. Four of these places are coastal, and all of them typically see more extreme weather.
| | |
| --- | --- |
| State | Cost of Average Yearly Premium |
| Mississippi | $256 |
| Louisiana | $247 |
| Oklahoma | $226 |
| Alabama | $225 |
| Texas | $216 |
Least Expensive States for Renters Insurance
Fun fact: If you live in South Dakota, you could move across the border to North Dakota and save $2 on renters insurance. Okay, maybe it's not worth moving across state lines just to save on insurance, but it does seem like there's some tight competition between the Dakotas!
Part of the reason these states see lower rates is they have fewer large cities. Property insurance rates are often tied to property values, which are obviously higher in more densely populated cities.
| | |
| --- | --- |
| State | Cost of Average Yearly Premium |
| North Dakota | $116 |
| South Dakota | $118 |
| Wisconsin | $128 |
| Minnesota | $134 |
| Iowa | $136 |
States With the Most Renters
As you can guess, states with high property values tend to have a high number of renters. Many of those are saving up for a down payment on a house. But in the meantime, they definitely need renters insurance. Here are the states with the highest percentage of renters.
| | |
| --- | --- |
| State | Percentage of Housing Occupied by Renters |
| New York | 44.6 |
| California | 44.1 |
| Nevada | 40.9 |
| Hawaii | 37.4 |
| Texas | 37.43 |
How Much Is Renters Insurance in Your City?
Reminder: Location is a huge factor in your cost of living—and that includes the cost of renters insurance for city dwellers. Let's have a quick look at how renters insurance prices look in a range of cities across the U.S.*
| | | | |
| --- | --- | --- | --- |
| City | Average Annual Cost for $15,000 of Coverage | Average Annual Cost for $30,000 of Coverage | Average Annual Cost for $50,000 of Coverage |
| Madison | $223 | $266 | $340 |
| Durham | $272 | $335 | $495 |
| Milwaukee | $257 | $309 | $393 |
| Raleigh | $267 | $329 | $495 |
| Detroit | $289 | $360 | $488 |
| Boston | $282 | $351 | $490 |
*Based on Ramsey Solutions internal research.

Protect your home and your budget with the right coverage!
Renters Insurance Cost by Coverage Amount
Besides location, your insurance premium also depends on how much coverage you need. The higher the coverage amount, the more you'll pay.
Here's a list of the average premiums in the U.S. based on coverage amounts.
| | | |
| --- | --- | --- |
| Coverage Limit | Annual Premium | Monthly Premium |
| $13,999 and under | $132 | $11 |
| $14,000 to $19,999 | $143 | $12 |
| $20,000 to $25,999 | $162 | $14 |
| $26,000 to $31,999 | $179 | $15 |
| $32,000 to $37,999 | $171 | $14 |
| $38,000 to $43,999 | $203 | $17 |
| $44,000 to $49,999 | $192 | $16 |
| $50,000 to $74,999 | $229 | $19 |
| $75,000 to $99,999 | $288 | $24 |
| $100,000 and up | $428 | $36 |
| National Average | $173 | $144 |
How Rental Prices Are Changing
News flash: The cost of housing nationwide has been on the rise since 2020, including your rent. The average U.S. renter in 2023 spends 30% of their income to pay the rent, a new all-time high.5 Yikes! And rising rents might also have played a role in slightly raising the overall cost of renters insurance. In general though, renters insurance in 2023 continues to be very affordable—not to mention one of the smartest ways to protect your stuff from everyday disasters.
How Is the Cost of Renters Insurance Determined?
Now that we've looked at the average costs of renters insurance, let's see how those costs are determined.
Here are some of the factors that will cause your renters insurance rate to rise or fall:
Your credit history: Insurance companies sometimes use a credit-based insurance score to calculate your rate. So while they're not pulling your FICO score, they are using credit history to partially determine your risk.
History of claims: If you have a long history of filing insurance claims, your insurer will most likely see you as a greater risk. And claims can stay on your record for up to seven years. So it might be better in the long run to pay for small things out of pocket and not file a claim.
Your deductible: The higher your deductible, the less you'll pay per month, and vice versa.
Coverage amounts: If you're insuring $50,000 worth of stuff, your premiums will cost more. On the other hand, if your things are only worth $10,000, your renters insurance will be on the lower end.
Your location and neighborhood: We already saw how much location matters. If you live in a part of the country that sees more extreme weather (like hurricanes or flooding), you'll probably need an extra layer of coverage and you'll pay more. Neighborhood matters too. If you live in an area with higher crime, you might end up paying more for insurance.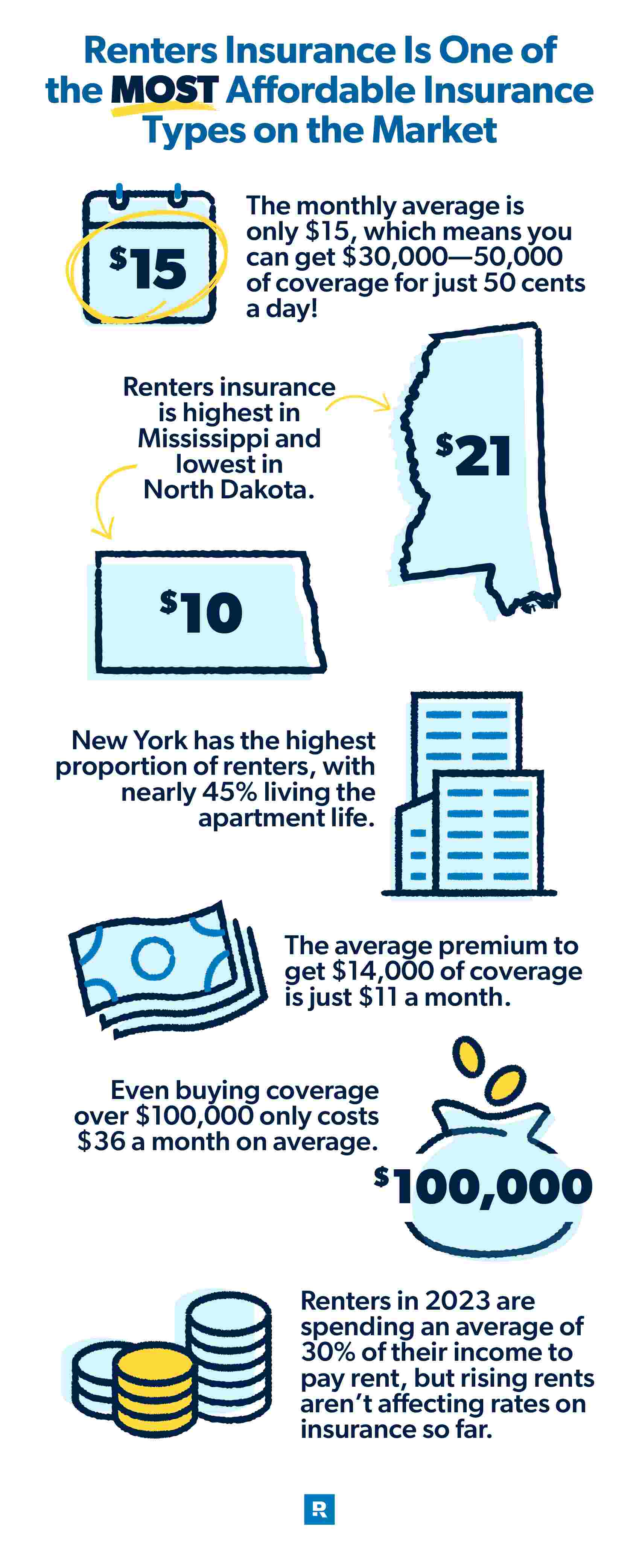 What's Included in Renters Insurance Rates?
Now, what kind of protection does renters insurance give you? A standard rental insurance policy covers the following things.
Personal Property
Things like your couch, your computer and those hot pink neon Crocs (pricey but worth it). Whatever you own, renters insurance has you covered, up to a certain limit. So if you have $15,000 in property coverage, your insurance company would reimburse you up to that amount. However, if you own bougier loot (expensive jewelry, art, etc.), you'll need an endorsement. (An endorsement is an add-on to your policy that provides extra coverage.)
Also, it's important to know the difference between actual cash value and replacement cost coverage. Actual cash value means the insurance company will write you a check for what the items were worth when they were lost or damaged, factoring in depreciation. Replacement cost coverage means your insurance company will pay the full amount to replace the item you lost.
Liability Coverage
Renters insurance also covers accidents that happen in your apartment or home, again, up to certain limits. So if your dog bites your neighbor, or someone slips on your floor, breaks an ankle, and sues you, you're covered. Liability would help pay for legal and medical expenses.
Additional Living Expenses
Renters insurance also covers you if you had to temporarily live somewhere else while your apartment was being repaired. Additional living expenses (ALE) covers things like hotel costs, clothing and food.
Personal property, liability and additional living expenses are just three of the main things renters insurance covers. It also covers things like:
Theft (even if it happens while you're on vacation)
Items in storage units
Food that goes bad from a power outage
Some types of water damage are covered, like from flooded toilets or leaky pipes. However, renters insurance doesn't cover certain natural disasters.
How Much Renters Insurance Do I Need?
You'll obviously need coverage for each of the three main areas of renters insurance outlined above. In terms of personal property, you'll want to make yourself a home inventory list of your belongings. These are the kinds of things to include when you're putting it together:
Videos or photos of your stuff
Descriptions of your possessions, especially the ones that are most valuable
Details, including the serial number, for electronic equipment
An estimated value for each item
Dates of purchases
Receipts
From there, you can make an overall estimate for the dollar value of your possessions. That should give you a good sense of how much personal property coverage to buy.
For liability, many renters insurance policies have a default amount of coverage, with $100,000 being a typical figure. But feel free to raise that if you just love having extra coverage, especially if it fits in your budget. Lawsuits can get ugly—and expensive—and that's when liability insurance counts!
For additional living expenses, you'll often see it offered in one of two ways:
As a flat amount per incident, or
As a percentage of your personal property limit.
This means that once you figure out how much personal property coverage you need, you can probably know what your ALE coverage will be as well. But this kind of coverage can also be raised, depending on your own needs and budget.
How to Save on Renters Insurance
Now that we've answered, How much is renters insurance? let's look at some tips to save money.
Making fewer claims is one way to keep your premiums low. So if someone steals your purse, and it was only worth $50, it might not be worth filing a claim.
Another great way to save is to increase your deductible. Typically, the higher the deductible, the lower your premium. But only do this if you have enough in your savings to pay the higher deductible when a thief (or explosion or leaky toilet) strikes.
Setting up autopay with your insurer or installing security features like deadbolts can also be an easy way to shave some costs off your monthly bill.
How Can I Bundle Renters and Car Insurance?
You can also save money by doing things like bundling your renters insurance policy and an auto insurance policy with the same company. Let's say you've got renters insurance and auto insurance through two different insurance providers. Well, if you were to bundle them together by getting rid of one (or both) of them and buying your insurance through one provider, you'd be able to conveniently manage your policies and save money on premiums.
Some companies say they can save you up to 25% when you bundle your insurance, and it might not be a bad idea to investigate whether that's a promise they'll keep.
Can I Save Money by Sharing Renters Insurance With Roommates?
Finally, you might think sharing renters insurance with your roommates is a good way to save some cash. Sorry, but no. There are a lot of reasons it's not worth it, including:
You'll pay higher premiums.
Your roommate's claims history could raise your rate too.
Anything your roommate does to bring on a liability claim could make you partially liable too.
You'll have to figure out how to split the coverage limits fairly between you and your roommate.
If your roommate moves out, you'll have the headache of removing them from your policy.
It's usually better to just get your own separate policy and avoid the hassle and added risk that comes with sharing a policy.
Get the Right Coverage
If you're ready to start your very own rock-solid renters insurance policy, we recommend working with one of our independent insurance agents. These guys are always RamseyTrusted, which means they can give you free quotes and help you find the right amount of coverage to fit your needs.
Connect with one of our RamseyTrusted agents today!
Frequently Asked Questions
Why does renters insurance cost less than home insurance?

The main reason renters insurance is so much cheaper than homeowners is simple: because as a renter, your landlord is the one who pays to insure the building you're living in. In other words, your policy is only designed to cover damage to your personal property, which is a lot less valuable than the cost to replace the house or apartment—the dwelling—you live in. But with homeowners insurance, you're covering not only all of your possessions, but also the enormous cost to replace the house if it's lost.

Does the cost of renters insurance increase with high-value items?

Definitely. The fewer your possessions (or the lower their total estimate value), the less personal property coverage you'll need to buy. However much coverage you choose, your premium is going to track with that.
Did you find this article helpful? Share it!