Every business has a culture. You either create it . . . or tolerate it. Think about that local restaurant that should be on Kitchen Nightmares. Culture is probably the last thing on the owner's mind. We get it. When you're growing your business, sometimes it feels like it's all you can do just to keep people hired and make payroll. Culture seems like a fancy add-on that has to wait until you get the basics under control.
But that mindset is why 1 in 4 U.S. workers describe their workplace culture as toxic—it's not a leadership priority.1 Turning a blind eye to the attitudes and practices you allow in your company leaves it wide open for a culture you never wanted to creep in. Here's some good news, though: When you understand what company culture is and why you need to develop it, you'll see it's possible to take great care of your team and customers and hit your business goals.
Company Culture Definition
You might think things like leadership styles, pay and benefits, policies and the types of people on a team define a company's culture. And yes, all those things affect how people feel about their work. But culture runs deeper. Company culture is the values, attitudes and behaviors that create company standards. It's like a silent language guiding your organization's personality, goals, decisions and practices—it's what's expected and accepted.
We all know teams who send emails and texts 24/7 and make jabs at anyone who doesn't respond immediately. Cringe. That unspoken culture screams, "No work-life balance here!" But smart leaders think and act differently. For example, they're serious about effective communication —which means no expectation for their team to be thinking about work around the clock, no gossip and no treating each other like hamsters on a wheel instead of valued team members.
Maybe you've been told company culture flows from the top down. Well . . . yes and no. We'd all be in a world of hurt if defining, building and protecting company culture was all up to the person at the top of the ladder. As the leader, you do get to decide the values, behaviors and mindset you want for your organization and then stamp them into your playbook. But in your day-to-day business, culture flows from the bottom up. Your team members become your chief culture creators (and keepers) once they're on board with the direction you've set in motion.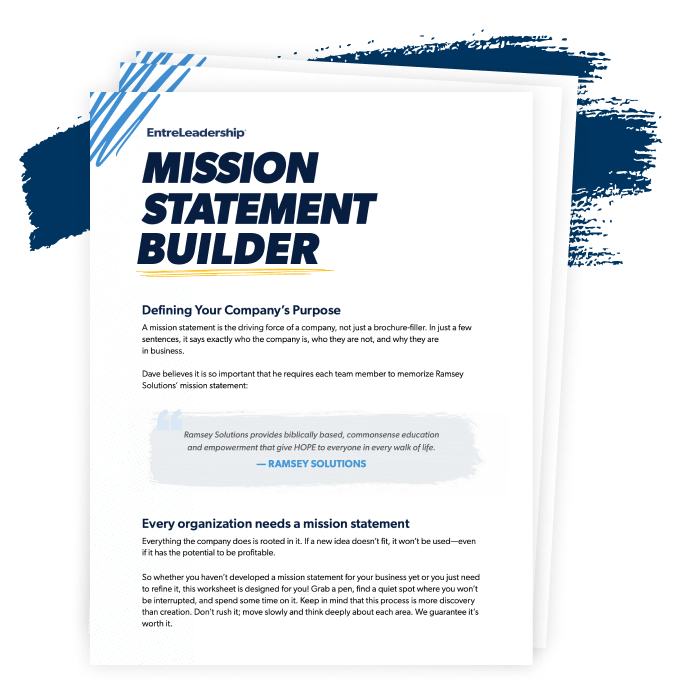 Get the Free Mission Statement Mapper
Before you develop your company values, make sure you've clarified your mission statement. Our EntreLeadership Mission Statement Mapper will help you write a mission statement that gets you and your team fired up and on the same page.
Get the Free Guide
Here are some basics to help you encourage the culture you want so your team can help you guard it:
Identify your values. Get key team members involved to boost buy-in.
Plaster your values everywhere: on your company's website, your walls, even your bathroom stalls and mirrors!
Repeat them clearly and often—at onboarding sessions, weekly staff meetings, training sessions, one-on-ones, reviews, etc.
Hold your team accountable to your values and praise them publicly for being culture keepers.
Pro tip: Refresh yourself on what leadership is and the most effective styles. The way you lead has a huge impact on shaping company culture.
Examples of Company Culture
The "great resignation" was a serious punch in the face for bad company cultures. Job seekers aren't just looking at pay and benefits anymore—they're looking for employers who care about their whole lives (mental, physical, emotional and career) and inspire work that matters.2 Check out these businesses who are on their A-game when it comes to culture.
Grammarly
This writing assistance company is recognized as one of the best small- to medium-size businesses to work at.3 Grammarly uses the catchy acronym EAGER (ethical, adaptable, gritty, empathetic, remarkable) to describe how they treat each other, do their work, and serve their customers.
Royal Caribbean Group
The three-word phrase, "Make good choices," guides this top-performing cruise line and has made it one of the best large companies to work for.4 Team members say the phrase motivates their personal and business integrity along with the support they show guests and each other.
Southwest Airlines
Here's a major company consistently recognized for happy team members and satisfied flyers.5 These nine values drive Southwest Airlines' award-winning culture: pride, integrity, humility, teamwork, honesty, efficiency, discipline, excellence and service with LUV. (LUV is Southwest's ticker symbol and part of its core values, based on the love-themed marketing campaign used when the airline first launched.)
How to Identify a Company's Culture
Now, the million-dollar question: What's the silent language of your business and the values driving it? Before you answer, think of a few companies that are rocking it. Take a few minutes to see how they've designed and built their cultures. Here are a few ways to do your research:
Visit their company website.
Usually you'll find an About page that includes their mission, vision and values. And if that page isn't very clear, that could be a not-so-great indicator about their culture.
Search for the company in your browser with a few keywords after their name.
Words like review, rating, news or testimonials will provide some intel about the company's pros and cons.
Ask around.
Talk to people who work for the business or in a similar field to see what they say about the company. For more ideas on who to talk to, check out LinkedIn or Facebook to see what connections you have to the company.

Every business goes through five distinct stages. Find out which stage your business is in with our free assessment.
Now, repeat those steps for your business. Chances are, you fall into one of three categories:
You have clear core values and amazing team players guiding your culture.Keep doing what you're doing!

You have core values no one knows (or follows), so they can't guide your culture.This is your chance to implement the tips mentioned earlier: Identify your values, plaster them everywhere, repeat them clearly and often, and hold your team accountable to them.

You don't have core values at all, and it shows in your culture by default. It's okay. You can start defining your company values now with your key leaders. Then share them with your team to get buy-in and see change happen in your business.
Why Is Company Culture Important?
Caring about culture sounds like a lot of work . . . because it is. But the payoff is unbeatable! Think about this: If you were a lumberjack, your business would rise or fall on producing lumber. So, you'd chop and work and sweat and chop some more to get more lumber. But even with all the hustle in the world, eventually your ax would dull and your progress would slow. Hello, blisters and bleeding. To work smarter—not just harder—you'd have to stop and sharpen the ax.
The same principle applies to you and your business: When you invest in your company culture—even when you're not sure you can afford the time and investment—you're sharpening your ax. You're creating an atmosphere that engages your team and delights your customers. And you're working smarter so your business and your team can reach new levels. (Paul Bunyan would be so proud.)
Engaged workers are more productive and more profitable. They outperform their peers by 10% in customer ratings, 14% in productivity and 23% in profitability.6
Even on the most basic level, building a business is way too hard to only feel kind of good about going to work every day. You and your team spend about half your waking hours together. Who wants to be miserable half the time? Create a culture where you actually like what you do, how you do it, and who you do it with. Steve Jobs said it this way, "Your work is going to fill a large part of your life, and the only way to be truly satisfied is to do what you believe is great work. And the only way to do great work is to love what you do."
Related article: 27 Work-Life Balance Quotes for Motivation and Wisdom
Unfortunately, there's a whole lot of loveless work. Only 21% of the U.S. workforce is engaged in their work, and only 33% is thriving in their well-being.7 The majority of the U.S. workforce is just doing a J-O-B.
Related article: America's Labor Shortage
When you create a culture of work that matters, your team gets excited about Mondays! And that affects:
Productivity
Creativity
Team-member retention
Customer loyalty
Growth and revenue
Impact on others
What's Next: Sharpen the Ax
Getting to the next level in your business means taking a hard look at your culture so you can make adjustments. No culture by default, no tolerating the bad, and definitely no Kitchen Nightmares reputation for your company. To help you lead your team, grow your business, and create a world-class culture, EntreLeadership Elite offers coaching, leadership and small-business events, and practical resources. Check out EntreLeadership Elite today.
Did you find this article helpful? Share it!