Do you ever find yourself preoccupied at work by everything you need to do at home, and then you get home and you're distracted by everything you need to do at work? If you do, we're here to tell you you're not crazy. And if you think everybody else has work-life balance all figured out, you've been misled. They don't. Yes, juggling work, family and me time are all important, but finding balance between all of them can be the part that trips up even the best of us. Truth be told, there's no magical island out there where you can easily find harmony and balance (except maybe on reality TV). But that doesn't mean it's impossible to prioritize the things you value most.
To help you rethink your expectations about how far you can stretch yourself, we've gathered some work-life balance quotes from famous writers, scholars, pastors, business leaders, life coaches, motivational speakers—and even a Founding Father. But before you buckle in for some energizing perspective and kick-butt motivation, let's look at the definition of work-life balance and how you can keep the main things in your life the main things.
What Is Work-Life Balance?
One simple definition of work-life balance is: to equally prioritize the demands of your job, personal life and any other work you're responsible for (like schoolwork or caring for someone). But let's be real, life isn't as simple as that definition, and "equally prioritizing" isn't always best.
Let's say you've scheduled a standing date with yourself at the gym but get a competing invitation to a dinner meeting to finalize a $1 million deal for your company. You'd be wise to prioritize the million-dollar dinner over the gym. (But if you keep letting your gym time slip, that's a different conversation.)
Here's another work-life balance example: Say you promised you'd be at Charlie's championship soccer game tonight. You've even got your "Charlie's #1 Fan" T-shirt and foam finger ready to whip out as you cheer Charlie on from the stands. Then you're hit with an urgent work deadline at the end of the day. Equally prioritizing is out the window—but creative problem solving isn't. If you adjust your deadline to first thing tomorrow or delegate tasks to other team members, you can see both commitments through.
Related article: How to Improve Your Decision-Making Skills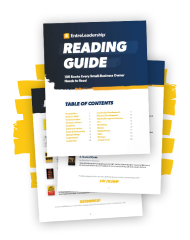 Free EntreLeadership Reading Guide
What should EntreLeaders read? We've got our list of book recommendations, with 100 book titles on topics like hiring, business strategy, sales, leadership and more!
Get the Free Guide
Life Balance: How to Center Your Focus
In real life, creating a healthy work-life balance is a juggling act. But how do you keep the right things in motion at the right time? Think through these three steps to help you focus on what matters most to you:
Fast forward (in your mind) to a year from now. Pretend you're planning what you want to include in a good old-fashioned letter to your friends and family highlighting what made the year so epic.
Now, ask yourself what wins you'd really want to share—maybe the 5K you ran, family breakfasts you prioritized, business classes you aced, or even the rising leaders you mentored.
Once you identify the five or so things that would make your year a huge win, add them to your calendar—before anything else is allowed on your schedule.
Pro tip: If you're not moving ahead in your career as fast as you'd hoped for, or you're feeling frustrated because you just flat out work too much, follow these steps specifically for your professional goals.

Every business goes through five distinct stages. Find out which stage your business is in with our free assessment.
Trust us, planning out your year based on what's truly important to you will feel great—and steer you away from distractions. But things will get tricky pretty fast when you get around to dealing with your daily responsibilities. Just keep going back to that handful of wins you're looking for and let them guide your decisions. Pretty soon, making decisions about your schedule this way will become a habit. As a money expert and bestselling author, Dave Ramsey teaches focused intensity over time multiplied by God equals unstoppable momentum. He calls that The Momentum Theorem. We call it work-life truth.
Related article: Building Unstoppable Momentum
Inspirational Work-Life Balance Quotes and Wisdom
Remember, if you're struggling with work-life balance, you're not alone—and you're also not facing anything new or impossible to manage. Even Benjamin Franklin recognized the value of living well! So, take heart and consider the changes you want in how you use your time and energy as you read these work-life balance quotes.
1. "Wish not so much to live long as to live well."
— Benjamin Franklin, Founding Father
2. "Balance is actually an illusion. You ebb and flow—just be wherever you are. Don't be six places at once in your brain. Put your phone up. Be present."
— Dave Ramsey, money expert and host of The Ramsey Show

3. "True commitment to work-life balance is giving people permission to take other priorities as seriously as their jobs. In burnout cultures, people are expected to drop everything for work. In healthy cultures, people are encouraged to protect time for family, health, and leisure."
— Adam Grant, organizational psychologist
4. "Everything is figureoutable."
— Marie Forleo, host of MarieTV
5. "Lack of time is actually a lack of priorities. If you don't have time, the truth is, you don't have priorities. Think harder, don't work harder."
— Tim Ferriss, entrepreneur and author

6. "You are doing enough. You don't need to do more to be worthy . . . to prove that you are deserving. You don't need to do anything to be more worthy."
— Tina Su, life and autism mom coach
7. "Rather than waking up and saying, 'Hey, whatever life throws at me.' No. It's what I throw at life. You wake up believing that you have a mission. Believing that it's possible. You be the aggressor."
— Tim Tebow, American football player
8. "Balance is a really tricky word, because I don't think there's such a thing. There's just time. There's just where you are and what you do. And it doesn't make sense for me to have to spend time on something that feels like a sacrifice. I try to do things that are part of the big thing. You get to pick what your big thing is gonna be."
— Seth Godin, author and speaker
Related article: How Keystone Habits Can Improve Your Life
9. "One day I hope my kids look back at my life and say, 'My mother wasn't a quitter. She knew tired well. She danced with defeat, but she kept swinging back with hope. Sometimes the punches were strong. Other moments they barely landed, but she knew how to take a deep rest, exhale the tension, and swing again.'"
— Sarah Jakes Roberts, pastor and author
10. "We are too busy to be content. (Which is crazy, since the reason we kill ourselves today is because we think it will make us content tomorrow.)"
— Max Lucado, pastor and author
11. "Social connection is the greatest predictor of long-term happiness, but we can't create that with phones in our faces."
— Michelle Gielan, executive producer of The Happiness Advantage and author
12. "God is not hurried along in the Time-stream of this universe any more than an author is hurried along in the imaginary time of his own novel. He has infinite attention to spare for each one of us . . . You are as much alone with Him as if you were the only being He had ever created."
— C.S. Lewis, author and theologian
13. "It's crucial that your daily actions match your goals. Small significant daily actions build momentum over time and establish a legacy you can be proud of."
— John C. Maxwell, leadership expert and author

14. "No is a whole sentence . . . Sometimes you have to say no to lots of things to honor the main thing . . . I don't want to compromise the main things because I'm doing everything. That's not easy. It's constant give and take."
— Priscilla Shirer, author and speaker
15. "Focusing on the good isn't just about overcoming our inner grump to see the glass half full. It's about opening our minds to the ideas and opportunities that will help us be more productive, effective, and successful at work and in life."
— Shawn Achor, speaker on positive psychology and author
16. "The people who complain about work-life balance, well one of the reasons they say that is because work sucks the life out of them, and it's a grind, but they do it because they need the money to live the lifestyle. Well, maybe they should change their lifestyle so they could have work that makes them feel alive. Because then they wouldn't need to worry about 'work-life balance,' because then they would just have life."
— Seth Godin, author and speaker
17. "Be a bush, if you can't be a tree. If you can't be a highway, just be a trail. If you can't be the sun, be a star. It isn't by size that you win or you fail. Be the best of whatever you are.
— Martin Luther King Jr., a leader of the civil rights movement

18. "For any guy . . . The most helpful question you could ask yourself is: What does success look like for me as a man 50 years from now? . . . That shapes every decision that you're gonna make now. If you don't set the intentionality for your life, other people most definitely will."
— Jerrad Lopes, founder of DadTired.com
19. "We don't build the lives we want by saving time. We build the lives we want and then time saves itself . . . Time is highly elastic. We cannot make more time, but time will stretch to accommodate what we choose to put into it."
— Laura Vanderkam, nationally recognized journalist and speaker
20. "I like to have a have a hard stop to the day . . . It forces me to do three things. Number one: It forces me to say no to things I shouldn't be doing anyway. The second thing is: It forces me to make faster decisions . . . The third thing it does is: It forces me to delegate to other people."
— Craig Groeschel, pastor and founder of Life.Church
21. "There's no such thing as work-life balance. It's not real. It's a myth. It doesn't exist. There are seasons . . . Sometimes you wear a coat because it's winter. Other times you wear shorts because it's summer. Same thing when it comes to your life . . . You gear up for different seasons."
— Dr. John Delony, mental health expert and host of The Dr. John Delony Show
22. "If we don't feel like we're part of something important, what's the point? If it's just a paycheck, then what have you reduced your life to?"
— Malcolm Gladwell, journalist and author
23. "If you're going to avoid mediocrity in any area of your life, expect to pay a price."
— Dave Ramsey, money expert and host of The Ramsey Show
24. "'I don't have time,' often means 'It's not a priority' . . . We have the power to fill our lives with the things that deserve to be there."
— Laura Vanderkam, nationally recognized journalist and speaker
25. "Margin is the space between my load and my limits . . . Having margin is having some breathing room in your life . . . and you need margin in every area of your life."
— Rick Warren, pastor and author
26. "Taking care of your family, your health, your relationships and your spirit is not a selfish act. It's a sustaining one."
— John C. Maxwell, leadership expert and author
27. "Are you close to quitting? Please don't do it. Are you discouraged as a parent? Hang in there. Are you weary with doing good? Do just a little more. Are you pessimistic about your job? Roll up your sleeves and go at it again . . . Remember, a finisher is not one with no wounds or weariness. Quite to the contrary, he, like the boxer, is scarred and bloody."
— Max Lucado, pastor and author

What's Next: Stay Inspired
Balancing life and work doesn't have to be an overwhelming chore. But managing all the things you care about takes work—and the right advice to guide you. If you're a business leader, you need to manage your time at work especially well so you're not stuck in 24/7 work mode.
Are time management and delegation two of your biggest challenges? Chances are, you're at the Treadmill Operator stage—the first stage of business. With the EntreLeadership framework, you'll go through the five Stages of Business—from the Treadmill Operator all the way to the Legacy Builder—and level up your business.
Related article: EntreLeadership: What Are the 5 Stages of Business?
Check out The EntreLeadership Podcast to learn more which of the Stages of Business you're really at and also get practical insight on work-life balance. You'll hear time-tested (sometimes even painful) wisdom from successful business leader Dave Ramsey and others. You'll even have a chance to call in with your own leadership and business questions.
Did you find this article helpful? Share it!