If your business was a person, how would you describe its personality? Is it high energy, crazy about great service, and fun? Or maybe it's driven, bold and freakishly innovative? Whatever your description, your company's personality is shaped by its culture, and its culture is shaped by your core values. What does all that mean? It means your company values are a big freaking deal in guiding how your business impacts others, operates and grows. Company values tell your team members what's expected of them and tell the world what you stand for.
Unfortunately, we've all seen companies throw out swanky values like unparalleled customer service, extraordinary quality and future-focused collaboration and have little to show for them. Who can be passionate about wishy washy phrases with no substance like extraordinary quality? You need clear-cut core values you and your team can live out passionately every day. That's what makes a great business. To help you nail down your values (and get your team excited about them too), we'll answer the question: What are company values? Then we'll look at why company core values are important and how to define your own.
Related article: What Is Company Culture?
What Are Company Values?
Characteristics of Effective Company Core Values
4 Types of Values
Why Do Company Values Matter?
How to Define Company Values
7 Examples of Great Company Values
Frequently Asked Questions
What Are Company Values?
Company values, also known as core values, answer the question: What do we as an organization stand for? Core values are your guiding principles that help your team members and clients know what your business is and the beliefs that drive you forward. You can use words, phrases or complete sentences to describe the way the people in your company think and operate. Just make sure they're based on who you already are and how you already work. Essentially, your company core values are well-worded observations of the principles you and your company leaders already use to make decisions.
Related article: How to Communicate Effectively
Characteristics of Effective Company Core Values
Besides steering clear of swanky, corporate words that have no substance, also avoid writing company core values that are hard to understand. Here are some examples of what you don't want your values to sound like:
Acting with strong tenets and maintaining a positive behavior are priorities for everyone within the organization.
We exist to act in a transparent, trustworthy manner so as to earn the respect of our colleagues, customers and community.
Did you catch all that? Neither did we. Here's a simpler way to express those values:
Integrity: We do the right thing—even when no one is watching.
Honesty: We tell the truth, and we're open and sincere in all we say and do.
Better, right? The moral of the story is: When your core values are memorable, unique and concise, they stick. And it's a lot more fun sharing values that:
Express who you naturally are
Link to your deeply held convictions
Guide and support your company mission
Distinguish you from your competition
Endure time
Pro tip: Steer clear of core values tied to whims you might not stick with, virtue signals or trending topics.
Related article: How to Write a Company Mission Statement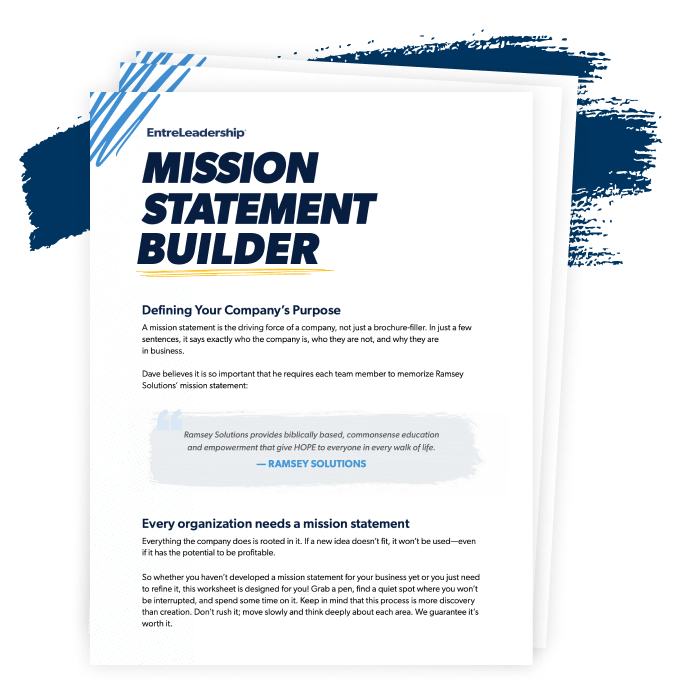 Get the Free Mission Statement Mapper
You don't have to figure it out alone! Download the easy-to-follow EntreLeadership Mission Statement Mapper that will help you write a mission statement that gets you and your team fired up and on the same page.
Get the Free Guide
4 Types of Values
High fives all around if you're starting to sniff out what makes a core value powerful. Remember to keep in mind that just because something's a value doesn't mean it's a core value. In fact, values come in these four varieties:

Every business goes through five distinct stages. Find out which stage your business is in with our free assessment.
1. Permission-to-play values: These are often unspoken rules every business requires of its team to operate. Permission-to-play values represent the bare minimum of what's expected of any team member, like showing up on time, being trustworthy, and getting along with others. Those are all great, but bare-minimum values don't set your business apart.
2. Accidental values: These values get attached to your company unintentionally through the influence of big personalities on your team or habits that seep into your company's culture over time. Accidental values aren't necessarily negative—they just weren't developed on purpose by leadership, which means they could easily be stepped over or get twisted.
For example, let's say your great granddad was your company's founder and chief generosity officer who loved to serve your local community. He wanted his personal core value of generosity to be baked into the business, but he never made it an official company core value. And when your granddad took over, great granddad's big heart still trickled through your business.
But remember: This was great granddad's personal value—not an established company value. So what happens to the open hand when times get tough and the next leader has a different set of priorities? Fear or lack of vision could produce a tight fist and the value of generosity could die out. And that's why you can't build the business you want on accidental values. If you want a specific value to guide your company for the long haul, be intentional, write it down, and live it out.
3. Aspirational values: These are characteristics you want your company to have but haven't achieved yet, like everyday excellence or calculated risk-taking. They might not even flow naturally from you, yet you know they're important. Aspirational values drive you forward, but if you care enough to set them, be sure you're ready to do the hard work to bring them to.
4. Core values: As you define your core values, remember they're the deep-rooted convictions that guide how you do business, and they separate you from your competitors. Company core values are what's really important to you and what you want others to know about your business.
Why Do Company Values Matter?
Maybe you've heard the saying, "If you don't stand for something, you'll fall for anything." Without company values to guide you, how will you make decisions about people to hire, goals to set, and the thousands of problems you need to solve every day? Operating without guiding principles is disaster waiting to happen. Company values, however, give your team members shared purpose and pride in their workplace, and they serve as a filter for every goal you set and decision you make.
Why we work determines how well we work. In other words, your values impact your effectiveness. As your values take root in your team members, your team will work hard to build and protect your company culture. And that leads to a more satisfied team—and more satisfied customers.1 Woah! Motivated team members and happier customers—who wouldn't want that? Company values will also help you:
Pinpoint and attract the right people in your hiring process
Onboard new team members
Simplify and clarify what you say yes and no to
Establish team unity and alignment
Free up your time to delegate confidently to a team that thinks and acts in harmony
Set your business apart from competitors
Related articles:
How to Hire Employees: The 12 Components to a Good Hire
What Is Work Ethic (and How to Build a Strong One in Your Team)?
How to Define Core Values
Alright, before you call an executive meeting to think through and scribble out your company values, here's a warning: Writing your values down and committing to them is just the first step. The next is becoming a champion of your values. Seriously. You don't want a sniff of insincerity. Company values that aren't backed by action breed eye rolls and yawns faster than you can say lip service.
Check out these guidelines for how to define core values that truly represent your business:
Create personal core values. Before you create core values for your organization, you need to identify the beliefs that matter most to you. If you're the owner, your business is built around your vision and mission. Your personal beliefs will affect your business, which means personal and business values need to line up. Ask yourself:

What do I stand for?
What values would I like to live out, but I'm not actually achieving?
What does success look like to me?

Brainstorm with your key leaders. Bring your list of personal core values to your leadership team so you can hash them out together and decide how to weave them into your business. Getting their buy-in means they can help you share your company values as a unified force. (Your message will have a much more powerful impact when it comes straight from the company's leaders.) And if you don't have leaders to share with yet? That's okay. Include your spouse, a close friend or a trusted team member in the conversation.
Observe. Think through how you and your team function when you're at your best. Now write down words or phrases that describe what sets your company and culture apart from others. Is your team playful? Detailed? Inventive? Get creative and specific about what makes your brand unique.
List your nonnegotiables. What do you refuse to compromise on? These are the hard things you're willing to lose business over, like setting certain business hours or refusing to work with vendors with shady practices (no matter how low their prices are). These are the principles that ultimately set your business apart and attract your most loyal, like-minded tribe.
Refine. By now, you should have a pretty long list of words that describe your company. Narrow it down by choosing quality over quantity. Some companies have only a handful of core values, while others have a dozen or more. There's no magic number. But a good rule of thumb is to limit core values to a number you can remember so they can create and guard the culture you want. If you forget or butcher your own company values . . . awkward.
Make them sticky. You're at the finish line! You've identified your core company values and whittled your list down to the most important ones. You've made them concise, unique to your organization, and easy to remember. Do a final edit to make sure your core values represent your company just the way you mean. Now you're ready to splash on your walls and website, share them during onboarding sessions, talk about over and over again, and practically recite in your sleep. That's what it means to make them sticky.
Related article: What Is Decision-Making?
7 Examples of Great Company Values
Now's the perfect time to look at some core value examples for businesses as you consider your own. You'll find the best company values are born from timeless principles, like:
Integrity
Loyalty
Honesty
Trust
Creativity
Responsibility
Respect
Excellence
From there, it's up to you to personalize the core values that best describe what matters most to your business. The examples below prove the impact of company values is in their clarity and sincerity.
Amazon—Bias for Action: "Speed matters in business. Many decisions and actions are reversible and do not need extensive study. We value calculated risk taking."
Ramsey Solutions—Excellence in the Ordinary: "We are faithful in the little things."
Patagonia—Not Bound by Convention: "Do it our way. Our success—and much of the fun—lies in developing new ways to do things."
Mayo Clinic Health System—Compassion: "Provide the best care, treating patients and family members with sensitivity and empathy."
Google—Great Just Isn't Good Enough: "We see being great at something as a starting point, not an endpoint. We set ourselves goals we know we can't reach yet, because we know that by stretching to meet them we can get further than we expected."
Salesforce—Customer Success: "Our growth is based on mutual success. When our customers and our employees grow, we grow."
Encompass Health—Focus on the Positive: "We have a positive spirit and find the light even in the most difficult situations. We bring our whole self to work. We celebrate successes and inspire others to create meaningful impact."
Related article: Vision Casting: 7 Reasons Why It Matters
What's Next: Be the 1%
As you consider the traits you want to define your business and keep everyone moving in the same direction, ask yourself this final question: What core values am I more committed to than 99% of my industry? That's where you'll tap into the passion and conviction that set your organization apart.
Defining your company core values is an important part of the Pathfinder stage of business—stage two among the five Stages of Business every business goes through. As a Pathfinder, you've finally passed the Treadmill Operator stage (where you moved from spending most of your time working in your business to working on your business). Now, your team generates business results without you so you can focus on aligning everyone in a shared direction by clarifying company values, sharing your mission and vision, defining roles, and communicating clearly. EntreLeadership's Stages of Business will walk you through what it takes to level up your business from the initial Treadmill Operator stage all the way to the Legacy Builder stage.
Related article: EntreLeadership: What Are the 5 Stages of Business?
Want to learn more about the Stages of Business and where company values fit in? Check out The EntreLeadership Podcast. You'll get practical advice on how to level up as a business leader from Dave Ramsey, the founder and CEO of Ramsey Solutions. And you'll have a chance to call in with questions!
Frequently Asked Questions
How many core values should a company have?

There's no magic number for company values. Come up with as many (or few) as you need to fully capture what you stand for—and know them like the back of your hand.

How do I identify my core values?

Start by asking yourself these three questions: What do I stand for? What values would I like to live but I'm not actually achieving? What does success look like to me?

Which company core values are most important?

All your company core values are important because they're all principles that tell the world what you stand for. You'll find different values apply more to different situations, but that's the beauty of them. Your core values guide your business and keep you true to your mission.
Did you find this article helpful? Share it!