U.S. inflation clocked in at 7.7% in October.1 That just stings—especially when everyday "necessities," like bacon and Oreos, have become luxury goods. Life just isn't the same dipping a generic Creme Between cookie in a glass of milk (poured from a $4 gallon).
While the nationwide inflation rate is bad enough to make you want to stress eat Creme Betweens by the fistful, some U.S. cities have it much worse. In fact, the October inflation rate in a few cities beat the national average by several percentage points. We're talking double-digit inflation!
So, which city took the top spot for highest inflation in the U.S.? Well, rising from the ashes of our burning economy like a mythical creature was . . . Phoenix, Arizona.
Did your town make the October list? Let's take a look.
Which U.S. Cities Have the Highest Inflation?
It might surprise you that some of the nation's biggest cities are pretty far down on the list, and we'll talk about that in a little bit. But first, here's the list of the cities with the highest inflation and some others with rates below the national average:
Baltimore-Columbia-Towson, MD (8.4%)
Philadelphia-Camden-Wilmington, PA-NJ-DE-MD (7.8%)
Chicago-Naperville-Elgin, IL-IN-WI (7.7%)
Urban Alaska (7.6%)
Houston-The Woodlands-Sugar Land, TX (7.6%)
Los Angeles-Long Beach-Anaheim, CA (7.5%)
St. Louis, MO-IL (7%)
New York-Newark-Jersey City, NY-NJ-PA (6%)
San Francisco-Oakland-Hayward, CA (6%)2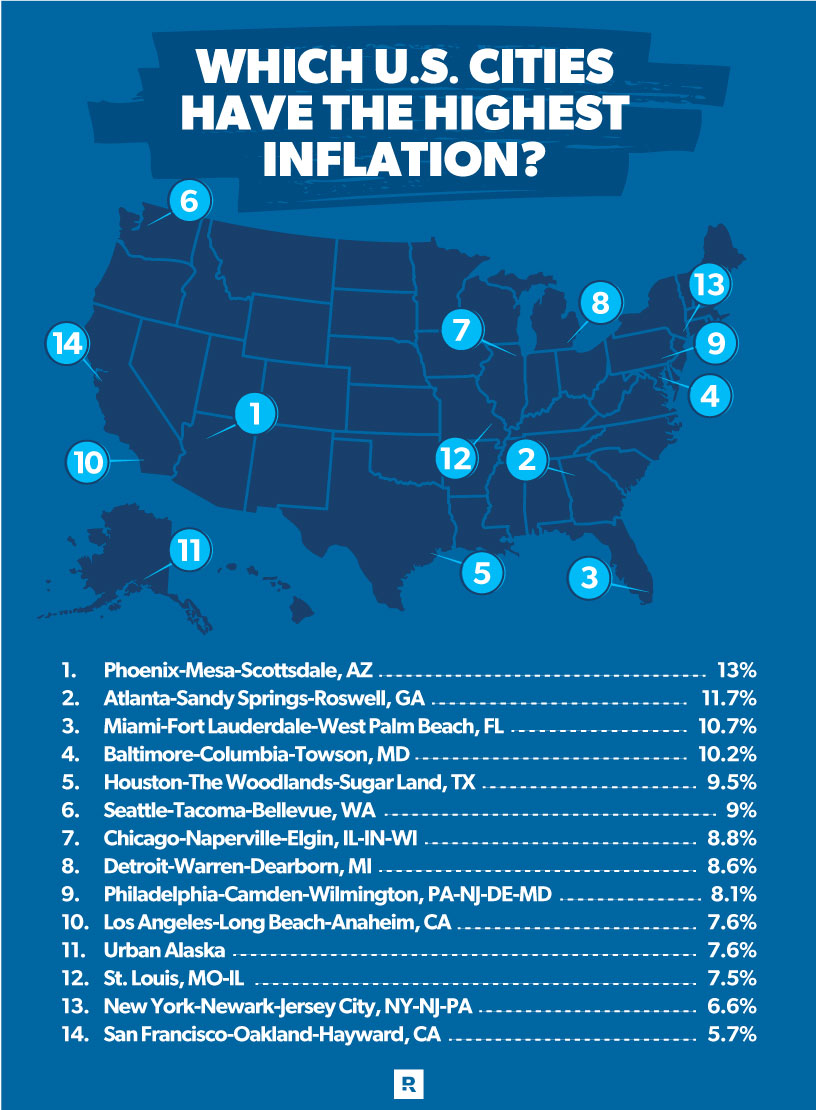 Hey, before we start looking at individual cities, here's just a quick lesson on how inflation numbers are calculated. Economists from the U.S. Bureau of Labor Statistics (BLS) track inflation through the consumer price index (CPI). The CPI is the total cost of a group of goods and services—things like gas, food and shelter—compared to the previous year.
So, when we say the CPI rose 7.7% for October, that means prices increased by 7.7% from October 2021 to October 2022. Some people might hear inflation numbers and mistakenly think prices rose 7.7% in one month. Thank your lucky stars that's not the case! (Month to month, inflation was up 0.4% in October, in case you were wondering.3)
But still, 7.7% inflation isn't great. The Federal Reserve has been raising interest rates to try to get inflation down to its 2% target. It has come down some, but we have a long way to go before we get back to that number. And some cities have a really long way to go.
Let's dive a little deeper into the top five U.S. cities with the highest inflation in October.
1. Phoenix, Arizona
At 12.1%, the Phoenix metro area (Phoenix, Mesa, Scottsdale) takes top prize for the highest inflation rate.4 That's not a prize you want—kind of like winning the World's Ugliest Dog Contest.
But why is inflation so high in Phoenix?
Well, a lot of it is related to the cost of housing, which is a key component of CPI.
When the pandemic hit and people started migrating to more affordable cities or ones with fewer COVID restrictions, Phoenix was a destination on many people's lists. In 2022, it was the third-most popular place for people moving from one city to another.5 All those COVID refugees boosted the cost of homes and rent like crazy. More people also meant more demand for gas and groceries, which led to higher prices for both of those categories.6
Overall, though, the cost of living in Arizona is only about 6% higher than the national average.7 So it's still not super expensive to live in the state.
2. Atlanta, Georgia
Number two on the list is the Atlanta metro area (Atlanta-Sandy Springs-Roswell) at a crazy high 10.7% inflation.8

Start budgeting with EveryDollar today!
Atlanta also had a flood of people before and after the pandemic, and that made shelter costs go up. And if you've ever driven in Atlanta, you know traffic is a pain. More people burning more gas while stuck in traffic jams means higher prices at the pumps.9
Overall, the average cost of living in Georgia is about 11% lower than the national average, but it might not be that way for long if prices keep going up in Atlanta.10
3. Miami, Florida
Inflation in the Miami metro area (Miami-Fort Lauderdale-West Palm Beach) was hot, hot, hot in October—hitting 10.1%.11 And guess what? Miami ranked as the most popular destination for people looking to relocate.12 Sensing a trend here?
Because of its population, shelter costs in Miami went up 14.2% year over year.13 Other big jumps? Energy prices and food prices.14
Despite being one of the most popular vacation and retirement destinations in the U.S., some areas of Florida are still affordable. In fact, the average cost of living in Florida is about 1% higher than the national average.15
4. Seattle, Washington
Ugh, as if constant rain isn't depressing enough, Seattle residents also have to worry about inflation. Seattle's inflation rate was 8.9% in October.16 That's enough to make anyone worry and be sleepless in Seattle.
The two big culprits of Seattle's high inflation are shelter and gas.17
5. Detroit, Michigan
Prices in the the Detroit-Warren-Dearborn area went up 8.5% from a year ago.18 And no, this wasn't because a bunch of people decided to pack up and move to Detroit. The Motor City's population actually dropped by about 11% in the last 10 years.19
High inflation was mostly due to increases in the cost of gas and food.20 So that Detroit-style pizza you love is gonna cost you a few bucks more.
Cities Not in the Top 5
Los Angeles, New York and San Francisco actually put up lower inflation rates than the national average. How can that be? Those cities are the OGs of high prices, right?
Yes, yes they are.
But the reason inflation is a little lower in Los Angeles, New York and San Francisco is because the housing market hasn't been as hot in these cities as the rest of the country.21 When the pandemic hit, lots of people moved out of these big cities, which caused the cost of shelter to not rise as fast as popular destination cities (like Phoenix).
Remember, the cost of shelter is a key part of the Consumer Price Index.
And just because inflation hasn't been as high in some California cities, the cost of living in California is still 38% higher than the cost of living in other states. And the cost of living in New York City is a whopping 91% higher than the national average.22
So, yeah—the Big Apple is always going to come with a big price tag. Here are a few more cities where inflation and the cost of living have been on the rise lately.
Other Cities With High Inflation
The BLS releases inflation numbers for a handful of cities every other month on a rotating basis, so two cities not included in the October report had big numbers in November. Tampa-St. Petersburg-Clearwater, Florida, had 9.6% inflation, and Dallas-Fort Worth-Arlington, Texas, hit 8.4%.23
It sounds like we're playing the same song on repeat, but these cities also experienced surges in the cost of shelter due to migration in the last year—which caused higher inflation rates.
All this talk of inflation might have you scrambling to flee your city, but hold on a sec. Whether you live in an area with crazy high inflation or just stupid high inflation (and that means you live in the good ol' U.S. of A.), you can do some things to combat inflation.
How to Beat Inflation
Even though money might be getting tighter for you, there's hope. You can manage inflation, but it's not going to be easy.
One way to cut down the pain of inflation is to buy or spend less. Captain Obvious, right?
We're not talking about adopting a ramen-only diet, because you can cut your grocery bill simply by shopping at cheaper stores (think Aldi or Walmart instead of Whole Foods). And find ways to skip the food you want and instead buy the food you need. For example, rather than buying convenience foods (premade salads), stick with raw ingredients (a head of iceberg lettuce) and do your own meal prep.
When it comes to energy prices, raising your thermostat a few degrees can save you big bucks each month. And to save on gas, consider carpooling with a coworker. Hey, don't knock it. Carpooling might not be as bad as it sounds—and you might make a new friend in the process.
While cutting back on spending is a good way to combat inflation, one of the best ways is to up your income by finding a new job or starting a side hustle. The American economy has a labor shortage right now, so it's a good time to look for a new job with a bigger paycheck. But remember, don't just chase a paycheck. Make sure you find a job you love.
Budget to Beat Inflation
Look, if your budget has been derailed by inflation, you're not alone. But just because things cost more now, don't throw your budget out the window. You need a budget now more than ever.
We know—budgeting might feel like a big headache, but our free budgeting app, EveryDollar, makes that much easier. You can keep an eye on things, track what you spend, and make tweaks on the fly all right from the app. So tell those rising prices to get the heck out of here—because you've got a plan to combat inflation.
Did you find this article helpful? Share it!