It's the easiest budget category to bust: the grocery budget.
One of my best money-saving tips is to shop at Aldi. I love Aldi! (Aldi is a German-founded discount grocery chain that's been expanding in the United States over the past few years.) But Walmart is also known for low prices and their store-brand savings. Is Aldi cheaper than Walmart? I wanted to know where you'll truly save the most money on groceries, which leads us to a food fight for the ages: Aldi vs. Walmart.
Aldi vs. Walmart: What to Know
1. These items were purchased in June 2023 in Franklin, Tennessee.
Many things affect the cost of groceries—like location, time of year and even what's going on in the world. Your local Aldi or Walmart store's pricing may vary.
2. I compared store brand to store brand (for the most part).
For a true Aldi vs. Walmart comparison, I bought each store's own brand whenever possible. Walmart's store brand is called Great Value, and Aldi has several different store brands. That's actually Aldi's whole strategy: They don't carry name brands at all.
3. These are the groceries I buy most often.
I organized the items in five categories: meat, dairy, produce, pantry items and miscellaneous. You can scroll to the items that apply most to you.
4. I'm not sponsored by either store.
My goal for you is to take control of your money and create a life you love—and that means presenting you with the cold, hard, unbiased facts. As much as I love saving money at both of these stores, I'm not sponsored or paid by either one of them.
Aldi vs. Walmart: Meat
For many Americans, meat is a staple at any dining table. In fact, we consume an average of 279 pounds of meat per year!1 But meat isn't cheap. If you're intense about getting out of debt, you can save a lot of money by simply eating less of it. But if it's something you just can't give up, here's the Aldi vs. Walmart breakdown on popular types of meat:
Bacon: Walmart
When it comes to bacon, we all win. But when it comes to bacon prices, Walmart does.
Aldi: $4.39 per pound
Walmart: $4.24 per pound
Chicken: Aldi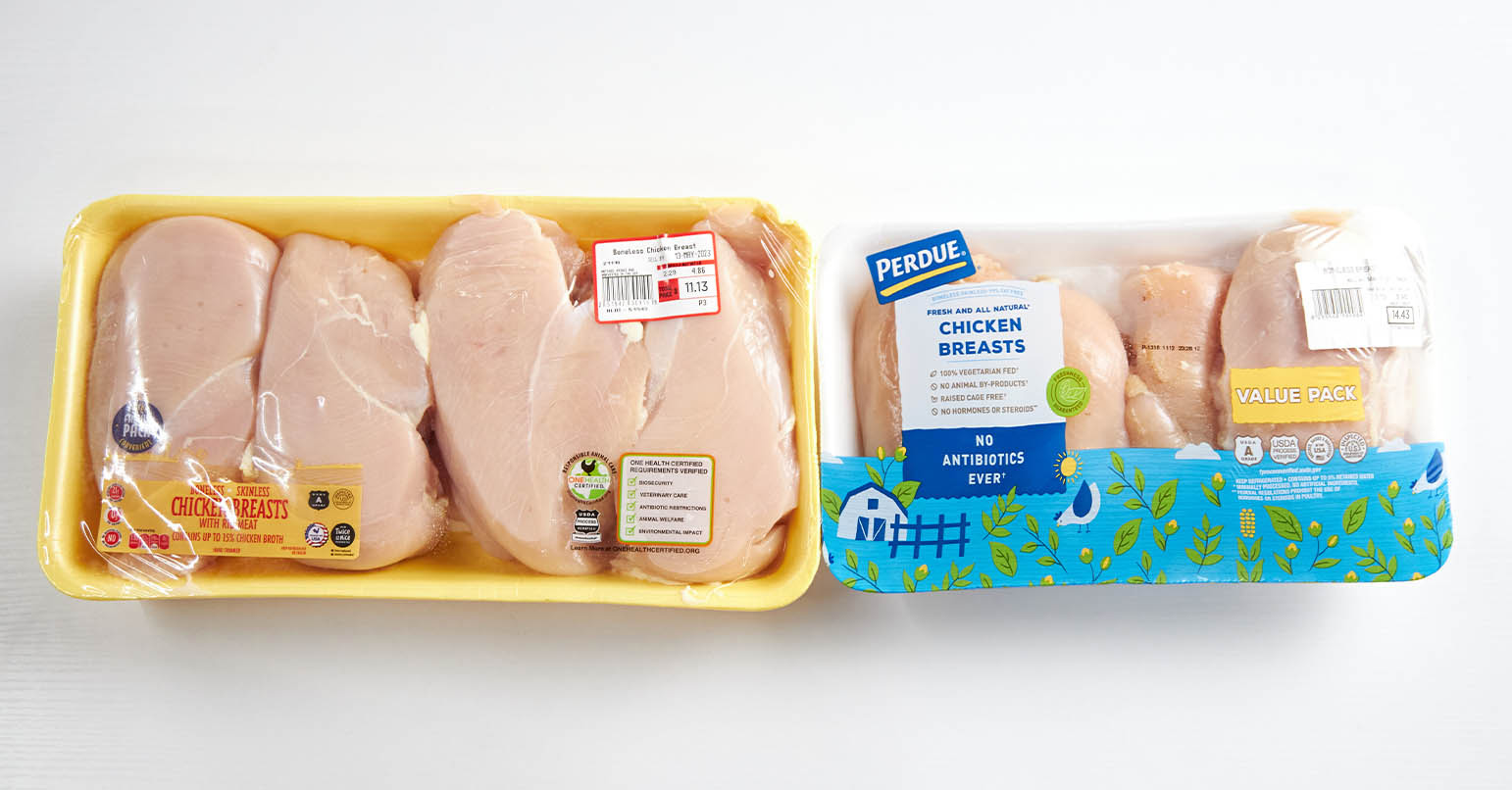 Is Aldi cheaper than Walmart when it comes to chicken? Yes! Their chicken breasts come in 25% cheaper than Walmart's.
Aldi: $2.29 per pound
Walmart: $2.97 per pound
Ground Beef: Aldi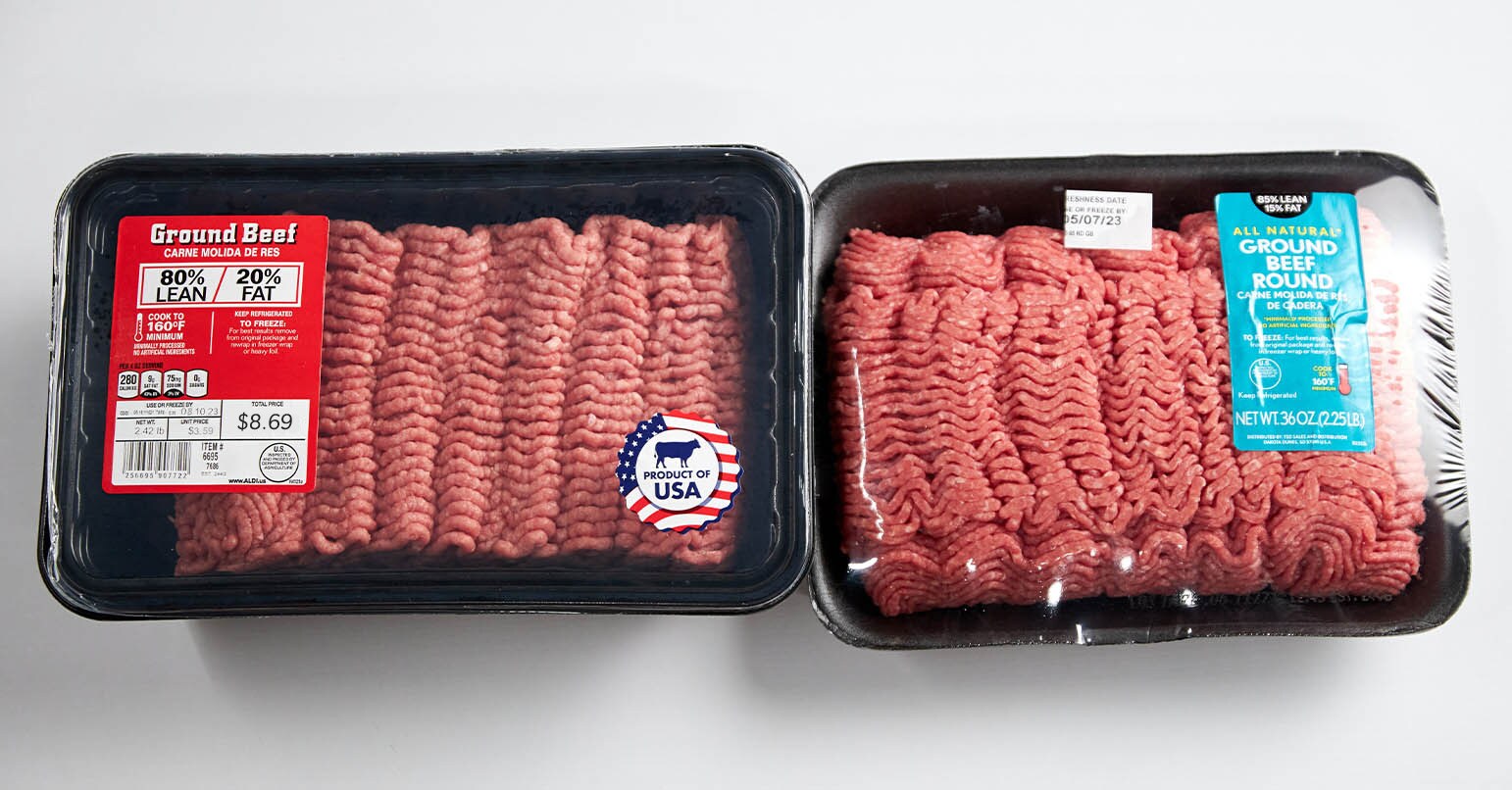 Need another reason to get your meat at Aldi? Their ground beef is 20% less.
Aldi: $3.59 per pound
Walmart: $4.42 per pound
Eggs: Aldi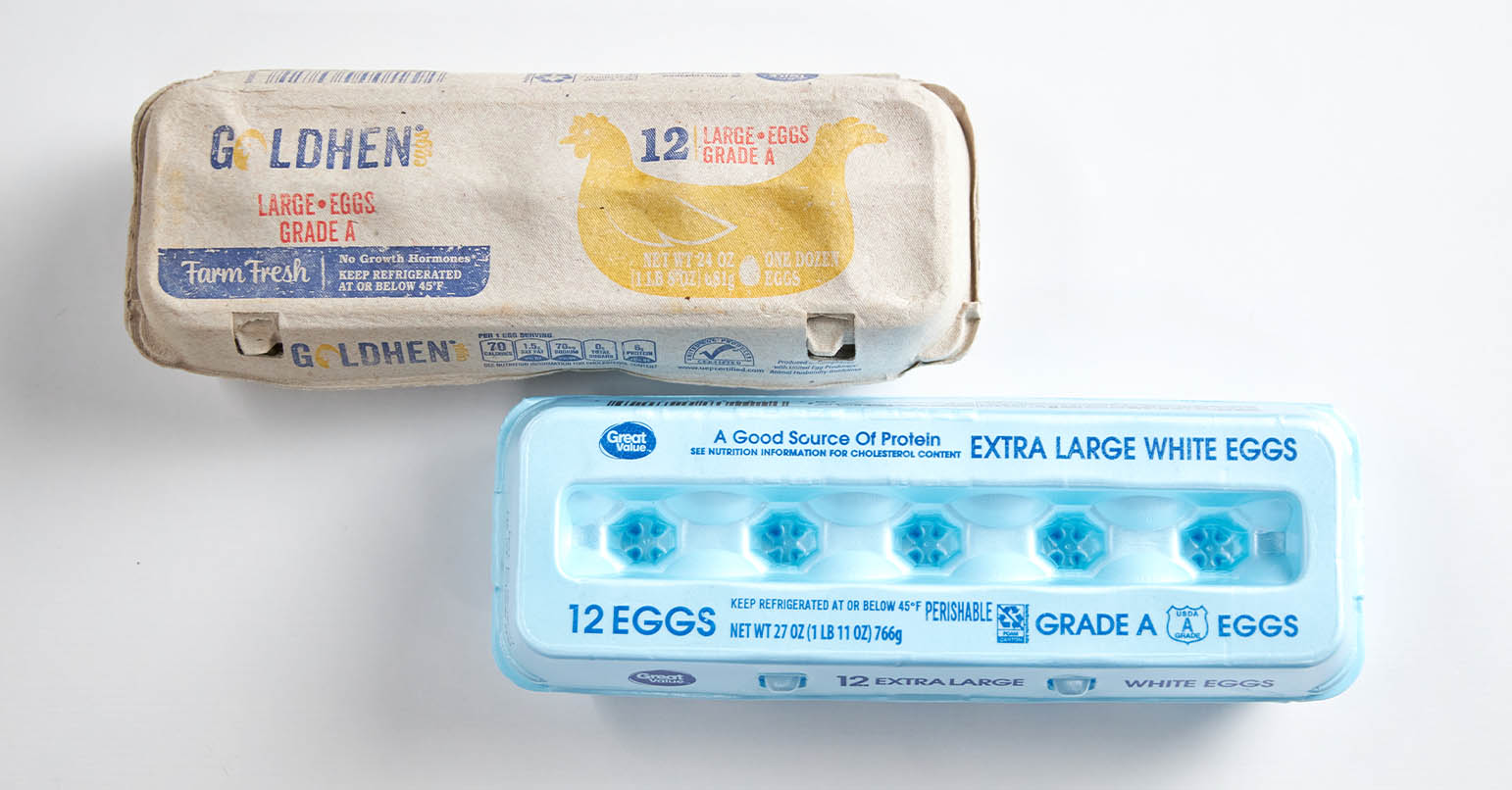 I compared one dozen grade A large white eggs, but both stores also have cage-free and organic options. If that's important to you, you might like that Aldi has the United Egg Producers (UEP) certification on their cartons, which means the chickens are supposed to be treated more humanely. But is Aldi cheaper? Yep.
Aldi: $1.09 per dozen
Walmart: $1.10 per dozen
Aldi vs. Walmart: Dairy
In my research, regardless of which store won, both Aldi and Walmart came out significantly cheaper than other grocery stores, like Kroger and Publix, for dairy products. That's helpful to know since milk, butter and cheese are items most of us need to buy on a regular basis.
Milk (2%): Walmart
Got milk? In the Aldi vs. Walmart showdown, Walmart wins. Just keep in mind, Walmart keeps their milk at the back of the store—and at my Walmart, that means I have to walk past all the cute baby clothes on my way there. It's easy for $3 to turn into a $25 trip.
Aldi: $3.35 per gallon
Walmart: $3.02 per gallon
Butter: Aldi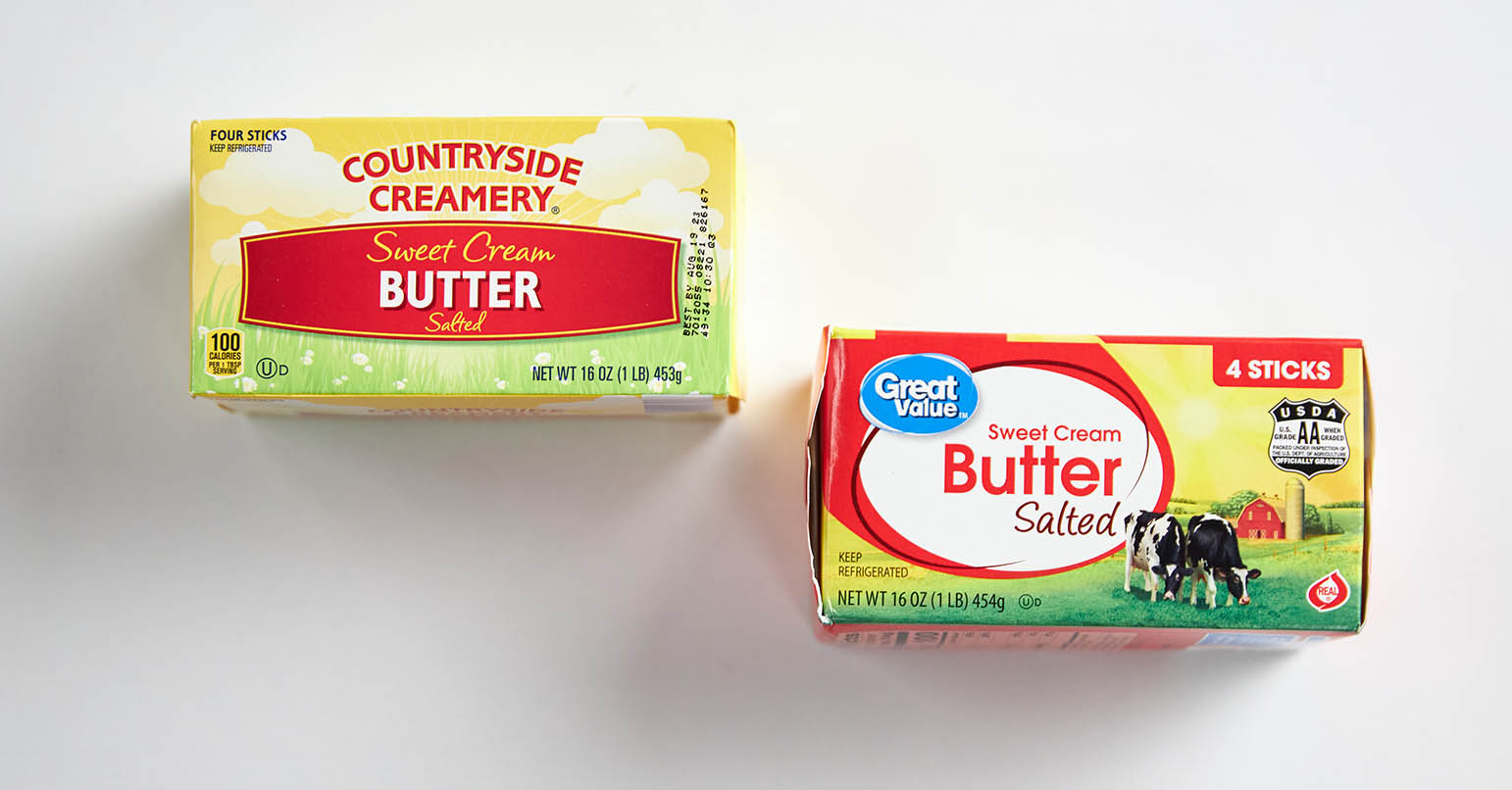 Is Aldi or Walmart cheaper and the better option to buy butter? Each package includes four sticks of salted butter—and Aldi wins.
Aldi: $3.69
Walmart: $3.98
Shredded Cheddar Cheese: Walmart

Try our free Meal Planner to save money on groceries!
It's a staple in my house, and probably in yours. Is Aldi cheaper? It turns out, Walmart has the better price and value.
Aldi: $4.19 for 16 ounces
Walmart: $3.98 for 16 ounces
Ice Cream: Walmart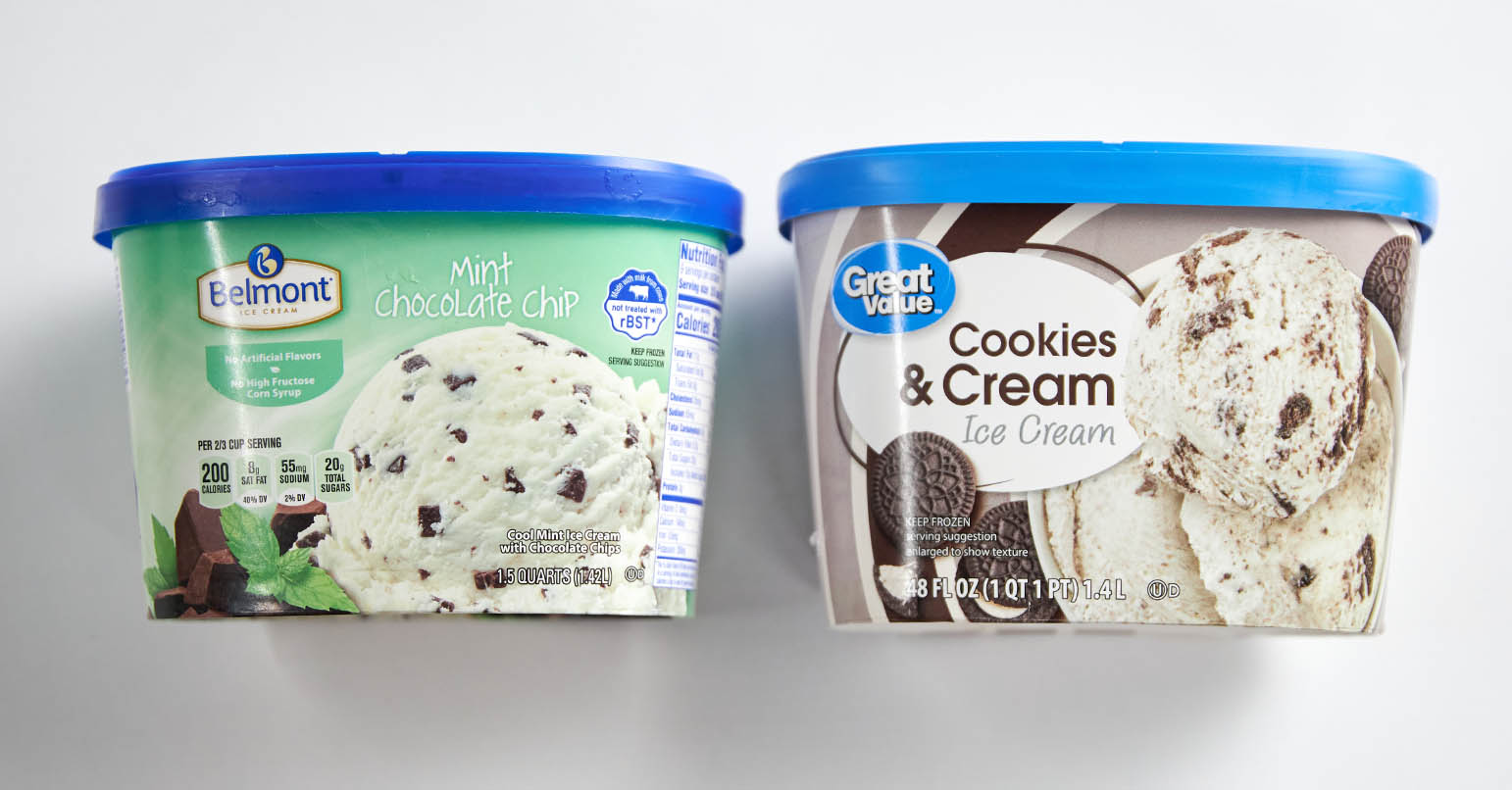 Can someone tell me what happened to actual half gallons of ice cream? Apparently, America has decided we only need 1 1/2 quarts in our freezer . . . Anyway, Walmart wins this one.
Aldi: $2.95 for 1 1/2 quarts
Walmart: $2.67 for 1 1/2 quarts
Almond Milk: Walmart
There are many varieties of almond milk, but I compared unsweetened, vanilla almond milk with 30 calories per serving—and Walmart wins.
Aldi: $2.55
Walmart: $2.44
Aldi vs. Walmart: Produce
Adding more fruits and vegetables into your diet is awesome for your health, and it's not too hard on your wallet, either—unless that food goes bad before you can eat it. I'm as guilty of this as anyone. I get on a new health kick and stock my fridge with fresh produce, only to see it still sitting in the drawer the next week. As you're shopping for produce, try to be realistic about how much you'll actually eat. Doing this will really save you some money.
Apples: Aldi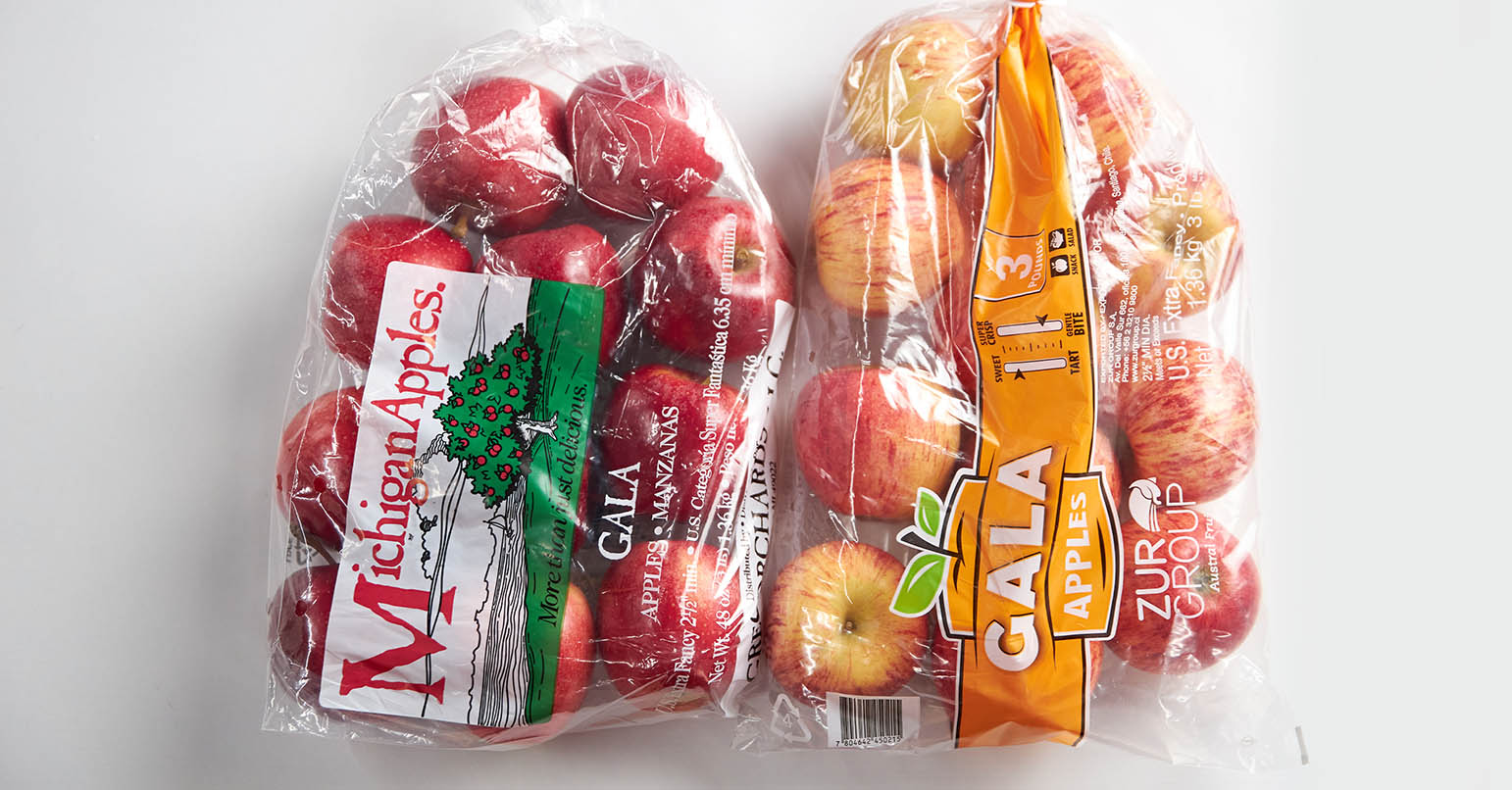 My Walmart doesn't carry apples in their Great Value brand, but these gala apples were the cheapest bag I could find. They were no match for Aldi, who wins again.
Aldi: $3.95
Walmart: $4.52
Oranges: Walmart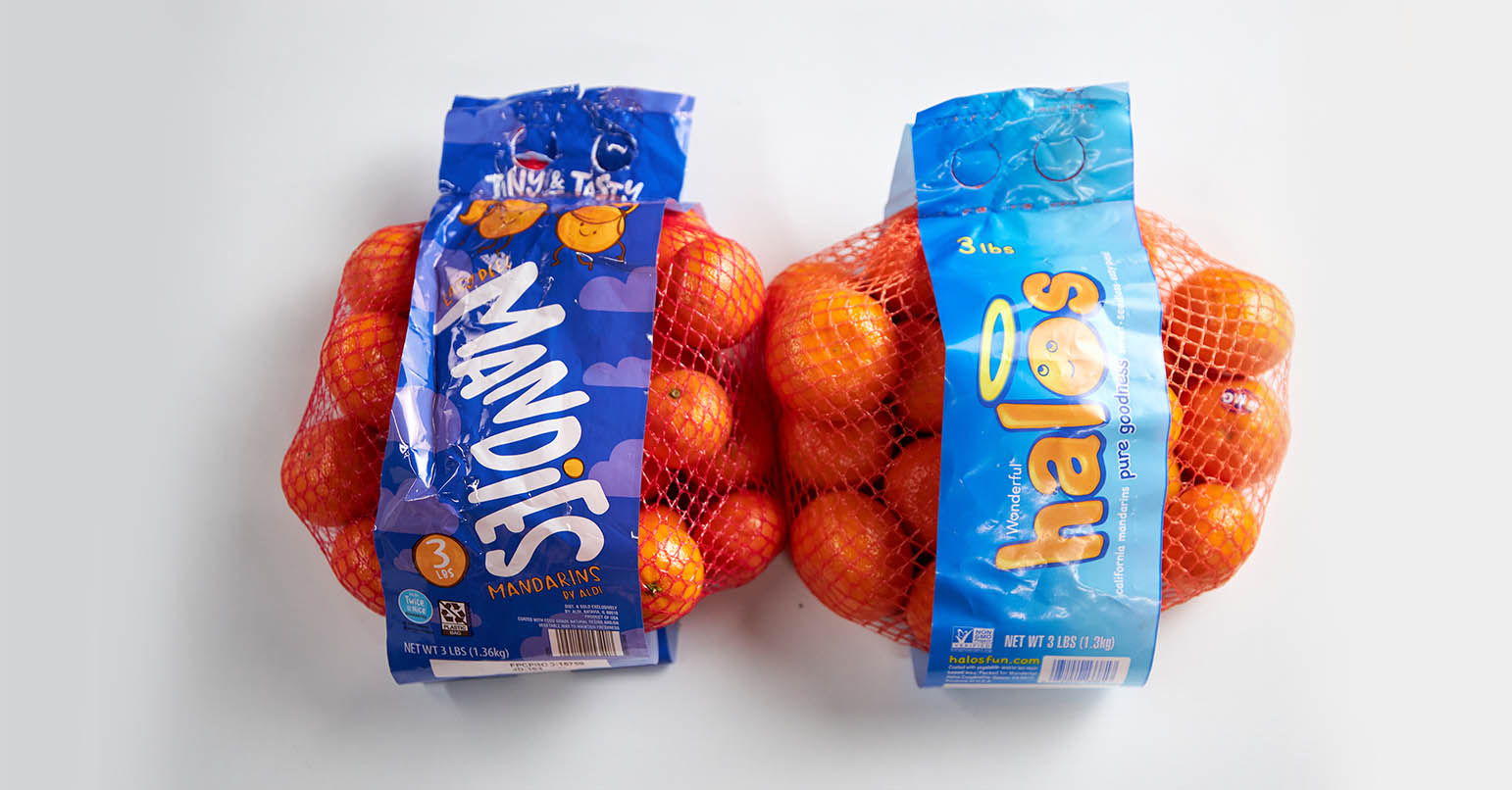 These little mandarins come in a 3-pound bag and are great to keep on hand, especially if you have kids. Walmart has the best price.
Aldi: $4.19
Walmart: $3.98
Bananas: Walmart
As long as pennies are still a thing, Walmart wins this one.
Aldi: $0.59 per pound
Walmart: $0.50 per pound
Bell Peppers (Multicolored 3-Pack): Walmart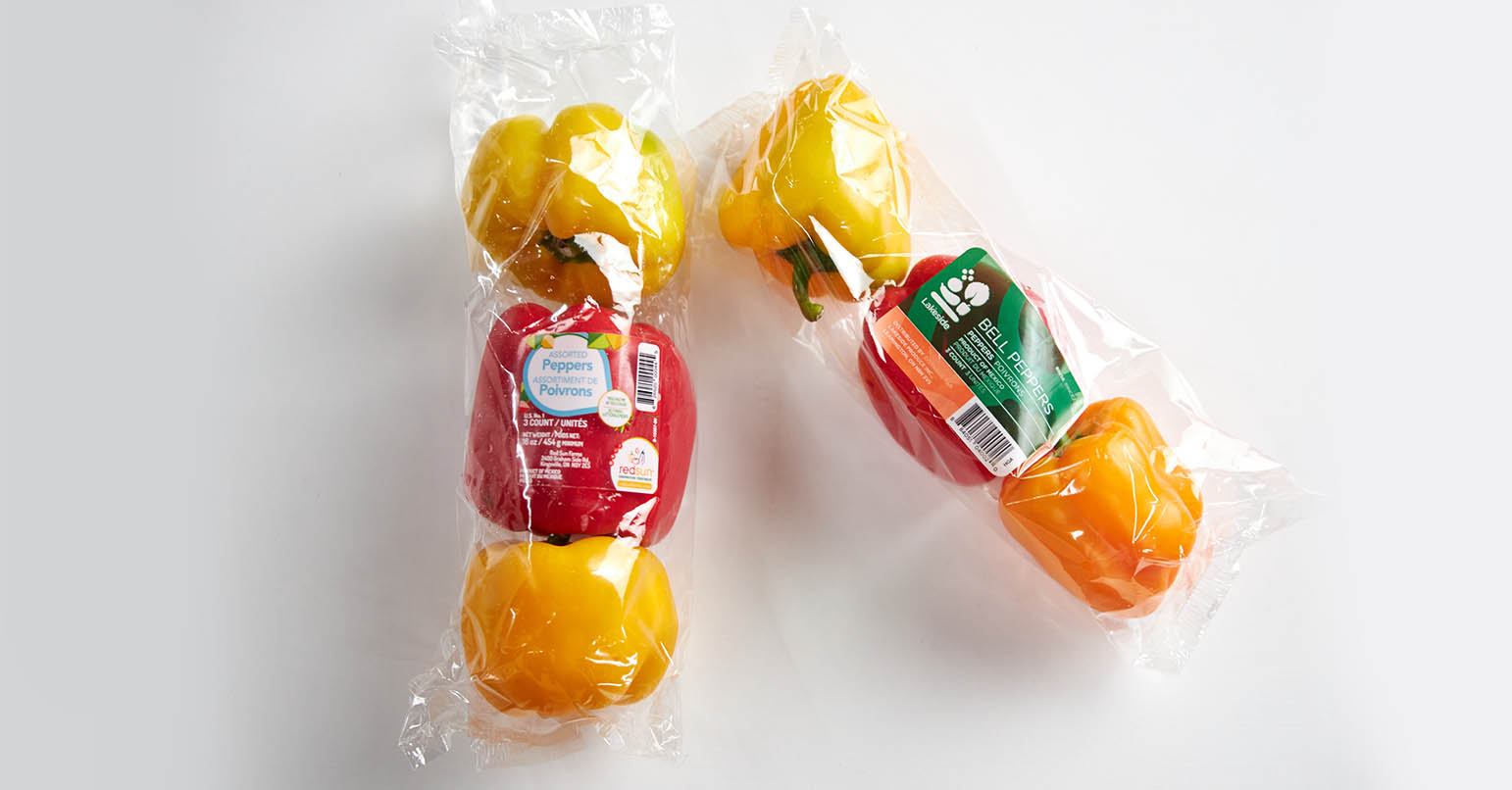 I use bell peppers on everything from pizza to tacos to charcuterie boards (when I'm running low on everything else that most people put on charcuterie boards). Walmart wins again—but just by a penny.
Aldi: $2.99
Walmart: $2.98
Spinach: Aldi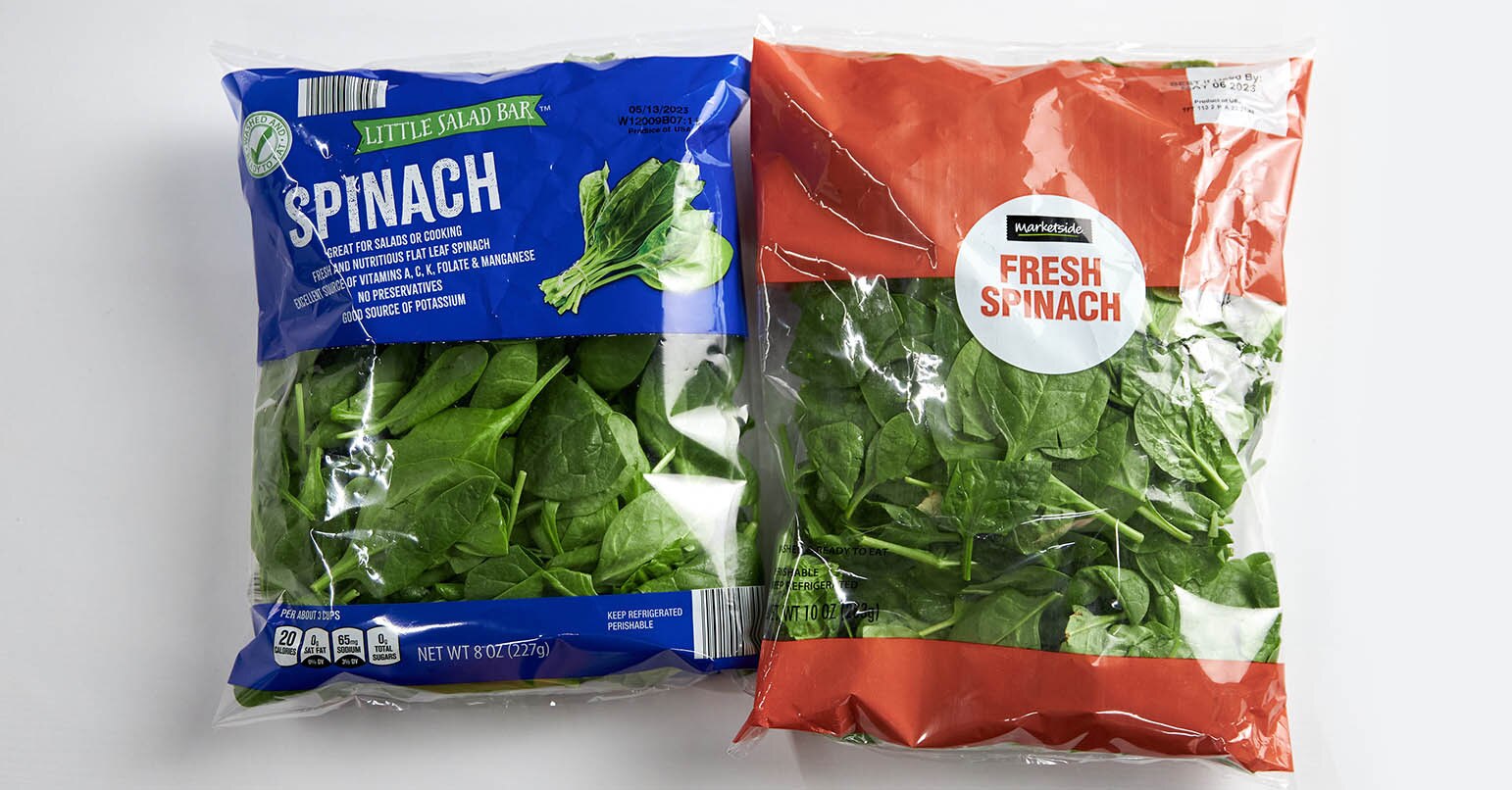 While Walmart's bag of spinach is technically two ounces bigger, Aldi's spinach is cheaper per ounce.
Aldi: $1.45 ($0.18 per ounce)
Walmart: $1.98 ($0.20 per ounce)
Aldi vs. Walmart: Pantry Items
This is the category that can $3 you to death. They're also the items that are the biggest pain because they're easy to forget and can often cost you a second trip to the grocery store. As you notice you're running low on pantry items, add them to a list on your phone to save time and gas money in the future.
Organic Chicken Broth: Aldi
What is Aldi? The winner of the organic chicken broth price comparison. Their organic chicken stock is cheaper than Walmart's.
Aldi: $2.09
Walmart: $2.18
White Rice: Walmart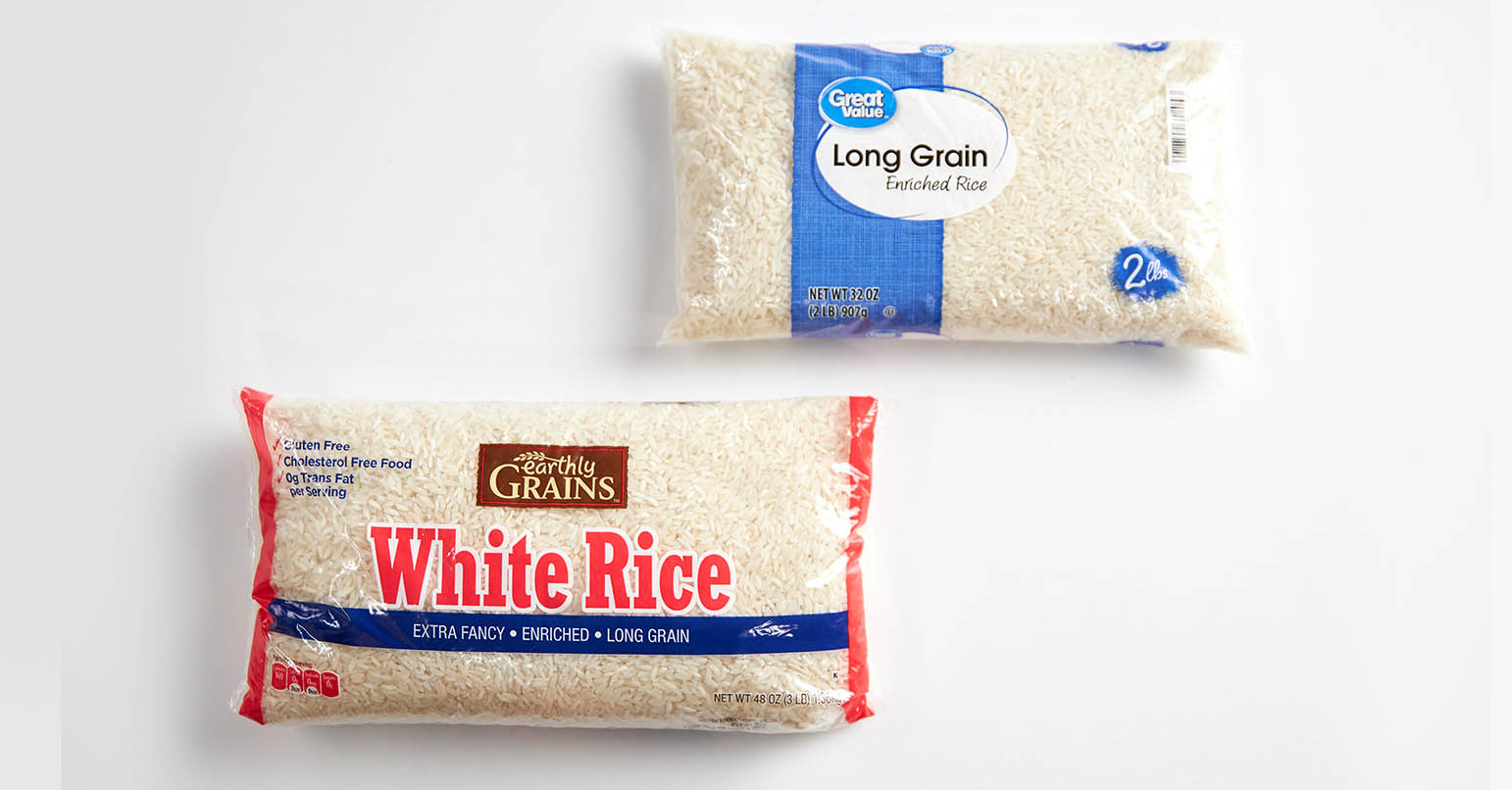 Is Aldi cheaper when it comes to this pantry staple? Aldi ties with Walmart for cost per ounce of white rice. In this case, Walmart's 2-pound bag is cheaper, but only because it contains less rice.
Aldi: $2.65 for a 3-pound bag
Walmart: $1.77 for a 2-pound bag
Black Beans: Walmart
It wouldn't be a Ramsey shopping trip without some rice and beans! Walmart (just barely) has the better price for a can of black beans.
Aldi: $0.85
Walmart: $0.78
Flour: Walmart When it comes to all-purpose, bleached flour, Walmart has the better price.
Aldi: $2.45
Walmart: $2.34
Apple Sauce Pouches: Walmart
These are never not in my pantry. My kids love them, and they're a super easy grab-and-go option. Walmart wins.
Aldi: $6.95
Walmart: $5.68
Coffee: Walmart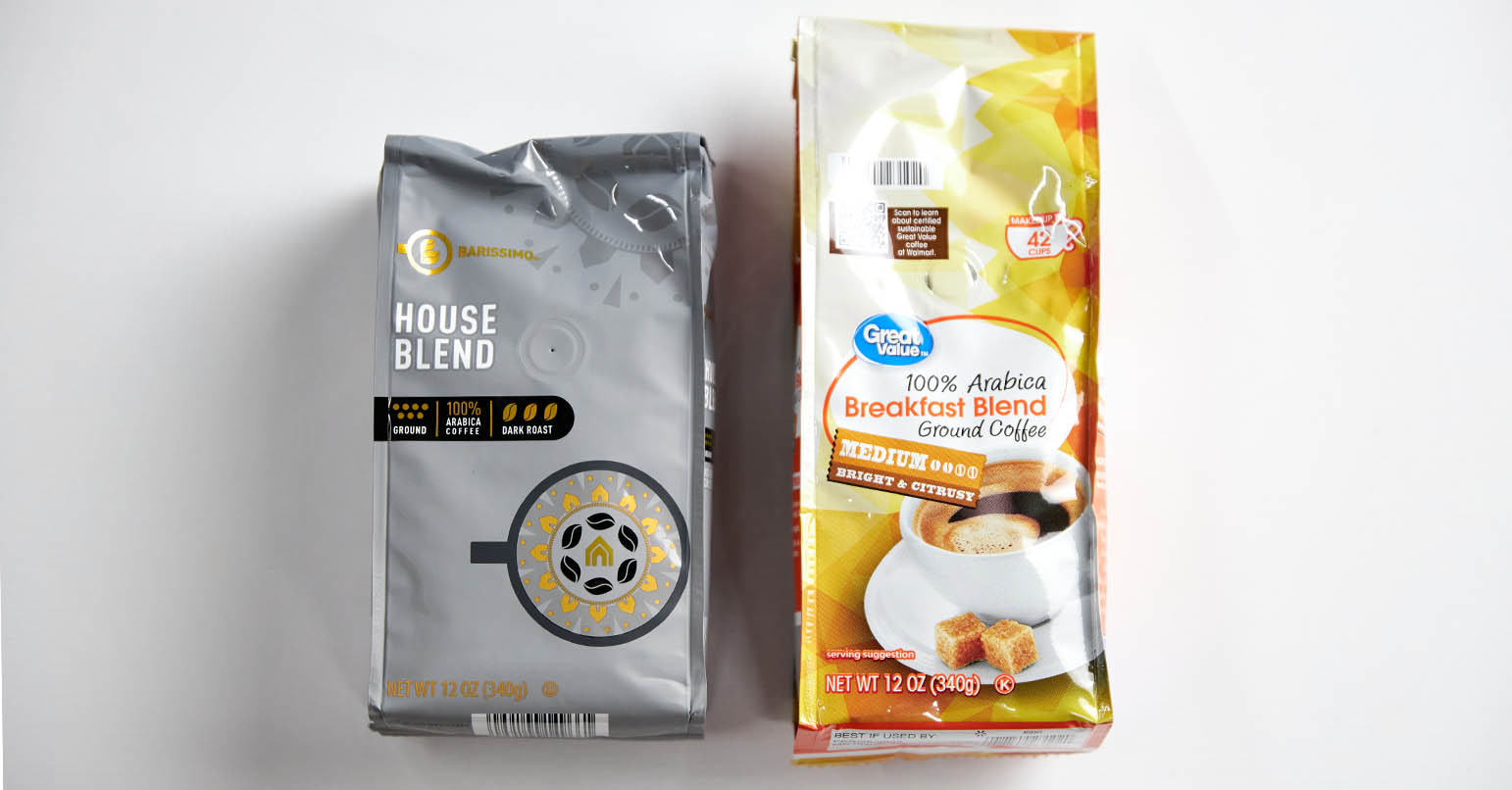 Coffee is proof that God loves us and wants us to be happy, right? Based on the price for a bag of coffee grounds, Walmart is the place to buy your caffeine.
Aldi: $4.65
Walmart: $3.97
Peanut Butter: Walmart
Sometimes a PB and J is what's on the menu for dinner—and I'm cool with that. Walmart wins for this sandwich staple.
Aldi: $1.99
Walmart: $1.84
Gluten-Free Bread: Walmart
For you shoppers who avoid gluten, you'll definitely want to get your bread at Walmart. It's $1 cheaper than Aldi.
Aldi: $7.15
Walmart: $6.17
Aldi vs. Walmart: Miscellaneous Groceries
This category is a hodgepodge, but it's just as crucial to our everyday lives.
Diapers: Aldi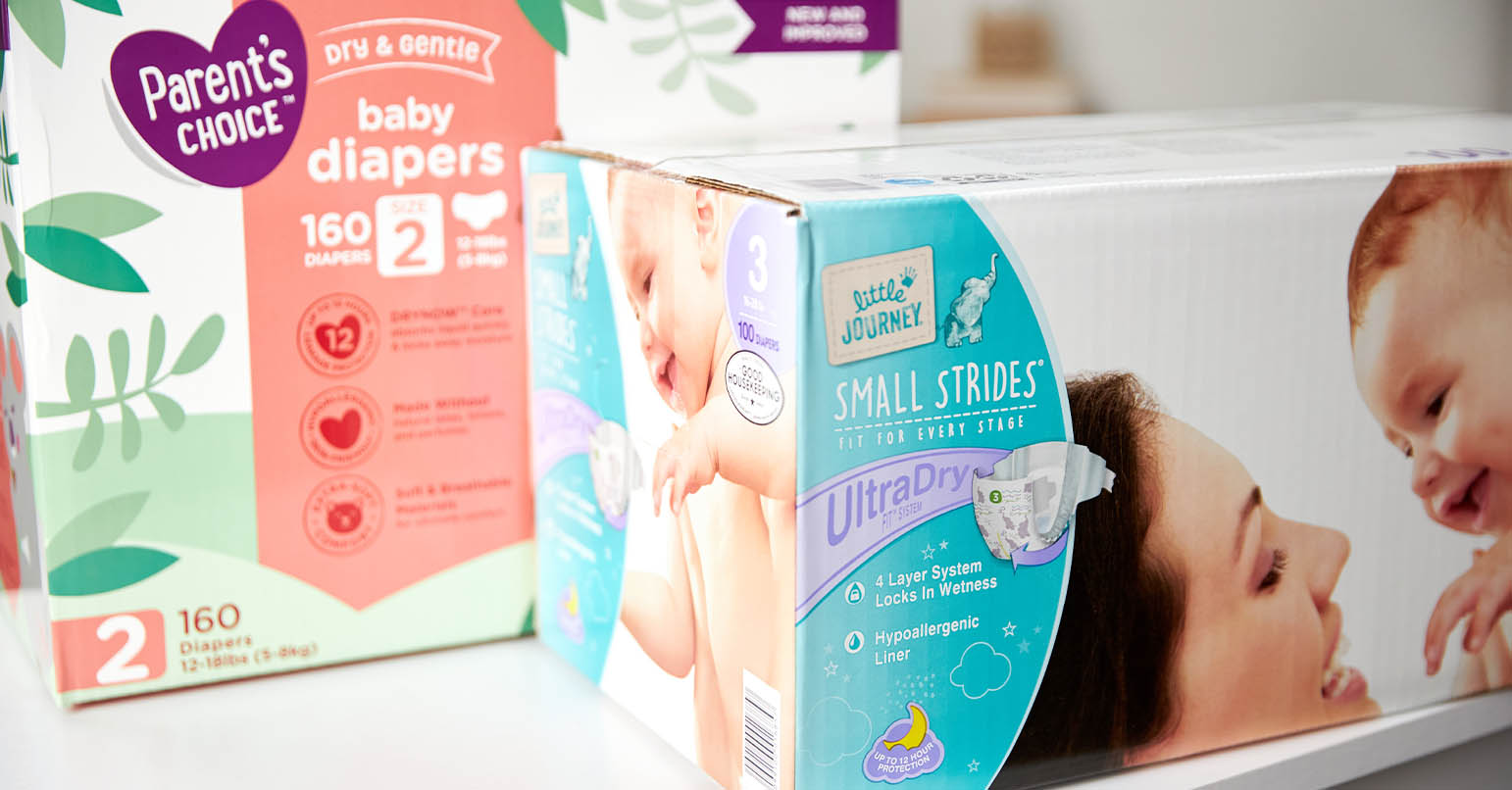 I have friends and coworkers who swear by Aldi's diapers—but is Aldi cheaper? At 15 cents per diaper, Aldi's price really is a great deal. Walmart's store brand is 21 cents per diaper, and they come in a box of 80—not 82 like the Aldi diapers. I'll stick with Aldi—fewer things are worse than running out of diapers.
Aldi: $12.39 (82 diapers/15 cents per diaper)
Walmart: $17.48 (80 diapers/21 cents per diaper)
Trash Bags: Aldi
Both Aldi and Walmart offer their store brands for less than name brands, but Aldi comes out a little cheaper—and in a package with double the number of bags. When you're comparing prices, look at the quantity and cost per bag (or ounce, or diaper, etc.) as the deciding factor.
Aldi: $7.69 (80 count/10 cents per bag)
Walmart: $6.88 (40 count/17 cents per bag)
Dish Soap: Aldi
When you're trying to save money by deciding between Aldi vs. Walmart, every little bit helps. Aldi comes in at about 15% cheaper than Walmart for dish soap.
Aldi: $1.89
Walmart: $2.18
So, Is Aldi Cheaper Than Walmart?
Walmart had cheaper prices for 15 out of 25 items! And it's the cheapest store overall, by just a few dollars.
Here are some interesting takeaways I noticed:
Walmart was cheaper for almost every dairy price matchup.
Aldi beat Walmart on chicken breasts and ground beef by about 20%.
Aldi won in every miscellaneous category—including diapers, by a long shot.
Walmart stands out in pantry items, except for organic chicken broth, which comes out to almost a dime cheaper at Aldi.
If you live in an area where there aren't any Walmart stores close by, Aldi is still a good option. The total bill for these groceries (without diapers) was:
Aldi: $79.62
Walmart: $76.57
Wherever you shop, my top grocery-savings tip is always to make a list—and stick to it. Go into the store with the mindset that there's no wiggle room. You're here for the things on the list and only those things. Not today, endcap in the freezer section stocked full of discounted ice cream—not today.
Walmart Hours, Location and More
Ready to check out these great deals at Walmart for yourself? Walmart's hours of operation depend on the location, but they're open seven days a week. Use the Walmart store locator on their website to find your local store and see if your Walmart's hours are any different. Some stores even offer delivery or curbside pickup!
To make the most of your grocery money and your budget as a whole, I recommend our free budgeting app, EveryDollar. It only takes ten minutes to create your first budget. I love EveryDollar because it allows me and my husband to easily track our spending and know what we have left to spend each month.
Create Your Budget in Just 10 Minutes
Our budgeting app EveryDollar allows you to easily create a budget, track your expenses, and never worry about overspending on groceries again.
And before you head to the store, check out my video where I share 10 secret ways to save at Walmart:
Did you find this article helpful? Share it!