Money doesn't grow on trees—but when you learn how to make money online, your bank account can grow while you're still in pajama pants. And in the words of the Hulk, "I see this as an absolute win." That being said, how do you know if these online money-making strategies are legit and legal and not some sketchy program or pyramid scheme?
Well, first you do some research, and then . . . you get to work! To help you get kick-started, here's a list of 13 ways to make money online.
1. Sell your stuff online.
You know "that" closet or drawer in your house? The one filled with stuff that's perfectly useful—you just don't use anymore. Maybe it's time to you turn that stuff into cold, hard cash by selling it online.
Listen, you probably haven't used that hair crimper since the 80s, but some youngster might be inspired to buy it with all the hype from Stranger Things. And that juicer you bought for the cleanse that lasted exactly five hours? Someone out there wants it to cut down on their daily trips to the local juice bar. Even that powder-blue double-breasted suit your best friend made you wear to his wedding could be on someone's wish list.
Selling your stuff online could be a win-win for you: less clutter and more cash. As the old idiom goes, "One man's trash is another man's treasure." So, let's turn that trash into cash.
Helpful Websites: Facebook Marketplace, Craigslist, Poshmark, Decluttr
Keep in Mind: Think about what's involved on the front end of this one. Taking quality pictures (the object is well framed, in focus, with no distracting backgrounds), writing good, detailed descriptions of the items, and dropping off or shipping stuff all take time. And you should also keep in mind gas or shipping costs when you're pricing your items.
2. Sign up for user testing.
Most companies have this thing where they want their websites and products to be the best they can be and, well, help them make money. Sometimes those companies pay others to give feedback on everything from homepage headlines to pilot episodes to beta products.
You could get in on that by signing up for user testing. You'll get paid to give your opinions! And help businesses create better experiences for their customers. All from the comfort of your couch.
Helpful Websites: UserTesting, TryMyUI
Keep in Mind: Check with the company's payment policy to know how often you'll get paid. Is it after you hit a minimum amount of tests, or every couple weeks? This helps when you're planning how to budget your extra income!
3. Take online surveys.
Here's another place you can make extra money online giving your opinion: online surveys. That's right—answer some questions honestly and get paid doing it. How awesome is that?
You might have to finish a set number of surveys before you cash out, so don't expect to be rolling in the dough after your first round. But it's still a great option you should know about.
Helpful Websites: MyPoints, Survey Junkie
Keep in Mind: You probably won't qualify to take every single survey you see on these sites. Sometimes survey requirements are super specific to make sure the person answering can answer. So, if you've never played a video game in your life, you're probably not getting chosen to fill out a survey about Call of Duty: Modern Warfare II on Xbox.
4. Teach English.
You could be thinking one of two things here. Either 1) Hey, I speak that language. How hard can it be? or 2) Oh man, I'm super underqualified to teach anyone anything!

Save more money for the things that matter (to you) with EveryDollar.
Don't worry. There are plenty of online programs for teaching English where they do the planning and get you prepped and ready to go. It can be a rewarding way to make money online.
Helpful Websites: VIPKid, Cambly
Keep in Mind: You don't have to have a degree in ESL (English as a Second Language), but some of these online teaching companies will require a certification. Even if you aren't required to get certified, it can boost your profile and get you more gigs.
5. Tutor online.
Good news. You didn't have to graduate at the top of your class to be a good tutor. Grabbing yourself an online tutoring gig is about helping others with things you are good at.
So yeah, you don't want to sign up to tutor in Concepts in Quantum Mathematical Theory if you struggled through basic algebra. But if grammar's your jam, plenty of people need help in their writing 101 courses.
Helpful Websites: Tutor.com, TutorMe and Studypool
Keep in Mind: I hate to say it, but sometimes people "looking for a tutor" are really just wanting someone to do their homework. Make sure you skip the jobs asking you to flat-out write their papers. Teach them how to fish, not how to cheat.
6. Become a financial coach.
Guess what. You too can help others with their finances. Yep. We don't have the market share on that. But really, have you ever thought about becoming a financial coach? Nope? Well, maybe you should! Yes? Then you're reading the right bullet point.
You'll need the right training so people know you're legit. The good news is—we've got a program here at Ramsey that does just that. It's aptly called Ramsey Financial Coaching. If you aren't sure, you can take our five-minute quiz to see if you have what it takes.
Helpful Websites: Financial Coach Master Training, Financial Coach Live Workshop
Keep in Mind: This is one of those where you've got to pay something up front to get the training and the cred you need to do the job. But it's also a way to make money online that can become a full-time gig if you want.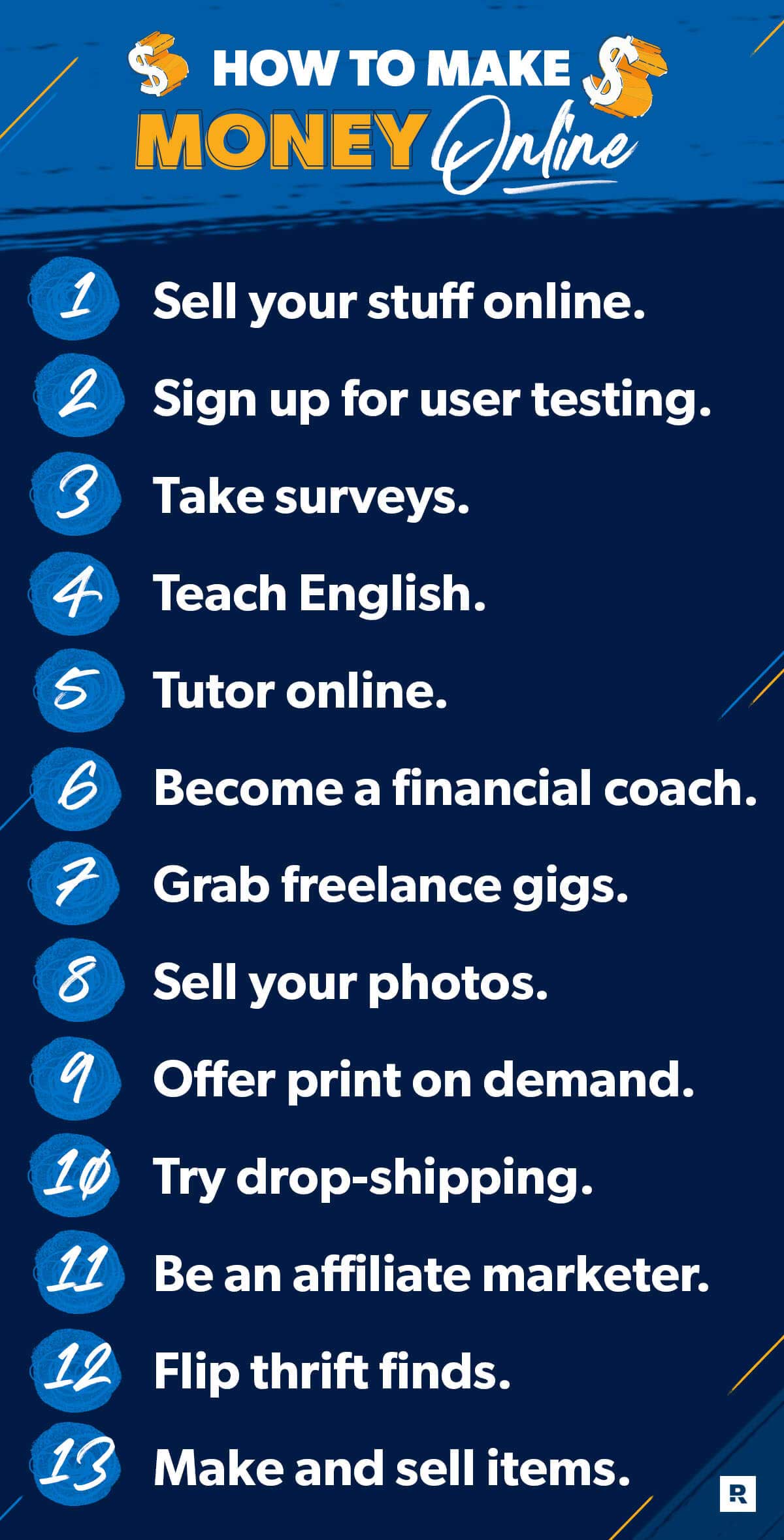 7. Grab freelance gigs.
Calling all creatives! One of the best side hustles you can jump on is grabbing some freelance gigs online. I mean, you can go full time with it too—whatever is best for your money goals and personal schedule.
Anything from writing words to editing them, making videos to editing them, taking photos to editing them. (Wow, there's a lot of editing that goes on in the creative world.)
These jobs can come from networking in person or setting up profiles on a great freelance app or website.
Helpful Websites: FlexJobs, LinkedIn, Fiver
Keep in Mind: If you end up having to set your rates, remember this: Your time and talents are valuable! Don't sell yourself short, even if you're 5'6". Check on other creatives in a similar field with similar experience to figure out exactly what you should charge.
8. Sell your photos online.
Did you know companies will pay for your photographs? From landscapes to portraits, those snapshots on your phone could be worth something, and not just sentimentally or for your future wedding slideshow.
Helpful Websites: Alamy, Getty Images, Dreamstime
Keep in Mind: Be careful with this. Don't upload pictures of your nephew's birthday without your sister's permission. She doesn't want to see him become the poster child for something awkward because a company bought that stock image. Just stay mindful of who's involved in the photos you sell!
9. Offer print on demand.
If you're an artist or designer and always dreamed of seeing your work on T-shirts, tapestries and tote bags, this could be a great way for you to make money online. Set up an online store, pick the items you want to offer, and let people know where they can buy your merch!
You'll have to put time in marketing and self-promoting so people want to buy your stuff—but the very best part of this option is the "on demand" part. The company will print and ship the product for you when the order comes in, so you aren't sitting on a huge inventory.
Helpful Websites: Spring (formerly Teespring), Threadless, Society6
Keep in Mind: Remember the company you're working with will take a cut of the sale. It makes sense. They are doing a lot of the work, which is part of the beauty of this option. But it's something to think about when you price your products.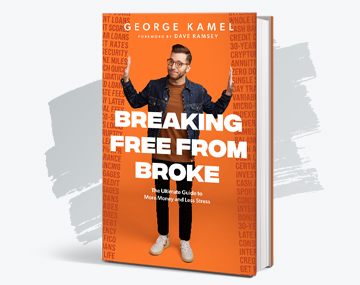 More Money. Less Stress. Yes, Please.
In his new book, George Kamel does the research for you and exposes all the worst money traps out there so you can build real wealth!
Start Reading for Free
10. Try drop-shipping.
Not drop-kicking. Save that for rugby and WWE. Drop-shipping is the perfect online money-making job for anyone who ever wanted to open their own store but didn't want to pay rent (or felt too introverted for all that peopling).
It basically works like this: You set up an online shop through a wholesaler (or supplier). A customer buys something from your shop. The wholesaler (or supplier) sends the item to that customer. You get a cut.
This is different from print on demand because you aren't selling your designs. In this case, you're like a middleman. But so are most physical shop owners! And with drop-shipping, you get to be that middleman while sitting in your favorite chair and not on a mountain of inventory. The best parts: You aren't preordering items and hoping they'll sell. And you aren't dealing with the shipping!
Helpful Websites: Sunrise Wholesale, Shopify.com
Keep in Mind: Don't join up with a wholesaler or supplier who charges you a monthly fee. That's one mark of a scam. Plus, you're doing these companies a favor by helping sell their products. They make money when things sell—they don't need a monthly fee.
11. Be an affiliate marketer.
If you're the type of person who loves talking up products, you might be able to make money doing just that. Check out the world of affiliate marketing. You'll connect with companies who pay you to generate sales. Every time your hype on that product gets a sale from your unique, affiliate link, you get a commission.
Helpful Websites: Amazon Associates, Shopify Affiliates
Keep in Mind: Hey, if you don't use the product, and you'd never use the product, don't try to sell the product. You'll get way more sales if you can honestly tell people how much you love the stuff you're marketing. Plus, you won't feel weird by pushing something you don't care about. Be authentic. That's good advice for your side hustles and for your life.
12. Flip thrift finds.
Okay, hardcore thrifters. This one's for you. If you love looking over rack after rack and shelf after shelf for deals—plus you know when you see a piece with major resale potential—you could make some serious cash online by flipping those thrift finds.
Here's what I mean: You buy an end table for $5 on Facebook Marketplace, you give it love with some wood stain or chalk paint, and then you sell it online for $50. Or you find a snakeskin Versace handbag that's somehow in the $5 bin at Goodwill, and you turn a hundred-dollar profit online. All because you know the going rate and value of things.
This option has you making money by shopping. It sounds too good to be true, but it doesn't have to be.
Helpful Websites: eBay, Amazon, Facebook Marketplace, thredUP
Keep in Mind: Listen—this goes for every single one of these ideas, but it's got to be said here for sure. Do not go into debt as you try to make money. That just doesn't add up. Like, literally.
Work with a cash-only mindset (or debit-card-only, but you know what I mean). If you can't pay, don't play. And before you buy something to flip, always do your research to make sure you can actually make a profit. (Pro tip: eBay is a good place to start if you filter by Completed and Sold listings!)
13. Make and sell items online.
To all my friends who are crafty, you could make money on what's now just a hobby. This works for everything from making hand-lettered inspirational quotes to hand-knit puppy cardigans. Not that I've bought that last one or anything, though my Frenchies do get chilly in December.
As you're pricing your items, look around at what similar items are going for. You don't want to price too high and miss a sale or too low and have thin profit margins.
Helpful Websites: Etsy, Squarespace, Amazon Handmade
Keep in Mind: With Etsy, you've got listing fees and a cut of the sale going into their pockets. Amazon Handmade doesn't charge you to list items, but they take a fairly big percentage of the sale.
Here's the thing, though—both Etsy and Amazon get a lot of traffic and have a lot of trust. So buyers sometimes prefer to deal with them rather than your personal website. You've just got to weigh the pros and cons! Also, don't forget about your local neighborhood Facebook group—that can be a great place to sell homemade goodies!
Make Money Online . . . and Then What?
I hope this list was helpful. But you know what isn't helpful? Making money and not budgeting it. Yeah—that's a surefire way to accidentally spend everything you made, which will get you nowhere in the end. That's not the point of all this. You've got goals to hit or inflation to fight. When you make money online, make sure every extra dollar gets a job.
So, before you set up your storefront or list your first item, download EveryDollar. It's our free budgeting tool, and it's the perfect way to make sure all this extra money doesn't go to waste. It gets to work!
Did you find this article helpful? Share it!