Lately, it seems like everybody's talking about moving to Texas. You hear Texas this and Texas that—especially if you live in California. But what's so great about the Lone Star State?
We'll explain why so many people are moving to Texas. Plus, we'll share the important things you need to know before you hitch up the wagons and head there yourself.
So, put on your cowboy hat and let's get started!
Why Are People Moving to Texas?
If it seems like tons of people are moving to Texas, that's because they are! The Lone Star State's population grew 13 times more than the average U.S. state in 2021.1 But why are so many people moving there?
Most people are moving for work—nearly 42% of them, in fact.2 We'll talk about that more in the next section. But first, let's take a look at other reasons people are moving to Texas:
Family (32%)
Lifestyle (14%)
Retirement (13%)
Cost of living (9%)
Health (5%)3
Now, if you noticed all these numbers add up to more than 100%, props to you! That's because some people moved for multiple reasons. And it's pretty clear that—besides work—family is the most important reason people are moving to Texas.
Job Market and Economy
Texas is a huge state with lots of job opportunities. The downside is that, right now, the unemployment rate is still a little high. It's 4.3% compared to the 3.6% national average.4
But Texas is quickly gaining ground. Its unemployment rate is dropping, and in 2021, it ranked second for the most employment increases in the U.S. (California was first).5
The economy in Texas is nothing to sneeze at either. It's set to experience the most economic growth of any U.S. state over the next five years.6 And if Texas were a country, it would have the world's ninth-largest economy—beating out Australia, Mexico and Spain.7
Texas is also friendlier to businesses than many other states—especially nearby California. Because of this, many companies are moving some or all of their work to Texas. Some big names heading for the Lone Star State include Amazon, Apple, Charles Schwab, Hewlett Packard, SpaceX, Tesla and Toyota.
As more companies move in, more people will too. So if you're looking for work in Texas, now's the time to try to land your dream job.
Thinking about bringing your business to Texas? Remember to register your company with the state and county—even if you work from home. And check out EntreLeadership for practical principles to help you grow your business.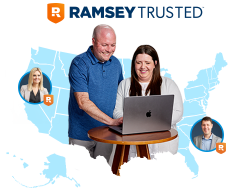 Don't buy or sell without an agent you can trust.
There are RamseyTrusted real estate agents all over the country who are ready to help you win.
Find a Local Agent
Cost of Living
Good news: Many Americans can save money by moving to Texas! This state's cost of living is around 8% below the U.S. average.8 It's the 15th-cheapest state in the country, and living there costs about 48% less than living in California.9
In fact, Texans pay below average for every cost of living category except utilities, which cost about 3% above average.10 (It's probably all those air-conditioning bills—Texas is hot!)
And while the costs of living are low, salaries are pretty high. Texans make around $64,000 per year (that's really close to the national median salary).11

Get expert money advice to reach your money goals faster!
But keep in mind that your costs of living—and your salary—will depend on where you live in Texas. Austin and Dallas already cost more than average, and these cities will likely get more expensive as they grow.12 So you'll need to negotiate your salary to match the cost of living in your city.
Try our Cost of Living Calculator to see how much money you'll need to make in Texas to keep up your current lifestyle. That'll help you get a better idea of which cities you can afford—and how moving might affect your budget.
Taxes
It sounds crazy, but people are actually moving to Texas because of its taxes. (Try saying that three times fast!) Texas is one of seven states in the U.S. with no state income tax.13
Now, you'll still have to pay sales tax. And right now, the state sales tax is 6.25%, putting it inside the 15 highest sales tax rates in the country.14 Local sales taxes are capped at 2%—a middle-of-the-road rate when compared to local sales taxes in other states.15
So, while its state sales tax is a little high, Texas is still a great place to move if you're looking to pay less in taxes. And hey, who doesn't want to keep Uncle Sam's greedy old hand out of their paycheck?
P.S. You'll still need to file your federal taxes while living in Texas, plus business-related taxes if you run a company. Check out the tax services we trust to take care of you.
What to Know Before Moving to Texas
There are lots of good financial reasons to move to Texas. But there's more to life than money! To help you decide if the Lone Star State is right for you, we'll cover six more things you should know before moving to Texas.
1. Major Cities
Three of the 10 largest U.S. cities are in Texas—Houston (number 4), San Antonio (number 7) and Dallas (number 9).16 And they're some of the best places to move in Texas. So, let's get to know them better:
Houston – Houston's job fields range from space travel to medicine to oil and gas to livestock and rodeo. So no matter what you do, chances are, you'll find an opportunity to do it in Houston. Plus, you'll be living a convenient hour's drive from the beach.
San Antonio – From the Alamo to Fort Sam Houston, San Antonio has always been a military city. But there's more to it than meets the eye. Its historic beauty and 15-mile River Walk give San Antonio a laid-back vibe. Meanwhile, the Fiesta is one of the city's biggest annual parties—and a major highlight for locals!
Dallas – Dallas is one of the most popular, posh cities in Texas. You'll find plenty of art, museums, music and other cultural experiences. But people in Dallas also know how to have a rowdy good time. After all, this city's the home of the Cowboys and the frozen margarita machine!
2. Cost of Housing
Whether you're moving to a big Texas city or looking for a small, cozy town, you'll need to know how much house or how much rent you can afford. (In case you're not familiar with what we teach, your housing should cost no more than 25% of your take-home pay.)
Let's see how the Texas housing market compares to the rest of the country for housing costs:
| | | |
| --- | --- | --- |
| | Texas | U.S. |
| Median Home List Price | $370,000 | $425,00017 |
| Median Monthly Rent* | $1,257 | $1,30518 |
*Median Monthly Rent refers to two-bedroom apartments.
The good news is, housing prices are usually cheaper than normal in Texas. Whoop, whoop! But like other costs of living, they vary depending on where you go. Take a look at the cost of housing in some popular Texas cities:
| | | | | |
| --- | --- | --- | --- | --- |
| | Austin | Dallas | Houston | San Antonio |
| Median Home List Price | $626,500 | $440,000 | $390,000 | $377,00019 |
| Median Monthly Rent* | $1,775 | $1,401 | $1,272 | $1,28720 |
*Median Monthly Rents refer to two-bedroom apartments.
Housing is super expensive in Austin, but it's closer to national median prices in Dallas. If you're looking for a great deal, head toward Houston or San Antonio! And wherever you go, talk to a good real estate agent. They'll help you find a home or an apartment within your budget.
3. Geography
Texas is one of the few U.S. states that borders another country—Mexico—to the south and west. That area is part of the Rio Grande Basin, named after the river that separates the two countries.
Southeast Texas has beautiful beaches along the Gulf of Mexico. Texas also borders Louisiana and Arkansas to the east, Oklahoma to the north, and New Mexico to the north and west. (Fun fact: Oklahoma, Arkansas and New Mexico are three of the cheapest states to live in.)
Texas is the second-biggest state in the country behind Alaska. So living in one part of the state can look and feel vastly different than living in another part because of its diverse landscapes. The Gulf Coastal Plains in the east are hilly and full of pine forests. The north and west areas are part of the Great Plains—so they're flat, grassy and perfect for raising cattle. And the far western side of Texas has lots of mountains.
4. Year-Round Weather
Most of Texas has a semiarid climate—aka it's warm and dry. But the eastern and coastal regions are on the more humid side. And when it comes to how much rain Texas might get in a given year, that's partly determined by El Niño (a weather pattern in the Pacific Ocean). In West Texas, the answer's usually, "Not much!"
Summer temperatures in Texas are typically in the high 80s or low 90s across the state.21 Winter temperatures range from near freezing in northern Texas to high 50s along the Mexico border.22
Now, a word of warning here: Texas has some weird weather. Some parts of the state get droughts and others get hurricanes. Tornado season runs from April to June. And once that's over, fire season starts right up and lasts until August. Fortunately, beautiful weather and sunny days are way more common—whew!
5. Schools
When it comes to preschool through high school education, Texas ranks 35th in the U.S.23 Now, that doesn't mean all schools in Texas are bad. (Hey, they outrank California by five spots.24) It just means that if your kids go to public school, you should research the schools in several towns before you decide where to settle down.
Texas ranks four spots better (number 31) for higher education.25 And we've got good news: Some of the top 10 schools in Texas are also in the top 100 best colleges and universities in the U.S.
| | | |
| --- | --- | --- |
| School | Texas Rank | National Rank |
| Rice University | 1 | 17 |
| University of Texas at Austin | 2 | 38 |
| Southern Methodist University* | 3 | 68 |
| Texas A&M University* | 3 | 68 |
| Baylor University | 4 | 75 |
| Texas Christian University | 5 | 8326 |
*Southern Methodist University and Texas A&M tie for their rankings.
6. Local Activities
One thing's for sure—you'll never run out of cool things to do in Texas. Here are some places and activities that are definitely worth checking out when you move:
Museums and Attractions
The Alamo
Moody Gardens
Texas State Aquarium
Dallas Arts District
San Antonio River Walk
NASA Johnson Space Center
Houston Livestock Show and Rodeo
South by Southwest film and music festival
National Cowgirl Museum and Hall of Fame
Natural Areas
Palo Duro Canyon
Natural Bridge Caverns
Big Thicket National Preserve
Padre Island National Seashore
Enchanted Rock State Natural Area
Guadalupe Mountains National Park
Big Bend Ranch, Dinosaur Valley, and Colorado Bend State Parks
Outdoor Recreation
Hiking
Going to the beach
Rock climbing
Wildlife viewing
Horseback riding and guest ranching
Swimming, kayaking and other water sports
Sandboarding—like surfing but on sand dunes
Pros and Cons of Moving to Texas
It's pretty safe to say that Texas has something for everyone. You can find cool art and music in big cities, try your hand at ranching in the Great Plains, or lose yourself in the East Texas forests.
But in case you haven't considered the pros and cons of actually moving there, let's take a gander:
Pros
No state income tax
Low costs of living
Growing job market
Top-ranking universities and colleges
Diverse cities and activities for all lifestyles
Cons
Low K–12 education rankings
Tornadoes, hurricanes and fires
Above-average unemployment rate
Long driving distances between cities
How Much Money Do I Need to Move to Texas?
You'll probably pay a moving company anywhere from $2,600 to $6,800 to help you move from out of state, depending on where you come from.27
Of course, you may have to shell out cash for other costs of moving if you have lots of stuff or want the movers to do extra work, like packing for you. And remember to plan for the cost of a down payment or a security deposit so you can afford housing!
On top of that, if you're moving for work, it's smart to negotiate a relocation package to help cover expenses.
What Do I Need to Do When Moving to Texas?
Once you officially decide you're moving to Texas, it's a big weight off your shoulders! Now your mind's made up, and you've just got to make it happen.
We'll be honest—moving can be hard. You'll have to pack, declutter, update your address, and deal with all the emotions of leaving your current home. It can be especially tough if you're moving with kids or if you're moving to Texas as a military family.
With this handy moving checklist, you can handle the details with confidence.
Register Your Vehicle and Update Your License
Okay, we're going to focus on this moving task real quick because so many people forget about it. When you move, you'll need to actually become a Texas resident. And one of the most important ways to do that involves your vehicle.
Your first step is to get Texas car insurance. Then, you'll be able to register your vehicle with the Texas Department of Motor Vehicles. Once you've done that, you can use your proof of registration to help you get your new driver's license.
While you're at it, ask about registering to vote in your new state.
Is It Worth Moving to Texas?
Moving to Texas is worth it—if there are more pros than cons for you. It's important to be honest with yourself so you can make a smart decision for you and your family. Here are some questions to ask:
What will I do for work? If your plan is to just dive into Texas' job market and see what happens, you could wind up as another statistic in Texas' high unemployment rate. It's wise to line up a job before you get there—especially if you have a family to support.
What are my kids' educational needs? You probably won't need to worry about the quality of the local schools if you homeschool your kids. But if they'll go to public school, think about what kinds of programs and classroom environments will be best for them. And if they're older, talk to them about Texas universities and trade programs where they can get in-state tuition.
Can I actually afford it? Texas may have a below-average cost of living, but again, not every city is cheap. Use our free Cost of Living Calculator to see which Texas towns you can comfortably afford.
All set to head for Texas? Get our free relocation guide to help you move smoothly.
Work With a Real Estate Agent in Texas
The pros outweigh the cons, and you're moving to Texas for sure! If you're still looking for your new home, talk to one of the real estate agents in our RamseyTrusted program.
Since they're local, RamseyTrusted agents can help you find a great home in the best neighborhood for you and your family. Plus, they've earned our seal of approval—so you can count on them to put your needs first, no matter what.
Did you find this article helpful? Share it!