Texas. The Lone Star State. The home of cowboys, big cities and barbecue. Here lately, it seems like lots of folks are buying homes in Texas. In the last two years, the population of Texas has grown five times the rate of the United States as a whole.1
Are you fixin' to mosey on down to Texas? If so, you're probably wondering about the Texas housing market. Well, you're in luck! We wrangled up the latest news on the Texas housing market to give you a heads up on what to expect in the Lone Star State.
Now, the best way to learn about the housing market in Texas is to talk to a real estate agent who actually lives in Texas (you can find one through our RamseyTrusted program), but these numbers and predictions will give you a good idea of what to look out for.
Y'all ready? Let's go!
How Is the Housing Market in Texas?
Inventory (available homes for sale) more than doubled in Texas in the last year, which means you'll have more options if you're wanting to buy a house. But don't get too excited. Even though the supply of homes is higher in 2023, it's still lower than it was before the pandemic.2
Higher interest rates have slowed the market down some, but since demand for houses is still strong, prices increased by 0.6% from Q1 2022 (January–March) to Q1 2023.3
Here's a look at Texas housing market numbers from Q1 2023 compared to Q1 2022:
Texas Housing Market

Q1 2023

Q1 2022

Percent Change

Median Price*

$326,800

$324,850

+0.6%

Inventory (Active Listings)

79,662

37,342

+113.3%

Closed Sales

72,480

87,854

-17.5%

Median Time to Sale**

100 days

78 days

+28.2%4

Average Mortgage Rate

(15-Year Fixed)

5.56%

3.04%

+82.9%5
*Data is from March 2023. Median Sale Price refers to the midpoint—half the homes were sold for more, half for less.**Median Time to Sale is the number of days between the listing and closing of a home sale—half of homes selling this quarter took more time to sell, half took less.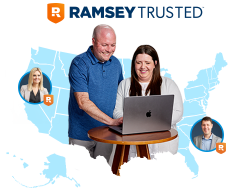 Don't buy or sell without an agent you can trust.
There are RamseyTrusted real estate agents all over the country who are ready to help you win.
Find a Local Agent
Texas Housing Market in Major Cities
Looking at Texas as a whole might not tell the entire story about prices in local housing markets. So, let's zoom in to some individual Texas cities. Here's a look at median home prices in four of Texas' biggest cities: Houston, San Antonio, Dallas-Fort Worth and Austin.
| | | | | |
| --- | --- | --- | --- | --- |
| | Houston | San Antonio | Dallas-Fort Worth | Austin |
| Median Price | $320,000 | $307,950 | $385,000 | $444,050 |
| Year over Year % Change | -0.5% | +1% | 1.5% | -11.2%6 |
How Does Texas Compare to the National Housing Market?
Now let's see how Texas' housing market compares to markets in other parts of the country.
The median home price for the U.S. was $371,200 in Q1 of 2023—or about $44,000 higher than the median price in Texas. The national price went down by 0.2% compared to the year before. Home prices in expensive markets (like San Francisco, Reno and Austin) dropped by 10% or more in the last year. But prices in more affordable markets (Milwaukee and Dayton) increased by more than 10%.7
Yes, prices are kind of all over the map. But generally, prices have gone up in the South and Midwest and gone down in the Northeast and West.

Find expert agents to help you sell your home.
Here's how home prices increased or decreased by region year over year:
South: +1.4%
Midwest: +2.9%
Northeast: -0.1%
West: -5.3%8
Compared to those numbers, Texas' 0.6% growth in home prices is pretty close to what the South experienced as a whole.
Texas Housing Market Predictions for 2023
We've taken a look at the numbers, so let's shift into seeing what some real estate gurus are predicting about the Texas housing market heading into 2023.
1. The market won't be as hot (or crazy).
Remember how crazy the housing market was during and after COVID-19 shutdowns? Buyers were freaking out, and sellers got multiple offers over asking price.
Things have definitely calmed down both in Texas and all over the country. The Texas market now has more active listings, which gives buyers more choices, said Marcus Phipps, chairman of Texas REALTORS®, in a media release.
"As the median home price showed a small increase over last year, we're confident there is still strong demand for housing throughout the state," Phipps said. "The increase in inventory was not enough to outpace the demand for housing in the market."9
2. Prices will relax, but not crash.
Prices have relaxed in Texas like they have in most of the country, but if you're waiting for the housing market to crash, you'll be waiting for a while (like, probably forever). That's because for housing prices to totally plummet, inventory has to go way up to meet demand. Phipps said that's not going to happen in Texas anytime soon.
"While there are more available options for buyers, there is still a significant number of potential buyers throughout the state, which is why median prices are close to what they were in most markets a year ago," he said.10
3. Demand for buying a house will stay strong.
With inflation and interest rates still impacting family budgets, it's no wonder lots of folks are cutting back on spending to create more margin in their budget. After all, inflation is the biggest money problem for 43% of Americans, according to our Ramsey State of Personal Finance study.
But inflation and interest rates haven't stopped people from wanting to move to Texas. And that should keep demand strong in the future.
"We're still seeing median home prices climb, but other factors such as higher mortgage rates caused a slight decrease in the number of home sales last year," Phipps said. "We're also seeing accepted offers come much more in line with listing prices rather than the bidding wars that had been common in many Texas markets."11
Texas is still a popular place for people looking to relocate from states with higher taxes and home prices. Texas also is the number three destination for international home buyers (behind Florida and California).12
"With a strong Texas labor market and the continued trend of people moving to Texas, we expect the housing market to remain robust this year," Phipps said.13
Texas Real Estate Forecast for the Next Five Years
Making real estate market predictions one year ahead is tough, but making predictions five years ahead is like predicting the winner of the 2028 Kentucky Derby. (The 3-year-old horses who will run that race aren't even born yet!)
But U.S. News and World Report (bless their hearts) released a real estate market forecast for the end of 2027, and it has good news for home buyers. The average median home sales price in the U.S. will be about the same as it is right now ($367,000) and mortgage rates for a 30-year fixed will have dropped to 4.5%, according to their predictions.14
But there's no telling what could happen between now and 2028, so take those numbers with a grain of salt. It's never a great idea to base your plans on a five-year forecast.
Should You Buy or Sell in This Texas Market?
Here's the deal: Don't make a decision to buy or sell right now just based on the housing market. It's important to understand real estate trends so you have some context, but you really need to make sure you're financially prepared to buy a house.
That means being debt-free with a full emergency fund worth 3–6 months of your typical expenses, and having enough cash saved up to make a down payment of at least 5–10%. (By the way, a 20% down payment is best because it means you won't have to pay for private mortgage insurance.)
And if you're selling a house, you need to make sure you can afford the move. It also wouldn't be a bad idea to line up a new place to live—though you never want to buy a new house before selling your old one.
Find a Texas Real Estate Agent We Trust
If you're ready to buy or sell a house in Texas, you need to work with a real estate agent. For a fast and easy way to find top-notch Texas agents we trust, try our RamseyTrusted program. We handpick Texas agents who meet our high standards for excellence and regularly coach them on how to serve you better. That's how they've earned the right to be called RamseyTrusted.
Find the best Texas real estate agents!
Frequently Asked Questions
Is Texas in a buyer's or seller's market?

Home prices aren't going up rapidly in Texas, and they've even gone down in some cities—which is good for buyers. But inventory is still at record lows because people with mortgages with low interest rates aren't willing to sell. That means Texas is still a seller's market, but not quite as much as it was a year or two ago.

Where are the hottest real estate markets in Texas?

The three most expensive markets in Texas to buy a house at the end of Q1 of 2023 were Austin, Dallas-Fort Worth and Houston. Austin has the highest median home price at $440,050, but this is 11.2% lower than it was a year ago!15

Where are some affordable places to live in Texas?

On average, the cost of living in Texas is 7% lower than the national average.16 So you should be able to find an affordable place to live in the state. But the cost of living fluctuates a lot from city to city—with some of the larger cities topping out much higher than the national average.

Since housing is the biggest expense for most people, the three areas of Texas with the lowest median home prices are: Texarkana ($161,317), Wichita Falls ($175,000), and Beaumont-Port Arthur ($207,500).17 Those prices are about as cheap as they come! But as they say in the real estate biz, the three most important things when it comes to buying a house are location, location and location. So, you don't ever want to move somewhere just because the houses are cheap. Do your research before packing up and moving to Texarkana!

If you want to check out the cost of living in a Texas city compared to your current city, try our free Cost of Living Calculator to determine how much more or less expensive it would be for you to live in Texas.
Did you find this article helpful? Share it!