If you live in Florida, or you're maybe considering moving there, way to go! You get to live every day where a lot of people spend their vacation. But don't let all that sun and sand distract you from some less-fun responsibilities—like making a will. You need a will, just like everyone needs a will, no matter where you live.
Whether you want to take care of your will online (an option that works great for most people) or decide to work with an attorney, we can help you understand what it takes to make a will in Florida.
What Are the Basics of Making a Will in Florida?
The laws around will-making can vary a little (or sometimes a lot) from state to state. Let's talk through
the basics of making a will in Florida.
As in any state, probate courts in Florida look for a legal will anytime there's an estate to administer after a death. When there's a will that names an executor to oversee the estate, everything tends to go a lot smoother with final debt payments, settling bills, and the distribution of property to heirs. That's another reason why taking the time to get a will in place is a smart move for you and your family. The last thing you want is for your loved ones to have to deal with a bunch of money questions and problems after you're gone.
If the decedent (the person who has died) never made a will, a Florida probate court will appoint an administrator of estate (usually the spouse or next of kin) to oversee the estate's final business. And that can make things take a lot longer. Florida's probate timeline is anywhere from three to 24 months.
Who is allowed to be an administrator of estate in Florida? Great question. The law is pretty simple, with two basic rules. An administrator must be either:
A resident of Florida (no surprise there), or
The decedent's spouse, child, parent, sibling or another close relative
That law makes it clear once again how important it is to have a will. After all, while probate courts will possibly rule in favor of making a close family member the administrator of estate, there's no guarantee. And if they don't, the only other rule is that the job has to go to some Florida Man (or Woman). That's not a very comforting thought if knowing who will care for your kids and inherit your stuff when you're gone is important to you!
Here are a few more basic rules around Florida's last will and testament requirements.
Florida wills must be written.
That could mean typed out or handwritten. The main deal here is that oral wills won't stand in a Florida probate court. The easiest way to have a written will is by using an online will template.
Don't Know Where to Start With a Will?
Download our will worksheet to get started.
Florida doesn't allow holographic wills.
Your will also needs witnesses to make it legal and binding. A will that doesn't have the proper witnesses is called a holographic will. They were more common and acceptable in the past (and sometimes holographic wills work in other states), but it definitely won't work in Florida. Be sure to get qualifying witnesses for yours (more on how to do that below).
Florida wills have to be written by a competent person.
Only competent people can create a will in Florida. Your definition of competent and the law's definition may not be the same—but the legal definition is all that matters for wills in Florida. It's a pretty short list of requirements:
Someone of sound mind
Someone over the age of 18 (there is one exception to this rule, which we'll discuss later)
Florida wills must be signed by the testator.
Understanding wills can bring up a lot of funny words, right? A testator is just lawyer-talk for a person who wrote a will. So when you make a will for yourself, Florida requires you to sign it. And when you do, be sure you sign it all the way at the bottom, otherwise anything you wrote below your signature may not stand.
Florida wills require two legal witnesses.
Florida probate law requires you to sign your will in the presence of two competent witnesses for the will to be valid. There are a couple of nuances to the way this works in Florida, and we'll explore more about that in a later section.
Florida wills don't require the use of official forms.
Unlike many states, there are no hard and fast rules about using state-issued forms to make your will in Florida. That means the wording of the will is up to you.
Florida wills can be amended.
Let's say you already have a will, but then you have a big life change like getting married or having a baby. That'd be amazing! But what if you want to change your will to reflect the big change? Do you have to start over from scratch? Not in Florida! You use a handy little document called a codicil. It's another fancy legal term for a document that updates an existing will.

Save 10% on your will with the RAMSEY10 promo code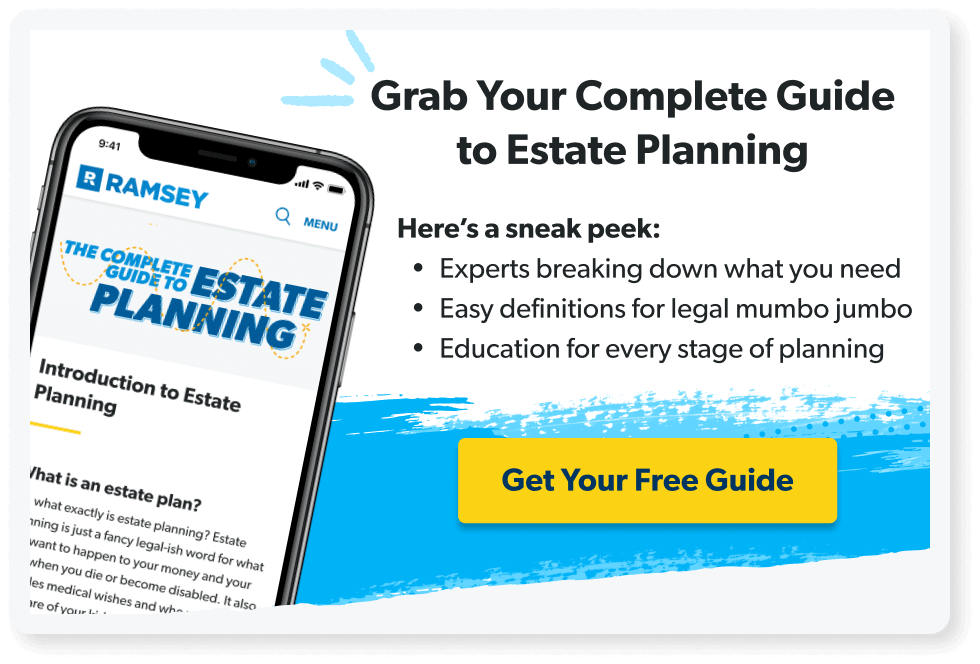 Or maybe you really do want to start over from scratch. That works in Florida too! Any new will you create following all the rules above will legally override any previous will and become the new binding will for your estate.
What Is Unique About Making a Will in Florida?
We've given you the basics about how to make a Florida will, but there are a few more specifics that are somewhat unique in the state too.
Do Florida Wills Have to Be Notarized?
No—it's not necessary to get your will notarized. But it's such a simple step, and it can really smooth out probate. So why not take care of it?
Plus, getting your will notarized in Florida allows it to be self-proving. What's that all about? A self-proving will is already shipshape when probate begins, which means the executor doesn't have to put in any additional legwork in court. All you have to do to have a self-proving will is make sure all these boxes are checked off:
You've signed the will yourself (and as a reminder, put your signature at the end).
You've signed your will in the presence of two competent witnesses.
Both witnesses have signed your will. (One witness's signature won't hold water in court. Both witnesses must sign it when you sign it, witnessing all three signatures.)
You've gotten the whole thing notarized.
That's it. A self-proving will keeps your witnesses from getting roped into the probate process when it's time to get your estate taken care of. But to repeat: You can still prove a will without a notary. It just might take more work someday to establish it as a valid will.
One more note on who should serve as a witness on your will. Technically, any competent person is legal. But the same is true of babysitters. (That's not exactly a ringing endorsement!) Here's the thing: We do not recommend you use a potential heir of your estate as a witness. How come?
Because it runs a risk of possibly invalidating the will in the future. The court might decide the witness influenced you into naming them in your will. So even if you were happy to bequeath them your Funko Pops and let them witness your will-signing—it might not matter. So don't risk it! Just get someone neutral to witness and sign your will, not your son or daughter.
How long does an executor have to file the will in Florida?
From the time the executor learns of a testator's death, they have 10 days to file the will with Florida probate court. You can do that by submitting the will to the clerk of the circuit court in the county where the executor lives. Just go to your local office! Here's a list of those offices by county:
Court Office

Address

Phone

201 East University Ave.Gainesville, FL 32601

352.374.3636

339 E. Macclenny Ave.Macclenny, FL 32063

904.259.8113

300 E. 4th St.Panama City, FL 32401

850.763.9061

945 North Temple Ave.Starke, FL 32091

904.966.6280

P.O. Box 219Titusville, FL 32781-0219

321.637.5413

201 S.E. 6th St.Fort Lauderdale, FL 33301

954.831.6565

20859 Central Avenue E, Room 130Blountstown, FL 32424

850.674.4545

350 E. Marion Ave.Punta Gorda, FL 33950

941.637.2335

110 N. Apopka Ave.Inverness, FL 34450

352.341.6424

P.O. Box 698Green Cove Springs, FL 32043-0698

904.269.6302

P.O. Box 413044Naples, FL 34101-3044

239.252.2646

173 NE Hernando Ave.Lake City, FL 32055

386.758.1342

115 East Oak St., Room 101Arcadia, FL 34266

863.993.4876

P.O. Box 1206Cross City, FL 32628

352.498.1200

501 W. Adams St.Jacksonville, FL 32202

904.255.2000

P.O. Box 333Pensacola, FL 32591-0333

850.595.4310

1769 E Moody Blvd., Bldg. 1Bunnell, FL 32110-0787

386.313.4400

33 Market St., Suite 203Apalachicola, FL 32320

850.653.8861

P.O. Box 1649Quincy, FL 32351

850.875.8601

P.O. Box 37Trenton, FL 32693

352.463.3170

P.O. Box 10Moore Haven, FL 33471

863.946.6010

1000 Cecil G. Costin, Sr. Blvd.Room 148Port St. Joe, FL 32456

850.229.6112

207 NE First St., Room 106Jasper, FL 32052

386.792.1288

P.O. Drawer 1749Wauchula, FL 33873

863.773.4174

P.O. Box 1760Labelle, FL 33975-1760

863.675.5217

20 N. Main St.Brooksville, FL 34601-2800

352.754.4201

590 South Commerce Ave.Sebring, FL 33870-3867

863.402.6565

P.O. Box 1110Tampa, FL 33601-1110

813.276.8100

P.O. Box 397Bonifay, FL 32425

850.547.1100

P.O. Box 1028Vero Beach, FL 32961

772.770.5185

P.O. Box 510Marianna, FL 32447

850.482.9552

1 Courthouse CircleMonticello, FL 32344

850.342.0218

P.O. Box 88Mayo, FL 32066

386-294-1600

P.O. Box 7800Tavares, FL 32778

352-742-4100

P.O. Box 2469Ft. Myers, FL 33902

239.533.5000

301 S. Monroe St., #100Tallahasse, FL 32301

850.606.4100

355 S. Court StreetBronson, FL 32621

352.486.5266

P.O. Box 399Bristol, FL 32321

850.643.2215

P.O. Box 237Madison, FL 32341-0237

850.973.1500

P.O. Box 25400Bradenton, FL 34206

941.749.1800

P.O. Box 1030Ocala, FL 34478

352.671.5658

P.O. Box 9016

Stuart, FL 34995-9016

772.288.5576

73 W. Flagler St., Room 238Miami, FL 33130

305.275.1155

500 Whitehead St.Key West, FL 33040

305.292.3540

76347 Veteran's WayYulee, FL 32097

904.548.4600

101 E. James Lee Blvd.Crestview, FL 32536

850.689.5000

312 NW 3rd StreetOkeechobee, FL 34972

863.763.2131

425 N. Orange AvenueOrlando, FL 32801

407.836.2000

2 Courthouse Square, Suite 2000Kissimmee, FL 34741

407.742.3500

301 North Olive AveWest Palm Beach, FL 33401

561.355.2996

38053 Live Oak Ave.Dade City, FL 33523

352.518.4008

315 Court StreetClearwater, FL 33756

727.464.7000

P.O. Box 9000Bartow, FL 33831

863.534.4000

P.O. Box 758Palatka, FL 32178-0758

386.326.7600

P.O. Box 472Milton, FL 32572

850.981.5554

4010 Lewis SpeedwaySt. Augustine, FL 32084

904.819.3600

P. O. Box 700Fort Pierce, FL 34954

772.462.6900

P.O. Box 3079Sarasota, FL 34230

941.861.7400

P.O. Box 8099Sanford, FL 32772-8099

407.665.4369

P.O. Box 2587Bushnell, FL 33513

352.569.6600

200 S. Ohio Ave.Live Oak, FL 32064

386.362.0500

P.O. Box 620Perry, FL 32348

850.838.3506

55 West Main Street, Room 103Lake Butler, FL 32054

386.496.3711

P.O. Box 6043DeLand, FL 32721-6043

386.736.5915

3056 Crawfordville HwyCrawfordville, FL 32327

850.926.0905

P.O. Box 1260DeFuniak Springs, FL 32435

850.892.8115

P.O. Box 647Chipley, FL 32428

850.638.6289
And just so you know, in cases of intestacy—the legal term for when someone dies without a will—Florida has specific laws in place that determine what happens to their estate. (That means you definitely want to get a will done ASAP so you get to call the shots.)
Are digital wills valid in Florida?
Florida is one of only six states so far that allows its residents to create a digital or electronic will (e-will). This option is most often used by people who, for health reasons, want to avoid in-person meetings and make their will from home.
So, while most wills are signed, witnessed and notarized in person, Florida allows all three to happen in real time via audio-video calls online. The call is recorded, and the testator will be asked questions about:
Whether they are under the influence of alcohol or drugs
Whether any disability impairs their day-to-day living
Whether they need daily assistance with their own care
During the call, if the answer to any of those questions is yes, it would invalidate the attempt to make a digital will. (Basically, the recording wouldn't stand in court because it would call into question the testator's competence at the time of the call.)
Can emancipated minors make a will in Florida?
If someone in Florida becomes an emancipated minor, they still can't vote or purchase alcohol. But the state does allow them to make their own will. This is the only exception to the rule in Florida requiring testators to be 18 or older.
What Is the Easiest Way to Make a Will in Florida?
Some people have more complex needs, but most people can (and should) make their will online with attorney-built documents. No need to deal with the inconvenience (and expense!) of working with a lawyer. You can create your own Florida will online with RamseyTrusted provider Mama Bear Legal Forms in less than 20 minutes by answering just a few questions. The rest is done for you (and yes—it's legally binding).
Interested in learning more about estate planning?
Sign up to receive helpful guidance and tools.
Did you find this article helpful? Share it!