When you're getting ready to sell a house, there's a lot you can do to help make sure you get the best offer possible. One of those things is home staging, which is when you prepare your home for potential buyers by making sure it looks the best it can. We're talking about using your own furniture in a new way, swapping outdated pieces for show-ready ones, decluttering, or sprucing up your home's outdoor space.
Best of all, you can do most or all the work on your own! (Unless Meridith Baer is your sister, in which case you should probably just let her work her magic.) Here's a look at how to stage a house for sale with some tips that can make a big difference—and none of them require an expert.
10 Tips for Staging a House That Anyone Can Do
1. Get Rid of Clutter
One of the simplest things you can do to stage your home is to show off its space, not your stuff. Start by making room in your closets so they're at least one-third empty. Store out-of-season clothes somewhere else, or ask a friend to hold on to unused items temporarily.
It's also easy to assume buyers would never look in spots we've tried to forget about—like that junk drawer full of rubber bands and soy sauce packets. But when you're staging your home, be prepared for buyers to look behind closed doors and open random drawers. Nothing is off-limits since they're trying to see if your home can become theirs.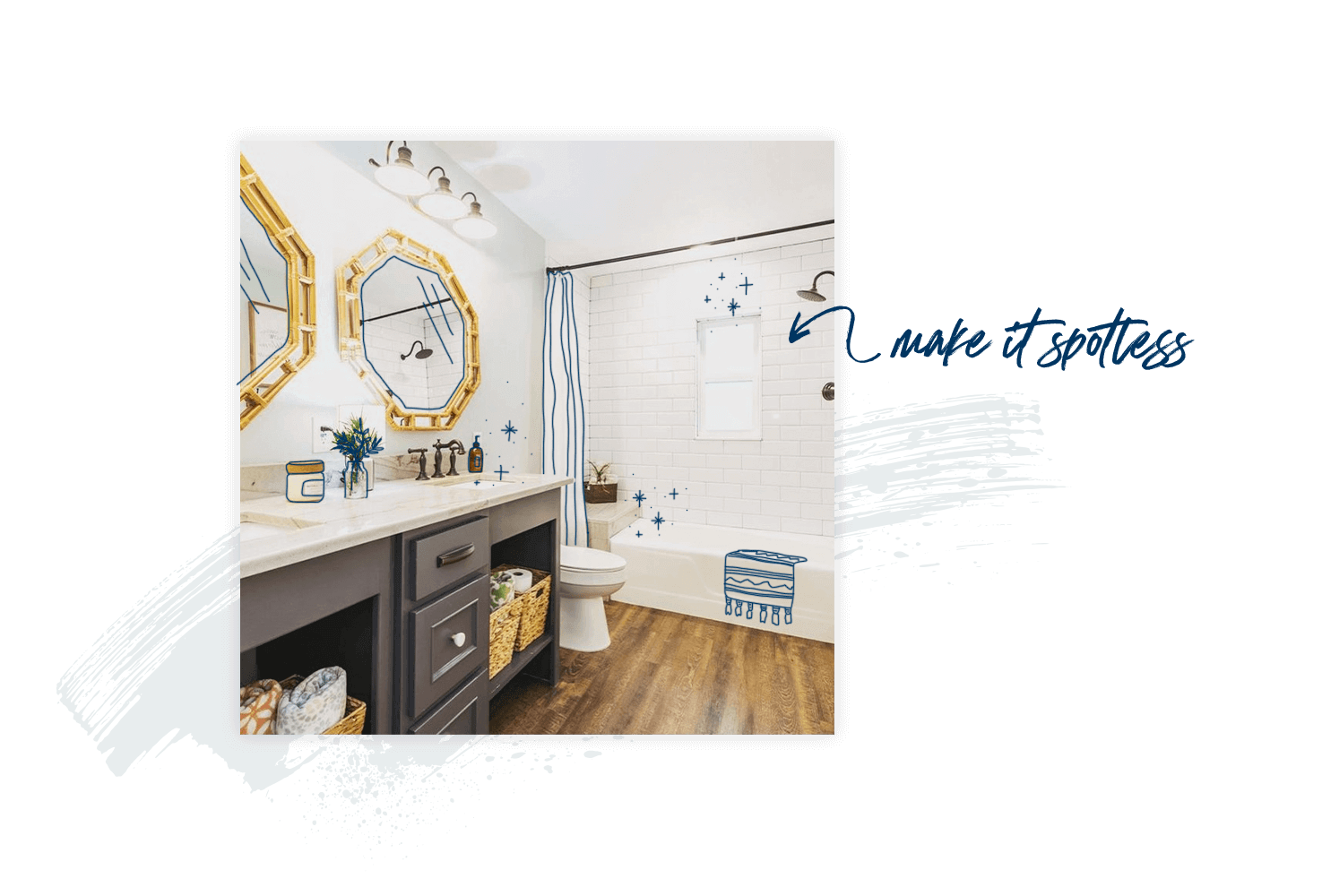 2. Clean
Another simple thing you can do is clean. But not just some light dusting—think spring-cleaning on steroids. We're talking baseboards, ceiling light fixtures, kitchen appliances, windows, and every nook and cranny you can think of. Everything should be spotless. It may seem like a minor house-staging tip, but don't underestimate the power of the first impression your home will leave on a buyer. If the place feels dirty, a buyer's not going to forget it.
Don't have time to put that much elbow grease into your cleaning? A professional can get the job done for about $100–400.1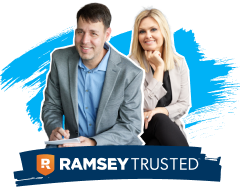 With the right agent, taking on the housing market can be easy.
Buy or sell your home with an agent the Ramsey team trusts.
Connect for Free
3. Do a Sniff Test
To keep your home smelling fresh and clean, pass on cooking seafood or your favorite garlic bread while your home is on the market. Instead, light candles with buyer-friendly scents like citrus or vanilla. If your carpet smells funky, steam clean it to get rid of stains and odors. If it's beyond repair, do a little calculation to see if replacing it with new plush carpet or hardwood would benefit your budget in the long run.
If you have pets, you may be used to your fur baby's scent, but one whiff of Fido and that winning first impression could disappear. It might be a good idea for Fido to stay with a friend while your home is on the market. Regardless, make sure to remove the telltale signs of pets before a home showing. Put up food bowls, transfer the litter box to the garage, and tuck away stinky toys.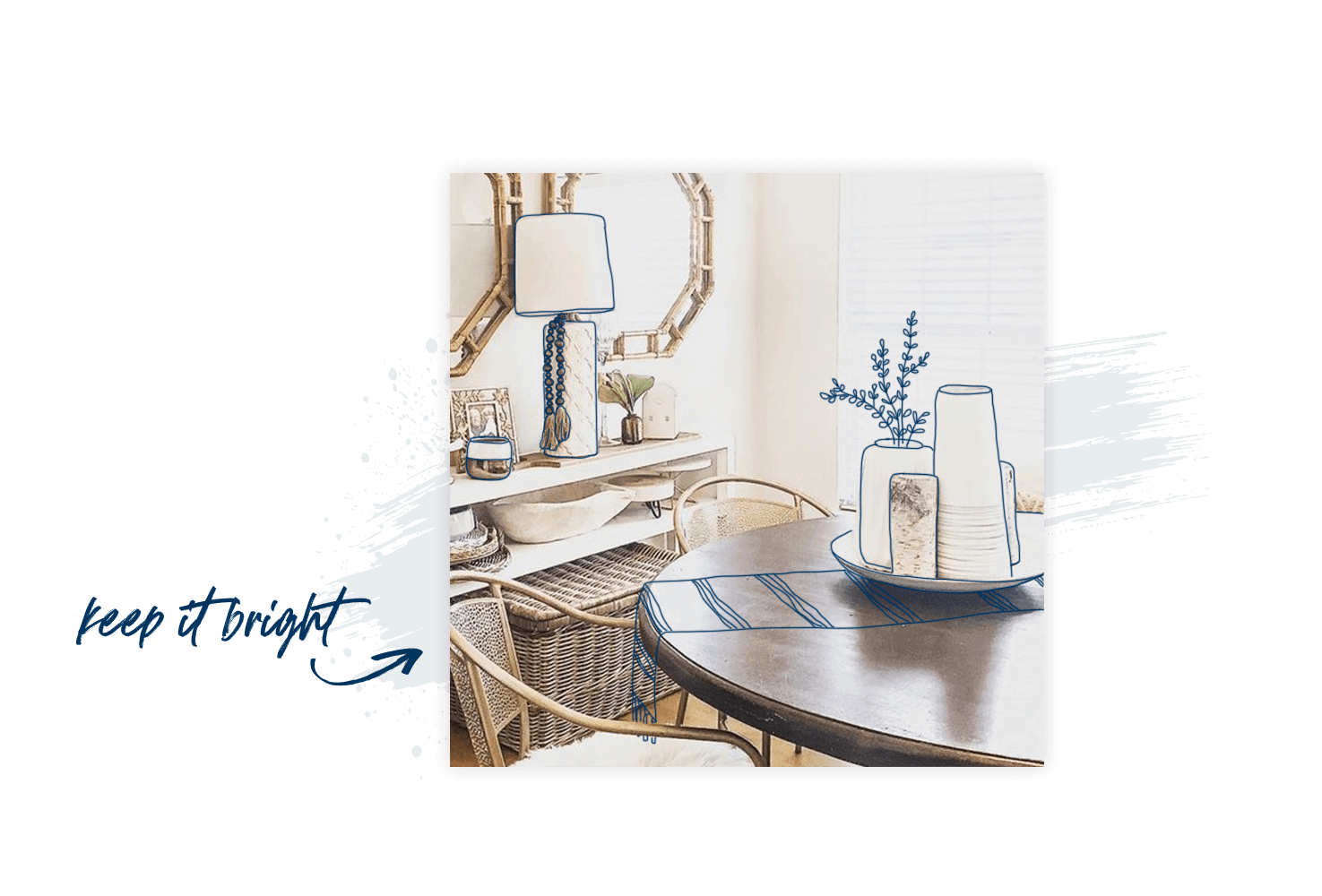 4. Let the Light In
Adding some extra light to your home is another important step in staging a house. Most buyers want to see that a home has plenty of natural light, so you'll want to remove heavy draperies and open the blinds. If you have an unattractive view, hide it with sheer window coverings that still let light in.

Find expert agents to help you sell your home.
Replace any outdated light fixtures, and up the wattage of your lightbulbs as much as you safely can—aim for at least 100 watts for every 50 square feet. Need some extra light? Add lamps in any dark areas, and be sure to quickly update outdated lamps with clean white drum shades.
5. Win With Neutral Walls
Getting rid of brightly colored walls is another simple home-staging tip that helps your home appeal to the widest audience possible. Stick with the most widely used paint colors, like an oatmeal-colored living room or a soft grey hallway. Just a few coats of paint can transform a dated space, giving it a more modern feel.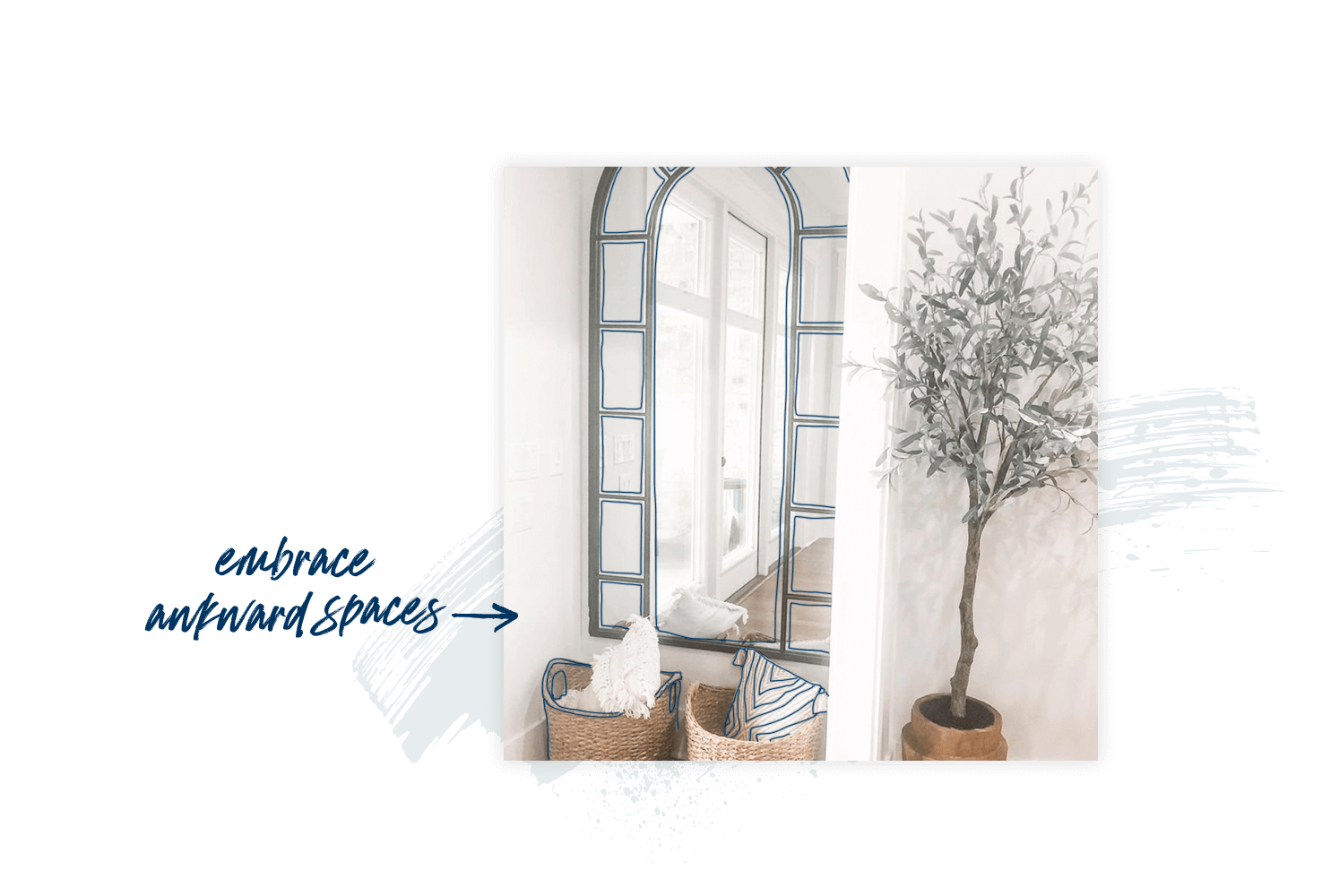 6. Put All Spaces to Use
Have a space you've never known how to use? Home staging can be an opportunity to show potential buyers it's actually functional by finding a fun way to show it off. Turn a short wall into a chalkboard family message center, transform an alcove into a charming workspace, or display a hanging planter to bring life and texture to a bare nook.
You'll also want to make sure not to block traffic flow. Keep natural walkways clear and arrange furniture in conversation areas to frame outside views—rather than obstruct them. You want your space to feel easy to live in.
7. Depersonalize Your Bedrooms
Bedrooms are often the most personalized rooms in the home. And why shouldn't they be? They're your rooms, after all! But when your goal as a home seller is to attract as many potential buyers as possible, remember: It isn't personal, it's business. And that means it's time to depersonalize.
Now is not the time to break out the kitty comforter Grandma quilted for you back in grade school or to hang up your stuffed squirrel collection. Do your best to keep spaces as gender-neutral as possible so they'll appeal to the widest audience. Lastly, consider removing any extra furniture (you can leave a bed, nightstand and dresser) to make the room look more spacious.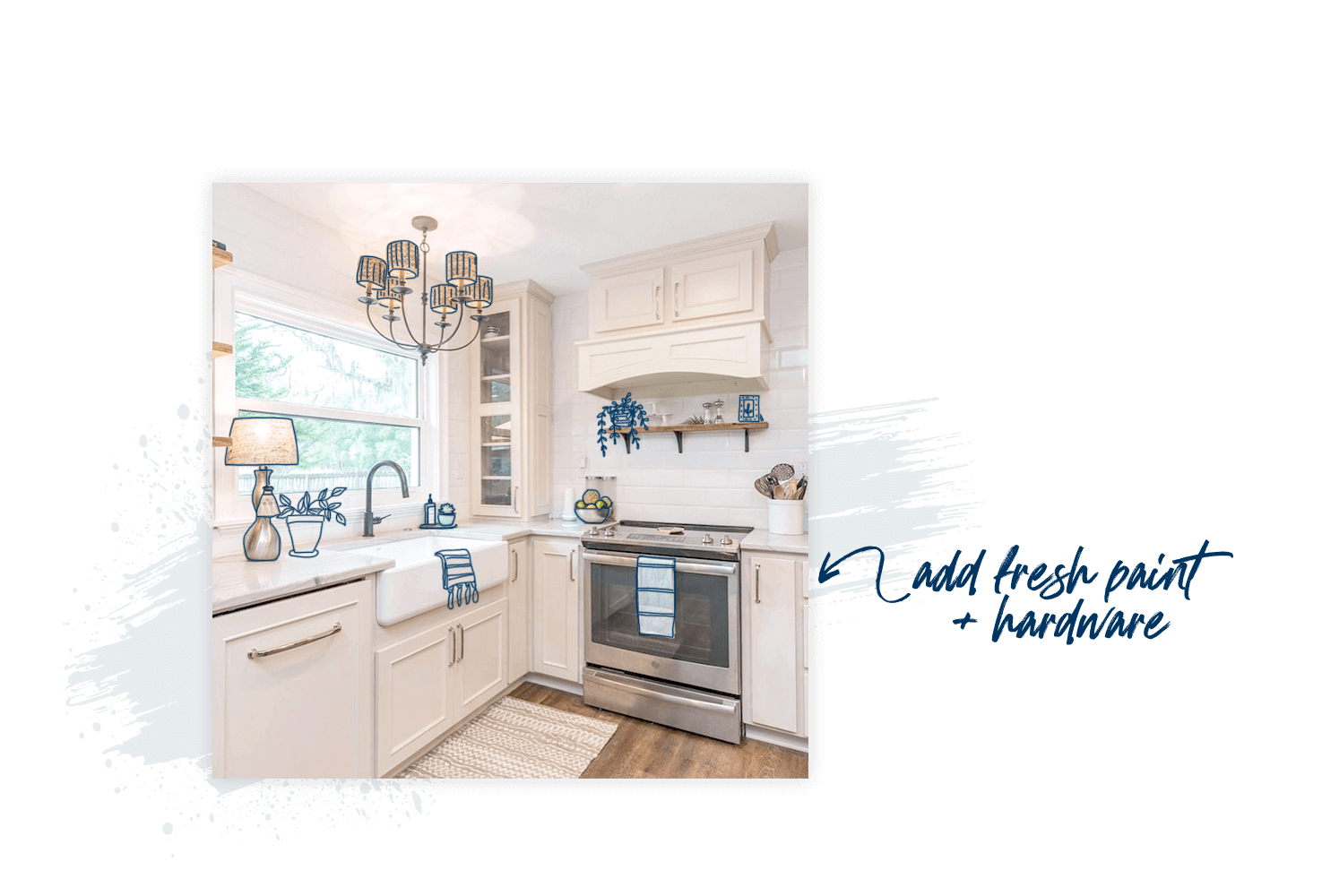 8. Freshen Up the Kitchen
Buyers want a kitchen that's bright, clean and fresh. The good news is, you don't have to spend a small fortune on an expensive remodel to give them that! A few small changes can make a big difference.
Are your kitchen cabinets a bit dated? If you have the time to put in the work, update them with a few coats of paint or a darker stain. You may have to strip them beforehand, but it'll likely be worth it.
Another way to update cabinets is to buy new faces for doors and drawers. Pair that with new hardware—something like a brushed brass, polished chrome, oil-brushed bronze, copper or even a stately iron—and you'll be amazed at the difference.
Next, tidy up. Don't leave too many items on display (besides that high-tech coffee maker that makes an iPhone look like a rotary). Having a lot lying around could give the impression that there's not much space in your kitchen. Lastly, add some organic elements—like fresh flowers or a wooden bowl with colorful fruit—to bring some life to the space.
9. Create a Luxurious Bathroom
For the bathroom, think high-end hotels and spas. A few subtle tweaks can help buyers see your bathroom as a soothing space. Bring dingy tubs and tile back to life by caulking the tub again and redoing the tile grout. Finish up the makeover by washing or updating your bath mat and shower curtain for cheap.
Also, no one wants to see your toothbrushes and razors lying around! Keep all personal items and toiletries packed neatly under the sink, and stage the bathroom counter with fluffy white towels, decorative bars of soap, and a calming scented candle.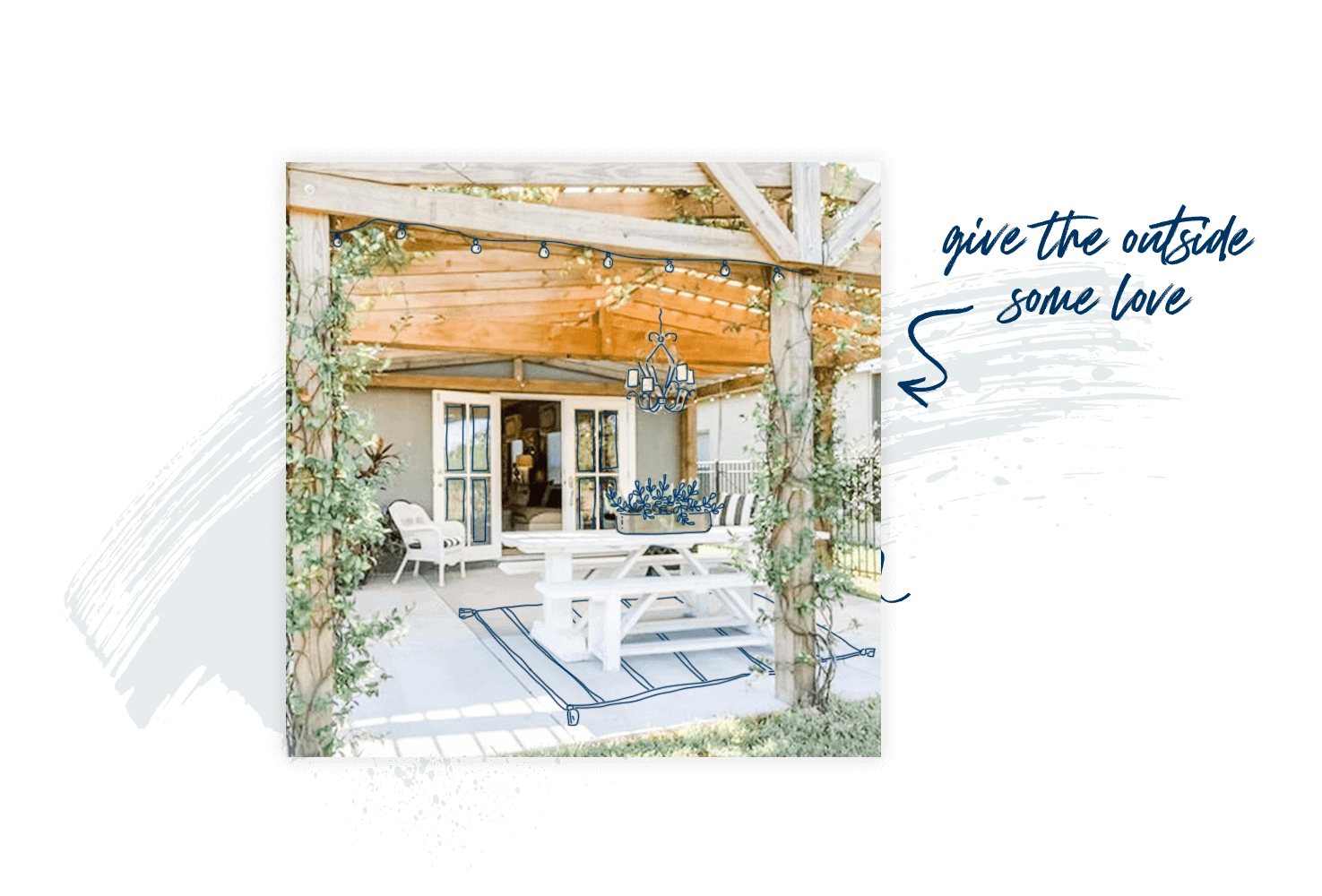 10. Crush Curb Appeal
When it comes to staging a house, what's on the outside matters just as much as what's on the inside. Curb appeal is a real thing, and nothing will send buyers driving off faster than a front yard overrun with weeds or a porch that looks like something out of a horror film. Don't let buyers give up on your house before they even get through the door!
In addition to keeping the yard nice and pretty, power-wash your driveway and sidewalk. Show the exterior of your home a little love by giving it a good once-over. Sand and repaint any old or chipped areas. While you're at it, give that dull front door a makeover with a fresh pop of color, lay out a new mat, and put out some flowers that'll weather the season well.
How Much Does Home Staging Cost?
By now, it should be pretty clear that staging your home doesn't have to break the bank. Some of the most important things you can do that we mentioned in our tips won't even cost you a cent, and the stuff that isn't free won't be much more than a fancy, overpriced latte from your favorite coffeeshop (okay, maybe that's an exaggeration).
And if you're not comfortable staging your home yourself, don't have the time, or want to make sure to maximize your home's appeal, you can bring in outside help.
An initial consultation with a home stager that includes a written plan of what needs to be rearranged and what furniture needs to be brought in should cost you around $150–600. Then for the actual staging process, the average cost is $800 if you already have good furniture and just need someone to help you rearrange and declutter. If you've already moved out and your home is vacant, monthly costs are around $2,000 to stage and furnish a 2,000-square-foot home.2
What Are the Benefits of Staging a House?
Over half of sellers' agents say home staging can decrease a home's time on the market. And 23% of buyers' agents believe staging a home increases the offer price by 1–5%.3
So, how do those numbers break down? On a $250,000 home, just a 2% increase means an extra $5,000 tacked on to the buyer's offer. If you handled the staging yourself without any added expenses, that's $5,000 in extra cash you get to put in the bank. If you paid $3,000 to have your home staged professionally over a three-month contract, that's $2,000 more in your pocket!
The Best Way to Maximize Your Home's Value
There's no guarantee staging your home will bring a bigger offer. But it should help you stand out among the competition by making your home look move-in ready, maximizing your space, and adding little touches that make a big difference. And staging your home isn't the only way you can set yourself up to get the most money for your home.
To make the most of your home sale, work with a seasoned real estate agent who has years of experience getting sellers the right price for their homes—like one of our RamseyTrusted agents. These agents are at the top of their market, and they're committed to serving you with excellence.
Did you find this article helpful? Share it!