Are you working hard to get out of debt? If so, you've probably tried lots of tricks to speed your debt snowball along—from working extra jobs to eating beans and rice.
One of Dave's favorite tips for folks on Baby Step 2 is to sell so many things your kids think they're next! That might mean hosting quarterly garage sales or parting ways with your beloved motorcycle.
But does it include your home?
It depends. Here are two circumstances in which Dave says it makes sense to sell your home to pay off debt.
Reason #1: Your Mortgage Payment Is Way Too Big.
There's really only one must-sell situation in Dave's eyes. That's if your mortgage payment eats up so much of your paycheck there's nothing left to throw at debt.
Your mortgage payment should be no more than 25% of your monthly take-home pay. If half of your income gets swallowed up by your mortgage every month, it's a no-brainer. Cutting your housing budget down to size is the only way you'll ever make progress.
Let's look at an example.
Frank and Sheryl Smith bring home $4,000 a month and owe $30,000 in student loans. Their mortgage costs $1,800 a month—a whopping 45% of their take-home pay. At this rate, they can only afford to put $300 a month toward their student loan debt.
The Smiths decide it's time to sell their home, so they get in touch with a real estate pro. They make $10,000 off the sale, and that chunk of money goes directly toward their student loan balance.
Frank and Sheryl don't have any cash to put down on a new home. Going back to renting isn't ideal. But it's worth a temporary sacrifice to get their financial feet back on the ground. They find a place to rent for $1,000 a month. That budget change enables them to add an extra $800 to their student loan payment each month.
Instead of taking 10 years to pay off debt, the Smiths are on track to kick Sallie Mae to the curb in just 19 months!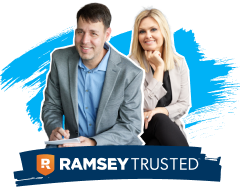 With the right agent, taking on the housing market can be easy.
Buy or sell your home with an agent the Ramsey team trusts.
Connect for Free
Reason #2: You're Considering Moving Anyway.
Your home holds a lot of emotional value. There's no need to make a drastic move if you love your home and your mortgage payment isn't holding you back. Just tighten up spending in other areas and focus on attacking your debt. You can always pick up a side job to turbocharge your progress without uprooting your family.
But if selling your home was already on your to-do list, there's an important question to consider: Will it help or hurt your money situation? The answer takes a little calculation.
First, figure out whether your home is worth more than you owe. You can do that by subtracting your mortgage balance from your home's market value. For instance, if you owe $175,000 on your home and it's worth $275,000, you'd have $100,000 in equity.
Next, estimate your closing costs. These cover fees like agent commission, title insurance, and prorated interest and taxes. According to Realtor.com, they can total 6–10% of your home's sale price. For our example, we'll deduct $25,000 for potential closing costs. That leaves you $75,000 to work with.
Before you go out and spring for a new home, make sure you can afford it. Dave recommends putting at least 10–20% down on a 15-year fixed-rate mortgage. Remember not to spend more than a quarter of your income on your mortgage each month.
Now let's see how far $75,000 could go if you owe $20,000 in debt and downsize your home. Why not use that chunk of change to power through the first three Baby Steps in one fell swoop? You could:
Knock consumer debt down to zero,
Add $10,000 to your emergency fund,
And put 20% down on a $225,000 home—paying less than $1,350 a month on a 15-year mortgage.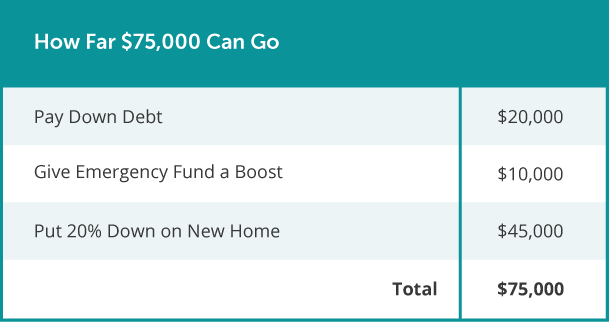 Find expert agents to help you sell your home.
Of course, everyone's financial situation is different. What works for one family may not work for you. That's why it's important to crunch your own numbers before making a big decision.
Think It's Time to Sell?
Ask an experienced real estate agent to provide a comparative market analysis (CMA). This free report will show you what recent buyers have paid for homes like yours in your area. That way you can feel confident you have enough equity to make moving worth your while.
Looking for more advice about how to sell your home? We can help! Download our free Home Seller's Guide for more tips on everything from finding the right real estate agent to planning a competitive pricing strategy. And did we mention that it's totally free? Get Dave's Home Seller's Guide today!
Did you find this article helpful? Share it!