Selling your home can feel exciting and scary—often at the same time. As you get started, one of the first questions you'll probably ask yourself is, How much is my house worth?
It's so important to find an accurate value of your home because getting the price wrong could cost you tens of thousands of dollars.
But don't worry. We'll show you how learning the facts about your house and market, using a home value estimator, and working with a real estate agent will help you determine the value of your home so you can sell your house with confidence!
How to Find Your Home Value
First, let's unpack two easy-to-confuse definitions of home value: fair market value and appraised value.
Fair Market Value
This is a fancy term used in the real estate biz to describe a home price that both the buyer and seller agree is fair.
Asking an experienced real estate agent to analyze and compile data on what similar houses are selling for in your area (also known as a comparative market analysis) is the absolute best way to determine a fair market value for your house.
Appraised Value
This is how much your mortgage lender thinks your home is worth. A licensed professional probably did an appraisal when you first bought your house. And your buyer will probably do another one when you sell the house.
An appraised value is based on things like your home's age, location, square footage, number of bedrooms and bathrooms, upgrades, and recent sales in the area.
This price is more for mortgage lenders and taxes and doesn't always end up being the same amount as the sales price. But if the appraisal is much lower than your sales price, it might send your contract with a buyer back to the drawing board!
4 Steps to Know How Much Your Home Is Worth
Here are four easy steps that will help you understand your home's market value:
1. Learn the facts about your house and local market.
Believe it or not, your home's market value is not based on the following:
Your monthly mortgage payment
Your opinion of how great your home is
Your memories of your home
In a nutshell, market value is what buyers are willing to pay for your home. And just because Fred and Suzie next door sold their house for twice what they paid for it, that might not be the same for you.
As a homeowner, it's tough to see your home the way a buyer would. Although you think little Danny's handprints in the front porch pavement are cute, a potential buyer will see them as just one more thing to fix.
Facts About Your House
Keep in mind that a serious buyer will take critical mental note of the following:
Location, location, location: Is your house in a desirable part of town with good schools? How close is it to highways and shopping centers?
Safety: Does your neighborhood have sidewalks, underground electrical lines and a low crime rate? To learn about your local crime rate, check out crime stats on FBI.gov.
Curb appeal: Is your house pretty to look at? Or is it an outdated eyesore?
Square footage: How big is your home? Does it have any weird layout issues?
Number of rooms: Does the ratio of bathrooms to bedrooms make sense?
Updated appliances: Does your home still sport a harvest gold stove from the 1970s? Will the buyer need to plan for the cost of a new fridge, dishwasher or other items?
School district: How are the schools rated in your area? Are there multiple options? If you're not sure, try online resources like GreatSchools.org.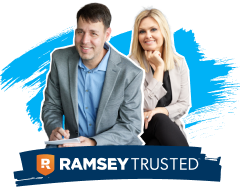 With the right agent, navigating the housing market can be easy.
Buy or sell a home with an agent the Ramsey team trusts.
Connect for Free
Facts About Your Market
Some factors affecting your home's market value are out of your control. For instance, if the economy is tanking, no one's going to pay top dollar for a house. The final price tag may also depend on:
Mortgage interest rates: A mortgage is a huge financial commitment, so a high interest rate will keep some buyers from pulling the trigger.
Time of year: Homes just sell better during certain months than they do in others. For example, most buyers won't choose to move during the middle of the holiday season or after the school year has started. Expect to get more or fewer offers depending on the time of year.
Supply and demand: If there are a ton of houses on the market, that means you've got competition. On the other hand, if there are more interested buyers than there are "For Sale" signs, raise the price like the savvy seller you are!
How similar homes in the area have sold: How much are people willing to pay for a home like yours in your neighborhood? Are there many foreclosures in your area? This will give you a lot of insight into how desirable your home may be—or how much someone might be willing to pay.
If you're trying to sell your home, an expert real estate agent can help you analyze all this information to create your ideal listing price. Want to investigate on your own? A quick online search can give you a ballpark number.
2. Enter your address into a free online home value estimator.
If you search for your address on an online real estate marketplace, you'll likely find all kinds of facts about your home that are public record, including:
Type of home
Year the home was built
Number of rooms, bedrooms and bathrooms
Square footage of the home
Square footage of the lot
Heating and cooling systems
Number of parking spots
How much you and each previous owner paid for the home
Along with these home facts, you'll see an estimated market value. Online tools like home value estimators put this number together by looking at the sales of homes in the area that are similar to yours, local tax assessments, and whether homes in your area are increasing or decreasing in value over time.
Warning: Online Home Value Estimators Aren't 100% Accurate
Before you get too excited about this number and slap a price on your house, dig a little more. While these online estimates are helpful, they're not always accurate.

Find expert agents to help you sell your home.
The estimates are only as reliable as the amount of public record data the real estate websites can access. The less data gathered for your particular neighborhood, county and state, the less you can depend on this number.
3. Compare your home's value to others in your neighborhood.
As a home seller, the real value you'll get from these sites comes from the information you find about your housing market. Scroll through the data and see if you can answer any of these questions:
Is my home value trending upward or downward?
How does my home value compare to other homes in my neighborhood or zip code?
How does my home value compare to those in other zip codes in my area?
What's the market temperature? Is it a hot or cold time to sell?
That's useful information you can discuss with your real estate agent when it comes time to set a price for your home.
4. Work with a real estate agent to find the most accurate price.
If you're ready to sell your home, contact a real estate agent no matter what you find online. Your agent will have the most accurate information to help you decide on the right home price.
That's because a real estate agent doesn't pull stale information from the shelf. Unlike online tools, real estate agents have access to a multiple listing service (MLS) database of homes for sale in the area that will allow them to run an accurate comparative market analysis.
How a Real Estate Agent Determines Home Value
A good real estate agent will take the time to come and look at your home. They'll consider the landscaping, the condition of the house, any upgrades you've added, and all those things that aren't listed in public records but make a real difference to potential home buyers.
Agents use the power of real-world experience to compare your home's nitty-gritty details to recent sales and current listings.
Let's say you installed a new roof last year but your furnace is on its last leg. An experienced agent knows how to weigh those factors and still come up with a competitive price. Remember, the market value is not based on formulas. It's based on how much someone is actually willing to pay for your home.
No computer can determine that, and your success as a seller rides on it.
Why It's Important to Know Your Home's Value
Knowing how much your house is worth helps you sell it for the right price from the start. Not really understanding your home's value could lead you to undersell or oversell.
Price your home too high and buyers will pass you up without ever stepping through the door—which could end up forcing you to slash the price later. Price it too low, and you could lose thousands of dollars. The right price gets you the most money in the least amount of time.
Home value is also important in helping you make decisions when it comes to handling things like:
How Often Should I Check My Home Value?
Getting an idea of your home value at least once a year could be useful. But you probably don't need an expert's opinion each time—unless you're doing something big like selling or refinancing.
Since the value of your home influences things like insurance and taxes, keeping a pulse on how much your house is worth on a yearly basis could help you save money.
For example, if you bought your house with a down payment lower than 20%, you're probably paying for PMI—an insurance that protects your lender (not you) in case you stop making monthly payments.
If your home value goes up to the point where you now own 20% or more of the house, you can ask your lender to get rid of PMI and save yourself a ton of money!
Price Your Home With an Expert Real Estate Agent
If you're ready to sell your house, work with a real estate professional. For a fast and easy way to find a real estate agent who you can trust with your home search, try our RamseyTrusted program. We only recommend top agents with years of experience so you can sell your home on your timeline and for the right price.
Did you find this article helpful? Share it!