With 8 billion people in the world, it sure doesn't feel lonely. People are everywhere! Even so, it's easy to get so wrapped up in our own lives that we don't take time to really get to know others. We might mingle at church or catch up in the break room at work, but that doesn't mean we have authentic community.
Here's the deal: God didn't intend for us to live in isolation. He specifically designed us to crave (and thrive in) relationship with others. We're our best selves when we're experiencing life's highs and lows with other people. That means everyone—no matter your relationship status or living situation—needs community.
Don't take it from me though. The Bible is the ultimate authority and has a lot to say about this topic.
What Does the Bible Say About Community?
Whether you've been reading the Bible for years or this is your first time getting into the Word, you'll probably start to notice scriptures about community have a few themes in common. Let's get into it. Here are four reasons the Bible tells us community is so important and 20 Bible verses about community.
Community Is Encouraging
Being in community gives you the chance to be around people at different stages of their faith journey. That's awesome because everyone has something to teach and to learn. In fact, it creates the ideal environment to be a friend (like Barnabas), seek a mentor or teacher (like Paul), or teach others (like Timothy).
What community comes down to is lifting each other up, learning from one another, and being the type of friend we all need. Take a look at these scriptures about community that focus on encouragement:
1. And let us consider how we may spur one another on toward love and good deeds, not giving up meeting together, as some are in the habit of doing, but encouraging one another—and all the more as you see the Day approaching. Hebrews 10:24–25 (NIV)
2. And now these three remain: faith, hope and love. But the greatest of these is love. 1 Corinthians 13:13 (NIV)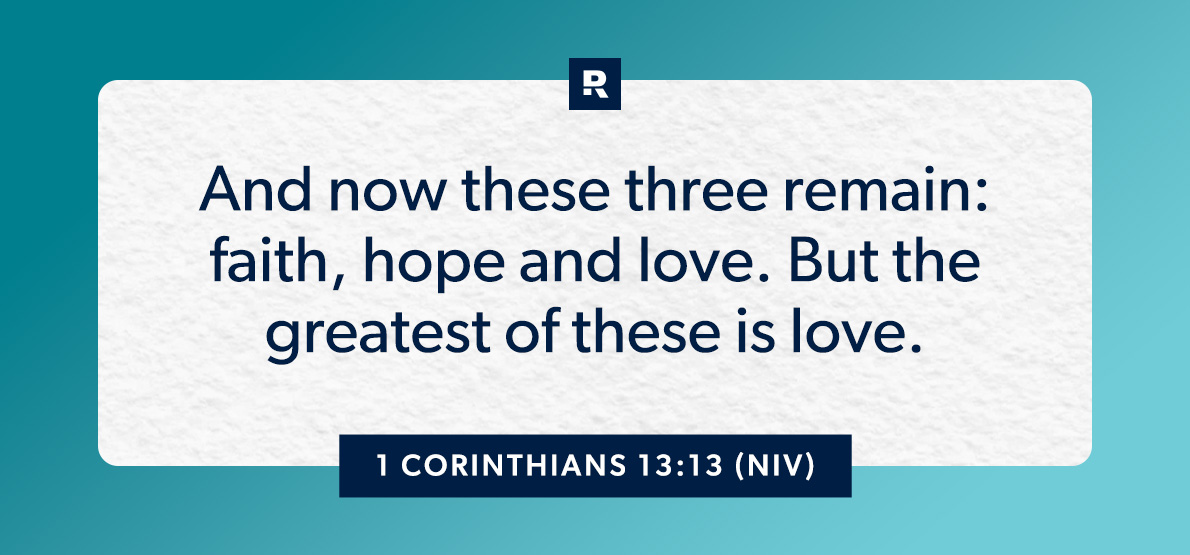 3. I appeal to you, brothers and sisters, in the name of our Lord Jesus Christ, that all of you agree with one another in what you say and that there be no divisions among you, but that you be perfectly united in mind and thought. 1 Corinthians 1:10 (NIV)
4. All the believers were one in heart and mind. No one claimed that any of their possessions was their own, but they shared everything they had. Acts 4:32 (NIV)
5. For just as each of us has one body with many members, and these members do not all have the same function, so in Christ we, though many, form one body, and each member belongs to all the others. Romans 12:4–5 (NIV)
6. Bear with each other and forgive one another if any of you has a grievance against someone. Forgive as the Lord forgave you. And over all these virtues put on love, which binds them all together in perfect unity. Colossians 3:13–14 (NIV)
Community Is Fun
Community should never feel dull or forced. In fact, it should be the exact opposite. Our culture sometimes portrays faith communities as a strict and boring bunch. But while that can be the case, it certainly shouldn't be the norm. A community of believers should be overflowing with joy and hope. And I don't know how much time you've spent with joyful and hopeful people, but let me tell you—it can be a lot of fun. Here's what a few scriptures say about this:
7. How good and pleasant it is when God's people live together in unity! Psalm 133:1 (NIV)

Get expert money advice to reach your money goals faster!
8. Every day they continued to meet together in the temple courts. They broke bread in their homes and ate together with glad and sincere hearts, praising God and enjoying the favor of all the people. And the Lord added to their number daily those who were being saved. Acts 2:46-47 (NIV)
9. Perfume and incense bring joy to the heart, and the pleasantness of a friend springs from their heartfelt advice. Proverbs 27:9 (NIV)
Community Attracts the Holy Spirit
A great example of this was the early church in the book of Acts, which made a habit of meeting together, eating together, and worshiping together. Being in church on Sundays is definitely important, but community in any place can involve God. Here are some examples of how Bible verses on community speak to God's presence in groups:
10. Every day they continued to meet together in the temple courts. They broke bread in their homes and ate together with glad and sincere hearts, praising God and enjoying the favor of all the people. And the Lord added to their number daily those who were being saved. Acts 2:46–47 (NIV)
11. For where two or three gather in my name, there am I with them. Matthew 18:20 (NIV)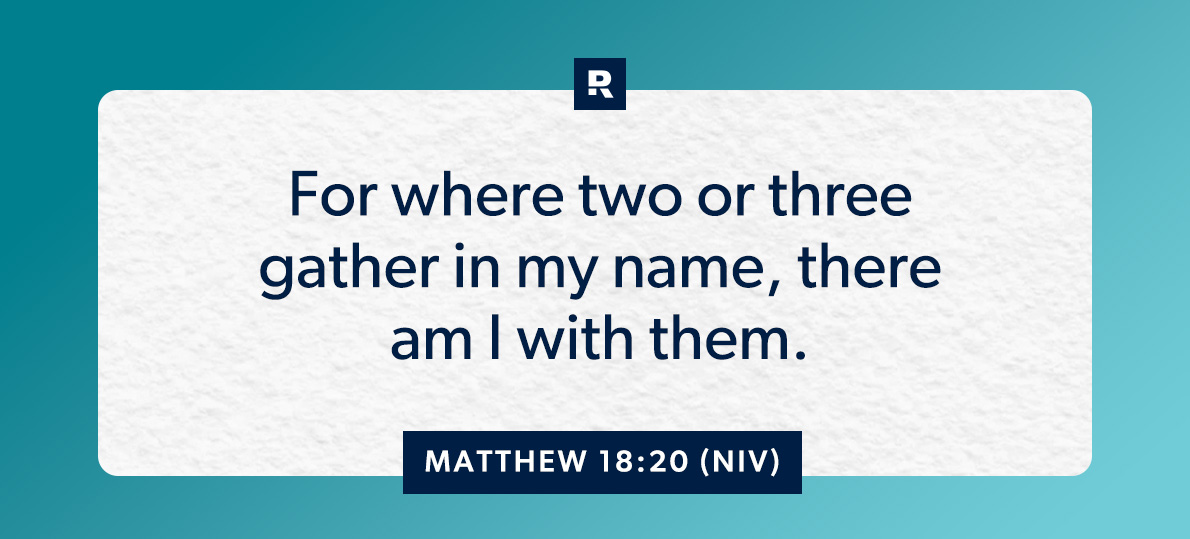 12. For we were all baptized by one Spirit so as to form one body—whether Jews or Gentiles, slave or free—and we were all given the one Spirit to drink. 1 Corinthians 12:13 (NIV)
13. Carry each other's burdens, and in this way you will fulfill the law of Christ. Galatians 6:2 (NIV)
14. But if we walk in the light, as he is in the light, we have fellowship with one another, and the blood of Jesus, his Son, purifies us from all sin. 1 John 1:7 (NIV)
Community Fosters Love
The apostle Paul held love above all else in his letters to the Corinthians and his letter to the Colossians. Here are a few other ways we see community Bible verses describe the impact and importance of love:
15. Finally, all of you, be like-minded, be sympathetic, love one another, be compassionate and humble. 1 Peter 3:8 (NIV)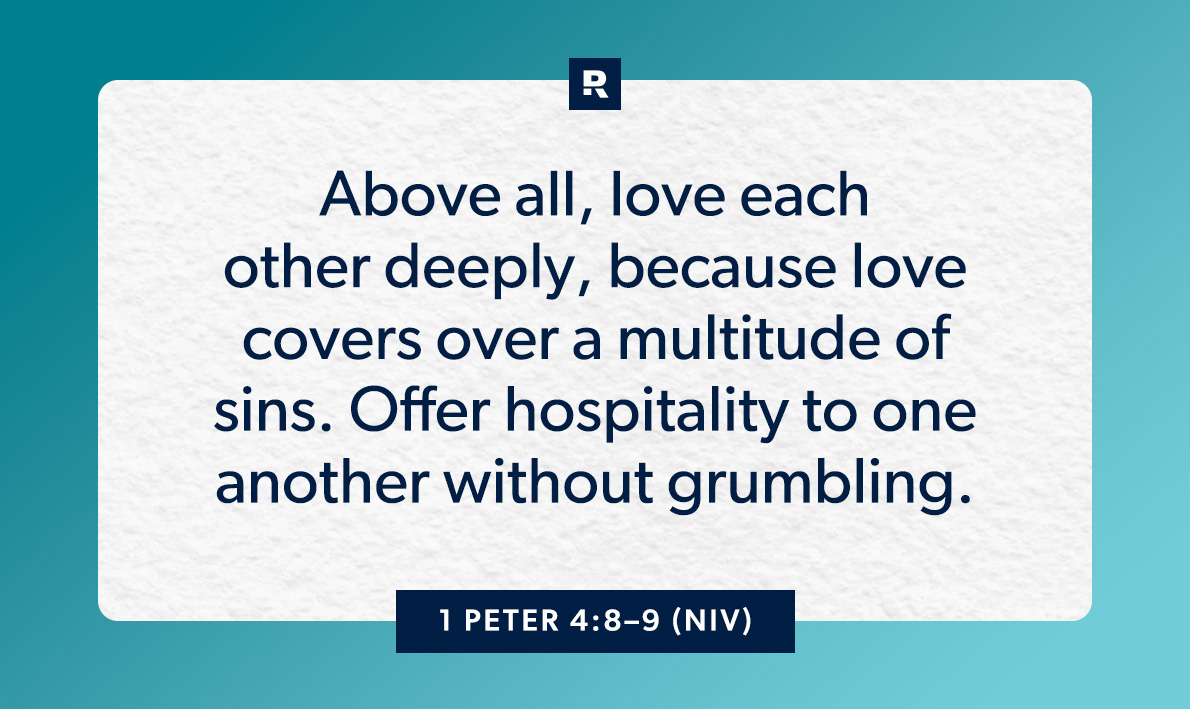 16. Dear friends, since God so loved us, we also ought to love one another. 1 John 4:11 (NIV)
17. Live in harmony with one another. Do not be proud, but be willing to associate with people of low position. Do not be conceited. Romans 12:16 (NIV)
18. My command is this: Love each other as I have loved you. Greater love has no one than this: to lay down one's life for one's friends. John 15:12–13 (NIV)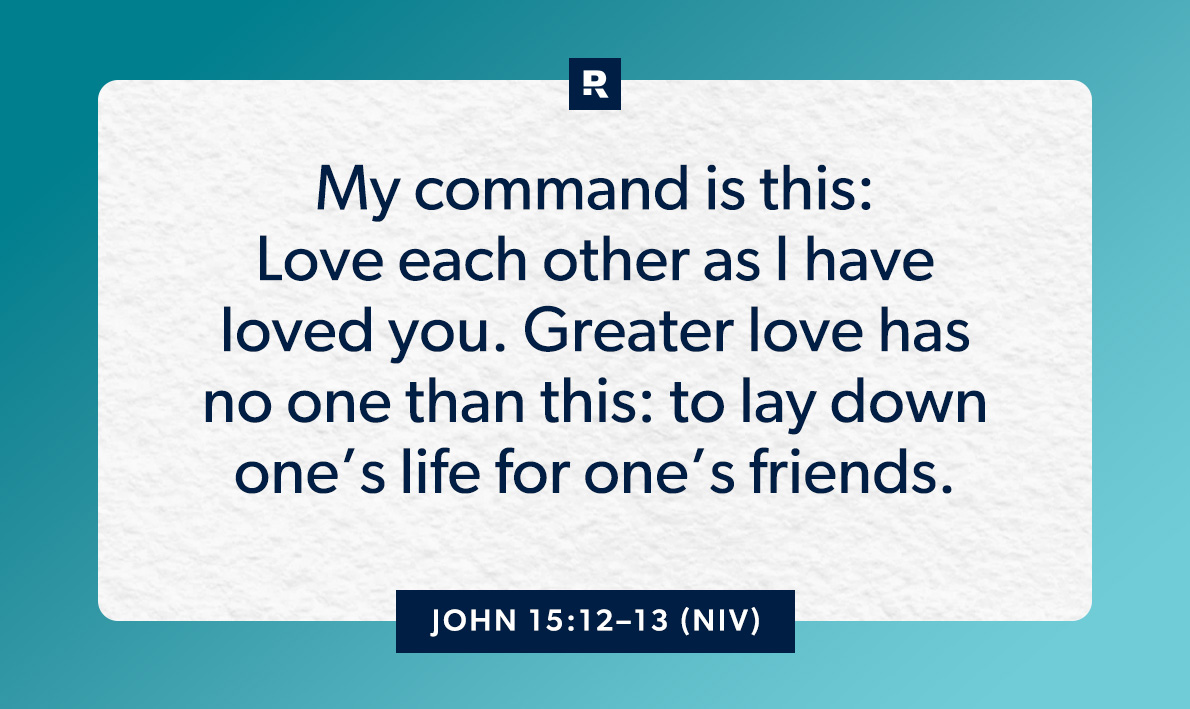 19. A friend loves at all times, and a brother is born for a time of adversity. Proverbs 17:17 (NIV)
20. Above all, love each other deeply, because love covers over a multitude of sins. Offer hospitality to one another without grumbling. 1 Peter 4:8–9 (NIV)
Bonus reason: Community is life-giving—and essential to following Christ. As you reflect on this list, do you have a favorite Bible verse on community?
Create Community With Conversation
It can be hard for some of us to commit to community, especially if we're guarded or prefer solitude. But community is God's desire for us—and it's a sign of a mature faith. Because at the end of the day, when we grow in our relationships with other believers, we grow in relationship with Him!
If you're looking for a way to bring a closer feeling of community to your friend group, church, workplace or anywhere else out in the world, check out my friend Dr. John Delony's Questions for Humans Conversation Cards. These conversation starters can help you connect with other people and create community in any situation you find yourself in. Check them out!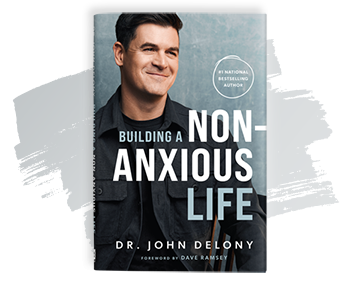 Want to Build a Non-Anxious Life?
For guidance on making the daily choices that will help you be well, check out Dr. John Delony's new book.
Start Reading for Free
Did you find this article helpful? Share it!