Anxiety is a common experience today. And if you feel pulled in a million directions and you're exhausted trying to keep it all going, there's something powerful you can do to pause and get centered: pray.
When you're facing anxiety, prayer can be an intentional way to get some peace and clarity. And praying regularly can help you learn to trust God with your worries and give up control.
There are very real reasons you might be experiencing anxiety. But we can only control so much—and then let God handle the rest. In fact, here's what the Bible has to say about praying when you have anxiety:
"Be anxious for nothing, but in everything by prayer and supplication, with thanksgiving, let your requests be made known to God; and the peace of God, which surpasses all understanding, will guard your hearts and minds through Christ Jesus."
Philippians 4:6-7 (NKJV)
How to Pray for Anxiety, Stress and Worry
The truth is, there's no right way to pray. Prayers for anxiety and stress don't have to be complicated or time-consuming. You're not making an award-winning speech to the heavens! (Phew.) You're just telling God what's on your mind and heart. Don't worry about saying it perfectly. Just be honest, thank God for the good things, be open about your struggles, and ask for help. (And if you need some clarity around what might be causing your feelings of stress and worry, check out my friend Dr. John Delony's free anxiety test.)
If you want to get started with some short prayers for anxiety, go ahead and skip this part. But if you want to create your own prayer for anxiety, you can follow the ACTS structure. This four-part structure will help you pray for any situation you're going through.
Adoration: Praising God
Confession: Admitting where you're struggling in life
Thanksgiving: Being grateful
Supplication: Asking for help
And one more thing: Focusing on gratitude might sound cheesy, but it's a tried-and-true way to bring your attention to the here and now. In fact, gratitude improves happiness, health, optimism, mood, sleep and wellbeing.1
Short Prayers for Anxiety
Here are a few short prayers for anxiety you can repeat whenever you feel overwhelmed or stressed.
Prayer for Confidence
Dear Lord, I'm declaring today that I will not live in a state of fear. I place all of my fears into Your hands and commit to trust Your plan. In Jesus' Name, Amen.
— Lysa Terkeurst
Prayer for Patience
Let nothing disturb you, Let nothing frighten you, All things are passing away: God never changes. Patience obtains all things.Whoever has God lacks nothing; God alone suffices.
— St. Teresa of Ávila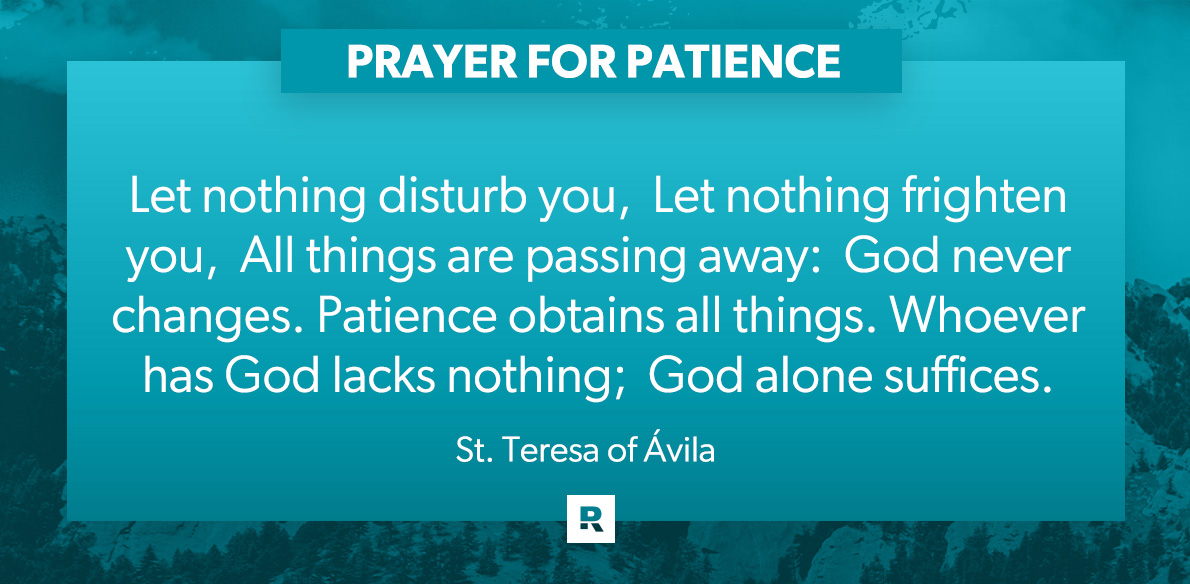 Prayer for Surrender
God, who is more than we can ever comprehend,help us to seek you,and you alone.Help us to stand before all that we could doand seek what you would do,and do that.Lift from us our need to achieve all that we can beand instead,surrender to what you can be in us.Give us ways to refrain from the busynessthat will put us on edge and off center,give us today your peace.
— Author Unknown
Prayer for Peace
Loving God, please grant me peace of mind and calm my troubled heart. My soul is like a turbulent sea. I can't seem to find my balance so I stumble and worry constantly. Give me the strength and clarity of mind to find my purpose and walk the path you've laid out for me. I trust Your love God, and know that You will heal this stress. Just as the sun rises each day against the dark of night. Please bring me clarity with the light of God. In Your name I pray, Amen.
— Author Unknown
The Lord's Prayer
Our Father in heaven, Hallowed be Your name. Your kingdom come. Your will be done On earth as it is in heaven. Give us this day our daily bread. And forgive us our debts, As we forgive our debtors. And do not lead us into temptation, But deliver us from the evil one. For Yours is the kingdom and the power and the glory forever. Amen.
Want to build a non-anxious life? Learn how in Dr. John Delony's new book.
Matthew 6:9-13 (NKJV)

The Serenity Prayer
God grant me the serenityto accept the things I cannot change; courage to change the things I can; and wisdom to know the difference.
— Reinhold Niebuhr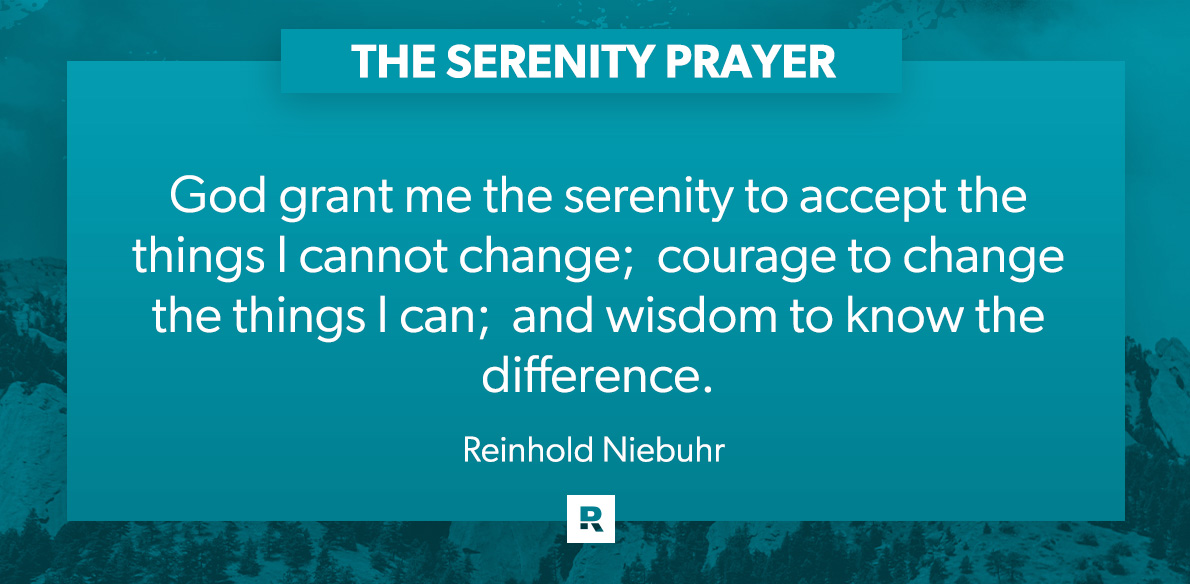 Prayers for Sleep
When you're struggling with anxiety, a good night's sleep can be the first thing to go. If you're in bed and your mind starts racing, try calming your mind by repeating any of these prayers for sleep.
Prayer for Trust
Dear Jesus, teach me to daily lay my burdens at your feet. Show me I can trust in your loving care. Grant me, your beloved, the nourishing blessing of rest and peaceful sleep.
— Rachel Olsen
Prayer for Relaxation
Dear God, as I lay me down to sleep, relax the tension of my body; calm the restlessness of my mind; still the thoughts which worry and perplex me. Help me to rest myself and all my problems in your strong and loving arms. Let your Spirit speak to my mind and heart while I am asleep, so that, when I wake up in the morning, I may find that I have received in the night-time, light for my way; strength for my tasks; peace for my worries; forgiveness for my sins. Grant me sleep tonight, and tomorrow power to live.
— Author Unknown
Prayer for a Strong Spirit
For God has not given us a spirit of fear, but of power and of love and of a sound mind.
2 Timothy 1:7 (NKJV)
Prayer for Rest
Father, we thank you for the night,And for the lovely morning light;For rest and food and loving care,And all that makes the day so fair.Help us to do the things we should,To be to others kind and good;In all we do, in work or play,To grow more loving every day.— "Father, We Thank You for the Night" by Rebecca Weston
Bedtime Prayer
Now I lay me down to sleep,I pray the Lord my soul to keep.If I should die before I wake,I pray the Lord my soul to take.
Amen.
— Bedtime Prayer, 18th Century
Family Bedtime Prayer
Dear God, We're in need of your peace and truth to soothe our hearts and spirits right now. When we find ourselves awake in the middle of the night, our pressing needs and worries can feel overwhelming. We need to be reminded of your constant love, healing, and grace. We ask for your Mighty Power to surround us.
— Debbie McDaniel
Change Your Relationship With Anxiety
Yes, anxiety is real—but it doesn't have to define your life. And praying over anxiety is one of the first steps you can take to start healing. If you'd like more information and tools to begin creating a more peaceful and joyful life, check out my friend Dr. John Delony's new book, Building a Non-Anxious Life. He'll walk you through the Six Daily Choices you can make today to get your life back. I hope you'll check it out!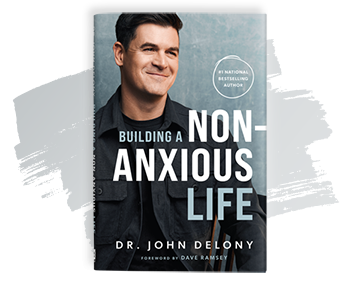 Want to Build a Non-Anxious Life?
For guidance on making the daily choices that will help you be well, check out Dr. John Delony's new book.
Start Reading for Free
Did you find this article helpful? Share it!