The whole student loan situation over the last three-and-a-half years has been a dumpster fire (to say the least). From payment pauses to failed forgiveness, borrowers have had to deal with so much back and forth from the government, they could probably sue for whiplash.
But federal student loan payments are actually starting back this October (yep, it's for real this time). And student loan interest rates have already returned to what they were pre-pandemic.
Now that borrowers are finally moving forward with their student loans, let's take a look at some of the highlights (or should we say lowlights) in student loan updates since 2020—starting with President Joe Biden's new SAVE plan.
SAVE Plan: Biden's New Student Loan Repayment Plan Opens (August 2023)
President Biden's new income-driven repayment (IDR) plan, called the Saving on a Valuable Education (SAVE) plan, officially opened for enrollment in August 2023.1 This replaces the current REPAYE plan—so anyone already enrolled in REPAYE will be automatically put into the SAVE plan.
What exactly is Biden's SAVE plan? Well, just like the other IDR plans, your monthly payment is based on your income and family size. But with the SAVE plan, the income exemption is increased from 150% to 225% of the poverty line and borrowers won't be charged for unpaid monthly interest.2
Basically, this boils down to borrowers having extremely low monthly payments on this plan—and some people owing even $0 a month.
But while the SAVE plan seems like it's doing you a favor, it's really not. Remember, smaller payments mean smaller progress on your student loans. So, IDRs like this one only drag out your debt for longer. If you do get enrolled in this plan, you'll still want to aim to pay more each month!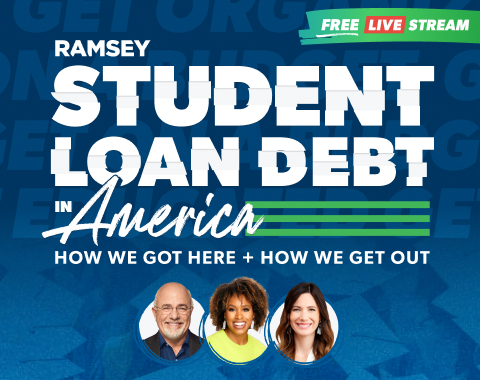 Student loan payments restart this fall!
Get a plan to ditch your loans for good. Watch our student loan livestream replay.
Watch Now
Supreme Court Strikes Down Biden's Student Loan Forgiveness Plan (June 2023)
In a 6-to-3 decision, the Supreme Court struck down Biden's student loan debt relief program—which would have forgiven up to $20,000 in student loans per borrower.
Biden announced his forgiveness plan in August of 2022. And after nearly a year of legal battles, the Supreme Court ruled that the Department of Education didn't have the authority to "alter large sections of the American economy" without authorization from Congress. The Biden administration argued the forgiveness plan was legal under the 2003 HEROES Act.3
While this news left a lot of student loan borrowers disappointed, it confirmed what we already knew: You can't depend on the government to solve your problems—especially when it comes to your student loans.
Payment Pause Extended, Again (November 2022)
At this point, the pause on federal student loan payments had been extended (for the seventh time, but who's counting) until January 1, 2023.
But Biden was also really banking on his student loan forgiveness plan to have knocked down borrowers' balances by then. And since several court orders had indefinitely blocked the forgiveness from going through, the president decided to give borrowers even more time without payments.
So, student loan relief was extended yet again through June 30, 2023—or until a final decision about Biden's forgiveness plan could be made. And since the Supreme Court ruled Biden's plan unconstitutional, the payment pause officially ended on September 1, 2023.
Biden Announces Plan to Forgive Student Loans (August 2022)
After years of student loan campaign promises, President Biden announced his plan to automatically forgive student loan debt for millions of borrowers in August 2022.

Ready to get rid of your student loans once and for all? Get our guide.
Under this plan, anyone who earned less than $125,000 ($250,000 per household) would've had up to $10,000 of their student loans forgiven. And anyone who also received a Pell Grant in college would've had an additional $10,000 forgiven—so a total of $20,000 of forgiveness.
This kind of mass student loan cancellation had never been done before. Many were quick to challenge Biden's plan because it wasn't clear if he actually had the power to cancel student loan debt with an executive order. And as it turns out, he didn't.
Federal Student Loan Payments Paused With CARES Act (March 2020)
Back at the start of the COVID-19 pandemic, people who had lost their jobs or were furloughed were having a hard time paying their rent—let alone their student loans. So, in March of 2020, President Trump signed the CARES Act to help those who were hit hard financially.
Remember those stimulus checks you got? Yeah, that was because of the CARES Act. But it also paused federal student loan payments and set the interest rate for federal student loans to 0%. The CARES Act officially expired on March 27, 2022, but both Trump and Biden extended the payment pause numerous times.
As of September 1, 2023, federal student loan interest rates are no longer set to 0%. And federal student loan payments will resume October 2023.
Student Loan Debt Help (That Actually Works)
Look, if the last three years have taught us anything, it's that the government can't keep its word. And as much as you might like to hope your student loan servicer has your back when it comes to helping you pay off your loans, they don't.
The only person you can count on to get rid of your student loans . . . is you.
If you want to get prepared for student loan payments starting back, check out our free livestream, Student Loan Debt in America.
We're going to show you how to find more money in your budget—so you can actually afford your monthly payment. Plus, we'll give you the plan to pay off all your student loan debt for good!
Trust us, if you've got student loans, you don't want to miss this. Watch it today for free!
Because the sooner you get on top of your student loans, the sooner you can get your life (and your sanity) back.
Did you find this article helpful? Share it!