Biden Plans to Forgive Up to $20,000 of Student Loan Debt for Borrowers: What Does It Mean for You?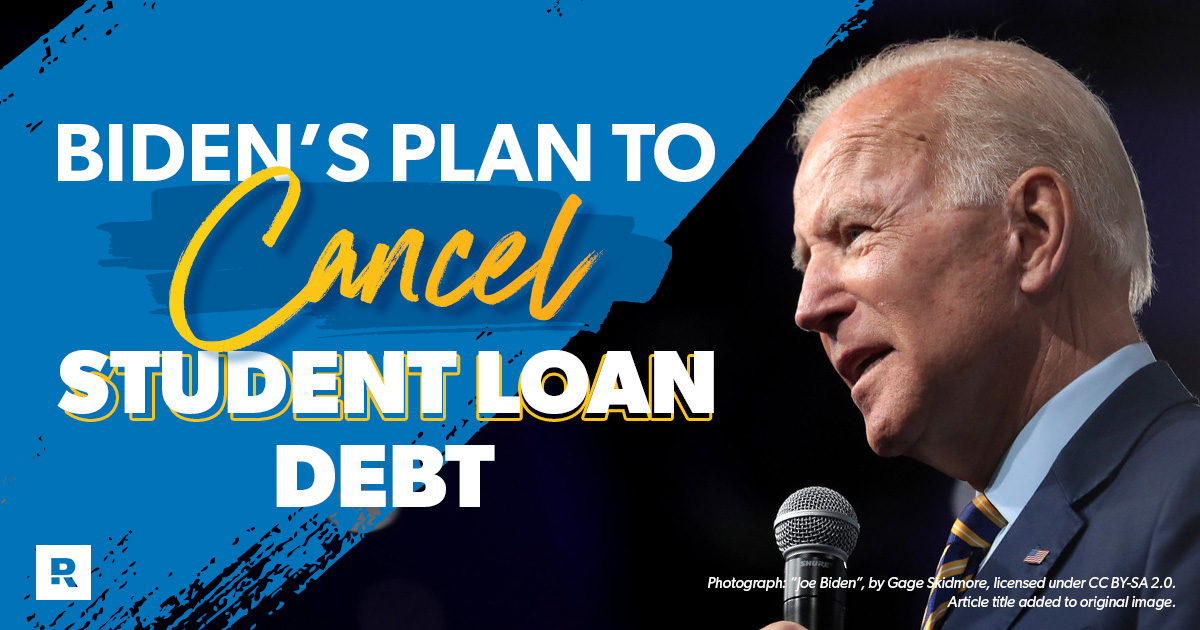 UPDATE as of June 30, 2023: The Supreme Court has blocked Biden's student loan debt relief program—which means this forgiveness will not be happening.
President Biden just announced he plans to cancel up to $20,000 of student loan debt for millions of borrowers.1 And yes, that's huge news! But there are still a lot of questions around this plan and what it means for America as a whole.
Keep reading to find out everything you need to know about Biden forgiving student loan debt, what it means for you, and what to do about the rest of your student loans.
Did Biden Really Forgive Student Loan Debt?
On Wednesday, August 24, President Biden announced a new plan that offers relief for many borrowers by forgiving $10,000–$20,000 of student loan debt for those who qualify.2
It's important to note that this kind of mass student loan cancellation has never been done before. And there's a strong chance Biden's plan will be legally challenged since it's still unclear if he actually has the power to cancel student loan debt with an executive order.
Up until now, the only way to get any student loan debt forgiven has been to apply for one of the federal forgiveness programs—which have very specific hoops you have to jump through. These programs are mostly for people with specific kinds of jobs and payment plans, and the approval rates are pretty depressing (like the 2% for Public Service Loan Forgiveness).
But under Biden's new plan, millions of Americans will automatically qualify to have at least some of their student loans forgiven.
Whose Student Loans Will Be Forgiven?
Biden's forgiveness plan is estimated to affect most of the 43 million borrowers with federal student loan debt.3
Unlike the targeted student loan forgiveness we've seen before now, Biden's plan has only one requirement: Your annual income must be less than $125,000 ($250,000 per household).4
But exactly how much of your student loan debt will be forgiven? Here's how it breaks down:
If you received a Pell Grant in college and also meet the yearly income standard, you will be eligible to have up to $20,000 forgiven.
If you did not receive a Pell Grant in college but still meet the income standard, you will be eligible to have up to $10,000 forgiven.
"Up to" means if you qualify to have $20,000 forgiven, but you currently owe $15,000 in student loans, you'll only have $15,000 of student loans forgiven. And keep in mind, this is only for federal student loans. There's not a lot the government can do when it comes to private student loan forgiveness.
What Do I Need to Do to Receive Student Loan Forgiveness?
It's not clear exactly when this loan forgiveness will kick in. But if the U.S. Department of Education already has your income information, it should happen automatically without any action on your end.
If the Department of Education doesn't have your income information, or if you're not sure, you'll need to apply to qualify for this new student loan forgiveness. The application should be available before payments resume next year, but you can sign up for updates from the Department of Education.
What About Student Loan Refunds?
Yeah, student loan refunds are a real thing. But how does it work?
Basically, you can get a refund for any federal student loan payment you made during the payment pause (since March 13, 2020).5 And people are using this loophole as a way to get some of their money back, even though they already paid off their student loans—in the hopes that Biden will forgive their new balance in the coming months.

Ready to get rid of your student loans once and for all? Get our guide.
But there's a catch! If you get a refund right now, your loan servicer will revert your loan balance back to $10,000 (or whatever amount you get a refund for). Then you'll have to wait to see if Biden's plan comes through before that $10,000 is officially cleared from your account. So, you'll technically owe that money again until your loans are forgiven. Yikes!
But listen, if you paid off your student loans early, you made the right decision—so don't worry about refunds. You put in the hard work, and you saved yourself a ton of time and stress. And you don't have to worry about your student loans ever again!
What Else Did Biden Announce?
Forgiveness wasn't the only thing President Biden included in his new student loan plan. He announced that the pause on federal student loan payments and interest will once again be pushed back through December 31, 2022.6 This is the seventh time student loan relief has been extended since March 2020.
The president also introduced a new income-based repayment plan (IDR) that would allow borrowers to cap their monthly payments at 5% of their discretionary income (instead of 10%), raise the amount of income that counts as non-discretionary income, and cover any unpaid monthly interest.7
Plus, instead of the 20 years it takes to have your loans forgiven under most income-driven repayment plans, borrowers with an original loan balance of $12,000 or less can have their loans forgiven after 10 years of making payments under this new IDR.
That's a lot of changes packed into this plan!
What Does This Mean for the Economy?
While this is certainly good news for millions of Americans struggling with student loan debt, Biden's forgiveness plan is estimated to cost the U.S. at least $300 billion.8 Because believe it or not, all that forgiven student debt doesn't just disappear—it gets added to the ever-growing pile of national debt.
Now, thanks to the American Rescue Plan of 2021, any student loan forgiveness is tax-free through 2025.9 So you shouldn't get an added federal tax bill for having your loans forgiven through this plan, but it could affect your state tax bill. And despite Biden's promise that "the whole economy will be better off" after his plan, you can bet student loan forgiveness this large will take a huge toll on all American taxpayers.10 (As if dealing with inflation isn't already enough of a pain in the you-know-what.)
But no amount of forgiveness will solve America's growing student loan crisis if the government continues to create student loans and trap millions of kids in a dangerous cycle of debt. Here's the deal: If student loans are so bad that we have to cancel them, we need to stop making them! Period.
What to Do About the Rest of Your Student Loans
If you qualify for this student loan forgiveness plan, we're happy for you! We know every dollar of debt can feel like a huge weight, and we want you to get out of debt as fast as you can.
But Biden's plan hasn't happened yet. So, even if you're banking on the rest of your student loans being wiped out by the end of the year, it's a good idea to save up the money you would've put toward your monthly payment—just in case. Because you don't want to be caught off guard if the president's plan falls through and you still have student loan debt.
And chances are, you have more student loan debt than Biden plans to forgive. So while you may get some relief, you've probably still got a way to go before you can actually experience the joy of being debt-free.
So, even if some of your debt will be forgiven, here's what you can do about the rest of your student loans.
Keep Paying on Your Student Loans
Now that Biden has forgiven some student loans, you may think you should just sit back and wait for him to forgive the rest. But waiting on the White House is never a good idea. It's taken a long time to have this much forgiven (and even that will probably be called into question). Most likely, any other significant student loan forgiveness will need to be approved by Congress—and we all know how complicated that can be.
In the meantime, you could've already paid off your student loans and saved yourself a ton of money in payments. (Use our Student Loan Payoff Calculator to see just how fast you can pay off your loans and how much interest you'll save.)
Your best bet is to use this $10,000 payoff to boost your progress and knock out your student loans once and for all. Right now is actually the best time to pay off your student loans because your entire payment goes straight to the principal until the federal interest pause ends in January. You've got until the end of the year to make some serious headway on your student loans. And no one else, not even the president, should get to decide when you'll be debt-free. You have the power to take control of your student loans yourself!
Have a Game Plan
Maybe you haven't gotten serious about paying off your student loans because you don't think it's even possible or you don't know how. Hey, we know it can feel super overwhelming, especially if you're staring down some big numbers. But when you take it one step at a time, you can make progress—faster than you think.
If you're ready to get your student loans off your back, check out The Ultimate Guide to Getting Rid of Student Loan Debt. From forgiveness to payoff, this course will help you explore your options and give you a plan to ditch your student loans for good.
Get on a Budget
If the idea of trying to pay off your student loans is too much to even think about, start with a budget. You'll have to make that student loan payment come January, so you might as well figure out how to make it work now. And the great thing about a budget is that it gives you control over and confidence with your money—no matter your income.
When you tell your money where to go each month, you can see exactly how much you have to cover your basic necessities and make progress on your student loans. Yeah, you'll have to be more intentional with how you spend your money. But every little bit adds up. Go ahead and get started budgeting for free with EveryDollar!
And imagine how amazing you'll feel when your student loan balance is zero—not because you waited on a political promise that may never happen, but because you made it happen. You can do this!
Guide to Getting Rid of Your Student Loans
Counting on the government to forgive your student loans? Find out the truth about loan forgiveness and how to make progress with this in-depth guide.
Get the Guide
Did you find this article helpful? Share it!