By now, you've heard the history of how a third stimulus happened: Just as most Americans received their $600 second stimulus check from the U.S. Treasury in early January 2021, then president-elect Joe Biden unveiled his $1.9 trillion American Rescue Plan that included—you guessed it—the third stimulus payment.

Need an extra boost in your budget? Find more money each month with our 14-Day Money Finder!
But there have been a few new twists and turns since March 2021 when all the details of legislation were worked out, passed, and signed into law. The latest stimulus update is this—some states in America are giving out a fourth stimulus check. Curious? Yep, we are too. We'll dive into that in a second. But first, let's talk the odds of another federal stimulus check from the government.
Stimulus Update: Will There Be a Fourth Stimulus Check From the Government?
To refresh your memory—we've had three federal stimulus checks go out. But some lawmakers have pushed for another stimulus check to help Americans who are struggling to rebuild after COVID-19 and its economic impact. But with there being a surge in cases each time a new variant comes along, would a fourth stimulus check happen for everyone? Hard to say. A lot of people didn't think we'd see a third stimulus check—but we did.
With the economy and jobs both on the upswing, the need for a stimulus check is way less than it was at the start of the pandemic. And that might mean there won't be a fourth stimulus check for every American. So don't go checking your bank account. That is, unless you live in a state that's taking matters into its own hands.
Latest Stimulus Update: Why Are States Giving Out a Fourth Stimulus Check?
It all started back when the American Rescue Plan rolled out. States were given $195 billion to help fund their own local economic recovery at the state level.1 But they don't have forever to spend this money—states have to figure out what to use it on by the end of 2024, and then they have until the end of 2026 to spend all that cash.2 That might sound like forever, but the clock is ticking here.
Some states have given out their own version of a stimulus check to everyone, and others are targeting it at specific groups like teachers. And other states? Well, they haven't spent any of it yet.
Some states like Colorado, Maryland and New Mexico are giving stimulus checks to people who make less than a certain amount of money or who were on unemployment. So far, California is the only state to give out a broader-sweeping stimulus check.3 Other states like Florida, Georgia, Michigan, Tennessee and Texas are putting the money toward $1,000 bonuses for teachers.
Stimulus Update: When Did Stimulus Checks Go Out?
If you're like most people, everything that has happened since March 2020 is a blur—including when the three stimulus checks went out. Here's a quick reminder.
First stimulus check: March 2020 – $1,200
Second stimulus check: December 2020 to January 2021 – $600
Third stimulus check: March 2021 – $1,4004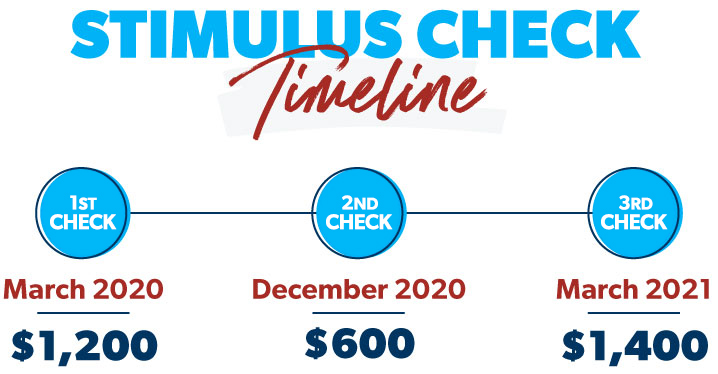 What Is a Plus-Up Payment?
A plus-up payment is basically just a bonus amount that you probably should have gotten the first time. The IRS actually owes more money to some people based on their tax returns. If they used your 2019 tax information to dish out your stimulus payment but your 2020 taxes show they underpaid you—you might be in for a plus-up payment based on your income. But remember, this isn't for everyone—only those who had a change in income or dependents (like having a baby) would qualify for more stimulus money.
When Was the Third Stimulus Check Approved?
The American Rescue Plan passed first in the House and then Senate and was signed by President Biden on March 11, 2021. Lawmakers wanted the bill to go into effect before some COVID-19-related unemployment benefits expired in mid-March 2021.5 And they hit their deadline just in the nick of time.
How Much Is the Third Stimulus Check?
The third round of stimulus checks included a $1,400-per-person ($2,800-per-couple) direct payment. This amount topped off the $600 payment that most eligible folks already got as part of a previous COVID-19 relief package. Congress passed that one at the end of December 2020 for a total of $2,000 in stimulus payments per person. So, how much should you have gotten in your third stimulus check? Find out with our stimulus calculator!
The stimulus payments are one part of Biden's much larger COVID-19 relief plan that also expanded the Child Tax Credit, extended unemployment benefits for people who have lost their jobs during the COVID-19 pandemic, increased the Child and Dependent Care Credit, and provided more aid for renters and landlords.6 Yep, it's a mouthful.
What Was the Timeline for the Third Stimulus Check?
Once the bill moved through all the hoops, eligible people started seeing their stimulus payments before March 2021 was over.7 The IRS and U.S. Treasury have been quick with delivering past stimulus checks—December 2020's payments reached most folks by direct deposit within a week of then President Donald Trump signing the legislation.8
Who Is Eligible for the Third Stimulus Check?
For the first two stimulus payments, single taxpayers earning up to $75,000 a year and couples earning up to $150,000 a year (based on 2019 tax returns) were able to get the full amount. Parents also received stimulus payments for each dependent child under age 17.9,10
Those income limits didn't change for the third stimulus payment even though it targeted the payments to lower income earners. Under the American Rescue Plan, payments phased out for single filers making between $75,000 and $80,000 and couples making between $150,000 and $160,000.11
Eligibility for the third stimulus check also expanded to cover any non-child dependents. That means taxpayers who supported certain eligible dependents age 17 and older might have received more money too.12
How Will You Receive the Third Stimulus Check?
Most people got their previous stimulus checks by direct deposit with the bank account on file with the IRS. Payments were automatic for anyone who filed a 2019 tax return and/or was receiving Social Security benefits. If you didn't have direct deposit with the IRS, your payment would take a little more time and come as a check or debit card in the mail.13
What if I Haven't Gotten My Stimulus Check Yet?
First, head over to the government's site and sign in to your account to check on your payment status. If it shows the stimulus check was issued to you but you haven't gotten it yet, you can run a payment trace to track it down. If the check wasn't cashed, the IRS will reverse the payment, and you'll be able to claim it on your taxes. You can do this through the Recovery Rebate Credit.
If the check was cashed (not by you), you'll have to make a claim and go through a whole process to get your stimulus money. That really stinks. Sorry in advance if you fall into that category. But with any luck, they should be able to straighten things out for you.
Will You Have to Pay Back Money From a Previous Stimulus Check?
You might. Here's why: Some people were sent stimulus checks by accident. Whoops! We know—imagine the government making a mistake, right? Here's why you might need to send your money back:
You make more than the income limit required to receive the stimulus money.
You were given a check for someone who has died.
You're a nonresident alien.
You don't have a Social Security number.
You were claimed as a dependent on someone else's tax return.
If you know one of these applies to you, the IRS expects you to find the error and send the money back to them.14 So go ahead and be honest (and proactive). You don't want any surprises when you go to file your taxes.
How to Return a Paper Check You Have Not Cashed or Deposited
If you're one of those folks who has to send the money back—and you haven't cashed or deposited your check yet—here's what you need to do:
Write "Void" in the endorsement section of the check, but don't fold or staple it—don't even put a paper clip on it.
On a sticky note or sheet of paper, write down the reason you're sending the check back.
Mail the check and the explanation back to your local IRS office (which varies by state).
How to Return a Paper Check You Have Cashed or Deposited
If you have already cashed or deposited the check (or it came to you via direct deposit), here's how you can return the money:
Make a personal check or money order payable to "U.S. Treasury."
Write "2020EIP" on the payment and include either the taxpayer identification number or Social Security number of the person whose name was on the stimulus payment.
On a sticky note or sheet of paper, write down the reason you're sending back the check or money order.
Mail the check or money order and the explanation to your local IRS office (which varies by state).15
What Should You Do With Your Third Stimulus Check?
Let's be real: Three stimulus checks in a year or so is not normal. This third payment can go a long way to help you catch up on bills, pay off debt, or build up your savings. And for a lot of folks, those stimulus checks have kept food on the table. In our State of Personal Finance study, we found that 41% of people who got a stimulus check used it to pay for necessities like food and bills.
So, based on your situation, here's where you start:
If you're out of work or missing a paycheck, use this stimulus money to protect your Four Walls:
Food
Utilities
Shelter
Transportation
Focus on the necessities so you can have peace of mind as you keep looking for work or get your income back up. That means if you're working the Baby Steps and you're out of work, pause your plan for now. Pile up cash until you have a steady income again. Then you can attack your debt. There's nothing like fighting through a financial crisis to light your fire to be debt-free as soon as possible!
On the other hand, if your job is safe and you feel like it'll stay that way, use your stimulus money to build momentum on whatever Baby Step you're on. Put your debt snowball into overdrive. Knock out your fully funded emergency fund (38% of people surveyed in our study saved the money). Or talk to your investment professional about giving your retirement a big boost (5% of people did this)!
No matter your situation, don't forget to budget—it's the best way to make your money go further. EveryDollar is our free and simple budgeting app that will help you see exactly where you need to cut back on your spending.
Focus on What Goes on at Your House—Not the White House
It's hard not to worry as you watch billions and trillions of dollars fly out the window in Washington, D.C. And while those things matter, the truth is, you have ultimate control over your money and what choices are made in your house. You have the power to improve your money situation right now—today—without having to rely on the government.
For all the motivation you need, check out the premium version of our budgeting app, EveryDollar, and Financial Peace University (only available in Ramsey+). These are the tools that will show you exactly how to pay off debt, increase your savings, and build wealth for a secure future. It's worked for millions of people, and you can try them today for free! Take control of your future and get the hope you need—stimulus or not.
14-Day Money Finder
Learn how to find more money each month. The average person finds $2,000 (aka a stimulus check's worth) for the year!
Find More Money