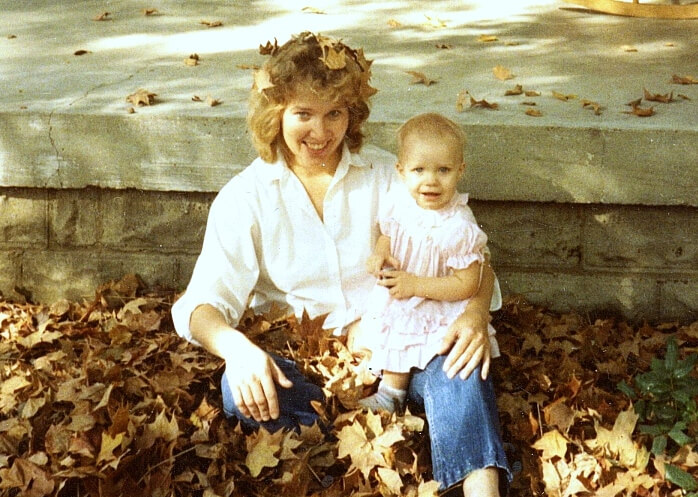 I was 6 months old when my mom opened her cake shop. She was a single mother with an infant to care for and $37 to her name.
And like many small business owners, she was determined to survive.
She started her bakery in the front display window of an old candy store in downtown Nashville. She offered to pay them 10% of her profits if they would let her set up shop behind their little, unused show window.
But that was just the beginning. It wasn't long before the candy store owners asked her to move into her own space because, almost daily, there would be a line around the block for her cakes!
My entire childhood is filled with memories from that cake shop.
When she had to bake in the early hours of the morning, she would pull me out of bed, wrap me up with lots of blankets and comforters, and put me in the car. I slept on the way to the shop, and when we got there, she would make me a bed of covers piled on top of her 50-pound bags of powdered sugar and flour.

Every business goes through five distinct stages. Find out which stage your business is in with our free assessment.
I would wake up and go to elementary school with the scent of flour still in my hair.
During my middle-school years, we would blast the oldies radio station and sing together while we cleaned until late at night, just her and I. When I got a little older, she even let me make deliveries on foot to the offices around downtown Nashville. And as a bonus, I got to keep the tips—which was big money to me!
Thirty years, nine relocations and countless cakes later, Mom's still in business. And while her cake shop is obviously woven into the fabric of my life's story, it's also woven into the lives of thousands of others around the city.
You see, my mom hasn't remained in business because she has the most beautiful cakes. They're impressive, but they aren't the best you can find in Nashville.
She hasn't outlasted the roller-coaster economy because she has the cheapest prices. Honestly, she doesn't.
And she hasn't been able to compete with the Walmarts and Krogers of the world because she offers astounding flavors. Although her cakes do taste better (not that I am biased of course).
My mother has survived in business because of one thing: she cares.
If you show up in her lobby with three kids, she will come around the counter and give each a free cupcake to keep them happy while you pick up your cake. If you forgot to order your cake until thirty minutes before you need it, she will whip up a miracle and have something ready before you walk through the door.
If you leave the shop and smash your cake on the sidewalk, she will make you a new one for free—and tell you she's so sorry that happened to you.
She comes in early, stays late, hustles, and goes above and beyond for every single person.
That's what sets my mom apart from the bigger businesses out there. And that is what sets you apart as well.
Few employees collecting minimum wage at chain stores really care whether or not their customers get what they need. The famous quote from Office Space rings all too true in many large stores: "It's not that I'm lazy. It's that I just don't care."
All you need to compete with the big stores out there is the very advantage you already have: you care.
When you care about people, you create an experience that transcends transactions. When you care about people, you create relationships and trust and loyalty that no amount of money can buy. When you care about people, you are truly making a difference in their lives.
Then, your business is no longer about cakes. It's about caring for your customers.
That's why you have the advantage this year. You have something that other big businesses don't, and probably never will: you care.
Did you find this article helpful? Share it!