Every day it's the same story. Midday your stomach starts growling. But all you've got in your lunch bag is a half-squished banana and some hopefully not expired peanut butter crackers you found in the pantry on your way out the door. The temptation to hit up a drive-thru grows too strong to ignore, and you end up staring at an empty greasy bag and regretting what you just did to yourself . . . and your budget.
But there's nothing you can do about it, and you'll just hit repeat tomorrow, right? Wrong! If you're in that lunch loop—or if you're someone trying to brown-bag it, but those high grocery costs still make things so dang expensive—don't worry. You're here, looking for inspo. And that's the first step to changing your pricey lunch-time story. Go, you!
Here are 10 cheap lunch ideas (and some shopping tips) so you can get out of this food rut and onto some serious savings.
1. Go old school with a sandwich and sides.
Estimated cost per meal: $5
There's a reason this cheap lunch idea is such a classic for kids to take to school. It's easy to make and easy on the wallet.
Grab a loaf of bread, some deli meat, cheese, lettuce and condiments—or go really classic with PB and J. (It's still tasty, by the way.) Then buy a bag of apples or a bunch of bananas, some carrots and a nice salty side. If you don't get too fancy with your brands, you're looking at around $5 a meal!
Pro tip: You can totally eat healthy on a budget. Start by picking fruits and veggies that are in season and sides that are on sale.
2. Mix things up by making wraps.
Estimated cost per meal: $4–5
A wrap is a heck of a lot like a sandwich, but with a twist. Literally.
Start with the wrap itself (pita, naan, tortilla or lettuce), add a spread (hummus, tzatziki, sour cream or guacamole), layer in some protein (rotisserie chicken, deli meat, beans or tofu), and sprinkle on toppings (lettuce, dried fruit, tomatoes, cucumbers, feta cheese, pickles or avocado).
Add a piece of fruit and rice cakes or chips as your side, and you're ready for a simple, cheap lunch idea coming in about $4–5 a pop.
3. Whip up a chicken salad.
Estimated cost per meal: $5–6
If you haven't had chicken salad in a while, there are so many ways to make it way more interesting and tastier than the classic canned meat and mayo situation.
You can buy a rotisserie chicken or throw 3 pounds of chicken in the crockpot on Sunday with water, a bouillon cube, and whatever seasoning you like. Shred that up and add an ingredient that will bind everything together (like mayo, smashed avocado, plain Greek yogurt or cottage cheese).
Then you can go sweet with sliced grapes and almonds or savory with chopped celery and pickles. There are so many options to make whatever flavor profile you want! Eat it on bread, in a wrap, on a croissant, or with crackers. Then add a simple side salad of lettuce, some veggies and a dressing of your choice to round it out. (Insert chef's kiss emoji here.)
Pro tip: Wondering how you should flavor your chicken salad? Base your ingredients on the store sales and coupons.
4. Create charcuterie bento boxes.
Estimated cost per meal: $6–8
Nothing says "party time food" like a charcuterie board. Take that party to work by packing it into a bento box. Think things like meats, cheese, crackers, pickles, fruit, nuts, jams, olives, carrots, cucumbers, zucchini, peppers, hummus, pretzels—whatever you're craving.

Try our free Meal Planner to save money on groceries!
You can even finish off some of the random bits of snack items hiding in your pantry. Just don't take the party vibes too far. Leave the confetti and balloons at home.
Pro tip: We can't stop singing the praises of Aldi, especially when it comes to charcuterie items. If you've got one in your area, see how much you can save on lunches—and all your other meals too!
5. Prep salads for the week.
Estimated cost per meal: $4
Want a healthy lunch idea for work? Well, a pre-made salad from a restaurant, or even the grocery store, will cost you a pretty penny. (Where did that phrase come from? Are pennies pretty?) But you can save some serious cash by making a bunch of fresh salads for the whole week.
Buy yourself some segmented reusable containers, or use multiples of whatever you already have, to separate the lettuce and other dry ingredients from anything that would make your awesome meal a mushy mess (like the cheese, tomatoes, cucumbers and salad dressing).
Up the protein with beans, deli meat or hard-boiled eggs. (Hey, eggs have been expensive with inflation, but they're still a cheaper than a T-bone steak. It's all perspective.)
Healthy lunches for the week? Check.
6. Try mason jar salads.
Estimated cost per meal: $4
You can go the mason jar route with your salads too. Start with dressing first (so the whole thing doesn't turn into soggy city). Then add chopped fresh veggies (carrots, cucumbers, tomatoes). Throw in some canned items (beans, corn, peas). Then add your protein (feta cheese or hard-boiled eggs). Finish with cooked-and-cooled rice or quinoa at the top.
Hey, this sounds a lot like a fancy, and still thrifty, beans and rice situation—which we love around here. Bravo to this cheap lunch idea.
A little prep and investment on the front end will set you up for the win with those midday tummy grumbles.
7. Make soup (in any season).
Estimated cost per meal: $3
The best part about soup (besides how it warms our bodies and our hearts)? One recipe makes enough for you to enjoy all week!
And it doesn't have to be hard. For one soup option, toss all this in a crockpot: 2 pounds of boneless, skinless chicken breasts, 2 cans of diced tomatoes and green chilies, 2 cups of chicken broth, 2 tablespoons of taco seasoning, half a chopped onion, and as many diced canned jalapenos as you like. (Kick it up a notch with some of that jalapeno juice—if you can handle it!)
Cook on low for 6 to 8 hours. Remove the chicken, shred it, and return it to the pot. Then portion it into five airtight containers and enjoy. This quick and easy recipe is such a good price per serving (under $3). So you've got plenty of room in the budget to whip up some cornbread muffins from a box mix and still have a grand cheap lunch idea.
8. Turn that pasta salad into a main course.
Estimated cost per meal: $3
Pasta salad is a classic side at summer cookouts. But who's to say you can't have it as a main course for lunch? No one. And the three best perks of this dish? You serve it cold, personalize it with ingredients you love, and make it ahead to eat on through the week.
Start by cooking a box of your favorite kind of pasta following the package's directions. Once it's cool, add half a cup of your preferred salad dressing. Then throw in whatever you like: pepperoni slices, a chopped-up cucumber, a diced-up tomato, a small container of feta or some parmesan cheese, and a can of chickpeas if you want to make it more filling. Grab a bag of apples as a side, and you're set.
9. Have Taco Tuesday all week long.
Estimated cost per meal: $5
Who says Taco Tuesday should be limited to one day a week? (Okay, the title itself, but you get what we mean.) Spread the love all week long by prepping all those taco fillings on the weekend to go in a tortilla or on a bed of rice throughout the week.
You can toss 3 pounds of frozen chicken, a packet of taco seasoning, a cup of water, and a 24-ounce jar of salsa in a crockpot. Cook on low for 6 to 8 hours. Then drain out some of the juice (leave some in the pot!), shred up the chicken, and portion it out in containers for the week. Open a can of corn and chickpeas (plus whatever else you love) and put equal amounts in each container.
Then make separate bags of lettuce, cheese and tortilla chips for each day. Put your tacos or taco bowls together at lunch so they stay fresh. It'll turn your midday meal into a fiesta for your mouth.
10. Make a one-sheet recipe that'll feed you for days.
Estimated cost per meal: $4
Here's another idea for something to make on Sunday and portion out for most of the week: one-sheet wonder recipes! They're great because you literally throw all the ingredients on one pan to cook. We've got a One-Sheet Chicken and Potatoes recipe card at the end of this article you can try ASAP.
For a fresh side to add to it, buy yourself some carrots, peppers and a dressing for dipping. Then you're good to go.
Shopping Tips for Cheap Lunches
Okay, you've got some practical cheap meals to try. Now here are some practical savings tips to help you get an even bigger bang for your lunchtime buck.
Share meal prepping with a friend.
Doing your weekly lunch prep with a friend helps in three ways.
One: You create accountability. When you're trying to save money on food, it helps to have someone in on the goal with you.
Two: You can save money. If you two (or three) plan your recipes just right, you can split grocery costs. Heyo!
And three: This chore is way less boring with a friend. So, crank up the good times playlist and rock those cheap lunch ideas. Together.
Pro tip: If you're cooking with a group, check prices to see if buying in bulk and splitting the overall cost is a thriftier way to go.
Chop your own veggies.
Want another grocery savings hack? Cut up your own fruits and veggies. That's right: Pre-chopped foods cost more. It's worth your time to do the slicing yourself rather than paying someone else to do it!
Avoid individually portioned sides.
While you're at it, portion out all your own sides. Buy the full bag of chips or pretzels and sandwich bags. On Sunday, create your own individual portions for the whole week.
Purchase some small Tupperware and make your own ranch or hummus cups for those veggies. Buy the large tub of Greek yogurt . . . you get the idea! You're also getting the idea that a little extra work equals a lot of extra savings. Worth it.
Pro tip: Hey, those name-brand chips might be calling your name because of the fancy bag and better marketing. Not because of the better flavors. But those eye-catching packages and all that marketing costs the company money . . . which, in turn, costs you money. Try generic brands, cut out that middle man, and save some serious money in your grocery budget.
Warm up those leftovers.
This tip for a cheap lunch idea isn't about a particular recipe—it's about whatever recipe you used the night before. Don't let your dinner leftovers die a moldy death in a giant Tupperware. Go ahead and portion it out for a few lunches that week! You'll waste less food and save more money. Winner winner, leftover dinner.
Shop around for the best grocery prices.
Loyalty is a fantastic quality. It makes you a great friend, family member and worker. But loyalty to a grocery store could be zapping your grocery budget. So shop around for the cheapest grocery store in your area.
While you're at it, test out online grocery delivery too. Yes, really. Even with subscription fees and tips, sometimes this method can help you stay on budget. You watch the total add up and can delete things from your cart before you check out. Plus, you're less likely to impulse buy those triple-stuffed white-fudge-covered sandwich cookies if you aren't staring them face to . . . package.
However you find the best prices, save your loyalty for your relationships with people—not pricey grocery stores.
Put lunch items in the meal plan.
We can't talk about cheap lunch ideas without mentioning our favorite food savings tip.
Meal planning is deciding up front—and on purpose—what you're going to eat for all your meals. Breakfast, lunch, dinner—and even snacks. When you get intentional with your planning and spending like this, you'll spend less on groceries for all your meals.
Pro tip: Check out Rachel Cruze's free Meal Planner & Grocery Savings Guide for lots more tips and tricks.
Cheap Lunch Ideas Need a Budget
If you're looking for cheap lunch ideas, you're probably on a mission to save money. Maybe that's because inflation has things feeling tight or because you've got financial goals you're ready to hit. Whatever the reason, first—bravo for being proactive with your money.
Second, we've got one more tip that will help you take all these savings to the next level. Budgeting.
That's right. Budgeting is simply making a plan for your money. Every single dollar. Because you work hard for it! And it should work hard for you! If you aren't budgeting yet, or you want an easier way to do it, check out EveryDollar. The average new EveryDollar budgeter finds $332 in their first month! That would go so dang far in helping with those savings goals.
Okay, now you're armed and ready with cheap lunch ideas. Time to fill your stomach without emptying your bank account. Bon appétit!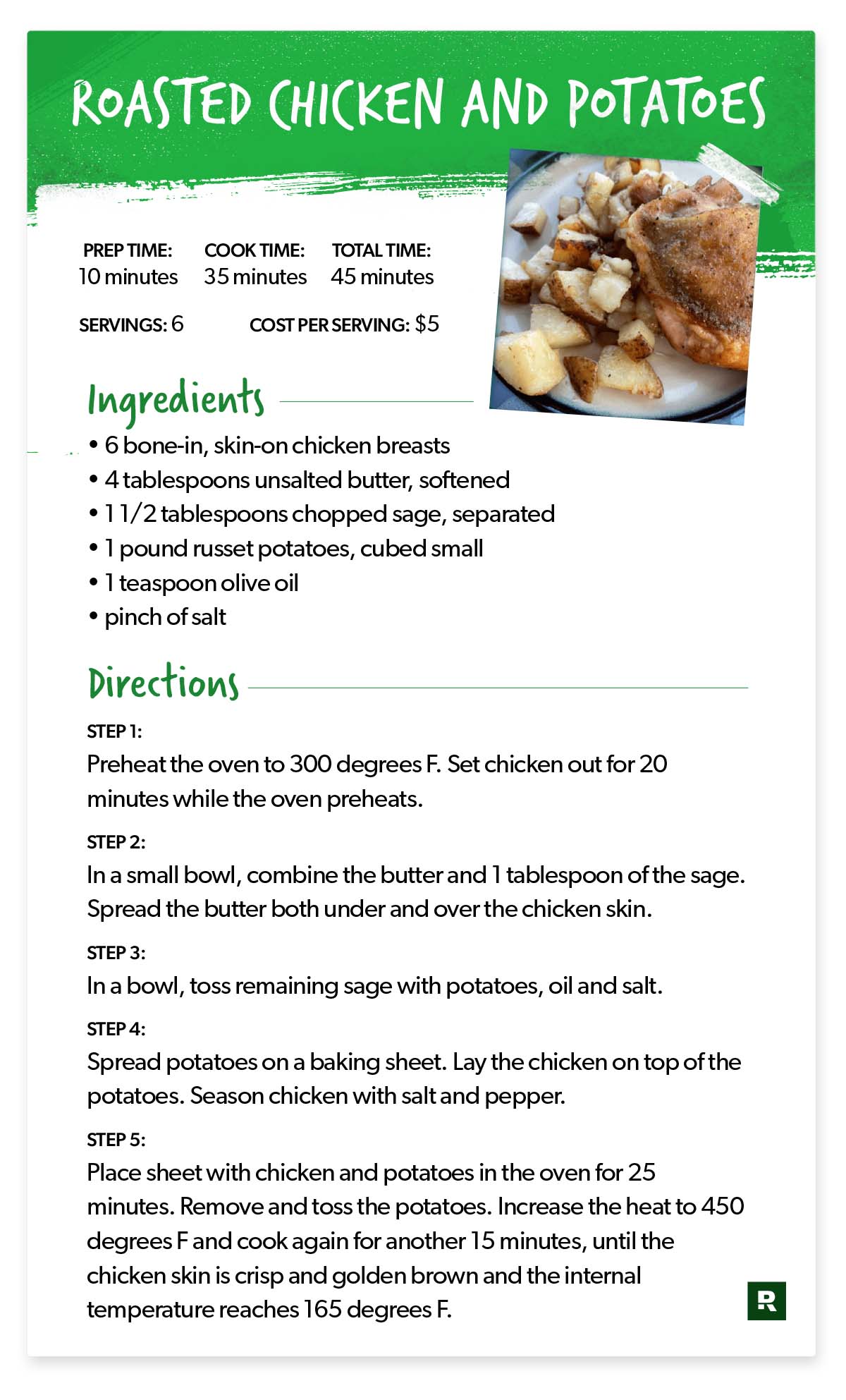 It's Budget Time
Get all those food savings—and everything else—in the budget! Get started for free with EveryDollar. Like . . . today!
Start With EveryDollar
Did you find this article helpful? Share it!