Ahh, sweet summertime. I don't know about you, but summer at my house is filled with snow cones, pool parties, trips to the lake and cookouts.
When Winston and I decided to host our first cookout, I was a tad nervous. First off, I'm no grill master. And second . . . I had no idea what to even serve at a barbecue! But you guys, it ended up being an absolute blast. We learned the keys to a good cookout (or barbecue) are good food and good company. So, if you're already thinking about your end-of-summer cookout, I've got some great tips and recipes to help you end summer with a bang.
(If you're not into scrolling through recipes, I get it. Here's a quick rundown. Just click on the links if you're short on time.)
Recipes for Your Next Barbecue:
Tips for a Cheap (and Easy) Cookout:
Shop at the dollar store.
Buy in bulk.
Host a BYOB.
Grill fruits and veggies.
Make it a potluck.
Shop the sales.
Easy BBQ Sauce Recipe
Makes 2 cups
I know you've seen that nicely pre-packed, pre-marinated chicken at the grocery store. Yeah, it's super easy—but that kind of convenience is going to cost you. So, instead of breaking your budget on just the meat, make your own! This cheap and easy BBQ sauce recipe tastes incredible and is sure to please both your crowd and your budget.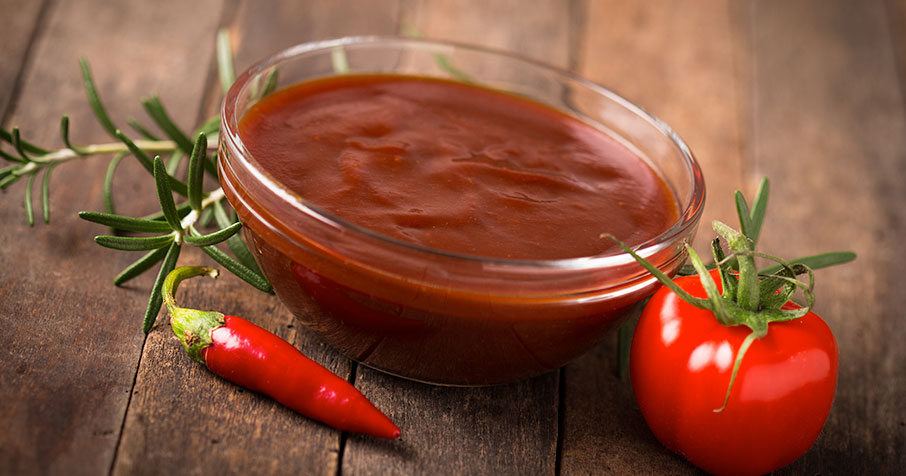 INGREDIENTS
2 cups ketchup
1 cup water
1/4 cup rice wine vinegar
1 tablespoon chili powder
1 teaspoon ground mustard
1 teaspoon garlic
2 teaspoons onion powder
1/4 cup brown sugar
1 tablespoon Worcestershire sauce
1/2 teaspoon salt
DIRECTIONS:
Combine ingredients in a saucepan over medium heat.
Bring to a simmer, then reduce to low heat for 30 minutes, being sure to stir frequently.
Let cool and serve!
Now that you've made your killer BBQ sauce, you're going to need some meat to pair it with. Look for cheap cuts of meat to grill up, like chicken thighs, drumsticks or, of course, ground beef for juicy burgers. Yum!
Tart Coleslaw
Serves 6–10 as a side
If you're not a coleslaw fan, that's okay. But this isn't your soggy, soupy, run-of-the-mill coleslaw from the grocery store deli. If you like the idea of tart, savory and crunchy . . . give this coleslaw recipe a try.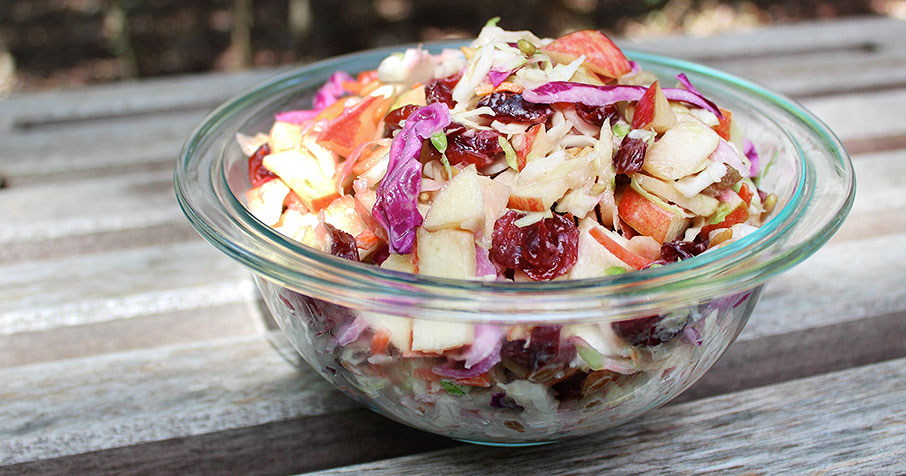 INGREDIENTS
1–2 apples
1 bag shredded cabbage and carrots (coleslaw mix)
1/2 cup sunflower seeds
1/2 cup dried cranberries
1/3 cup apple cider vinegar
1/2 cup mayonnaise
Salt and pepper to taste
DIRECTIONS:
Chop apples into small cubes.
Add chopped apples, shredded cabbage and carrots mix, sunflower seeds and dried cranberries to large mixing bowl.
Toss with apple cider vinegar and mayo until mixed well.
Serve right away or refrigerate.
Mexican Street Corn
Serves 6–10 as a side
You guys know how much I love guacamole. And what better to pair with your side of guac than a nice dish of Mexican street corn? It's the perfect combo of budget-friendly meets taste bud-friendly for your next summer cookout.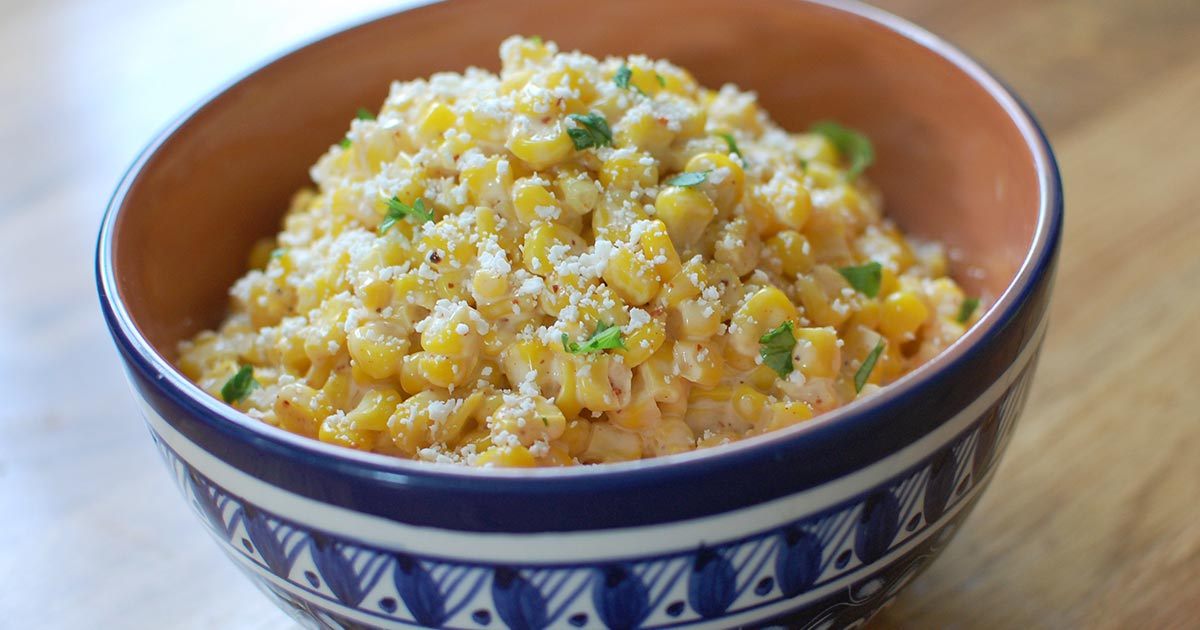 INGREDIENTS
6 ears corn on the cob, grilled or steamed
1/2 cup sour cream
1/4 cup mayonnaise
2 tablespoons chili lime seasoning
1/2 teaspoon garlic powder
2 tablespoons fresh lime juice
1 cup cotija cheese
Cilantro (to garnish)
DIRECTIONS:
Cut corn off the cob and place in large mixing bowl.
Add sour cream, mayonnaise, chili lime seasoning, garlic powder, fresh lime juice and cotija cheese to bowl and stir thoroughly.
Add cilantro for garnish. Best served while still warm.
Cook's note: Depending on the season, it may be cheaper to substitute 5 cups of canned or frozen corn for your Mexican street corn.
Apple Crisp
Serves 8–12

Try our free Meal Planner to save money on groceries!
Nothing says "American summer" quite like apple pie, but why not surprise your guests with a slight twist on the classic dessert we all know and love? Hello, apple crisp! It's apple pie's hip, low maintenance (and low cost) cousin.
Nothing says an American Summer quite like apple pie, but why not surprise your guests with a twist on a classic? Hello, apple crisp! It's apple pie's hip, low maintenance cousin.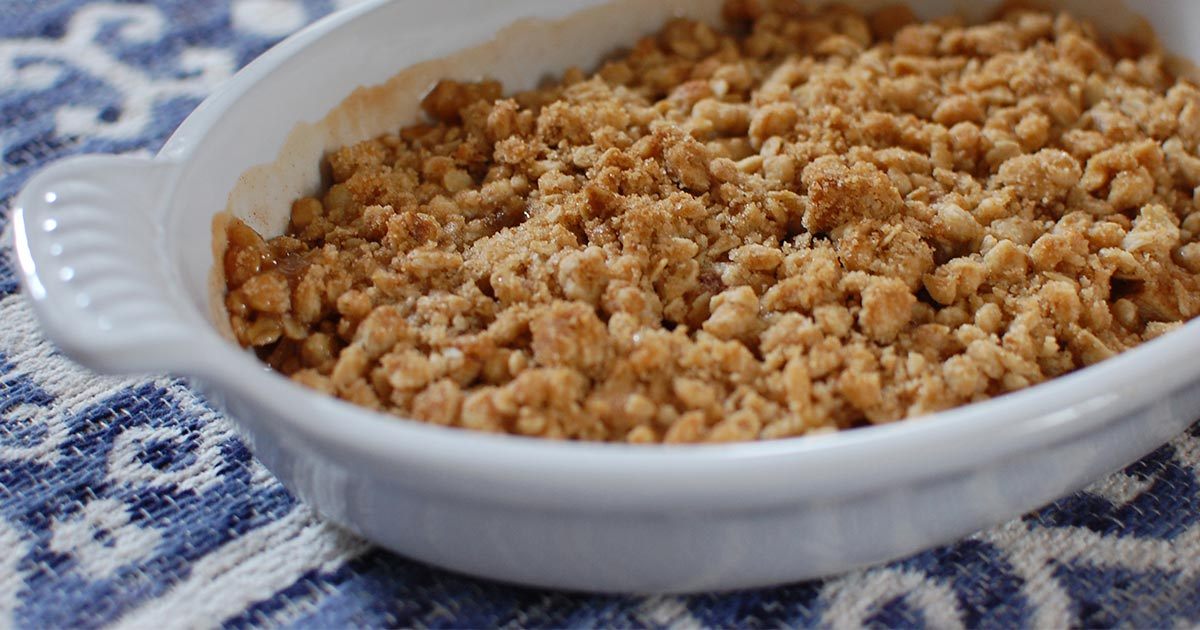 INGREDIENTS
For Apples
8–10 peeled apples
1/2 cup granulated sugar
1/8 cup lemon juice
2 tablespoons cinnamon (or to taste)
1/2 teaspoon salt
For Topping
1 cup oatmeal
1 cup flour
1 cup granulated sugar
1 cup brown sugar
4 tablespoons cinnamon (or to taste)
1 stick butter, melted
1/2 teaspoon salt
DIRECTIONS:
Preheat oven to 350 degrees F and spray medium baking pan with cooking spray.
Cube peeled apples and add to mixing bowl. Combine with granulated sugar, lemon juice, cinnamon and salt.
In a separate mixing bowl, combine oatmeal, flour, granulated sugar, brown sugar, cinnamon and salt. Once mixed, add melted butter and stir.
Add apple mixture to baking dish, then top with oatmeal-flour mixture.
Bake for 1 hour or until golden brown and bubbling around the edges.
Cook's note: Make this apple crisp recipe even cheaper by substituting the apples for 8 cups of whatever fruit is on sale at your local grocery store and leaving out the cinnamon. We especially love this recipe with peaches or berries!
6 Tips for a Cheap and Easy Cookout
Now that you have some tasty (and cheap!) recipes for your next cookout, let's talk about how to make your cookout easy on the budget (and you).
1. Shop at a dollar store for paper products.
Okay you guys, this is a serious budget saver. Cookouts aren't for fancy plates and silverware. They're for paper plates, napkins and plastic cups. The best thing about cookouts is that no one is expecting to eat off fine china. That's good news for your budget and your dishwasher. So, don't waste money on the fancy napkins and paper plates. Just grab what you need at your nearest dollar store.
2. Buy in bulk.
If you need that ketchup bottle to make it through 20 plates of burgers, you might want to grab a massive bottle from your favorite warehouse store. (I'm looking at you, Costco!) The same goes for any other condiments you know you and your guests will want.
3. Host a BYOB.
That's short for "bring your own beverage." Why? Because buying different drinks to please every single one of your guests adds up—fast. If you're trying to host a cookout on a budget, then buying fancy drinks just isn't going to fly. So, ask your guests to bring their own drinks. See? Now everyone's happy . . . including your budget.
4. Grill fruits and veggies.
This is a big one. If you have a friend or family member who can't eat meat, you'll be speaking their love language. Plus, grilling up tasty fruit or veggie kabobs is so much cheaper than splurging on those expensive cuts of meat—not to mention tasty!
5. Make it a potluck.
If you're in charge of grilling up the meat, the least your buddies can do is bring over their favorite side dish or dessert. A potluck style cookout is a great way to let everyone show off their signature dishes while taking the pressure off of you to provide the entire meal. And the best part? You get to come away from the cookout with new recipes too!
6. Shop the sales.
I know, I know. With grocery shopping being so dang expensive these days, it's hard not to leave the store without spending an arm and a leg. But it's still possible to grocery shop on a budget—by shopping the sales. Yep, there's no shame in checking out the manager's special on your favorite cuts of meat. And while you're at it, make sure to join your grocery store's loyalty program to collect as many coupons and sales as you possibly can.
Make It a Cookout to Remember
Whoever said hosting a cookout has to cost you a fortune? Not me. With these tips and yummy recipes to guide you, shopping on a budget and cooking up delicious recipes for your friends and family is as easy as apple pie . . . I mean, apple crisp.
But remember, no good cookout can happen without a budget. Set yours up with EveryDollar today! Just don't forget to budget for the condiments!
Did you find this article helpful? Share it!