The term "cheap beach vacations" might make you a little nervous. When "cheap" and "vacation" are in the same sentence, it can lead you down some dark paths. Let's face it: We've all had a cheap vacation that went horribly wrong. Maybe you have some not-so-fond memories of your parents taking out the seats in the van to camp on the beach. Hey, points for being adventurous, right?
Adventure or not, you don't want to confuse a cheap beach vacation with a crappy beach vacation. That's right, I want you to have the best vacation that's in your budget.
Best Beaches in the U.S. (That Won't Break the Bank)
Some people are mountain people. Some people are beach people. My mother-in-law is definitely a beach person. She must see the ocean from the balcony—that's a nonnegotiable. If she can't see the sand and the water, she's not going. And if you're anything like my mother-in-law (don't read into that too much), then you're going to have to book further out to get those coveted beachfront views.
But just because you're going on a beach vacation, doesn't mean you have to spend an arm and a leg to do it. You might just have to make some trade-offs to get it to fit in your budget. More on that later.
For now, here's a list of beaches across the United States to help you plan your next cheap beach vacation.
Southern Beaches
1. Gulf Shores, Alabama
First up is none other than Gulf Shores, Alabama. This beach is known for its pristine white beaches, hiking trails (if you're into that sort of thing), and more activities to do than you have time for. Gulf Shores is a favorite for many beach-loving families who want to spend quality time oceanside without sacrificing on fun. I've personally been a handful of times, and it might be the best bang for your buck if you want those beautiful Gulf of Mexico vibes. And if you love beach hopping, Orange Beach is just a short distance away.
After you've burnt yourself to a crisp on the beach, you'll want to snag a ride on the local dolphin cruise. If you're a giant reptile fan, check out Alligator Alley for some up-close-and-personal time with the alligators. And if you really want some thrills, Waterville USA is the place to go for water slides and roller coasters galore.1 See? Fun for the whole family.
2. St. Petersburg/Clearwater, Florida
This area made Travel + Leisure's 46th out of 50 places to visit in the world in 2022.2 Yup—number 46 in the world. If that's not enough to start packing your suitcases, I don't know what is.
While St. Pete and Clearwater are two different cities, they share the same county. Vacationing here means you get all the benefits both cities have to offer, like museums, local breweries and tons of great restaurants.
Clearwater and St. Pete beaches are great for collecting seashells (who doesn't love a good seashell?). And if your online dating profile boasts you like "long walks on the beach," you've come to the right place. These beaches are known for their miles of white sand, clear water and calm waves. What's not to love? Plus, if you get bored at one beach, just hop on State Road 699—there are tons of beaches just waiting to be explored.
3. Galveston, Texas
Whether you're a local Texan wanting to trade in your cowboy boots for flip-flops, or you're just looking for an excuse to travel south . . . look no further than Galveston. Not only does it have 32 miles of Gulf beaches to explore, but it's also the perfect vacation spot that won't hurt your wallet.3 You want waterfront? You got it—and it won't cost you your firstborn.

Start budgeting with EveryDollar today!
Sure, the water may not be crystal clear like some other beaches I've mentioned, but it's still a great beach nonetheless. Plus, there's a handful of beaches to explore alongside the Galveston Seawall: East Beach, Stewart Beach, Sunny Beach, Porretto Beach . . . just to name a few. If you're a nature lover, you're going to love Galveston Island State Park. And if you don't mind the two-hour drive, also check out Matagorda Bay Nature Park. Don't forget your fishing poles! Just be sure to look up admission fees, parking rates and hours of operation before you go.
4. Tybee Island, Georgia
If you want to head south, but don't want to go to your usual spots, take a hard left to Tybee Island, Georgia. This little island is off the coast of Georgia and only 25 short minutes from the sweet Southern town of Savannah. It's the perfect mix of moss-covered oaks and coconut-laden palm trees—which coincidentally sounds like a great Bath & Body Works candle name: Mossy Coconut.
Once you're on the island, grab yourself a sweet tea and head to one of Tybee's five beaches: North, Mid, South, Back River and Little Tybee.4 North Beach is on the fancier side, while South Beach boasts the hustle and bustle of island town life. Visit Tybrisa Street near South Beach for unique eats, shopping and more. And if you're up for adventure, Little Tybee Island is the place to go. You can only get there by boat (or another watercraft like a Jet Ski, kayak or canoe), but once you're there, there's endless amounts of exploring to do. Plus, you can camp right on the island . . . just don't forget your bug spray. And snacks. Lots of snacks.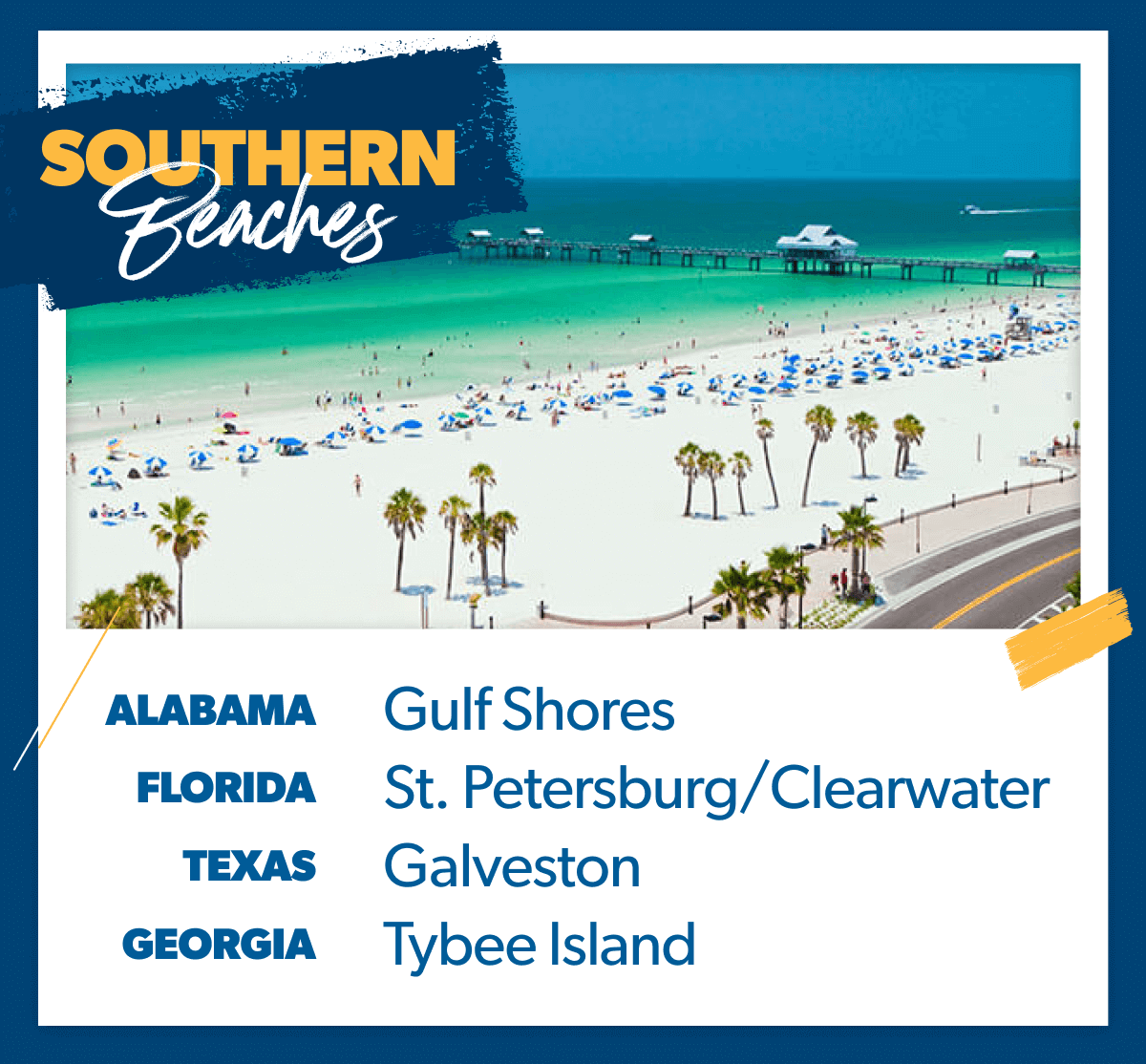 East Coast Beaches
5. Virginia Beach, Virginia
They say Virginia is for lovers, and I'm willing to bet it's because of Virginia Beach. This beach holds the Guinness World Record for being the largest pleasure beach.5 It's the longest continuous beach at 28 miles.
Virginia Beach gives you endless amounts of entertainment, including the Virginia Beach Boardwalk, Cape Henry Lighthouse, the ViBe Creative District and more history than you'll know what to do with. If you're looking for a day away from the crowds, take a drive to Sandbridge Beach to soak in the quiet, play on the sand dunes, and relax.
6. Nags Head, North Carolina
I can't talk about East Coast beaches without mentioning the Outer Banks, specifically Nags Head. This beach town is just one along the beautiful coast of the OBX (what the locals call it), but it's a great one to consider for your next trip east.
Nags Head is filled with tons of places to stay: motels, hotels, bed and breakfasts. And you'll definitely want to budget for seafood. If you're a fisherman (or fisherwoman), take a trip to the Outer Banks Fishing Pier. When you've done everything there is to do in Nags Head, continue south and explore the other Outer Banks beach towns like Kitty Hawk, Kill Devil Hills and Southern Shores.
7. Wrightsville Beach, North Carolina
This beach town is just outside of Wilmington, North Carolina, where One Tree Hill and Dawson's Creek were filmed (that "doo doo, doo doo" theme song is now stuck in your head). And if you haven't heard of those shows, you've probably heard of Weekend at Bernie's, right?
Wrightsville Beach is known as North Carolina's birthplace of surfing.6 And that's not all (all you Shark Week addicts out there will love this): It's one of the few places in the world you can find megalodon teeth.7 (Got to love a good prehistoric tooth.) Pretty cool!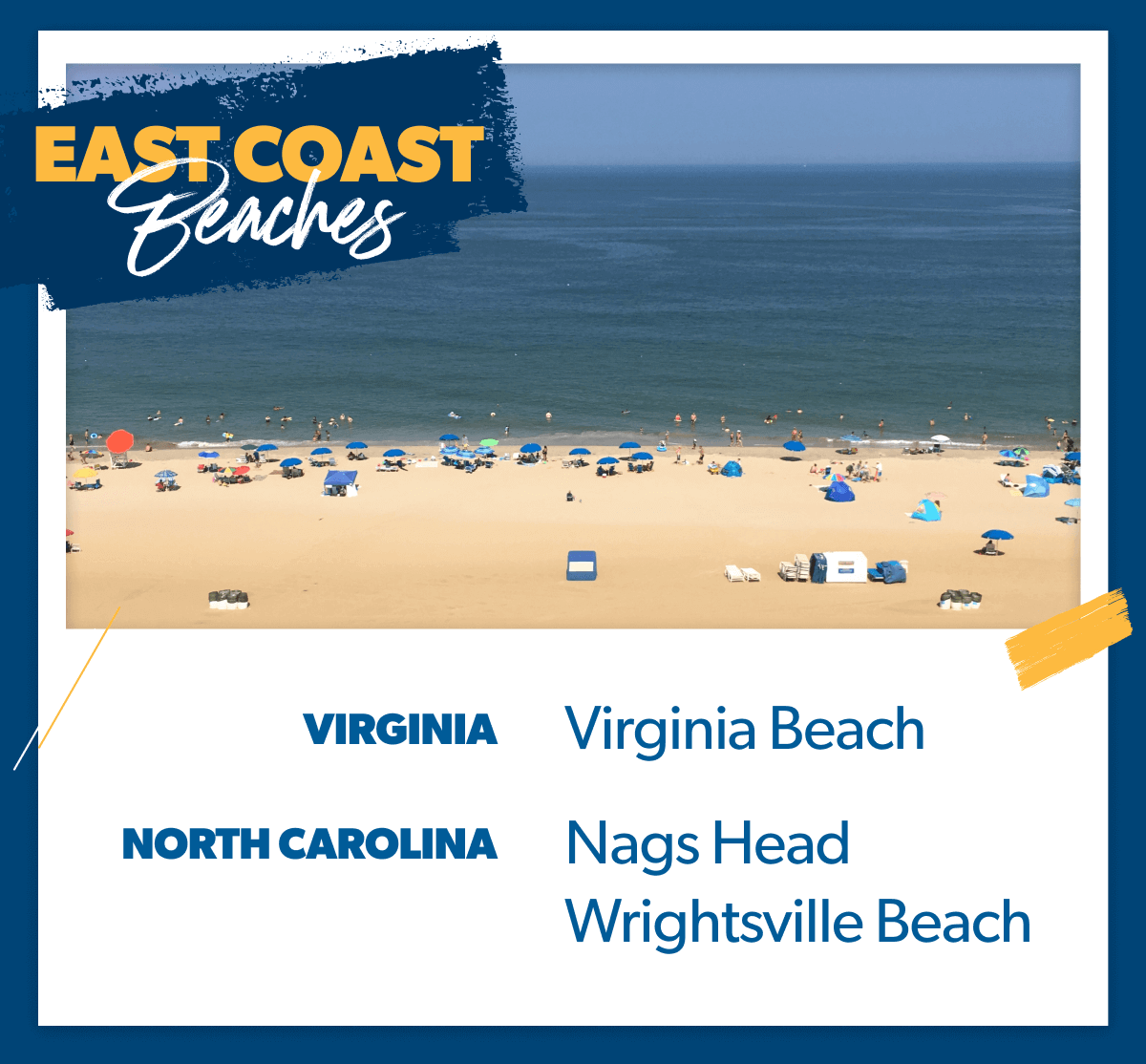 West Coast Beaches
8. Cannon Beach, Oregon
Cannon Beach is known as one of the best beaches in Oregon. Not only is it beautiful, but it's also full of wildlife. I have to mention too that the movies Twilight and The Goonies were filmed here. (While you may not get to see the Shuffle Truffle from an original Goonie, you could probably ask your kids to reenact it for you.) Goonies aside, Cannon Beach is known for its beauty. If you visit, you'll get to see Haystack Rock, along with all the cute puffins that call it home.
While Cannon Beach isn't your typical swimming beach (unless you're into ice baths), you can still enjoy everything the beach has to offer. Just make sure to pack a sweatshirt or three.
9. Mission Beach, California
Ah, good ol' San Diego. When you think of San Diego, you might think of Legoland or the art scene. But there's even more to explore, namely Mission Beach. It's got something for everyone in the family.
Hit up the beach for a day, and you'll find a two-mile boardwalk with an amusement park (Belmont Park) and even playgrounds nearby. Mission Beach is also a favorite night spot for the 20-something crowd, so if you're vacationing with small kids, you might want to avoid the boardwalk at night. Venture across the bay, and you'll find Mission Bay and Sea World! The kids will love it. And let's be real, so will you.
10. San Clemente, California
If you love the idea of sleeping on the ground, perfuming yourself in bug spray, and cooking your food over an open fire, you'll love San Clemente State Beach. They say this is a great place to camp out under the stars and let the crash of the waves lull you to sleep.
San Clemente has a trail that connects you to each of its many beaches, like San Clemente State Beach, San Clemente Pier City Beach, T-Street Beach, Riviera Beach, North Beach and many more. Let's just say you won't get bored exploring each one by way of the San Clemente Pedestrian Beach Trail. (Say that five times fast.)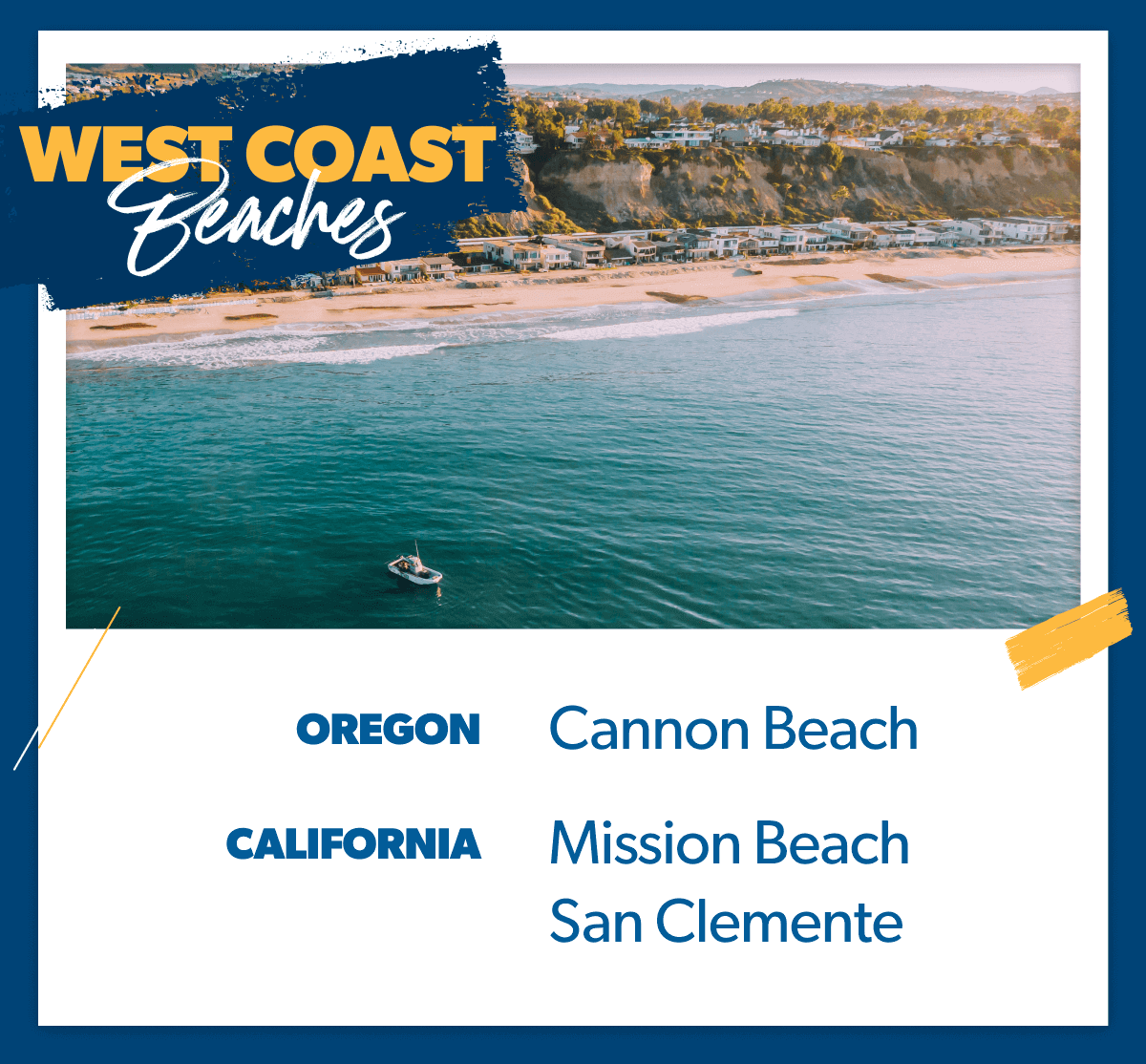 Northern Beaches
11. Lake Michigan, Michigan
A trip to the lake isn't quite the same as a trip to the beach. But with Lake Michigan . . . it's very close. The lake is massive. You can get the beach experience you're dreaming of at a fraction of the cost. Plus, if you live in the Midwest, your travel time is cut even shorter.
If you're from the area, you already know the beauty of the lake and what it has to offer. And if you're thinking about skipping out because you can't surf the waves, think again. Lake Michigan is surrounded by sand dunes that are so tall, you can actually surf down them. There are also plenty of quaint little "beach" towns along Lake Michigan that give you access to the lake, like St. Joseph, South Haven and Mackinac Island.
12. Cape May, New Jersey
Ask anyone what beach to visit up North, and Cape May will be at the top of the list. And if you like your beaches with your boardwalks, this is another must for your next cheap beach vacation. But that's not all Cape May has to offer. This little town is speckled with Victorian-era homes and amazing architecture.
If you've got teens or tweens, Washington Street Mall will be their favorite hangout. It's an outdoor walking mall with plenty of unique shops. (But don't forget to budget some shopping money for your cheap beach vacation!)
13. Ocean City, Maryland
This beach town is a favorite for those who live in neighboring areas like Washington, D.C. What's not to love? There are 10 miles of beaches to enjoy—and they're all free. (Y'all know I love free.) And just like some other beaches we've mentioned, this one has a three-mile long boardwalk. But unlike those beaches, this boardwalk is wooden. So old-timey and cool. At the end of the boardwalk, you'll find the oldest family-owned-and-operated amusement park . . . in the world! Trimper Rides has been in action since 1893.8 (Hopefully they've updated the rides since then.)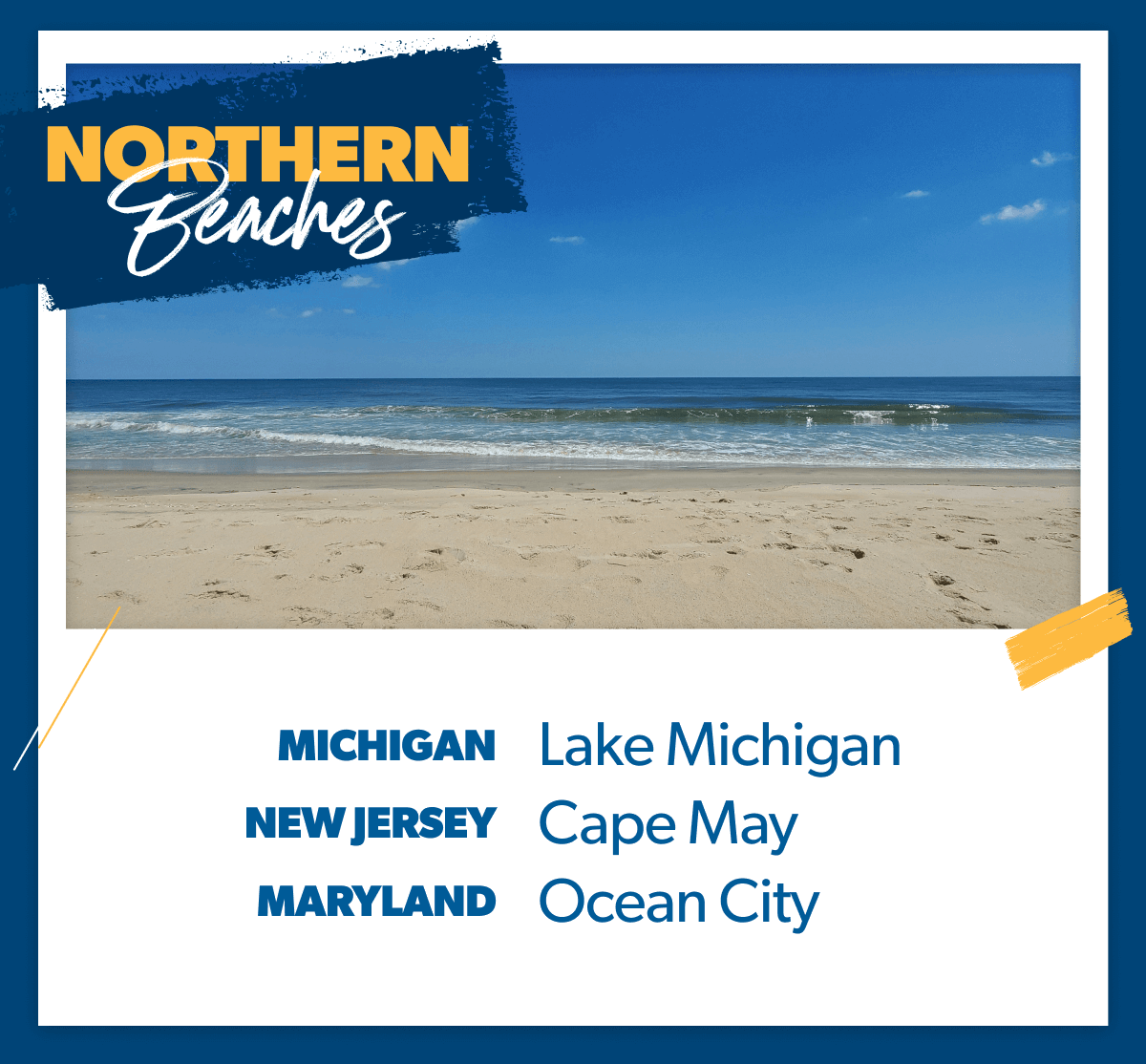 7 Ways to Save Money on Family Beach Vacations
Now that you have an endless amount of beaches to visit, let's talk about ways to save money. I like to call them travel hacks (for the snappy factor). Remember, cheap beach vacations aren't easy to come by without a few trade-offs. Like I said earlier, my mother-in-law is willing to trade the bougie beach for a less fancy one . . . as long as she gets her oceanfront view.
Here are seven ways to save money on your next vacation:
1. Stay five minutes from the beach, not oceanfront.
When you're looking for a cheap beach vacation, you probably won't find it by going to the most popular beach around. But if you decide you have to go with the popular destination, staying oceanfront is sure to blow up your budget. Instead of spending all your money on a view, why not stay a few miles away from the ocean? Even staying a couple blocks away will save you a ton. Or you can go farther up (or down) the coast to find a beach town that won't have the same killer price tag. Plus, you'll be at the beach most of the time anyway, not lounging on the balcony enjoying the view.
2. Start budgeting (and saving) now.
If you know you'll be heading to the beach this year, it's a good idea to start saving right now. And the best way to be on your financial A-game is by doing a budget. When you do a zero-based budget, you tell every single dollar where to go. But your budget also shows you what areas to cut back so you can save.
Create a sinking fund and throw your money toward it every single month leading up to your vacation. EveryDollar is my favorite zero-based budgeting app that helps me save for all my cheap beach vacations (and budget for everything else). Plus, it's free! And if you like cheap vacations, you definitely love the word "free."
3. Book in advance.
When it comes to booking your airfare . . . doing your research is key. And the earlier, the better. It's best to book your ticket somewhere between three and a half months to three weeks before your trip. If you're flying, the best days to leave are Tuesday, Wednesday and Saturday. Avoid leaving or returning Friday and Sunday at all costs! Those are the most expensive days to fly.
You can sign up for flight alerts on sites like Scott's Cheap Flights. They'll send you some travel deals for free, but I splurged for their paid membership when it went on sale—and it's been great. They'll do all the work for you by helping you cash in on mistake fares and other crazy good deals. Hopper is another app that helps you save. It tells you the best times to buy your flight based on the prices of airfare. And don't let me forget Google Flights. It's one of my favorite ways to start researching flights and get a ballpark estimate of what travel will cost me.
4. Go in the off-season.
It goes without saying, but traveling during peak seasons is expensive. If you're truly up for a cheap beach vacation, plan to visit in the off-season. Sure, everyone and their grandma might be heading south for spring break, but they're paying double to do it. If you go before the crowds (or after they're long gone), you'll get the best of both worlds: less noise, less crowds, and more money in your pocket. Score!
5. Choose the less popular destinations.
Sure, a trip to fancy and expensive 30A in Florida is what dreams are made of. But haven't you heard that life is what you make it? So, why not save all your money and move your vacation down the road to Clearwater Beach instead?
That's right, by choosing the less popular destinations, your budget will get a big boost. That means you have more to spend on the things you actually care about: Making memories with the fam. Or fresh-caught seafood. (Both are appropriate things to care about.)
6. Make your own meals.
Food is expensive. Especially when you're eating at restaurants. These days, the price of having someone else cook your meals for you is sky-high. If you hit up the grocery store instead, you're going to save a ton of money. It's not as much fun to make your own meals, but believe me—it's worth it. If you eat 80–90% of your meals at your place for the week, you'll have more in the budget for excursions. And who doesn't love a good dolphin cruise?
7. Ask for a deal.
There's no shame in that game. And you know what they always say, "It doesn't hurt to ask." So, instead of taking your room rate at face value, why not call the hotel and ask for a deal? If you found an incredible Airbnb (or Vrbo), do some research to see if they're connected to a rental company. Chances are, that company would rather give you a deal off their own websites than pay those extra fees through Airbnb or Vrbo. That's a win-win for you and for them!
No matter where you decide to take your cheap beach vacation, you absolutely need a budget. It's the thing that gives you permission to spend, helps you save, and keeps you in line (as long as you're tracking your spending, of course).
But don't just take my word for it. Download EveryDollar and start saving for your next vacation. Hope your next beach trip is the most fun you can have on a budget. And for goodness' sake, wear your sunscreen.
Did you find this article helpful? Share it!