I travel a lot. Sometimes for work, and sometimes to sweep my wife off her feet with a not-so-surprise vacation. (Hey, it's hard to hide a weekend getaway when you do a monthly budget together.) And as much as I love meeting new people and seeing new sights, travel can be expensive, exhausting and anxiety-inducing if you don't do it right.
But if you've got the travel bug and you're gearing up for a trip, I've gathered up my best travel hacks for you to make the most of your next adventure. You'll learn how to travel smarter, travel cheaper, and make long flights more enjoyable. So, keep reading for my trusted travel tips, tricks and hacks to save money, time and stress.
Packing Travel Hacks
Save money on baggage and spare yourself stress when you follow these packing tips.
1. Print a copy of your passport, driver's license and debit card.
Just in case you lose your most important documents during your travels, keep a printed copy of your passport, driver's license and debit card in your carry-on (or leave a copy with a trusted family member back home). Bonus hack: Having a digital copy of your ID on your phone can help when you're in a bind too.
2. Bring a carry-on, not a checked bag.
A great packing hack is to travel light to avoid pesky baggage fees. Most airlines will give you one free carry-on bag along with a personal item (a large purse or backpack). You can save anywhere from $25 to $50 per bag when you take a carry-on. Just check the size restrictions ahead of time for the airline you're traveling with—they're all a little different.
3. If you do need to check a bag, you can do it for cheap.
Choose airlines that include free checked bags, like Southwest (which includes two free checked bags that can weigh up to 50 pounds each). If you're traveling with a spouse or kid, think about sharing one big checked bag. Yeah, you can do that.
4. Use packing cubes to stay organized.
If you haven't heard of them, packing cubes are nylon bags with zippers you use to organize your clothes in your suitcase. They're a fantastic tool to make packing easier, and you can get a set on Amazon for about $25. I use these on every trip I take, and it keeps everything super compact and tidy.
5. Use an app to plan your packing list.
Never forget sunscreen, earplugs, sensitivity toothpaste or your mouth guard again. Make your own travel checklist so you don't forget anything at home, or keep track of your packing list with PackPoint. It's an app that makes a packing list for you based on the location, dates, weather and activities you want to do during your trip.
Airfare Travel Hacks
When it comes to buying your flight, you can time your purchase to save lots of money. Here's how:
6. Shop for airfare early.
Industry experts recommend booking your ticket anywhere from three and a half months to three weeks out. If you're going to a super popular or international destination, try to go with the longer lead time.
7. Depart on the cheapest travel days: Tuesday, Wednesday or Saturday.
The most expensive days are typically Friday and Sunday. Coming and going on weekends can cost hundreds of dollars more than scheduling your flights for weekdays. If you've got some flexibility in your schedule, Tuesday and Wednesday are typically the cheapest days to fly. But if you've got to fly on a weekend, Saturday is your best bet.
There are plenty of amazing cities and countries to visit that aren't the top tourist attractions. Why not explore a smaller city or somewhere off the beaten path for a unique (and affordable) travel experience?
9. Use a travel app.
I love using all the different apps and websites out there that are designed to help save me money. In fact, I have over 200 apps on my iPhone right now. Do I use them all? No. But before you judge me, do you wear all the clothes in your closet? I didn't think so.

Start budgeting with EveryDollar today!
Here are some of my favorite sites and apps to help you find a great deal on airfare:
Don't miss out on the great deals that can be found online and in travel apps.
10. Ask for a free upgrade.
Ask the ticket agent nicely if there are any seats available that are better than the one you have, and you might just get a free upgrade. You never know unless you ask!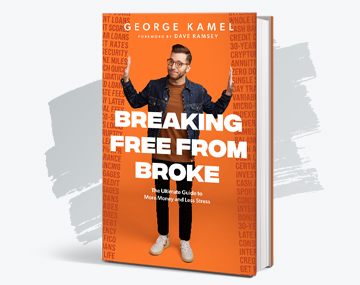 More Money. Less Stress. Yes, Please.
In his new book, George Kamel does the research for you and exposes all the worst money traps out there so you can build real wealth!
Start Reading for Free
Airport Travel Hacks
Between the people-watching, flight delays and entertaining ticket agents, hanging out at the airport can be its own adventure. Here are a few ways to make the most of your time at the airport.
11. Call the airline instead of waiting in line to rebook canceled flights.
If your flight gets canceled while you're at the airport, call the customer service line. They can help you immediately instead of you standing in line forever. You can also call while standing in line in case one is faster than the other.
12. Bring your own mobile charger.
Rumor has it, some USB ports in the airport can be infected with malware, and you don't want to risk identity theft. A mobile charging port is a lifesaver, and you can use it on the plane to keep your downloaded movie marathon going. I always put mine on my travel checklist and charge it up before a trip.
13. Don't listen to music when you're waiting at the gate.
I know it can be super boring to listen to nothing—especially when you get to the airport two hours before your flight like any savvy traveler. But if you're plugged into your devices, you could miss important announcements about your flight, like delays or gate changes.
14. Head to the security lines on the left.
For some psychological reason, people typically turn to the right when it's their turn to enter the security gates. Make a beeline for the left—that's usually where the faster lines are. You're welcome.
Travel Hacks to Save Money
Travel doesn't have to be stressful when you're prepared. Here are some ways you can travel smarter and keep the chaos at bay.
15. Don't exchange money at the airport.
If you need to change currency because you're traveling overseas, don't do it at the airport—it's one of the most expensive ways to trade U.S. dollars for foreign money. Instead, order currency at your bank or credit union. Alternatively, you can use a debit card that has no foreign transaction fees or ATM fees.
16. Take advantage of special occasions for special perks.
Celebrating a birthday or anniversary? Tell the world! Or at least the hotel staff. You might be gifted a surprise upgrade to your hotel room or get a fun perk, like a bottle of champagne or chocolate covered strawberries in your room when you check in.
17. Call your debit card company to authorize use for foreign travel.
To avoid a hold being put on your debit card when you try to buy margaritas in Mexico, call your bank or visit the website to authorize foreign travel transactions before you travel. Just don't forget to notify the bank when you get home.
18. Travel during "shoulder season" to get lower rates.
The shoulder season is typically April through mid-June and September through October in most areas of the world. You'll get decent weather, fewer crowds and enough daylight to still enjoy tourist activities. And the good news is travel rates will generally be lower during this time.
19. Book tours and local experiences through Airbnb.
Airbnb experiences are in-person or online activities hosted by local experts. Guests can get a feel for their host's daily life with outdoor activities, cultural events, cooking classes, sight-seeing tours and more.
20. Bring your own reusable water bottle.
This is one of my favorite travel hacks: Pack your own reusable water bottle. You can carry it into the airport (empty, of course) and fill it up at a water fountain or tip an airport bartender to fill it. Voila! You just saved about $8 on a bottle of water. And you can keep refilling it throughout your trip to cut back on paying for more water bottles (unless you're traveling somewhere where you definitely don't want to be drinking the water).
Hacks to Make Travel Easier
I know traveling can be a hassle. There are so many details to take care of. But with these tips, you have a good chance of smooth sailing and traveling easier.
21. Get TSA PreCheck.
Lines aren't my favorite, especially at airport security. That's why I signed up for TSA PreCheck. For about $78, I can skip the long security lines for five years—and zip through a faster, easier security screening to get on my merry way. I highly recommend. It's worth it just to never be barefoot on that filthy airport floor ever again.
22. Download Google Maps offline.
When you're in a new city, you don't want to be standing on the street corner fiddling around with your map app and no Wi-Fi or a folded paper map that sticks out like a sore thumb. Instead, download Google Maps offline so you can reference the locations you need without an internet connection and without drawing attention to yourself. In the Google Maps app, search the city or town, then swipe left and click the Download button.
23. Get a city travel card or transport pass for a discount on attractions and transportation.
Many cities offer a culture pass that gives you access to multiple museums and attractions for a fraction of the cost of individual tickets. Check with the tourism department for rates and included attractions.
24. Weigh your bags before you get to the airport.
Don't wait until you get to the check-in counter to discover that your blow dryer, snow boots, mini waffle iron and croquet set put your bag over the weight limit. (Where on earth are you going that you need snow boots and a croquet set anyway?) Instead, order a luggage scale for about $10 on Amazon. If you don't have a luggage scale, here's a pro tip: Get on your bathroom scale at home with and without the checked bag, then do the math to make sure it's under the weight limit. There are few things worse than frantically unzipping your checked bag at the airport and trying to get rid of stuff because your bag is overweight. So cut out the extra weight before you get to the airport—otherwise it'll cost you.
Travel Hacks to Make Long Flights More Enjoyable
Try these travel hacks to make your long-haul flights more comfortable and fun.
25. Sleep tight with noise-canceling headphones and an eye mask.
When I'm on a long flight, I use noise-canceling headphones (AirPods Pro for me) and an eye mask so I can block out the glow of my seatmate's iPad and drift off to sleep. These are must-haves for any long flight.
26. Bring a moisturizer or face mask for the plane.
Airplane air is dry—even more dry than British humor or a London gin. To keep this baby-soft skin feeling fresh, I bring a travel moisturizer in my carry-on. That way I can keep that epidermis hydrated pre-, mid- and post-flight. I've even seen some people go all out with one of those moisturizing face masks with the eyes and mouth cut out. Not the kind of mask I think about on a plane, but if it makes you feel dewy and fresh, who am I to judge? Treat yo' self.
27. Download movies and podcasts on your phone or iPad.
Unless you want to be stuck watching B-rated movies from the in-flight entertainment menu, bring your Netflix queue with you. You can download your favorite shows and movies to your device before your flight. Just make sure to do it over Wi-Fi before you leave the house so you don't use a whole bunch of cellular data. (And because I have trust issues with airport Wi-Fi.)
28. Bring a travel pillow and blanket or scarf.
Unless you're flying business class, you'll want to bring a few items to make your long flight cozier and more comfortable. I like to bring a neck pillow (mine's inflatable because I'm extra), and my wife always wears a scarf or jacket that can double as a pillow or a blanket to stay warm.
29. Splurge on the in-flight internet.
To me, a long-haul flight is anything over five hours. And if I'm crossing an ocean, that definitely counts. In which case, you bet I'm going to budget for internet access to check some emails, research my destination, and post a travel blog (kidding—I'll leave that task to the fancy travel influencers).
30. Pack snacks.
Ladies and gents, if you want to make a long flight more enjoyable, buy your own snacks before you head to the airport. You'll save money (nothing makes me rage like airport snack prices), and your snacks will probably taste better and be healthier than the chips and crackers the flight attendants pass out on the plane.
Lodging Travel Hacks
When you travel, you've got to stay somewhere, obviously. And let's be honest, staying with family is nice (and cheap), but sometimes you need to have your own space. But I don't want you to stay in a dump just to save money . . .
31. Find hotel deals online.
I want you to stay at a nice hotel but get a great deal on it. I like to start with Hotels.com to see what's out there and check out the reviews. They've got a great app as well. Trip Advisor is also a great place to read reviews.
Once I've done my hotel research, I go to the hotel's website so I can compare rates to make sure I've got a good deal. Another trick is to call the hotel and see if they'll compete with and negotiate against the rates you've found online. (They're usually happy to match prices you find online to get you to book directly with them.)
If you want to get an even better deal, check out Priceline's Express Deals or Hotwire's Hot Rates to get a cheaper price on a hotel within your preferred star-rating range—the only catch is you won't know exactly what hotel you're staying at until you book it. (Life hack: You can use Google Images to search the sample photo and easily figure out which hotel you'd be booking.) The key here is flexibility—the more flexible you are, the better deal you'll be able to find. I also like to check out the HotelTonight app for last-minute hotel deals.
32. Stay in a house.
Another great option is to live like a local through sites like Airbnb and Vrbo. Both Airbnb and Vrbo have options to book places entirely to yourself. And these places actually feel more like home—because they really are someone's home.
Just read the specific rules for each location and pay attention to the extra fees (like cleaning fees) so you stay within your budget.
33. Rent a private room in a hostel or Airbnb.
If you're a grown adult reading this, I'm not suggesting you relive your college backpacking days by renting a $12 bunk in a dorm with seven strangers. (Hey, if that's your thing, no one's stopping you.) But if you want to save money and get that cultural experience, some hostels and Airbnbs rent private rooms that are cheaper than hotel rooms.
Transportation Travel Hacks
Transportation is another great area to find some deals. Here are my best travel hacks for transportation at your destination:
34. Save money with public transportation.
If you're going to a big city, consider saving money on transportation with public transport. I grew up in the Boston area, so I'm comfortable taking subways, trains and busses. They help you catch the vibe of a city. And bonus: It's always cheaper than renting a car or Ubering around.
35. Find deals on rental cars.
If you need to rent a car, there are still some great ways to save money. One of my favorites is to use Costco Travel.
Always do your research and shop around when getting a rental car (and pay attention to costs like rental car insurance). Note: Some rental car companies can make it difficult to rent with a debit card. Always do your due diligence and research on the debit card policy for the specific company you're booking through. Some require extra documentation or an extra deposit or hold.
Another budget- and debit-friendly option for renting a car is using the Turo app. Turo is a peer-to-peer car-sharing company that allows car owners to make extra cash by renting out their vehicles to travelers like you. It's like Airbnb but for cars.
36. Take advantage of ride sharing.
I'd rather have someone else drive me around a big city so I can enjoy the sights, sounds and surroundings. Both Uber and Lyft have apps where you can pull up your location and ask for a ride to your destination. Within a few minutes, you're on the road to wherever you want to go. Pro tip here: I always check both apps and see which one has a cheaper ride in the moment.
37. Explore all-inclusive packages.
One of the coolest travel trends is an all-inclusive vacation package that literally includes everything you need:
Flights
Lodging
Food
Room service
Entertainment
Transportation/shuttles
Personally, I start by finding a great deal online through sites like Kayak or Expedia. Then, I'll check the resort website to see how their rates compare, and even call the resort directly. There's so much competition out there right now that the resort may offer you a better deal if you contact them. Tell them the deal you're looking at online and the price it's offered for—and then ask if they can do better. Many times, you'll get a better price or extra perks if you put in a few minutes and a little bit of effort. The resort staff are always very helpful, and they're willing to go above and beyond to earn your business.
Plan for What Matters With a Travel Budget
I've said it a couple times: Being intentional and doing some research will help you save money. Before you hit the road, fly the friendly skies, camp in the backcountry, or do a little glamping, plan your budget. That way, you can save money and have a sweet, memorable vacation with no FOMO. No regrets. And no debt. My favorite tool to use is the EveryDollar budgeting app, and you can try it out for free!
Did you find this article helpful? Share it!