Looking to sell your home and move into a new one? That can be tricky!
Lots of folks try to make the process easier by buying a new home before selling their current one, but that's a bad idea. Paying two mortgages at once will drain your budget and leave you with very little margin—a recipe for some serious stress.
Since no dream home is worth all that, it's important to sell your current home before buying a new one (we'll explain more behind the why later). Don't know where to start? No problem. Let's go over how to buy and sell at the same time.
5 Steps for Buying and Selling at the Same Time
To feel confident about selling your home and buying another one in a tight window, follow these steps:
1. Plan Your Timeline for Buying and Selling
First, work with an experienced real estate agent who can help you understand the challenges and benefits of buying and selling a home in your current market. A good place to start with your agent is having a discussion on current real estate trends so you have a grasp on how much your home will sell for and how much you can expect to pay for a new home.
With a clear understanding of the real estate market in your area and some professional advice from your agent, you'll be ready to make a plan. Start by answering these questions with your real estate agent:
What's my ideal timeline? At what point in my home-selling process should I begin looking for my new home? How long should I expect my home-buying process to take?
What's my budget? Based on the expected sale of my home, how much can I afford to pay for my next house? How much of a down payment can I make? Can I pay in cash, or do I need to plan ahead for financing?
Can I make the transition at once? (Which isn't easy to do, by the way.) Or do I need to plan for a gap between closing on the sale of my current house and my move-in date for the new one?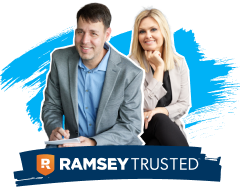 With the right agent, taking on the housing market can be easy.
Buy or sell your home with an agent the Ramsey team trusts.
Connect for Free
2. Get Your House Ready to Sell
Now you're ready to put your plan into action! Here are some important steps to get your house ready to list. (And don't worry—your agent will help with all of them.)
Hire a Home Inspector
Have a professional inspect your home for anything that may need to be fixed before listing it on the market. Better to find out what the issues are now than to wait for a buyer's inspector to uncover them for you. That would throw a big ol' wrench in your timeline.
Stage Your Home
Get a professional to stage your home and create a warm and inviting atmosphere that helps prospective buyers picture themselves living there. Consider hiring a professional cleaning service too so everything is spotless and smells nice. And don't forget curb appeal—you'll need picture-perfect photos if you want buyers to notice your home online.
Price Your Home
Buyers will pass on a home that's priced too high without even taking an up-close look. That means you shouldn't just "figure out" your price at the last minute—you've got to put some thought (and research) behind it. No matter how much you think your home is worth or what you owe on your mortgage, it's the market that matters.

Find expert agents to help you buy your home.
Your agent can run a comparative market analysis, which is nerd talk for researching how much homes like yours are selling for in your area.
3. Sell Your Home
Once your home is ready for the market, your agent can list it and start scheduling showings. Now you're ready to sell your house! But keep in mind, even with a well-prepared home, it may take a little while for your house to sell. Plan on at least 90 days.
At this point, you might be itching to make a move on your own new home. But stay focused on tackling everything that needs to be done to sell your current home until you reach the closing date. Any delays could complicate your transition to a new home.
4. Fill the Gap Between Buying and Selling
By now, you should have a clearer idea of how long the gap will be between closing the sale of your current home and getting the ball rolling on your new one. Now it's time to fill that gap.
If you need somewhere to live temporarily, blast out a massive social media message or get the word out at your workplace or church. Basically, tell everyone you know that you're looking for a rental. You might be able to get a discount or avoid being forced into a lengthy lease, which would let you move as soon as you land a new home.
Here are some other ideas for filling the gap between moving out of your current home and into your new one.
Rent-Back Agreement
With a rent-back agreement, the buyer of your home agrees to let you stay in your home for a period of time (60–90 days) after the sale is final. In exchange, you offer to give the buyer a lower price or pay them rent. This can relieve some of the pressure of finding a temporary place to stay and give you extra time to house hunt.
This might sound like a big ask, but sometimes buyers in more competitive markets are willing to be flexible with sellers if it means their offer is the one that gets accepted. It can't hurt to ask!
Contract Contingency
Another option is a contract contingency. This is when you make an offer on your new home that states your purchase is contingent (or dependent) on the sale of your current home.
While the contingency protects you from having to pay on two mortgages, it can be a risky play—especially if you're in a strong seller's market. With sellers often receiving multiple bids for their homes, an offer with too many contingencies can easily knock you out of the running. And an unsold home is just about as big as a contingency gets.
Bad Options to Avoid
Don't be fooled by these options, which your lender may offer to "help" you cover the financial challenges of buying and selling a home at the same time. These are nothing more than extra debt—that means extra payments and extra risk.
Bridge loan: A bridge loan allows you to tap into the equity of your current home to pay the down payment on your new home. It's basically a short-term loan that has to be repaid quickly. But here's the catch: Bridge loan payments are much larger than long-term loan payments. And if you pay late, the penalties and fees are way bigger too. Debt always creates risk. And bridge loans are extra risky because they're tied up with the unpredictable timing of two home sales. That's a financial burden you don't need.
Home equity line of credit (HELOC): This loan also gives you access to your home's equity so you can use it on the down payment of your next home. But a HELOC is dangerous because it usually comes with call provisions. This means your lender can demand you repay the entire loan in full—within a one- or three-year cycle! That could put you in a position where you'll scramble to get a loan to avoid foreclosure. Bad plan.
5. Buy Your Next Home
Congrats—you sold your old home! Now you're ready to follow some steps on how to buy a house. First, find a buyer's agent or feel free to use the same real estate agent you sold your home with. Next, decide how big of a down payment you can make (at least 20% is ideal to avoid paying private mortgage insurance)—either from your savings, the profit on the sale of your home, or both. If you're planning to use another mortgage, get preapproved to avoid unexpected surprises that could delay your tight timeline.
And remember to keep your monthly mortgage payments less than 25% of your monthly take-home pay (including principal, insurance, property taxes and homeowners association fees). That way you have enough money left over to put toward other important financial goals like investing for retirement and saving for your kids to go to college.
You can use our mortgage calculator to see how different home prices will fit with your budget.
From this point, the steps are pretty straightforward:
Go house hunting.
Submit an offer.
Get a home inspection.
Close on your house.
Why Buying a House Before Selling Yours Is a Bad Idea
You might be so focused on getting a new home that you're having a hard time resisting the urge to buy one before selling your current home. Sure, buying a new home before selling your current home would make the moving process more convenient, but piling a second mortgage on your back is a terrible idea. Here's why:
Getting another mortgage can be tricky.
Qualifying for a new mortgage will be more difficult, if not impossible, while you're still tied to your current home mortgage (or if you're relying on the sale of your current home for the down payment on your new one).
Your home might take too long to sell.
You may feel like you could handle paying two mortgages for a month or two, but selling a home isn't always that quick of a process. Remember: You should plan on your home taking at least 90 days to sell. And depending on your home and your local market conditions, it could sit on the market for as long as a year! That's way too long for you to be making two house payments.
Your budget will be way too strapped.
Remember when we said your house payment should be no more than 25% of your take-home pay so you have still enough money to accomplish other goals? Well, that would be almost impossible if you had two payments. You'd have little to no margin in your budget, and that would bring a lot of stress. Trust us on that one.
Is It Ever Okay to Buy Before You Sell?
So, is it ever a good option to buy a new home before selling the one you're living in? Only if your current home is paid off and you're paying cash for the new one. If that's the case then, by all means, get your new home secured and worry about selling the other one later. Otherwise, you need to wait. In case you haven't already realized it—taking on two house payments is a really bad idea.
Can I Sell and Buy on the Same Day?
With the help and coordination of an expert real estate agent, you might be able to sell your current home and close on your next home on the same day. But keep in mind, a same-day closing will require perfect timing on three different timelines—yours, your buyer's and your seller's.
That'll be really tough, because closings are often delayed for all sorts of reasons. Your buyer might have trouble getting a mortgage, or your home inspector could find issues that need to be fixed before you move into your new home.
So, don't put all your hope into selling and buying on the same day. Have a plan B.
Find Agents to Help With Selling and Buying
With a little patience, a lot of hard work, and an experienced real estate agent as your guide, you'll be placing that "sold" sign in your yard and buying a new home in no time. To make sure you wind up with a top-notch agent on your side, check out our RamseyTrusted program. We have strict standards for the agents we recommend in your area—so you'll only get the best.
Is it better to sell your house before buying another?

Yes, it's always better to sell your house before buying another. It might be a little bit less convenient since you'll have to make a housing plan to cover the gap between moving out and moving into your new house, but it'll save you a ton of financial stress. Having two house payments is a bad idea and a recipe for big-time anxiety.

Can I have two mortgages?

You can have two mortgages, but it's a bad idea. For starters, getting a second mortgage can be challenging—some banks won't take the risk of giving you a second loan for a house when you already have one. And taking on a second house payment will strap your budget and make it so tight that you'll hardly have any breathing room with money. Talk about stress!

Is it hard to buy and sell a house at the same time?

It won't be a breeze, but buying and selling a house at the same time can be a relatively painless process if you have a top-notch real estate agent on your side and a detailed plan in place.
Did you find this article helpful? Share it!