No matter what's going on with the housing market, selling your house fast is always a top priority. You've got places to go, people to see, jobs to start . . .
But more importantly, you want to get the most value from your home sale as possible. The longer a house sits on the market, the more likely you are to get a lower offer or have to reduce your price to attract buyers.
You can find all kinds of advice on how to speed up your home-selling process, but be careful—some of it can be really freaking stupid. We'll give you the best tips to sell your house fast and for a good price.
How Fast Could You Sell Your House?
As of the middle of 2022, the median amount of time for homes to stay on the market is 31 days.1 Remember, median means that half of all homes sold faster and half sold slower than that—depending on the location and time of year.
To be clear, we're talking about how long it takes to sell—meaning to go from listing to contract. And it can be different for everyone, even next-door neighbors with nearly identical houses.
If 31 days is too long to wait in your situation, then getting the jump on packing, tackling home projects, and teaming up with an experienced real estate agent early on can help you sell your home faster.
If you work with an incredible agent, your home could sell within a day. No joke—it can really happen. In certain areas of the country, it's not uncommon for sellers to receive multiple offers in one weekend!
Working with a great real estate agent will also mean they'll help you time your listing well. For example, not a lot of people are looking to buy at certain times of the year, like in the winter. But an agent can watch the market and list your house when buyers are primed and more likely to purchase!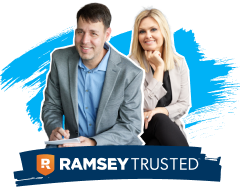 With the right agent, taking on the housing market can be easy.
Buy or sell your home with an agent the Ramsey team trusts.
Connect for Free
How Not to Sell Your House Quickly
When people focus too much on selling their home fast, they get impatient and make dumb decisions. But a home is your biggest investment—you can't afford to make mistakes, whether you're buying or selling.
Here are some ways to sell your house quickly that aren't worth the hit to your wallet.
For Sale by Owner
Some people might tell you your best chance to sell fast is to sell without an agent—otherwise known as For Sale by Owner (FSBO).
It sounds like a good idea when you hear that 77% of FSBO homes sold in fewer than two weeks in 2020.2 But there's a catch—most of these homes were sold to someone the sellers already knew.
If you don't have a buyer lined up, you could end up waiting a lot longer to find the right buyer. Plus, last year, homes that were sold with the help of an agent went for $24,000 more than FSBO homes.3
Even if you subtract agent commission fees, selling with an agent still puts around $10,000 more in your pocket than selling by yourself. Is selling your home just a week faster worth missing out on 10 grand? Probably not.
Setting Your Price Too High or Low
We cannot stress this enough: Price your house to sell. You can get a home appraisal before you list your home to get a good idea what your house is worth in today's market. Then you can use that value to set your price. Keep in mind, going too far under or over will only hurt you.

Find expert agents to help you sell your home.
Don't let the pressure to sell fast make you set the price too low. Sure, someone might put in an offer on the house before you can cross your fingers and hope for one. But you'll be losing out on the potential profit from your home! Why would you take money out of your own pocket?
And this is probably obvious: If you set the price too high, no one will bite. Pricing slightly higher than the appraisal value might give you some room to negotiate, but that's a fine line to toe.
To find the perfectly balanced price between selling your home fast and for a good price, you need guidance from an experienced real estate agent. They'll help you avoid mistakes so you don't waste any time selling your home.
iBuyers
Instant buyers, or iBuyers, are real estate companies like Zillow, Opendoor and Redfin that buy homes from private sellers, then resell them for a profit.
If you have no idea what we're talking about, you're not alone. Less than 1% of sellers use iBuyer programs.4
This plan isn't working out well for some iBuyers. And home buyers and sellers are paying the price—literally. These iBuyers snap up your house at a big discount, then put it back on the market for a lot more. That drives up home prices for other buyers. And since you accepted their lowball offer, you missed out on the full profit from selling your home.
Sure, your home will sell quickly, but it'll cost you. Not worth it.
How to Sell Your House Fast for a Good Price
If you want your house to sell fast in this market, there are two things you need to do: Find a real estate agent and increase your home's value. And what's beautiful about those things is that an agent can help you figure out what you can do to add value to your home.
We talked to Dawn Kirkland, a real estate agent in Birmingham, Alabama, to help point out some of the best tips to sell your house fast. Most seller's agents like her agree on a few tried-and-true tricks that will help reduce your home's time on the market. So, let's take a look at these five tips:
1. Hire a Top Listing Agent
The quickest way to sell your house and still make a sweet profit is to work with a real estate agent—one who's at the top of the industry and has a long history of selling homes like hotcakes.
Gimmicky ways to sell your house (like FSBO and iBuyers) can get the job done fast—but they come at a price. Literally.
Working with a high-caliber real estate agent will put more money in your pocket and sell your house fast because they know how to:
Price your home right
Stage your home for buyers
Help you pick the right offer
Negotiate the best deal
Remember, an experienced real estate agent has been through the home-selling process lots of times already. They'll guide you and help you avoid mistakes so you don't waste any time selling your home. Don't underestimate the value of teaming up with a pro!
2. Declutter and Deep Clean
Dawn admits decluttering isn't rocket science—but it is the key to creating a pleasing environment. Pay particular attention to common junk magnets, like:
Kitchen and bathroom counters
Fireplace mantels
Laundry room shelves
Tabletops
Magazine racks
This is a good time to trim down your closet too. "If your closet is crowded, I'm going to think my stuff won't fit," Dawn says. Wow buyers by showing them how much space there is for stuff—not the other way around.
Once all the clutter's out of the way, take a step back and look at the big picture. Think like a buyer—does this space look welcoming, open and (most importantly) clean?
Cleaning your home for home showings is common sense. But don't underestimate just how clean it needs to be. Get down to the nitty-gritty, from ceiling fans and window blinds to baseboards and tile grout. No surface goes unscrubbed!
Don't forget to get your windows squeaky clean. "There needs to be as much light coming in as possible," Dawn recommends.
3. Get Ahead of the Game
In the spirit of selling your home fast, take care of things now that will be a problem in the closing process. Talk to your agent about fixes you'll need to make to pass the home inspection, like:
Plumbing problems
Roof damage
Electrical issues
HVAC glitches
These are issues you'll be expected to take care of before any buyers close on your house—you might as well get ahead of the game to help your home sell faster.
Your agent can also help you decide on any small updates or projects that will add value in the eye of the buyer. Don't do anything major. But simple updates can make a world of difference, like:
A fresh coat of paint
Clean or new carpeting
Polished or buffed hardwood floors
New kitchen hardware
Don't forget about the curb appeal too. If the first thing buyers see (both in person and in pictures) is the front of the house, make it shine. Spend some time on the garage doors, front door and landscaping.
You might have to spend a little money on these updates and fixes. But the value they'll add to your house sale more than makes up for any of their costs. Plus, if you take care of them now, you don't have to deal with them slowing down the sale later.
4. Stage Your Home
To make the best first impression—and get lots of interest from buyers—go beyond cleaning and decluttering and stage your home to sell.
Home staging is an art designed to show off your home in its best light. Using your furniture in a new way, swapping old or past-their-prime pieces, or sprucing up the outdoor space will help buyers focus on your home's features rather than its flaws.
Start by putting bulky pieces in storage and moving furniture away from the walls. "Oftentimes, the room is arranged so the children can play in the middle of the room or the TV can be seen easily from every chair and sofa," Dawn says.
An experienced agent can look at your home with a fresh eye and help you reimagine your space. "Go to different rooms and see if there are pieces that you can repurpose for the living room to get the effect you want," Dawn suggests.
Buyers want to walk in and see an open space that inspires conversation and feels livable. A place that invites them to sit and stay awhile.
An easy staging trick is simply setting the dining room table. Bust out the good flatware and china, put some flowers in a vase, and add a seasonal flair.
"If I see that a family can live here, I will think my family can live here too," Dawn explains.
Staging paints a picture for potential buyers so they can envision life in your home. You can find more staging tips and advice in our free Home Sellers Guide.
5. Price to Sell
We've said it before, and we'll say it a thousand more times: Price your house to sell. Even the price is part of the buyer's perception, and your real estate agent will help with this too.
Setting a realistic and competitive asking price is one of the best ways to sell your house fast.
Overpricing your home will just scare buyers away, leading to more time on the market. You might end up lowering the price during negotiation anyway—overpricing will just add steps to the process.
An experienced real estate agent will know how to toe the line between making you a good profit on the sale and pricing low enough to drum up buyer interest. They understand the local market and how to plan out pricing.
They'll also help you set a timeline for lowering the price to make sure selling doesn't take too long, as well as figuring out ways you can "sweeten the deal."
If you know the market will be slow, sweetening the deal means offering things like paying a percentage of the buyer's closing costs or including certain appliances in the home sale. The idea is to increase the potential value of your home and motivate buyers to make a move.
Again, pricing your home right is a fine line that only experts really know how to balance.
The Best Way to Sell Your House Fast
Of course, every home is different. Before you spend a dime freshening your home up, ask a real estate agent you trust for advice.
Remember, a true pro knows what buyers in your area want and can help you maximize your home's appeal without busting your budget.
We've found and vetted real estate agents who will work hand in hand with you and take your home sale seriously. They care about you, not just their bottom line.
For a quick and easy way to find an agent like that, try our RamseyTrusted program. We only recommend agents who are experienced in your local market and know just what it takes to sell your house as fast as possible.
Did you find this article helpful? Share it!