Are you planning to sell your home next year? If so, here's a little secret: You don't have to wait until spring is in the air to get your home ready for prime time.
We asked Dawn Kirkland, a real estate Endorsed Local Provider (ELP) in Birmingham, Alabama, how homeowners can make the most of the months leading up to a spring home sale. Gain an edge on the competition with these steps.
As Soon as Possible
Interview Real Estate Agents: Finding the right real estate agent isn't a one-and-done process. That's why the sooner you start, the better. Don't waste your time on someone who only sells a handful of homes a year. You need a pro who inspires you with confidence and has a proven track record for getting top dollar for homes.
Make a Plan: Once you have a partner, you need a plan. Before you roll up your sleeves and get to work, Dawn suggests making a list of all your to-dos. This enables you to break the process down into bite-sized chunks so you don't feel overwhelmed. Work with your agent to set priorities, then focus on knocking out one task at a time.
Start Packing: This is where the going gets tough. It's time to part with your stuff—but only for a little while. Take a look around and decide what you can live without until your home sells. Rent a storage unit if you have to. Just pack it up and get it out so you can make room for buyers. Here's an added bonus: The rest of the work will be much easier with less stuff clogging your corners!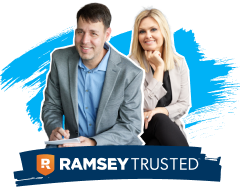 With the right agent, taking on the housing market can be easy.
Buy or sell your home with an agent the Ramsey team trusts.
Connect for Free
2–3 Months Before Listing
Uncover Issues: Want to beat buyers to the punch list? Get a pre-sale home inspection. Of course, your buyer's home inspector will still find things that need to be done. But being proactive enables you to identify potential deal breakers so you can adjust your timeline and budget accordingly. "If you need to deal with something really profound, it may change some of the other things you've got to do," Dawn says.
Tackle Repairs: With your home inspection report in hand, work with your real estate agent to prioritize the findings. Just keep these wise words in mind: "It's always less expensive to repair or replace something up front than to wait for the buyer to ask for that in inspection requests," Dawn advises. This is especially true for major fixes like a new roof or HVAC unit. "That's the kind of stuff that scares people to death. They'll ask $12,000 for a roof that would cost $4,500. It's a vast difference!"
1 Month Before Listing
Spruce It Up: First impressions count—a lot! Breathe new life into your home with a fresh coat of paint, and pay close attention to curb appeal. Ask your real estate agent to refer a reputable home stager to help you incorporate today's trends. "Remember, you're not going to live here anymore," Dawn says. "It really doesn't matter what colors you like. What matters is what buyers are looking for right now."
1–2 Weeks Before Listing
Deep Clean: Save this step until it's almost time to plant the For Sale sign in your yard. You don't want a month of muddy paw prints traipsing through your home after spending your hard-earned cash to clean the carpets. Once every surface sparkles, Dawn suggests giving each family member a special job—maybe even run drills—to ensure your home stays that way. Got pets? Keep fur balls and stinky smells at bay by sending Rover to Grandma's house for an extended stay until you sell your home.
Ready, Set, Go!
Don't wait until the ground thaws to knock out your to-dos. Get a head start on the competition so you can be buyers' first breath of fresh air when spring comes around.

Find expert agents to help you sell your home.
Looking for ways to get your home ready for its big market debut? Download Dave's free Home Seller Guides, and sell your home with confidence!
Did you find this article helpful? Share it!