If you want to spice things up with a stylish showpiece in your home, the kitchen is the hottest place to be. It's no surprise that the kitchen space is one of the most important to potential home buyers.1 And if you've got the budget, why not enjoy those bonuses in your own home right now?
People choose kitchen remodeling for a variety of reasons. According to a 2017 Houzz study, 43% of respondents remodeled because they could "no longer stand the old kitchen."2 Following closely behind, 40% said they wanted to update their kitchen all along but just became financially ready.3
It makes sense that the price tag can stop some people from a renovation project. Whether you're planning for just a few well-chosen updates or a complete overhaul of your current space, kitchen remodels don't come cheap. So how do you know if it's the right investment for you and your home? Is it really worth it?
We'll tackle all of those questions (and more) to help you update your kitchen the smart way!
How Much Does a Kitchen Remodel Cost?
Renovating your kitchen can get expensive very quickly, especially if you have dreams of custom cabinets, quartz counters and spacious islands.
Remodeling Magazine's 2018 Cost vs. Value Report says the average cost to renovate a 200-square-foot kitchen with wood cabinets, an island, laminate countertops and a standard sink and faucet is just under $64,000. That price also includes new appliances, lighting and flooring.4
But it's also possible to spend much more or much less than that. For example, a gourmet kitchen with granite countertops, custom cabinets and a tile backsplash—along with built-in and commercial-grade appliances—could cost close to $126,000.5
On the other hand, a simpler remodel that consists of replacing appliances, updating only cabinet fronts and hardware, choosing new laminate counters, and installing new flooring costs an average of just over $21,000.6
So what do most people spend? Over 70% of those who completed a kitchen remodel in 2017 budgeted to spend somewhere between $5,000 and $50,000.7 Only 1 in 10 homeowners actually spent over $100,000.8
How much will your renovation cost? That's up to you and your budget!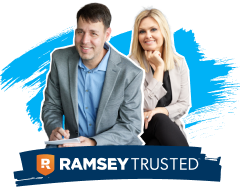 With the right agent, taking on the housing market can be easy.
Buy or sell your home with an agent the Ramsey team trusts.
Connect for Free
How to Budget for Renovations
The budget is an essential first step if you want a successful kitchen remodel.
How much do you plan to spend on cabinets? What about new hardware? Will you need new light fixtures? You want a solid plan, detailing what projects you want to tackle and how much you want to spend. That will help you stay on track throughout the remodel.
Three Budgeting Tips:
Tip #1: Commit to spending the bulk of your money on things you don't want to replace often—such as appliances and cabinetry.


Tip #2: Make sure you're not over-improving your kitchen. You won't be able to recover the costs of your updates—no matter how nice they are—if they make your home the most expensive on the block. If you're not sure what's typical for your neighborhood, talk to an expert real estate agent.


Tip #3: Set aside 10–15% of your budget for unexpected expenses. Renovations never cost less than expected.
With a firm budget in place, you can make smart kitchen-remodeling decisions with confidence.
How Can I Save Money on Kitchen Remodeling?
The first tip is simple: Start with a plan. The last thing you want to do is install beautiful new counters and then realize that you have to remove them in order to install a farmhouse sink. It's okay to space out your projects, especially if you're doing some of them on your own, but make sure you've done your research. Having to go backwards when you've already done work only costs more.

Find expert agents to help you sell your home.
Updating your kitchen doesn't have to cost an arm and a leg. If you want a big impact without the huge price tag, here are some practical ways to save money:
Paint or Refinish Your Cabinets. Instead of getting rid of your current cabinets, consider painting or refinishing them to give your space a completely new look. Are the cabinet faces too outdated? Consider re-facing your cabinetry. It's more expensive than painting but still less expensive than replacing the existing cabinet boxes.


Don't Underestimate the Backsplash. A new tile backsplash can bring a kitchen color palette together, and it usually only costs a few hundred dollars in materials. Paying for labor won't break the bank, but it's even cheaper if you do it yourself.


Paint Your Appliances. If your appliances are still in good shape but the colors are dated, you can get them painted at a local body shop. Using your existing appliances instead of buying brand new ones is a great way to save money.


Consider All of Your Flooring Options. Vinyl flooring has come a long way and is cheaper than installing real hardwood or slate floors. You can find styles that mimic high-end finishes for a modern, low-cost look.
Only remodeling your kitchen because you're selling your house? Remember, not every renovation is worth it if you're planning to sell. In fact, a little goes a long way when it comes to getting your home ready to list!
How Will a Kitchen Renovation Affect Your Home Value?
In most cases, you can count on your updated kitchen to boost the value of your home. It's no shock that buyers are willing to pay more for high-end finishes and thoughtful upgrades.
According to a recent survey, 80% of homebuyers placed the kitchen in their list of top three most important spaces.9
And of buyers who bought homes without certain features, 69% of those surveyed said they would have paid more for new appliances and 55% said they would have paid more for granite counters.10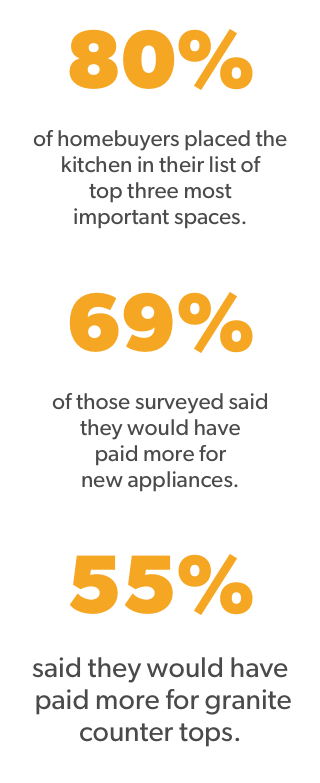 An updated kitchen can help your house stand out for prospective buyers, which can help you sell faster and for more money. That's great news if you're thinking about selling in the future. But just because your home value goes up doesn't necessarily mean that you will recoup the total cost of remodeling when you sell.
What Is the Average ROI of a Kitchen Remodel?
How much you can typically recoup on a renovation has a lot to do with how much you spend and what kind of renovations you choose. For example, the national average ROI for a major upscale kitchen remodel is almost 54%. That means you recoup about $68,000 after spending around $126,000.(11)
What about a smaller renovation project? The average cost of a minor kitchen remodel is about $21,000, and the average amount recouped is $17,000. That's an ROI of 81%.(12)
Your ROI can also be influenced by where you live. For example, while the national average ROI for a minor remodel is 81%, the percentage increases to 93% if you live in the Pacific area of the country.(13) Do you live in North Dakota or Iowa? You can only expect to recoup 68% of the cost based on national averages.(14)
There's no one-size-fits-all ROI for kitchen remodeling. Your ROI depends on the specifics of your local market, which is why we always recommend talking to an expert real estate agent. They'll be able to give you solid advice about which kitchen renovations offer the best returns.
Is It Worth It?
The answer depends on you and your goals. Let's look at it this way: If you are planning to sell your house in two months, it may not be smart to put $60,000 into a new kitchen if your real estate agent only thinks you'll recoup $40,000. That's $20,000 down the drain! In that case, it makes more sense to do a few smart renovations that may only cost $5,000. The right updates can give your home value a boost before hitting the market—and help you attract as many buyers as possible!
What if you plan to enjoy the kitchen yourself? Having a kitchen that you love can impact your day-to-day life in positive ways. Of those who remodeled in 2017, 33% said they have a healthier lifestyle after renovating their kitchen.(15) Nearly 50% said they have more family time, and 41% said they cook more at home.(16) It's hard to deny those benefits!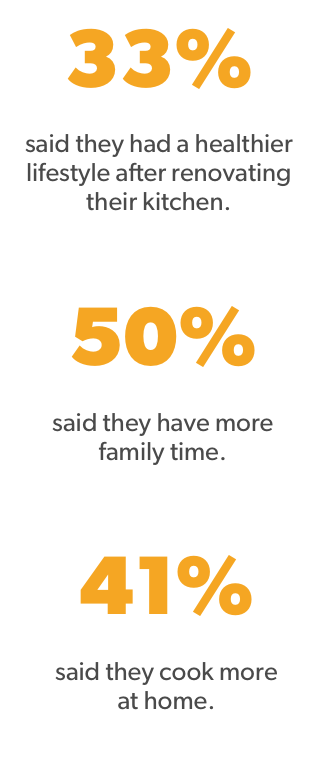 Even if you don't recoup the whole cost of your remodel when you sell, updating your kitchen can still be a good investment for you and your family.
Find a Real Estate Expert
An experienced real estate agent can help you determine how much to spend on your kitchen renovation without overdoing it. And, when it's time to sell your home, your agent will also make the most of your home's standout feature to attract buyers and get a great price.
Looking for a true expert? You can find a trustworthy agent in your area through Dave's nationwide network of real estate Endorsed Local Providers (ELPs).
Our ELPs sell 3x more homes than the average real estate agent, and they are 2.3x faster at selling homes. They know your real estate market like the back of their hand. Why work with an amateur when you can partner with a pro?
Did you find this article helpful? Share it!