Maybe you're thinking of remodeling your kitchen. Or maybe you're planning to put your house on the market in the spring. You want to spruce up your place but need to be wise with your cash. So, what are the best home improvements for adding value to your home and maximizing the return on your investment (ROI)?
According to a recent Cost vs. Value Report from remodeling.com, most home improvement projects will add some value to your home.1 But not all remodeling will increase your home's value enough to recoup the entire cost of the improvement. And in some cases, your upgrade may not increase the value of your home very much, but you and your family will enjoy it while you live in your house.
Another thing to keep in mind: Because of COVID-related supply chain issues and rising inflation, costs for home improvement projects have gone way up. So, the ROI on home improvements may not be as big as it was even a year ago. For example, replacing your front door with a new steel entry door returned over 91% of its $1,471 cost back in 2018.2 The same project costs $2,206 in 2022 and now returns only 63% of its cost!3
To help you decide which home improvements could add the most value to your home, we've categorized them into five types:
So let's go through each of these home improvement types one at a time.
Improvements to Make if You Plan to Stay in Your Home
Four kids, two adults . . . and one bathroom. That's the kind of math that might make you consider adding another bathroom to your home. No more waiting in line for the shower and you'll add tons of value to your house, right?
Sort of. You'll definitely get in the shower quicker, but that extra bathroom doesn't add as much value as you'd think. You'll only get back about 50% on your investment when you sell. That might be fine with you if you're planning on staying in your house for a while—because the convenience outweighs the cost. So, if you know you're staying put, make improvements that make sense for you. Just know you might not see a good return on those investments.
In general, projects that add square footage are a good investment in your family's enjoyment of your home, but that doesn't always translate to resale value. You'll do a little better with the ROI if you remodel unused areas like your attic or basement into living spaces.
If you're planning to stay in your home a few more years and need the extra space to keep family members from tripping over each other, by all means add the space! Your family will have plenty of time to appreciate the addition, and once you're ready to sell, the boost in square footage will also boost your asking price—just maybe not enough to cover the full cost of the addition.
Best Value Home Improvements for Sellers
As we pointed out, large-scale projects don't usually translate into large increases in your home's value. So, when you're ready to sell, home improvements that make an impact for less money are the way to go.
For the last several years, simply replacing your garage door has had the best ROI. According to the Cost vs. Value Report, this is the one project that will almost pay for itself, returning over 93% of its $4,041 average cost.4
Other projects that improve your home's curb appeal are also decent bets: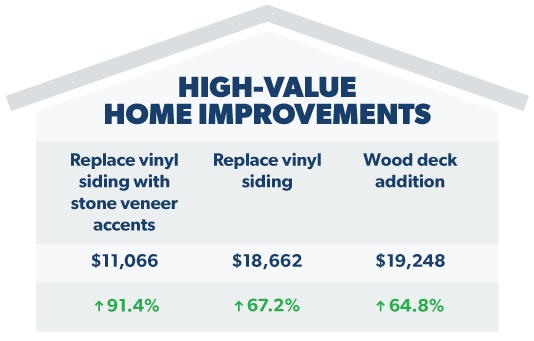 Find expert agents to help you sell your home.
Inside, a minor kitchen remodel (midrange) will earn back 71.2% of its $28,279 cost.5 That includes replacing outdated appliances, refacing the cabinets and adding new hardware, updating the laminate countertop and sink, as well as replacing the flooring.
Improvements to Avoid if You Plan to Sell Your Home
The ROI on some projects is so low, you'll be left holding the bag for about half the cost. If you're planning to sell, these home improvements just aren't worth it: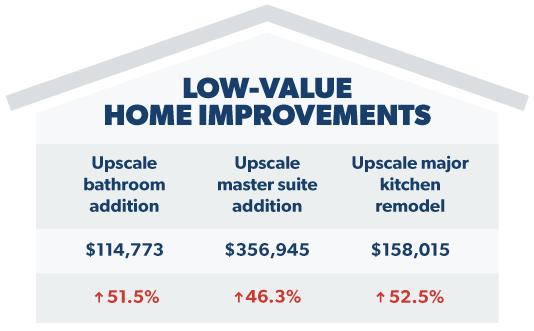 These improvements aren't bad choices. They just aren't the best home improvements for adding value to your house before selling it. If you'll be living in your home a while and would enjoy doing some super swanky updates to your bathroom, go for it! But think twice before you take on any of these projects and remodels just to increase the sales value of your home.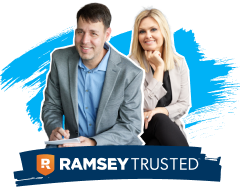 With the right agent, taking on the housing market can be easy.
Buy or sell your home with an agent the Ramsey team trusts.
Connect for Free
Invisible Home Improvements
You can drop a huge chunk of cash on home maintenance projects, like replacing your HVAC unit, hot water heater or even your septic system. Unfortunately, even when these features are brand-new, most buyers aren't willing to pay more for them. Buyers expect functional features like these to simply . . . function. And they don't feel like they should pay for wear and tear that happened while you owned it.
On the other hand, if any of these invisible parts of your home aren't in working order, it will detract big time from your home's value. (Would you want a house with a non-functioning septic system? Eww.) Even if you plan to sell soon, you can't avoid these problems since they will certainly turn up in a home inspection. Go ahead and tackle them, just realize that you're maintaining your home's value—not adding to it.
If anything, the selling point on these types of improvements is that they reduce long-term home maintenance costs for you and a potential buyer (which, with the price of things like energy these days, could be a big selling point). Other "invisible" improvements that reduce home maintenance costs include:
Insulating your hot water pipes
Patching up leaky windows and doors
Using long-lasting LED lightbulbs
Staining and sealing wood decks
Converting climate-appropriate landscaping (lawn to desert if you live in the Southwest, for example)
The best home improvement for reducing maintenance costs is window replacement. New vinyl window frames aren't a showpiece like a top-to-bottom kitchen renovation, but they can save a ton on the costs to heat and cool your home (and let's face it . . . any savings you can get from that these days is a blessing!).
Plus, new windows can also boost your home's value. On average, homeowners nationwide can expect to recoup nearly 68% of the $20,482 price tag of a window replacement project.6
Boosting Value in Specific Rooms
Different rooms in your home serve different purposes, and with a few specific upgrades, they all can add some value to your home overall. Here are just a few ideas for improving each room in your home—ranging from small, cosmetic changes to serious renovations. Keep in mind that all of these home improvement projects have different ROIs depending on where you live:
Foyer/Entry: upgrade stairs/banisters, replace/refinish flooring
Living Room: replace/refinish flooring, add a fireplace or deep clean fireplace rockwork
Kitchen: repaint/refinish cabinets, add an island, replace old appliances, upgrade countertops, replace sink hardware and garbage disposal, update back splash
Bedrooms: upgrade closets (install shelving, make better use of the space, etc.), replace/refinish flooring
Bathrooms: replace flooring, add storage cabinets, change showerheads and other hardware, upgrade vanity, re-caulk/reglaze bathtub
Garage: replace garage door, install shelves, add storage areas
Basement: finish the space with insulation, drywall, windows, closets, flooring, HVAC connection, etc.
No-Demo Renovations
You can add value to your home without knocking down walls or ripping up flooring. Sprucing up the little details can have a big impact—but it doesn't cost thousands of dollars or disrupt your life.
Paint: Whether you're adding accents of color or switching to trendy greige (gray and beige . . . it's a thing) in every room, paint definitely adds value. Paint also conveniently covers up the battle scars of everyday family life, like scuff marks and your five-year-old's marker-fueled masterpiece. It's amazing what a little paint can do to freshen up any room. Remember, lighter, neutral colors are best, especially in small spaces like bathrooms, because they make rooms look larger and brighter.

Lighting: Have your lighting fixtures been around since the Reagan administration? Then it's time to tear down those lights (but seriously . . . just unscrew them, no tearing necessary). New light fixtures don't have to be super fancy—just get a more modern-looking chandelier for your dining room or a nice hanging light for your kitchen. This not only makes your house more appealing but could also potentially save a buyer money in energy costs. It's time to illuminate the possibilities!

Front door: Even though it's not getting as big of an ROI as it was before, replacing a wood front door with a steel one still has lots of benefits. Besides added curb appeal, steel doors last much longer than conventional wood doors and don't run the risk of cracking or splintering over time. They also help insulate your house, which saves on heating and cooling costs.

Smart home upgrades: Adding value to your home can be as easy as making some of your home features smarter. Try upgrading your thermostat so you (or the new owner) can regulate your home's temperature from your phone. Smart upgrades don't have to cost a lot of money. Depending on how fancy you want it to be, a smart thermostat costs around $200. And depending on how old your system is and the type of thermostat you buy, the smart thermostat will simply plug into the existing heating and cooling system.

Home office: Lots more people are working from home these days. So that means buyers are looking for a place to set up shop in a potential home. If you're an empty nester, setting up that extra bedroom with a desk and computer will give buyers the right ideas. You can go further and ensure that your home's internet connection is strong enough for those long Zoom calls by upgrading your home's internet infrastructure. An in-wall ethernet system can be installed to give your home office (and other rooms) a direct line to the internet instead of relying solely on Wi-Fi.

Landscaping: When it comes to home value, curb appeal is definitely a thing. If a buyer walks up to your house and sees a dead lawn and dying rose bushes, they may be inclined to do a double take at your asking price. And even if you're not selling, who wants to live in a plant graveyard anyway? It doesn't take much effort to clean up the yard, add some live plants, and re-seed (or re-sod) your lawn. You can add other features that will pretty up the place even more, like paver stones. And as we said earlier, you can even replace your lawn with something less maintenance-heavy (depending on where you live).
Research Before You Renovate
Making improvements to your home can definitely boost its value, which is a great thing whether you're selling your home or not. Your home is your biggest investment, after all. The tricky part to all of this is that we're looking at national averages. Individual markets place different values on different home improvements.
The best way to gauge what you can expect in terms of resale value on home improvements—especially if you're planning to sell soon—is to talk to a real estate agent who is an expert in your market. They're sure to know the local trends, and they can show you how other homes with the features you want to add are selling. That way, you can make an educated decision before you start ordering lumber and knocking down walls.
To find a real estate agent in your area who will genuinely serve you and your needs, use our Endorsed Local Providers (ELP) program. ELPs are professional real estate agents who have a track record of success and excellent customer service. That's why they carry the RamseyTrusted seal of approval!
Did you find this article helpful? Share it!