Is the Housing Market Cooling Down? Early Signs and What it Means
14 Min Read | Sep 23, 2022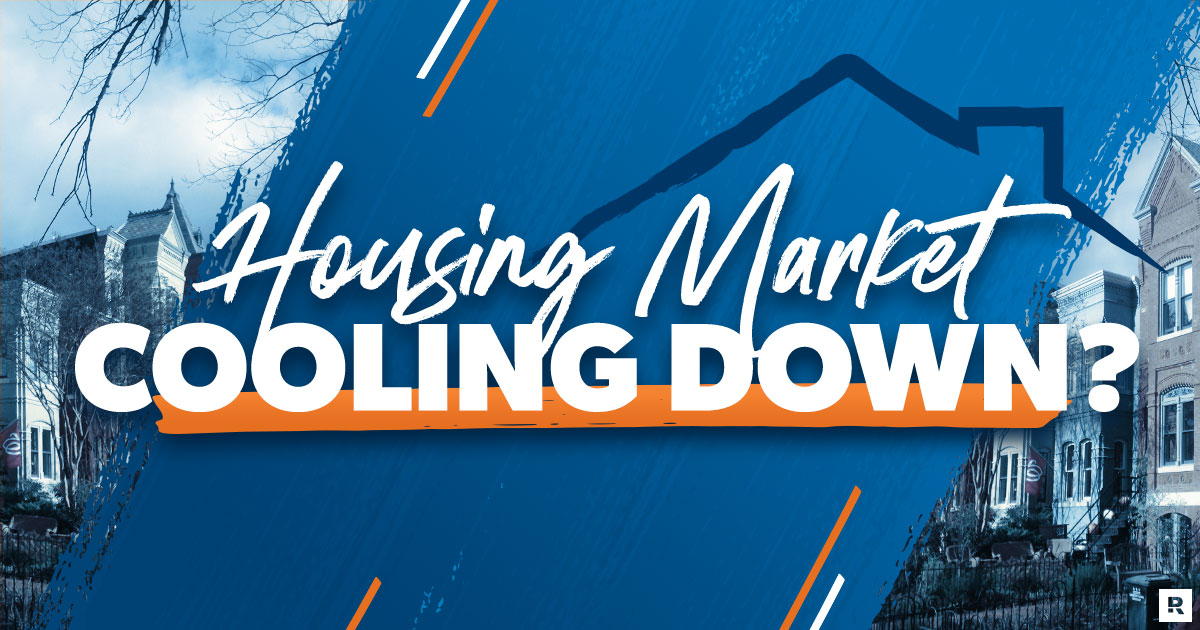 Breaking news: The U.S. housing market could be cooling down. At least, that's what the experts are saying. But how do they know? And what does that information mean for you?
Don't sweat! We'll go over the latest data like home prices, inventory and interest rates to help you answer the question, Is the housing market cooling off? Plus, learn what it all means if you're a home buyer, homeowner or home seller.
Hint: When a hot housing market cools down a bit, it doesn't mean home prices are plummeting (or even going down). It just means they're growing at a slower rate. In other words, a cooler housing market is actually good news for both buyers and sellers—and could be good news for you too if all your finances are in order. Now let's dig into the details.
Early Signs the Housing Market Is Cooling Off
We've all seen two years of crazy home price growth, low inventory and rapid home sales. After all that, it can be hard to believe the housing market is really calming down.

Find expert agents to help you buy your home.
It's smart to be cautious. The real estate market is hard to predict, and it can change on a dime. But right now, housing market experts are seeing some pretty interesting changes.
Let's take a look at what's happening in the market that could signal a cool down.
Slower Home Price Growth
Make no bones about it: Home prices are at record highs! Median listing prices for homes across the U.S. hit $425,000 in April.1 That's a 14% increase from last year.2 The good news is, that's actually a slower growth rate than we saw from April 2020 to April 2021: During that time, home prices increased 17%.3
So, while prices may keep rising, experts expect price growth to slow down. (We'll talk more about why that's happening in a minute.)
Cities With the Highest Price Growth
Some housing markets aren't exactly slowing down just yet. These cities have seen the highest price growth in the past year:
Cities With the Biggest Price Drops
On the flip side, some cities are seeing home prices drop—not just slow down. Here are this year's biggest price drops:
Rochester – 20%
Pittsburgh – 15%
Cleveland – 14%
Detroit – 10%
Buffalo – 9%5
Increasing Inventory
When the market's sizzling, it's pretty rough out there for home buyers. Maybe you've looked at dozens of homes, only to come up on the short end of too many bidding wars to count.
Why does this keep happening? Low inventory. There simply aren't enough homes available to meet demand. For every five homes that were on the market in 2020, today there are only two.6
But there could be some signs of change here.  Total inventory was down 13% in March compared to the year before, but by the last week of April, it was only down 3%.7 If this trend continues, buyers should see more homes to choose from and less competition!
Let's see what that's looked like in some popular cities over the last year.
Cities With the Most Inventory Growth
Riverside – 23%
Austin – 17%
Sacramento – 12%
San Antonio – 12%
Memphis – 11%8
Keep in mind, not every housing market is seeing an increase in homes for sale. Some markets, like Miami and Raleigh, are facing even bigger shortages this year than before.9 But with the national average inventory on the upswing, home buyers could generally see more opportunities to find the home they want.
More Time on the Market
You might think most homes are selling quickly since sellers have so little competition . . . and you're right! In fact, most houses only spent 34 days on the market in April—nearly half the time it took to sell a house in 2020.10
At first glance, it looks like this market indicator isn't showing any signs of slowing down. Homes are still selling in record time. And when housing experts looked at 50 metro areas, homes in every city spent less time on the market this year than last year.11
But remember, we're looking for signs the housing market is cooling off—not having an Ice Age. The gap in time spent on the market is narrowing. In March 2022, homes sold 11 days faster than in March 2021.12 But in April, homes only sold 6 days faster. 13
If home sales keep slowing down, sellers will see their houses sitting on the market longer, and buyers may have more time to think about an offer before they jump in with both feet.
Less Home-Seeking Activity
One of the surest signs the housing market is cooling off? People aren't showing as much interest in buying homes. For instance, online searches for phrases like "homes for sale" and "real estate" have dropped by as much as 10%.14
In some parts of the country—especially the western U.S.—fewer people are going on home tours.15 And while home tours usually enjoy a seasonal uptick in the spring and summer, things aren't picking up as much as they have in the past. There were just 7% more home tours in May 2022 than in January—less than a fourth of the uptick we saw last year.16
And last but not least, there were 8% fewer mortgage applications in the first week of May 2022 compared to a year ago.17
That doesn't guarantee home sales will fall (after all, people could be making more cash offers or looking at fewer houses before they make an offer). But it does mean fewer people are looking at homes—or trying to take out loans to buy them.
Changing Home-Sale Dynamics
With some buyers backing off, real estate experts predict sellers will get fewer offers for their homes and that the crazy bidding wars of the last few years will taper off.18
And while 29% of buyers paid more than the asking price in 2021, that trend doesn't look like it'll continue this year.19 Sellers may have to settle for offers that are closer to the asking price—or they may even have to lower the asking price to attract an offer in the first place.
In April, nearly 7% of home sellers had to reduce the price of their home—1% more than last year.20 And it looks like we could see more of these cuts moving forward (probably due to overpricing). In fact, 40 of the 50 largest U.S. housing markets saw more price cuts in spring 2022 than they did last year.21
Cities With the Biggest Increase in Price Cuts
Austin – 7%
Las Vegas – 5%
Sacramento – 5%
Riverside – 5%
Phoenix – 4%22
If you're looking to buy a home, this is music to your ears! After all, it's hard to be upset about reduced prices. And if the price cuts continue, prospective home buyers will gain more negotiating power.
Why Is the Housing Market Cooling Off?
Okay, so we've read the early signs. We can see that the housing market is still hot—and could stay that way for a while—but it's starting to cool off a little. Now the big question is, why?
Rising Interest Rates
Mortgage interest rates have been going up since the start of 2022. In April, the average rate for a 15-year fixed-rate loan rose to 4.22%, up almost a full percent from March.23 Rates for 30-year loans jumped to 4.98%.24
So, why are interest rates rising? The Federal Reserve raised their interest rates earlier this year, and that's affecting the housing market. Since the Fed plans to hike rates at least seven times (yes, seven!) in 2022, you can expect mortgage interest rates to keep going up.25
Rising Monthly Payments
When interest rates go up, so do mortgage payments. We'll show you what we're talking about.
Let's say two couples took out 15-year fixed-rate mortgages. Both couples bought homes worth $200,000 and put 20% down. John and Paula got their mortgage in April at 4.22%. But since Jason and Missy got their loan a year earlier, their rate is just 2.36%.
| | | |
| --- | --- | --- |
| | John and Paula | Jason and Missy |
| Interest Rate | 4.22% | 2.36% |
| Monthly Payment | $1,541 | $1,396 |
| Total Cost of Interest | $56,218 | $30,143 |
You can see that John and Paula are paying $145 more per month than Jason and Missy. That's a big chunk of change—we're pretty sure they'd rather spend that money on gas, groceries or a concert!
Even if $145 per month doesn't sound that bad, did you notice how it adds up over 15 years? Take a look:
$56,218 interest – $30,143 interest = $26,075
Yep, you read that right—John and Paula will pay $26,075 more interest than Jason and Missy. That's almost twice as much!
And according to the National Association of REALTORS® (NAR), many families saw even bigger jumps in housing prices early in 2022: The monthly mortgage payment for a single-family home rose from $1,064 last year to $1,383.26 Ouch!
What Does a Cooling Housing Market Mean for You?
For the past couple years, buyers have had trouble finding homes they can afford—or beating the competition to get those homes. Homeowners have been shocked at their rising home values (and property tax bills). And home sellers? Well, most of them have been in paradise.
There are a lot of people who either hope things change or are terrified things'll change. But you don't have to freak out anytime the housing market hiccups.
No matter what happens, there's nothing to be scared of if you're making smart financial decisions. Next up, we'll cover what smart looks like if you're a buyer, seller or homeowner.
Buyers
Even though the housing market seems to be cooling off, conditions are still rough for many buyers. Housing is least affordable for first-time buyers (who can't sell an existing home to help pay for a new one) and people who live in western states where house prices are super high compared to their salaries.27
So you may still have to work hard to afford a house and be competitive to get the one you want. If you're planning to buy before the end of the year, make sure you're fully prepared. You can start here:
Get a mortgage preapproval. This way, you have proof from a lender that they're willing to work with you. Getting preapproved will show sellers you can back up your offer with real money, which will put you in a much more competitive position.
Stick with your budget. We know it's frustrating to look for a home, only to see the ones you want are all outside your price range. But buying a house you can't afford turns the blessing of homeownership into a curse real quick. Stay patient, and for Pete's sake, keep your mortgage payment to 25% or less of your monthly take-home pay! If that seems impossible in your area, follow these tips for affording an expensive housing market.
Choose the right mortgage. The only home loan we recommend is a 15-year fixed-rate mortgage. It's the cheapest, quickest way to own your house outright. And whatever you do, don't fall for an adjustable-rate mortgage—no matter what the lender says! More people are taking out ARMs right now, but these loans are a death trap that'll likely have you paying double-digit interest rates.28
Sellers
It's easy for sellers to get spooked when they hear phrases like housing bubble and housing market cooling off. First, take a deep breath!
Just because the market might be cooling off, that doesn't mean it's going to go cold. It's kind of like if the temperature drops from 100 degrees to 90 degrees. It's cooler—but 90 degrees is still hot!
Like we said, home prices are still rising and will likely continue to do so. And if interest rates keep going up, demand may go down a little while some buyers decide to keep saving. So you might need to check your approach to selling your home. Here are a couple pointers to get you started:
Be willing to adjust your price. We know you don't want to hear this one, but savvy house hunters can sniff out overpriced homes. If your home has been sitting on the market longer than expected, talk to your real estate agent. Lowering the price might hurt, but a good agent can help you set a fair price based on your home's value and the market now—not last summer.
Be okay with fewer offers. If demand goes down, you could get less fewer offers. That's okay! The bidding wars of the past couple years have been great for sellers, but the truth is, you don't need a bunch of people fighting over your home. You just need one good offer.
Look for cash offers. Just because people don't want to borrow money doesn't mean they don't want to buy a house! All-cash sales made up 28% of existing home sales in March 2022, up 5% from the year before.29 Cash sales are great for you, because you don't have to wait around for the buyer to secure financing.
Stay patient. It might take a little longer than usual to sell your home as the housing market cools down. Stick with the home-selling process, and use the time to work with your agent to get your house in order!
Homeowners
Homeowners, now is a great time to be in your shoes! Home values are still going up—and even if that growth slows down, they'll probably keep going up for the foreseeable future. You can actually feel the equity building!
But there are still plenty of stupid mistakes that can set you back—even when the market is in your favor.
Don't borrow against your home's value. With home equity increasing and plenty of homeowners staying put, some folks are tempted to tap into that equity by taking out a home equity loan or a home equity line of credit (HELOC). This is a bad idea. It's not worth putting your home at risk for a remodeled kitchen or a new couch. Saving up and paying cash for upgrades is much smarter.
Know when to refinance. There's a reason refinancing activity has dropped 72% in the past year—because interest rates are going up!30 You don't want to swap a low interest rate for a higher one. But there are still other reasons to refinance, like ditching an adjustable-rate mortgage or shortening your loan to a 15-year term. Just proceed with caution and make sure it's really the best time to refinance before you sign on the dotted line.
Keep building equity. Some homeowners have been tempted to rush out and list their homes for sale so they can turn a quick profit. And if you do need to sell right now, that's cool—go for it! But don't sell just because home prices are high. They're likely going to stay that way for the foreseeable future. So you can sit tight and watch your home value increase. That'll raise your net worth and put you in a better position to sell down the road. Remember, you only sell your house when you're ready—not because you think you should jump into a particular market.
Stay on Top of the Trends With a Pro
It's hard to predict what will happen with the housing market. Things can change rapidly from one month to the next! And what's happening in the housing market in California might be quite different from what's going on in Iowa.
That's why it's important to work with an experienced real estate agent who can help you navigate the trends in your area. Whether you're a first-time home buyer trying to make sense of it all or a seller looking to get the best price for your house, working with one of our Endorsed Local Providers (ELPs) will help you reach your goals. These agents are RamseyTrusted because we know they'll super-serve you.