It's easy to feel overwhelmed by all the decisions that go into buying a new home. Brand-new or existing? Cottage or McMansion? Fixer-upper or move-in ready? City or country? After all, a home is a big purchase, and you want it to be a blessing for many years to come.
But one question holds the key to home-buying success: How much home can you afford?
Lucky for you, you don't need a degree in rocket science to find the answer. You just need to know how to budget. Here are five steps to help you create your own home-buying budget.
Step 1: Add Up Your Income
You can't make a budget if you don't know how much you can spend. So sit down and add up every source of income you receive each month.
Let's crunch numbers based on a two-earner household. In our example, Josh brings home two paychecks a month, while his wife Jess receives one.
Josh and Jess's Monthly Household Income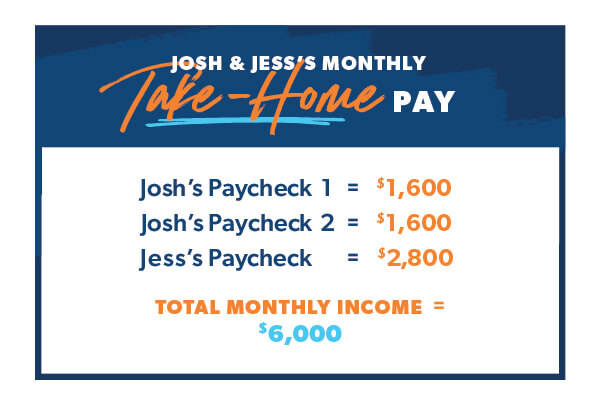 Step 2: List Your Household Expenses
Next, write down every place your dollars go each month.

See how much house you can afford with our free mortgage calculator!
Josh and Jess rent a one-bedroom apartment in the heart of town so they can be close to work. They're setting aside a big chunk of their take-home pay for a down payment on their new home. Here's how their current budget looks:
Josh and Jess's Pre-Home Budget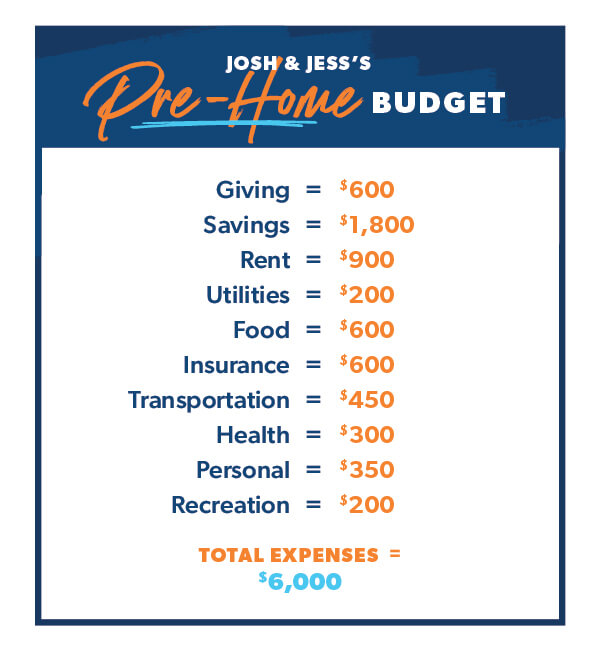 Of course, everybody's budget is going to be different. We've assumed some things in this sample. If some of these categories don't fit, feel free to make them your own.
Step 3: Calculate Homeownership Costs
Okay, now make sure to limit your housing payment to no more than 25% of your monthly take-home pay—otherwise you'd be house poor!
That 25% limit includes principal, interest, property taxes, homeowner's insurance and, if your down payment is lower than 20%, private mortgage insurance (PMI). Plus, don't forget to consider homeowners association (HOA) fees—if your new home is part of an HOA.
To maximize your savings, you should get a 15-year fixed-rate mortgage. For help figuring out how much house you can afford, try our mortgage calculator.
As for Josh and Jess, the maximum amount they should spend on their home payment each month is $1,500 ($6,000 x 25% = $1,500). But Josh and Jess also need to make room in their budget for expenses like home maintenance and repair. And they need to add extra heft to utilities and transportation since they'll have more square footage and a longer commute in their new home.
Josh and Jess's down-payment goal will be complete when they purchase a home—meaning they can lower the amount of money they put into savings, and then use what's left over to bump up the budget where needed.
Josh and Jess's Budget: Changes Made With Homeownership in Mind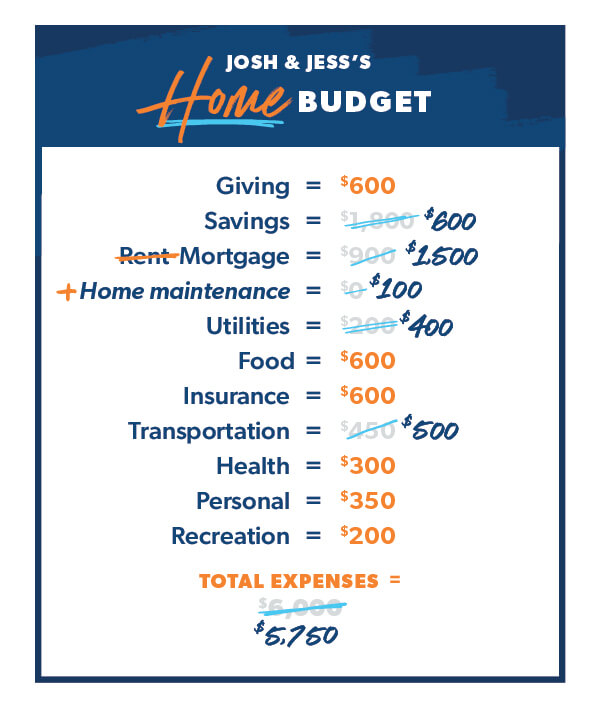 With these adjustments, Josh and Jess still have money left over—but the budgeting doesn't stop here.
Step 4: Give Your Budget Room to Grow
Life is going to happen in the years you occupy your home. Before you take on a mortgage, look ahead and consider events that might increase your living expenses down the road.
Josh and Jess don't have children yet but hope to start a family next year. Guess what? Kids cost money! Let's say they need $800 a month to help support Junior's first years of life. Depending on what you make or where you live, it could be more, it could be less.
Josh and Jess build cushion for Junior into their budget by parking an additional $800 into their savings account each month. That puts their savings total at $1,400 and bumps their monthly expenses up to $6,550.
Josh and Jess's Budget: Changes Made With Kids in Mind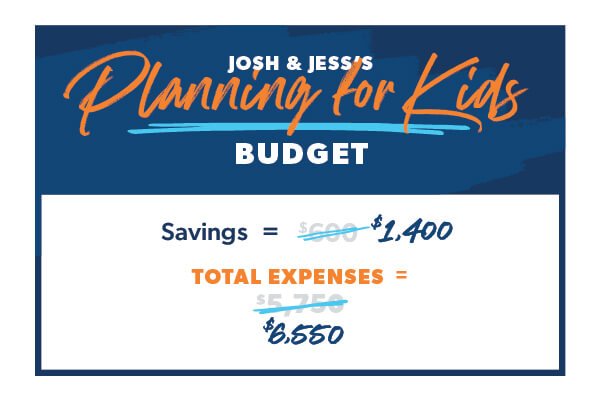 Step 5: Make Adjustments
Right now, Josh and Jess's expenses outweigh their income by $550, so they've got some balancing to do. Josh and Jess realize that spending 25% of their income on a mortgage will squeeze out their ability to afford diapers and daycare. So they aim for a more conservative home payment and tighten the purse strings in a few other areas.
Josh and Jess's Final Home-Buying Budget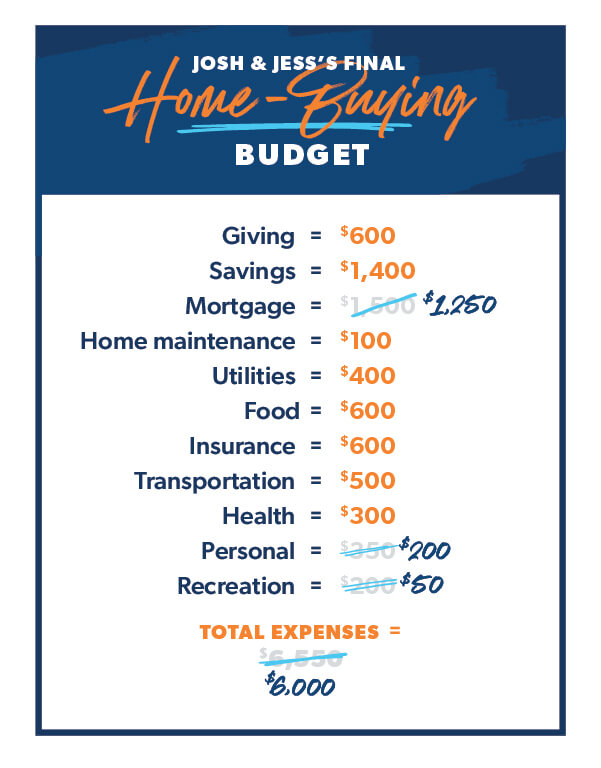 Boost Your Buying Power
When income minus outgo equals zero, your job is done because every dollar has a name. That means you can feel confident buying a home that won't bust your budget. Just keep your mortgage to 25%—or less!—of your monthly income and don't borrow so much that you can't breathe if life changes down the road.
Now that you know the secret to being a happy homeowner, it's time to go out and get the most home for your money! All you need is an expert negotiator by your side. The buyers' agents we trust in our Endorsed Local Providers (ELP) program bring your best interests to the table—that's how they've earned the right to be called RamseyTrusted. They can help you find a home that's right for you and your budget.
Find the best real estate agents in your area!
Frequently Asked Questions
How Do I Budget for a House?
The first step to budgeting for a house is to know how much down payment you need. Ideally, you'll want to save a down payment of at least 20%. For first-time home buyers, a smaller down payment like 5–10% is okay too—but then you'll have to pay PMI. Whatever you do, never buy a house with a monthly payment that's more than 25% of your monthly take-home pay on a 15-year fixed-rate mortgage (which has the overall lowest total cost). And stay away from expensive loans like FHA, VA and USDA.
After you've set your savings goal, here are some tips on how to save for a house: Pay off all your debt, tighten your spending, hold off on your retirement savings (temporarily), start a side job, and sell stuff you don't need.
Let's say you want to buy a $200,000 house. Your down payment savings goal is $40,000 (or 20% of the home price). To budget for this house in two years, you'd need to set aside $1,700 each month ($40,000 / 2 years / 12 months = $1,700).
Where Should I Stash My Down Payment?
You could stash your down payment in a simple money market savings account. You're not going to make tons on interest, but you won't lose money either. Keep in mind: Saving a down payment is not the same as investing for retirement. Saving a down payment should only take you a year or two—so you want to keep your savings in a place that's easy for you to access.
When Should I Start Saving for a House?
As soon as you think you're ready to buy a house, start saving for one! For reference: You're only ready if you're debt-free and have an emergency fund of 3–6 months of living expenses. It'll probably take some intense saving over a period of time—we're talking a year or two just to save for a down payment—so you'll want to get started right away.
How Can I Save for a House Quickly?
If you want to save for a house fast, you need to be debt-free and have an emergency fund of 3–6 months of expenses saved. With your income freed from debt payments and an emergency fund to protect you from life's unexpected surprises, you can save for a house much faster. Here are some other ideas to help you save money fast.
I Can't Afford a House—What Do I Do?
Trying to buy a house when home prices keep going up can be frustrating. But with the right plan, you can do it! One big thing that holds people back from saving for a house is debt. Debt is dumb! So focus on cleaning up all your debt—and never go back. Then save up an emergency fund of 3–6 months of living expenses to protect yourself from life's unexpected surprises. After that, you'll be ready to save for a house.
To buy a house you can afford, never buy one with a monthly payment that's more than 25% of your monthly take-home pay on a 15-year fixed-rate conventional loan (stay away from FHA and VA loans). Ideally, you want to save at least a 20% down payment. For first-time home buyers, a 5–10% down payment is okay too—as long as the extra PMI fee doesn't jack up your monthly payment beyond the 25% rule.
After you've set a down payment goal, it'll take time to save toward it. Give yourself a year or two of intense saving. Try these smart ways to save for a home down payment.
Once you have a strong down payment saved up, work with an experienced real estate agent who knows your area. The best agents will work hard to find you a house that fits your budget.