One of the best ways to free up extra cash is to cut the cable cord—and you won't even have to say goodbye to all that entertainment. Because these days the number of cheap (and even free!) cable alternatives is bigger than your grandparent's old satellite dish. (And that thing was the size of a compact car.)
So, let's talk about 19 of the best cable alternatives so you can start switching—and saving.
Free cable alternative options include Peacock, YouTube, Pluto TV and Freevee.
Discovery+ and Paramount+ are two of the cheapest cable alternatives on our list, starting at $5 a month.
Disney+ offers a cost-effective bundle option with Hulu and ESPN+.
The Amazon Prime membership offers perks with Amazon shopping and Kindle—plus access to Amazon Prime Video.
19 Cost-Effective Cable Alternatives
1. Disney+ ($8–11 monthly | $110 annually)
From the classic Robin Hood cartoon to the new Mandalorian series—where can you get all the best that Disney has to offer? From one of the best alternatives to cable TV out there: Disney+. But wait, there's more. Because Disney owns Marvel, Star Wars, Pixar and National Geographic, you get access to that all entertainment too!
You can also get the three-in-one Disney Bundle, which offers Hulu and ESPN+. So, if watching sports was the only reason you were clinging to your cable cord, your excuse just met its match. Of course, ESPN+ doesn't carry the same content as the regular ESPN channel, so just keep that in mind there, sport.
2. Discovery+ ($5–7 monthly)
Hey there, HGTV and Food Network fans, Discovery+ is the streaming service for you. You'll get those two heavy hitters plus TLC, Travel Channel, History Channel, Animal Planet, A&E, Lifetime, the Magnolia Network and well, the Discovery Channel itself! These guys have you covered with home shows, reality shows, food shows and a whole lot of other educational stuff.
3. Peacock (free–$12 monthly | $60–120 annually)
Alert: TV shows like The Office and Parks and Rec have left Netflix forever. This is not a drill.
The good news? They went to NBCUniversal's new streaming service, Peacock. Even better news? The basic version of Peacock is free. All you have to do is sign up with an email and password (no payment info needed!).
But have no fear if you want to upgrade to the premium version (which is where The Office went). It'll set you back just $5 a month. And if you want to opt for the no-commercial experience, that'll run you $12.
4. Paramount+ ($5–10 monthly | $50–100 annually)
Sure, Paramount+ has classic TV shows and movies from CBS, Nickelodeon and Comedy Central, but it might be the home movie theater experience that really sets this cable alternative apart. Because this streaming service carries newly released Paramount movies 45 days after they hit theaters. So instead of hauling your gang to the real movie theater and possibly losing a shoe on those sticky floors, watch the flick at home to save your money (and your shoes).
5. Max ($10–20 monthly | $100–200 annually)
We'd like to take a minute (just sit right there), and we'll tell you how you can stream content like Fresh Prince of Bel-Air. Sign up for Max (or the cable alternative formerly known as HBO Max).

Start budgeting with EveryDollar today!
There's literally something for everyone—Sesame Street, DC movies (for your fill of flicks like The Dark Knight and Man of Steel), Warner Bros. films, Friends, Lord of the Rings, Looney Tunes and of course, Max's own original content too. Basically, there's a ton of entertainment here you won't find anywhere else.
6. Hulu ($8–18 monthly | $80 annually)
Hulu is one of the best alternatives to cable TV. Why? Because not only do you get each Hulu original series, you can also catch some other new shows the day after they broadcast.
Hulu's base price is $8 a month (which has you saving serious money compared to most cable packages). For an extra $7, you can skip the super repetitive ads. And for another extra fee, you can grab an add-on like Max, Starz or Showtime.
7. Hulu Live TV ($70 monthly)
If you love streaming Hulu's shows but also want access to things like live sports and news, then check out Hulu Live TV. You can even record shows and watch them later, just in case your kid's T-ball game overlaps with your favorite MLB team's game.
And these days, Hulu Live TV also comes with Disney+ and ESPN+. All for $70 a month.
8. Netflix ($7–20 monthly)
Did your grandpa tell you the one about Netflix being a service that sent physical DVDs back and forth to your house by snail mail? He isn't lying! But this company was genius about changing with the times, and now, it's one of the best cable alternative streaming services.
You can binge-watch full shows. (We do suggest breaks.) You can catch films from your youth and new-ish flicks as well. And Netflix originals are no joke: From Stranger Things to House of Cards to The Crown—some people are jumping on this streaming service for those entertainment gems alone!
And you just can't beat how easy it is to access Netflix. You probably have 10 devices in your house right now that came preloaded with the Netflix app. If you want to use Netflix on more than one device at once, or if you want to watch ad-free, you'll have to upgrade. But it's still a great deal if the shows you love most are in their offerings!
9. Amazon Prime Video ($9–15 monthly | $69–139 annually)
Amazon Prime. What other membership gets you toilet paper at your door in two days, the ability to borrow e-books on your Kindle for free, and unlimited streaming of some incredible movies, classic shows and original series (like The Marvelous Mrs. Maisel)?
They've created a bundle membership like no other. And if you replace your cable with an annual Amazon Prime account, you're getting way more than just shows. (Just make sure you stick to your budget in the face of all those shopping deals you'll be bombarded by!)
10. Apple TV+ ($7 monthly)
Being the dominant tech company of the universe wasn't good enough for them—Apple has its own streaming service too!
Just like their powerhouse contenders Netflix and Amazon, Apple TV+ showcases their own original television series and movies. (Hello, Ted Lasso.) They've got a great lineup of sci-fi, documentaries, and kids shows (including School House Rock, Animaniacs and Rugrats, so you can share your childhood favorites with your own kids).
To top it all off, if you buy an Apple device, you'll get the streaming service for free for three months (unless you've already claimed this offer in your house). If you were already saving up for a new gadget, they just sweetened the deal.
11. Sling TV ($40–55 monthly)
With Sling, there's no more waiting on a show to air. You can watch it live just like with cable or satellite, except you're watching over the internet!
Sling Orange includes 32 live channels geared toward sports fans and families. You get Freeform, CNN, ESPN, ESPN2, ESPN3 (how many do we need?), and the Disney Channel. Sling Blue has 40 channels and is geared toward news and entertainment enthusiasts. They're each $40 a month, or you can get both for $55.
12. Philo ($25 monthly)
If traditional cable still has your heart, fear not—here comes Philo to the rescue. You'll have 72 popular cable channels like Nickelodeon, AMC, TLC and yes, even Hallmark for $25 a month. And get this: You can stream this cable alternative on up to three devices—and record as many shows as you want, keeping them stored for up to a year! Nice.
13. FuboTV ($75–100 monthly)
Where can you stream local sports, entertainment and news channels in your area? FuboTV. The starter (Pro) plan gets you over 150 channels, cloud DVR (so you can record your favorite shows), and family share on 10 screens. With the Ultimate plan, you'll get over 250 channels (including Showtime!), cloud DVR and more.
14. YouTube TV ($65 monthly for the first three months, $73 monthly after)
So there's YouTube (the free viral video app we'll talk more about in a moment), and then there's YouTube TV. That latter one lets you stream your favorite channels—more than 100 of them, if you're counting.
We're talking about local cable TV channels in your area, plus 24-hour news networks like CNBC, Fox News and CNN. Oh and there's sports programming like ESPN and CBS Sports, plus optional ad-ons like the Tennis Channel and NBA League Pass. Basically, you'll feel like you're scoring big with this cable alternative.
15. YouTube (Free)
Okay, stay with us here. Yes, we're about to suggest you ditch cable and watch the free version of YouTube instead. That's because it offers a lot more than funny videos. It's also a great place to brush up on new recipes, practice your DIY blanket-knitting abilities, and learn sign language.
In the span of a few minutes, you can discover everything from how to fold a fitted sheet (yes, it's possible . . . probably) to how to make delicious, cheap lunch recipes. You can even watch a ton of nostalgic TV shows and movies there too! Just imagine what you could do with all that extra money if you cut cable and go this free route! Yes, please.
16. Pluto TV (free)
Pluto might or might not be a planet anymore (depending on who you talk to), but either way, its namesake is living on in this cable alternative. All you need is a laptop, a smart TV or a device like Roku, Amazon Fire or Chromecast to get it. Pluto TV offers thousands of random television shows and movies with both live TV and on-demand options. Did we mention it's free? Because it is.
17. Freevee (free)
Here's another free streaming service: the well-named Freevee. Owned by Amazon, Freevee offers movies and TV shows past and present. So, if you're wanting some nostalgia, you can catch Murder, She Wrote or Back to the Future. And if you're up for some fresh laughs, check out Jury Duty.
You will have to sit through the same ads over and over and over, but patience is a virtue. And the money you save will be worth it.
18. HDTV Antenna (prices vary)
If you really want to cut back (and we mean way back), all it takes is an antenna. Luckily, they've come a long way since your grandma's rabbit ears. Not only do they look better than the finicky metal rods, but the HD quality is better too.
19. Library (free)
Here's a shocker: You can find everything from modern TV shows to workout DVDs at your local public library. The only downside is that you actually have to drive to a physical location—but at least you can keep your rentals for a week or two! Check out your local library's website for information on digital rentals and other free perks they might offer.
Cut the Cord, Grab a Cable Alternative, and Budget Those Savings!
So, stop paying for premium channels you never use. For a fraction of the cost, these cable alternatives can fulfill all your television binge-watching needs. The only downside? It'll take a few extra minutes to ditch one and set up your account for another. But it's worth it.
Here's the deal, though. Once you start bringing in the savings, make sure you've got that money accounted for in the budget. Otherwise, the extra cash will be gone in a flash. And you won't even realize where it went!
If you don't have a budget, get started with our favorite budgeting app (aka the best way to stop accidentally overspending)—EveryDollar. You can get started for free and start telling all your money where to go, so you don't wonder where it went.
It's time, friends. No more wasting money on useless channels. Cut the cord on cable today.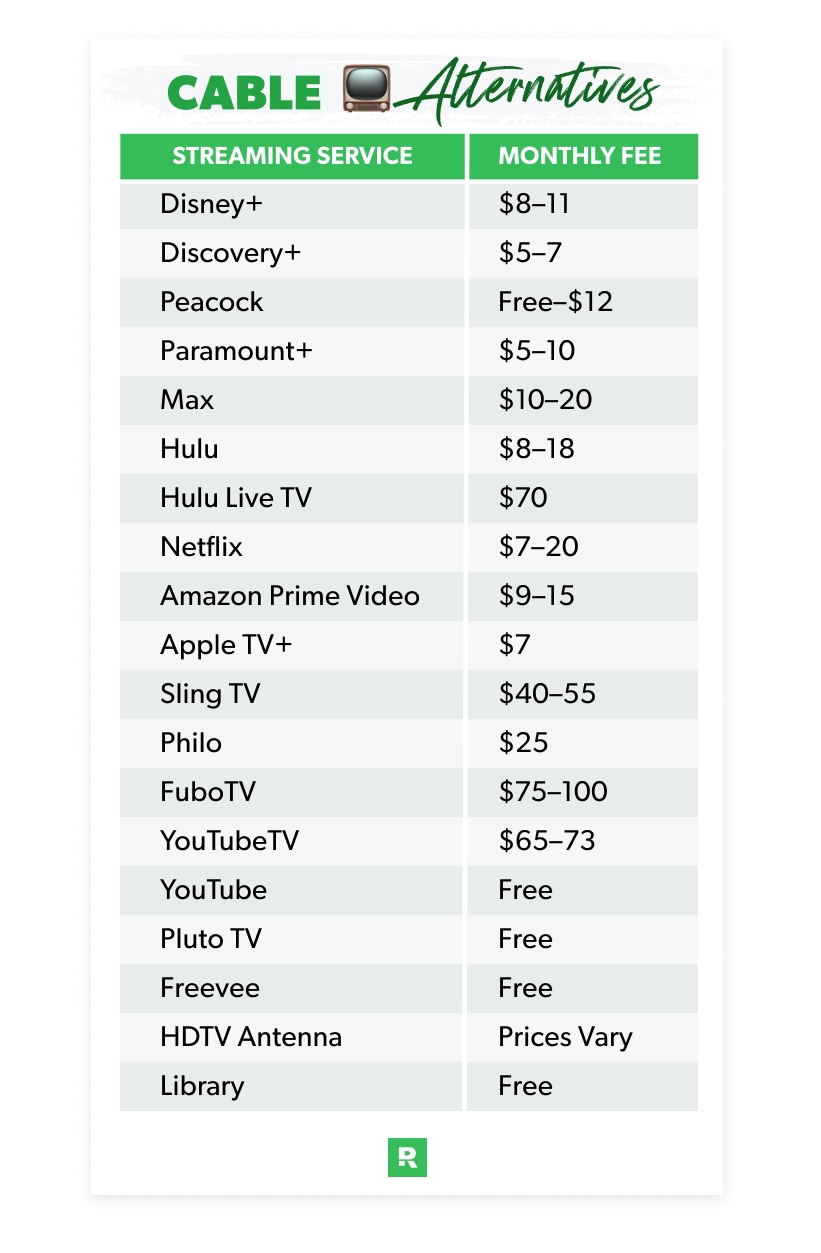 Did you find this article helpful? Share it!