We know—nothing beats kicking back on the couch and getting lost in your favorite show or movie. And today, it's more convenient than ever to watch what you want when you want. Just fire up your favorite streaming services for hours upon hours of entertainment (oh . . . and make sure you go outside every once in a while for some vitamin D, okay?).
Streaming has given cable a run for its money, with more and more people every year seeing streaming as a more convenient and less costly cable alternative. There are so many streaming services out there that it may be hard to pick which ones to subscribe to (there's only so much time in the day to watch, anyway). And they're all offering something for everyone—new content, legacy content (aka old movies and TV shows), low monthly payments, and annual payment options.
So what are the best streaming services for your budget? We've got a few choices for you that are good values in both content and price.
The Best Streaming Services for Your Budget
Netflix
Disney+
Peacock
Paramount+
HBO Max
discovery+
Amazon Prime Video
Hulu
Apple TV+
Criterion Channel
Netflix ($7–20 per month)
Let's start with the granddaddy of all streaming services. Netflix is where the binge-watching phenomenon got its start, and it's no wonder why. The company was built on putting great entertainment at your fingertips—first with DVDs by mail, then with streaming. Ever since Netflix introduced its first streaming platform in the late 2000s and blew up the entertainment industry with the streaming model, it seems like every Hollywood studio and major media company has gotten in on the action.

Start budgeting with EveryDollar today!
While Netflix's inventory of shows and movies from other studios changes a lot, you can always find their acclaimed (and bingeable) originals like Stranger Things, Cobra Kai and The Crown.
And you just can't beat how easy it is to access Netflix. You probably have at least 10 devices in your house right now that came preloaded with the Netflix app. But if you want to stream Netflix in your bedroom while your brother streams downstairs, you'll have to fork over a little more cash for the Standard or Premium plan.
Disney+ ($8–11 per month | 110 annually)
It's "a whole new world" thanks to Disney's flagship streaming service. You can watch original shows and films along with well-known (and some not-so-well-known) classics from Disney's catalog spanning almost 100 years—like Frozen, Mary Poppins, The Jungle Book, Dumbo and everything in between.
Oh, and we do mean everything. Let's not forget all the Marvel, Star Wars, Muppets, Pixar, 20th Century Studios, ABC and National Geographic movies and shows you can handle (because remember, Disney rules the world and owns all those things). Heck, even The Simpsons is on Disney+!
Peacock (free–$10 per month | $50–100 annually)
Like Disney+, Peacock offers content from a major studio's huge film and TV library—only here it's from NBCUniversal. You'll find classics like The Office and Cheers right next to newer releases like Jurassic World: Dominion and Minions: The Rise of Gru.
Peacock also has media hubs for content from other NBCUniversal-owned television brands like Telemundo and Bravo. So you can watch some Real Housewives drama whenever you want. Or if you want to trade angry women throwing champagne at each other for sweaty men throwing chairs at each other, Peacock is the exclusive streaming home for WWE in the U.S. as well (and you'll still have plenty of drama).
The basic version of Peacock is free, which is pretty cool, and technically makes it the cheapest streaming service on this list. And if you want to upgrade to the premium version (which includes access to The Office, by the way), it'll only set you back five bucks. That's a small price to pay for some "beets, bears and Battlestar Galactica" (that's not just a joke—Peacock actually does have Battlestar Galactica too).
Paramount+ ($5–10 per month | $50–100 annually)
Sure, you've probably guessed that Paramount+ is home to all the movie and TV releases of Paramount Pictures. But just like all those other mega studio streaming services, you'll also get access to content from the brands under the Paramount Global umbrella: CBS, Nickelodeon, Comedy Central, MTV and more.
That means you can get your SpongeBob SquarePants fix and fly with Top Gun: Maverick. Paramount+ is also the streaming home of CBS Sports and new Star Trek content. You can even add on Showtime for an extra fee to get even more shows and movies.
All that stuff is great, but it's the theater-to-streaming window that really sets Paramount+ apart. Get this—Paramount+ starts carrying newly released Paramount movies 45 days after they hit theaters (with some exceptions).
So, instead of hauling your family to the real movie theater and spending an arm and a leg on tickets and candy (not to mention the gas to get there), you can save a bunch just by watching the flick in your own home!
HBO Max ($10–15 per month | $100–150 annually)
HBO Max is the streaming service for everything Warner Bros., and it's got a little something for everyone. There are Warner Bros.-branded films and TV shows, Cartoon Network, HBO, TCM, DC Comics (think Batman and Superman), and, of course, HBO Max original content.
This means new and classic favorites like Friends, The Lord of the Rings trilogy, Looney Tunes, The Batman and The Fresh Prince of Bel Air call HBO Max home. And those of you with kids will be excited to know that episodes of Sesame Street air on HBO Max before they go to PBS (got to keep the little ones entertained, right?).
Next to Disney+, HBO Max probably has the biggest lineup of content in terms of value. There's a ton of stuff here you won't find anywhere else. And because of third-party agreements that are already in place on the HBO cable channel, HBO Max gets to reap all the rewards and offer lots of films and TV shows from a wide range of other studios.
discovery+ ($5–7 per month)
If the first thing you do when you stay at a hotel is turn on HGTV or Food Network, then listen up—discovery+ can make all your entertainment dreams come true.
On top of carrying those two ever-popular channels, discovery+ has TLC, Travel Channel, History Channel, Animal Planet, Science Channel, A&E, Lifetime, Magnolia Network, Discovery Channel (obviously) and more.
Discovery+ prides itself on being the home of "real-life entertainment" and has you covered with nature documentaries, food competitions and a whole lot of other reality-based educational stuff. If you're looking for a good way to spend a rainy Sunday afternoon, this is it!
One thing to note: Because of the merger of WarnerMedia and Discovery (creating the new company with a weird name: Warner Bros. Discovery), HBO Max and discovery+ will be merging into one streaming service at some point in early 2023. That means more content for less money (paying for one streaming service is better than paying for two—duh!) and the best of both huge worlds of content. Watch out, Disney . . . WBD is gunning for the title of "owner of everything!"
Amazon Prime Video ($7–15 per month | $69–139 annually)
Amazon—it's not just for shopping. It's also major player in the online streaming market. A membership to Amazon Prime gives you access to a huge streaming selection of popular movies and TV series, plus a bunch of Amazon original series and films. And now that Amazon owns MGM, one of Hollywood's oldest studios, it's got thousands more movies and TV shows to tap into, including the James Bond franchise.
One of the ways Prime Video stands out from the crowd of other streaming services is that it's a streaming service, digital retailer and content hub all rolled up into one. Talk about a great deal!
If Prime streaming doesn't include the show or movie you want to watch, you can usually buy or rent it as a digital download. And for a few extra bucks, you can stream content from individual cable channels like Showtime and STARZ. There are even plug-ins that let you watch programs from other streaming services!
Amazon offers Prime Video as a stand-alone service for $9 per month. But if you can fit it into your budget and you're a frequent Amazon shopper anyway, an even more cost-effective option is to go for the full Amazon Prime subscription for $15 a month or $139 a year. That comes out to just $11.58 per month (which is a little over two dollars more than the monthly basic Prime Video rate). Plus, you get access to all the other Amazon Prime perks, like free two-day shipping, Prime Gaming and Prime Reading. Can't beat that!
If you're a college student, you can save even more on Prime with full membership at $7.49 per month or $69 a year. And if you're struggling on government assistance like EBT or Medicaid, you can also get a discounted membership to Prime (with proof of eligibility) for $7 a month.
Hulu ($8–15 per month | $80 annually)
Hulu is one of the oldest streaming services—it launched way back in 2007 as a possible cable alternative. Even though it's technically owned by Disney (because, like we said, Disney owns everything), most of the content isn't actually Disney branded.
Hulu's a great streaming option if you want to watch current shows right after they air on TV along with on-demand streaming. Hulu has lots of original content as well as movies and shows from third-party studios. And like Amazon, Hulu is a content hub that offers add-ons for both cable channels and other streaming services like HBO Max, STARZ and Showtime (all for an extra fee, of course).
Apple TV+ ($7 per month)
What do you do when you're one of the most powerful tech companies on Earth and have more money to play with than most countries? Start your own streaming service!
Disney might own everything, but Apple has the cash to buy all the original content it needs. In fact, that's what most of the Apple TV+ content is made of. So there aren't a ton of legacy movies and shows to watch.
Just like their powerhouse rivals Netflix and Amazon, Apple TV+ puts their own original television series and movies front and center. And Apple's big money is attracting big-name stars for their content like Will Smith, Tom Hanks and Jennifer Lawrence.
Apple TV+ is also the exclusive home for the classic Peanuts TV specials like A Charlie Brown Christmas and It's the Great Pumpkin, Charlie Brown, along with brand-new Peanuts content. That's right—you can blame Apple for not being able to see Charlie Brown and Snoopy on network TV anymore. Good grief!
Here's a bonus: If you buy an Apple device, you'll get the streaming service for free for three months. So if you were already saving up for a new gadget, they just sweetened the deal. But look out—your subscription will auto-renew after those 90 days are up.
Criterion Channel ($11 per month | $100 annually)
Attention film snobs! Tired of all the other streaming services not supplying enough content to suit your fancy taste in cinema? Look no further than the Criterion Channel to scratch that itch.
The Criterion Collection is known by hardcore movie fans for releasing quality DVDs and Blu-rays of both classic and current films with amazing bonus features. And since 2019, Criterion has had a streamer with an ever-growing and ever-changing library of titles from around the world—from small art-house flicks to underappreciated classics and foreign gems. They've got something to keep even the pickiest people happy.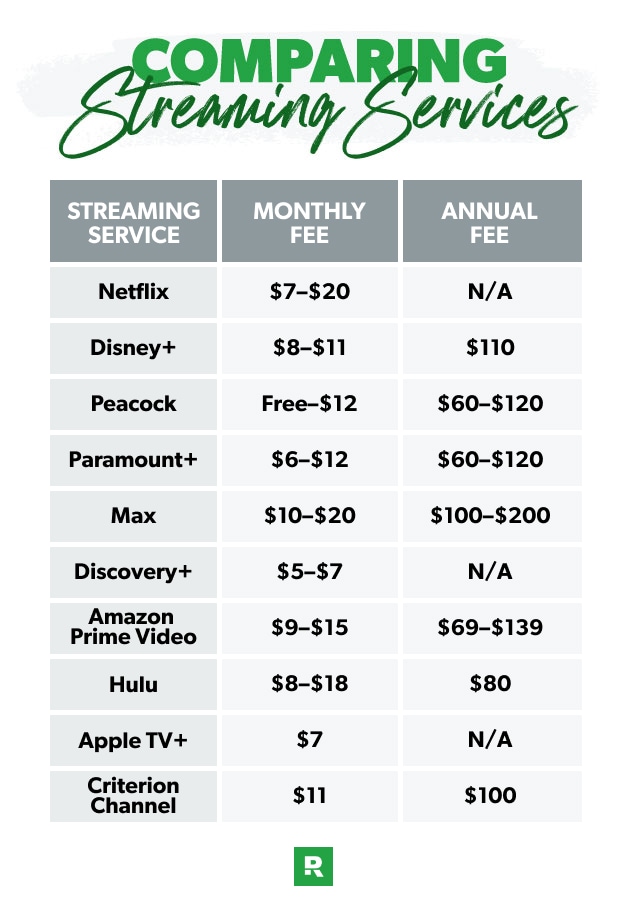 Live TV Streaming
Let's say you're old-school and want that pre-binge-era feeling of watching your favorite shows in real time or checking out some live sports games, but you don't want the hassle of an expensive cable package.
Well, there are several streaming services offering live TV options that are great cable alternatives. Some of these streaming TV services even act like cable providers but stream the same channels and content over the internet at a cheaper price.
ESPN+ ($10 per month | $100 per year)
Got a sports nut in your house? This might be the streaming TV service for you. ESPN+ has lots of live sports going on all the time from professional and amateur leagues across the country and around the world—football, hockey, baseball, tennis, soccer, golf and more. ESPN+ is also the streaming home of UFC fights (but you've got to pay extra for that).
Though most of the focus is on live TV, there's actually original programming on ESPN+, like documentary films and series. And if there's a place in your budget for fantasy sports, your ESPN+ subscription gives you access to exclusive tools to help you stick it to your competitors.
Now, you might be thinking, Wait, what about the actual ESPN TV channel? Well, ESPN+ was actually created to work together with the ESPN cable network (we love a good teamwork story). But that means you won't find any games offered on the ESPN cable channels on ESPN+.
FuboTV ($70–100 per month)
FuboTV lets you stream hundreds of local sports, entertainment and news channels in your area. It's among he best cable alternatives—especially since there are several different plans, each with more channels and perks than the next!
Let's look at the two ends of the spectrum. The starter plan (Pro) covers over 100 channels, cloud DVR (for recording your favorite shows), and family share on unlimited screens. The Ultimate plan gives you over 200 channels (including Showtime), cloud DVR, a sports add-on with NFL RedZone, and more.
YouTube TV ($65 per month)
Not to be confused with the free viral video app where everyone watches cute cat videos, YouTube TV actually lets you stream your favorite channels—more than 100 of them, to be exact. That means access to local cable TV channels, plus 24-hour news networks like CNBC, Fox News and CNN. There's unlimited DVR space to record your favorite shows, as well as add-on networks like HBO (which comes with HBO Max, by the way).
YouTube TV boasts a pretty good lineup of sports programming like ESPN and CBS Sports, plus super specific channels like the Tennis Channel and the Olympic Channel. Oh, and we can't forget to mention all the add-ons that give you even more sports options.
Right now, YouTube TV is offering the first three months of a subscription for $55 a month—that's $10 off the listed price.
Sling TV ($40–55 per month)
Sling is an interesting cable alternative. The two main packages—Sling Orange and Sling Blue—have different channels (though most overlap) that have different audiences in mind.
If you want ESPN or stuff for your kids like the Disney Channel or Nick Jr., go Orange (31 channels, $40 per month). If it's news and NFL action you're after, go Blue (41 channels, also $40 per month). Or you can opt to get both (and all 47 channels) for $55 per month. There are also $6 to $11 add-on packages for sports fans, kids and movie buffs.
One of the reasons why Sling can offer that many channels for so cheap is because they don't carry your local network channels (CBS, NBC, ABC, Fox, etc.) on their streaming service. They encourage you to buy a digital antenna and pick up those channels over the air for free.
In fact, if you prepay for two or three months of service (depending on the package), Sling will give you a basic or mini antenna for free. If you want to be really fancy, they'll cover part of the price of one of their super-duper antennas that allow you to record over-the-air shows on DVR.
If you've seen everything there is to see on Netflix and Hulu already, try out Sling. They run pricing discounts pretty often (like half off your first month), so wait for a price cut to hit before you sign up if you want to save even more.
Philo ($25 per month)
Philo is a live TV alternative that's even more bare bones than Sling—and cheaper. You can get 72 popular cable channels like Nickelodeon, AMC, TLC and, yep, even Hallmark for $25 a month. There are also add-on options for more movie channels (for an extra $3 a month) as well as limited on-demand streaming.
Philo's biggest claim to fame? You can stream it on up to three devices and record as many shows as you want on the cloud DVR (and keep them for up to one year in storage). That means no more family feuds over what you watch every Friday night!
But here's the catch: Like Sling, Philo doesn't carry your local network channels, so you'll need to get an antenna for those. And the super low cost comes from the fact that Philo doesn't carry any major sports or news networks. So if you're not much of a sports junkie and are sick of the mainstream news (and who isn't these days, really?), you might want to check out Philo.
Hulu Live TV ($69 per month)
If you love streaming Hulu's shows but also want access to things like live sports and news, then opting for Hulu Live TV might be the right fit for you. It has over 100 of the most popular channels to choose from, as well as add-ons for things like movies and sports. Hulu Live TV can also record shows so you can watch them later.
This all sounds great, but Hulu Live TV might be the most frustrating of the live streaming options. See, Hulu Live TV isn't available as a simple addition to the Hulu streaming platform. You either pay $69 a month for just Hulu Live TV (no Hulu streaming) or you can get the Disney bundle (Hulu, Disney+ and ESPN+) with Hulu Live TV starting at $70. More on streaming bundles later.
Streaming Services That Offer Some Live TV and Events
While the bulk of their content is on-demand, some of the streaming services we've mentioned occasionally offer limited live TV like series, events, sports and news. For example, Disney+ recently streamed Elton John's concert at Dodger Stadium live (which then became rewatchable as an on-demand program after the event).
Want Some Ads With That?
One of the many perks of using a streaming service was watching whatever you wanted with no annoying commercials. No one wants Floor Is Lava interrupted by a repetitive commercial for some prescription drug with a laundry list of side effects!
We say "was" because those commercial-free days are gone . . . unless you're willing to pay more.
That's right—some of the most popular streaming services are going to an ad-based format. Streaming services need lots of money to get up and running, and the big Hollywood studios that run them want to make back that money as quickly as possible (oh, poor babies!). So here we are.
Hulu was actually one of the pioneers in the ad-based streaming world, having started with both ad-full and ad-free tiers. Free streaming services usually have ads (they've got to make money somehow, right?), but now, the big boys are starting to play in that sandbox.
Here's a breakdown of all the streaming service ad tiers:
Service

Plan

Monthly

Annual

Disney+
Basic (ads)
$7.99
N/A
Premium (no ads)
$10.99
$109.99
Hulu
Ads
$7.99
$79.99
No ads
$14.99
N/A
ESPN+
Ads only
$9.99
$99.99
Netflix
Basic with ads
$6.99
N/A
Basic
$9.99
N/A
Standard
$15.49
N/A
Premium
$19.99
N/A
Paramount+
Essential (ads)
$4.99
$49.99
Premium (no ads)
$9.99
$99.99
HBO Max
Ads
$9.99
$99.99
No ads
$14.99
$149.99
discovery+
Ads
$4.99
N/A
No ads
$6.99
N/A
Peacock
Free (ads)
$0.00
$0.00
Premium (ads)
$4.99
$49.99
Premium Plus (no ads)
$9.99
$99.99
Ad-based tiers have added lots of cheaper options for people to enjoy streaming. And you can still technically get the ad-free experience if you want it.
But here's the kicker: Even if you spring for the ad-free tiers on some of these streaming services, there are still certain shows where the streamer is forced to give you commercials (curse you, complicated TV contracts!). And live TV feeds will still have commercials, of course. So you might not escape the medicine commercials with those long lists of side effects, even if you pony up more money. Sigh.
Streaming Deals
The price of streaming services can add up if you're not watching your numbers. But it's not too difficult to find deals out there to make streaming cost a little less. Sometimes, they won't cost anything at all!
Bundling
As you know, Disney owns all the things—and in the streaming world, they've got three of the biggest players: Disney+, ESPN+ and Hulu.
The good news is that Disney's domination of entertainment might actually work out in your favor . . . a little bit. They're offering all three services in streaming bundles for a reduced price, beginning at $10 a month. Sorry, there's no annual plan. Here's the Disney streaming bundle breakdown:
Service

Plan

Monthly

Disney Bundle
Disney Bundle Duo Basic (ads): Disney+ and Hulu
$9.99
Disney Bundle Trio Basic (ads): Disney+, Hulu, ESPN+
$12.99
Disney Bundle Trio Premium: Disney+ (no ads), Hulu (no ads), ESPN+ (ads)
$19.99
Legacy (existing subscribers only): Disney+ (no ads), Hulu (ads), ESPN+ (ads)
$14.99
Hulu + Live TV Bundle
Basic (ads): Hulu + Live TV, Disney+, ESPN+
$69.99
Premium: Hulu + Live TV (no ads), Disney+ (no ads), ESPN+ (ads)
$82.99
Legacy (existing subscribers only): Disney+ (no ads), Hulu + Live (ads), ESPN+ (ads)
$74.99
Streaming Giveaways
Believe it or not, there are streaming deals out there with companies you're probably already using. Got a T-Mobile or AT&T phone service? Shop at Walmart? Check out the deals these companies are offering. Check out the deals these companies are offering (and never be afraid to ask about new promos):
Verizon: free Disney Bundle and discovery+ (discovery+ only free for six months)
T-Mobile/Sprint: free Netflix, Apple TV+ and Paramount+ (Paramount+ only free for one year—Essential plan only)
AT&T: free HBO Max (only certain wireless plans apply)
Walmart+: free Paramount+ (Essential plan only)
Streaming on a Budget
This definitely isn't a full list of all the streaming services that exist, but these are what we consider the best streaming services. If you still aren't sure what's worth it and what isn't, just dip your toe in the water. You can usually get a free trial of almost any of these streaming services before you fully commit.
Something else to remember: Be sure you're actually saving money here. Even though streaming, at first glance, is a great alternative to getting cable, the total cost of all those individual services can get up there. So, you need to be smart about which ones you subscribe to.
That's why it pays (literally) to have a budget—a zero-based budget—that tells you exactly where every penny you earn is going each month. A budget also shows you where you're spending too much (like too many streaming services). If you're looking for more ways to cut back, getting on a monthly zero-based budget is the only way to go.
To get you started zero-based budgeting, we have a nifty app called EveryDollar. No, it won't stream The Mandalorian, but if you want a great tool to get all your money goals in order, "this is the way." And best of all: There's a free version to get you started! And who doesn't like free?
So what are you waiting for? Download the app today!