"California, here I come!"
Is the Golden State calling your name? With its year-round pleasant climate, popular industries, world-famous landmarks, and wide variety of places to live, who wouldn't want to call California home? It's such a beautiful place that people have been writing and singing songs about California for generations!
Now granted there are lots of issues with California right now—particularly the expense of living there. But if your career path is leading you to a field like the tech or entertainment industries, California would be the place to go.
So let's take the top down, break out the shades, and crank up your themed playlist. It's time for a road trip up and down the Golden State to find the best places to live in California.
Vroom! Here we go!
A Divided State of Mind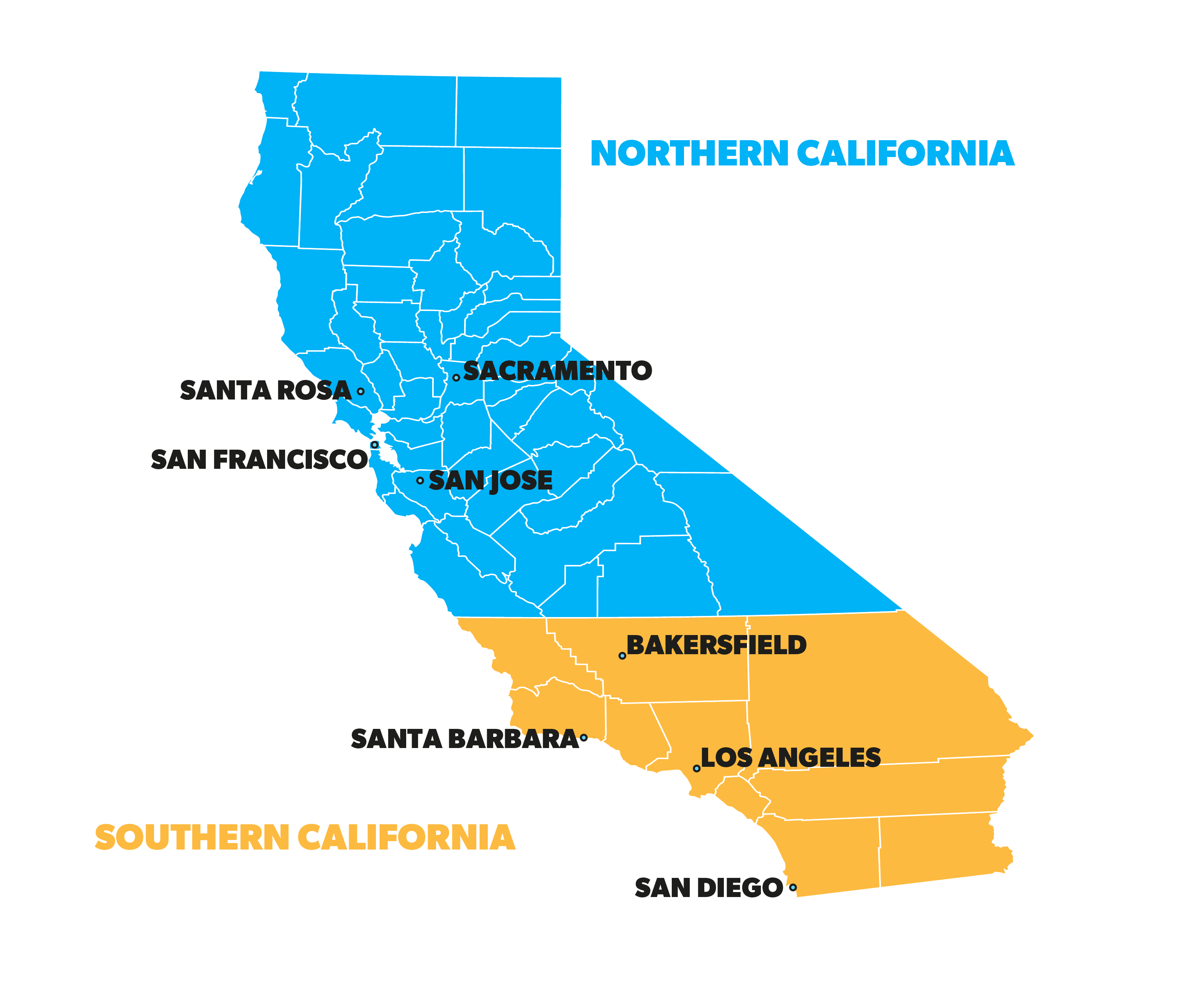 One thing you have to know about California from the get-go is that it's a big state, the biggest in the union in terms of population and the third largest in terms of total area (though the population growth has slowed in the last few years).1 California also has lots of different places to live—geographically, economically and culturally. If it's California-style living you're after, you pretty much have your pick of whatever lifestyle you're into: rural hayseed, urban hipster, beach bum, starving artist, suburban soccer mom, mountain man, desert nomad. California's got it all!
Because the state is so large and diverse, California is generally split into two regions: Northern California (NorCal) and Southern California (SoCal). Both regions share qualities, but they also have their own vibes. There are also subregions within the two big ones and some of these subregions have their own identity entirely. But for the sake of simplicity, we're just using these two basic regions.
Best Places to Live in Northern California
Spanning from the Oregon border to the base of the Central Valley, NorCal is home to fancy wineries, world-famous tech companies, sustainable farms, culture-focused cities, and foggy (but still beautiful) coastlines. It's a region that is as rural as it is urban—creating a unique blend of both.
San Jose
Dionne Warwick may not know the way to San Jose, but you probably know several of the tech companies based there: Zoom, Adobe, Netflix, Cisco and almost 7,000 more.2 And the biggies like Apple, Google and Meta are also fairly close. (Well, they're already close to you . . . their apps are right there on your phone, but you know what we mean).
San Jose also has a thriving sports scene, with the San Jose Sharks hockey team tearing up the ice at SAP Center and the San Jose Earthquakes on the soccer field at PayPal Park. Believe it or not, Levi's Stadium, home of the San Francisco 49ers, is closer to San Jose than San Francisco!
Its reputation as the Capital of Silicon Valley also makes San Jose one of the most expensive cities in the world to live in. So unless you've got one of those high-paying tech jobs, your options to live in the city proper will be very limited.
| | |
| --- | --- |
| Metro Area Population* | 1.95 million |
| Median Household Income | $139,8923 |
| Median Home Price | $1.4 million4 |
| Median Monthly Rent | $2,5325 |
| Average Annual Rainfall | 26.2"6 |
*For each city, the Metro Area Population numbers include the city
together with the surrounding urban and suburban areas.
San Francisco
Tony Bennett left his heart in San Francisco—and maybe your heart belongs there too. The City by the Bay is one of the most cultured places in the country, with many famous landmarks and districts offering their own versions of food and fun. There's the Golden Gate Bridge, Fisherman's Wharf, Chinatown, Ghirardelli Square, Lombard Street and loads more.

See how much house you can afford with our free mortgage calculator!
Sports fans will find lots of teams to root for in the San Francisco metro area. There are two baseball teams (the San Francisco Giants and the Oakland A's—the latter plays just across the bay) and a basketball team (Golden State Warriors). The San Francisco 49ers also call the City by the Bay their home. But as we pointed out earlier, their stadium is a lot closer to San Jose than their hometown!
And much like San Jose, San Francisco is a very expensive place to live. Housing and rent are among the highest in the country—no doubt due to the city's proximity to Silicon Valley (lots of big tech companies call San Francisco home as well). The city also has a major issue with crime and homelessness. All part of life in the big city—or the City by the Bay, at least.
Also, don't call it Frisco. The locals hate that. Seriously.
| | |
| --- | --- |
| Metro Area Population | 4.62 million |
| Median Household Income | $116,0057 |
| Median Home Price | $1.09 million8 |
| Median Monthly Rent | $2,6449 |
| Average Annual Rainfall | 22.9"10 |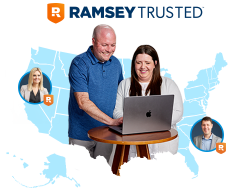 Don't buy or sell without an agent you can trust.
There are RamseyTrusted real estate agents all over the country who are ready to help you win.
Find a Local Agent
Sacramento
The Middle of the Road (yes, that was a band back in the 1970s) called Sacramento "a wonderful town" and praised the city's great weather and good feelings. Sacramento does indeed have all those things and more—a unique city at the crossroads of both history and current trends. Sacramento is also one of the most affordable cities to live in California.
Even though it's the state capital and one of the most politically powerful cities in the country, Sacramento (known to locals as Sac or SacTown) has a pretty casual, earthy vibe. The kids these days call it crunchy—a lifestyle of nature loving and organic food.
Besides being the California capital, Sacramento is also considered the "Farm-to-Fork Capital," with more than 1.5 million acres of farmland surrounding the city and a year-round growing season that supports the majority of the city's restaurants and food markets.11 The largest certified farmers market in the state also sets up shop there.
But Sacramento isn't all about crunchiness. The Old Sacramento section of town brings the city's frontier days to life and includes places like Sutter's Fort, where the discovery of some sparkly yellow rocks kicked off the California Gold Rush in 1849. The city is also home to the Sacramento Kings NBA team (at Golden 1 Center) and the Sacramento Republic FC soccer team (at Papa Murphy's Park).
| | |
| --- | --- |
| Metro Area Population | 2.41 million |
| Median Household Income | $84,42112 |
| Median Home Price | $600,00013 |
| Median Monthly Rent | $1,68314 |
| Average Annual Rainfall | 24.1"15 |
Santa Rosa
ABBA sang about "giving anything to be back home in Santa Rosa" (even though they were technically from Sweden!), and why wouldn't they? Located in the middle of California's wine country, Santa Rosa is a living postcard of a city—small and quaint with beautiful buildings and scenic streets. And its proximity to fertile farmlands and wineries of Sonoma County makes Santa Rosa a hot spot for fine dining and wining.
If you're a fan of Charlie Brown and his dog Snoopy, Santa Rosa is the place for you. The city's most famous resident was probably Charles M. Schulz, the creator of the Peanuts comic strip. The characters are all over the city. "Sparky" (as his friends called him) had breakfast and lunch every day at the Warm Puppy Café in the Redwood Empire Ice Arena, which he helped build. And the Charles M. Schulz Museum and Research Center, located across the street from the ice arena, is one of the city's top attractions.
But all the tree-lined streets, decent weather, fine food, Peanuts characters, and flowers for days come with a cost. While it's not as expensive as San Jose or San Francisco, Santa Rosa is still up there.
| | |
| --- | --- |
| Metro Area Population | 485,887 |
| Median Household Income | $94,29516 |
| Median Home Price | $942,00017 |
| Median Monthly Rent | $1,90618 |
| Average Annual Rainfall | 30.4"19 |
Best Places to Live in Southern California
Now we're going to drive down the I-5 (or the 101, depending on whether you want a view of the coast along the way) and straight into the bumper-to-bumper traffic of SoCal.
Okay, that might be a slight exaggeration—NorCal has its own share of traffic snarls. But SoCal is definitely a beast all its own. While NorCal is more spread out with lush, fertile valleys and tall mountains, and a few major cities sprinkled throughout, Southern California is more urban—and that includes lots more traffic. There are city centers every few miles. But that doesn't mean there aren't some nice spots to land there.
San Diego
According to the classic crooner Mel Tormé, "dandy" San Diego is the place "where the sweet perfume of the waterfront fills the air." Located on the Pacific coast just a few miles from the Mexican border, San Diego is a classic California city—modern and sophisticated with a beach town soul. It's urban and suburban, flat and hilly, new and historic. San Diego is also a military city with a rich legacy. Naval Base San Diego is the primary port for the United States Navy's Pacific Fleet and among the city's top employers.20
Besides its miles of bodacious beaches and beautiful bays, San Diego is also home to or near some world-famous attractions and events like the San Diego Zoo and Safari Park, SeaWorld San Diego, LEGOLAND® California, Balboa Park, Mission San Diego, Hotel Del Coronado, and the annual San Diego Comic-Con. And the San Diego Padres baseball team plays at Petco Park—right in the heart of the city.
| | |
| --- | --- |
| Metro Area Population | 3.29 million |
| Median Household Income | $91,00321 |
| Median Home Price | $887,56022 |
| Median Monthly Rent | $2,56623 |
| Average Annual Rainfall | 10.7"24 |
Santa Barbara
Nick Jonas once sang that New York City was so far from Santa Barbara, and he's obviously right—both geographically and culturally. You'll find no skyscrapers or typical urban sprawl there. But Santa Barbara is not just another California coastal city. Nestled between miles of picture-perfect coastline and a magnificent mountain range under almost constant sunshine, Santa Barbara is among the most beautiful places in the U.S. and is widely known as the American Riviera.
Santa Barbara is also a historic city. It's the site of Mission Santa Barbara—the 10th of California's 21 missions established by Franciscan Catholic friars in the 1700s and 1800s.25 The Santa Barbara mission is called "the Queen of the Missions" because of its unique dual bell towers and picturesque setting. If you're planning on putting your kids through a California public school, they're going to learn all about these missions, so you might as well start now!
What comes with all that beauty and history is a steep cost of living. With home prices in the millions, Santa Barbara is among the most expensive places to live in California. So if you want to live on the American Riviera, be sure you're landing a job with a great income!
| | |
| --- | --- |
| Metro Area Population | 446,475 |
| Median Household Income | $84,84626 |
| Median Home Price | $1.25 million27 |
| Median Monthly Rent | $2,87528 |
| Average Annual Rainfall | 16.2"29 |
Los Angeles
"I love L.A.!" Those are the words Randy Newman sang way back in 1983—and there definitely is lots to love about the City of Angels, even today. Los Angeles is the largest city in California and second-largest population center in the country after New York City.30 It's also just as central to modern American pop culture as the Big Apple. L.A. is the entertainment capital of the world and birthplace of the American film industry. And with its year-round good weather, L.A. is still the place where most movies and TV shows are made.
The L.A. metro area also has some of the world's most famous attractions: the Hollywood sign, the Disneyland® Resort, Griffith Observatory, Universal Studios Hollywood, the Santa Monica Pier, Olvera Street and more. And there are 11 pro teams from every major sport—baseball, football, soccer and hockey—who call Los Angeles home.
So there are lots of people and there's lots to do in L.A. But unlike New York, the L.A. area is very spread out. So you'll definitely need a car to get around . . . as does everyone else—and that's where the traffic comes in. Aside from the traffic, there's also a considerable amount of crime and homelessness, environmental hazards like smog, earthquakes (which is something the entire state has to deal with) and wildfires, and a high cost of living. So be prepared for all of it.
| | |
| --- | --- |
| Metro Area Population | 13 million |
| Median Household Income | $82,50331 |
| Median Home Price | $949,44432 |
| Median Monthly Rent | $2,20533 |
| Average Annual Rainfall | 14.1"34 |
Bakersfield
Country legend Buck Owens walked the streets of Bakersfield in both song and real life, "trying to find me something better"—and he found it. Owens pioneered the "Bakersfield Sound" of country music in the city, and it became his hometown. He's still a local hero and Buck Owens Boulevard is Bakersfield's main thoroughfare off Highway 99.
If you want the SoCal experience, but want a slower, less urban setting, look no further than Bakersfield—literally. Located on the northern end of SoCal and the southern end of the Central Valley, this town is probably one of the most un-SoCal places in the region. More farmland than freeways, Bakersfield specializes in both agriculture and energy production, as it's the largest producer of oil in all of California.35 It's also one of the most affordable places to live in the state. And because Bakersfield is just a couple of hours from the L.A. area, you can still visit all the fun stuff down the Grapevine (that's what they call the portion of the I-5 between Bakersfield and the L.A. basin).
It may be a slower pace of life, but that doesn't mean Bakersfield isn't alive with culture. Given its place in country music history, Bakersfield is known as the Country Music Capital of the West Coast and maintains a thriving live music scene. Buck Owens' Crystal Palace is a famous venue in the industry and maintains a museum dedicated to Owens as well as a restaurant.
| | |
| --- | --- |
| Metro Area Population | 917,673 |
| Median Household Income | $58,21736 |
| Median Home Price | $387,00037 |
| Median Monthly Rent | $1,15038 |
| Average Annual Rainfall | 11.1"39 |
Underrated Places to Live in California
The cities mentioned above aren't the only great places to live in California. There are hundreds more communities that make for a fine place to call home. And they're all located near the major city centers, just not in them.
Torrance (Los Angeles area)
Chino Hills (Los Angeles area)
Oxnard (Los Angeles area)
Carlsbad (San Diego area)
More Beautiful Cities in California
It's true that Santa Barbara is among the most beautiful cities in California, but there are so many spots in the Golden State that are just as beautiful (and some are just as expensive to live in).
Carmel-by-the-Sea (NorCal)
Best Places to Live for Families in California
Got kids? There are several cities in California that are great to raise a family in—and they may not be the big cities. In fact, because some of the cities we've highlighted are very expensive to live in and have issues with crime, they may be better suited for young adults without kids who have more disposable income (kids cost money, you know). Here are a few examples:
Is California an Affordable Place to Live?
As George Kamel said during our Real Estate Reality Check live event earlier this year, there are some things in life you can't control in the current economy: interest rates, the Federal Reserve, investors, gas prices and California.
California may be a beautiful place, but it's also expensive—especially in the population centers. Because it's an in-demand place to live (with weather that good, can you blame people?) and is home to lots of hot industries, everyone wants to live there. And that means a strain on the housing supply. Add to that a state government that has a nasty habit of finding new ways to tax and limit the supply of new housing and you've got quite the combination for rising costs. And let's not forget about rising inflation.
It's gotten to the point where hundreds of thousands of Californians have left their home state for more affordable alternatives like Tennessee and Florida—so much so that Cali lost a federal congressional seat during the last census! There are lots of reasons why so many ex-Californians have hightailed it out of the Golden State, but probably right at the top is the cost to live there.
The Most Affordable Places to Live in California
Aside from Sacramento in the north and Bakersfield in the south, here are a few more places that are relatively affordable in California:
Ready to Move to California?
So, your heart's set on "getting out there and having fun in the warm California sun"? Then your next step is to work with a real estate agent who can find you the right home in the area you want to permanently park your car (and maybe even write your own song about!). And a great way to find a California-based agent who fits the bill is to take a look at the RamseyTrusted program. We'll get you in touch with an agent who will put your needs first and take care of you the Ramsey way. That's why they are the only agents who carry our RamseyTrusted shield of approval.
Did you find this article helpful? Share it!