Nobody buys or sells a home in the winter, right? Well, if you checked the numbers, you'd find that plenty of homes are sold during the coldest months of the year. From December 2022 to February 2023, nearly 800,000 homes sold in the U.S.1 That's a lot of houses!
In other words, the number of homes bought and sold during the winter is nothing to sneeze at. Plus, since most buyers search for homes online these days, it's not like outdoor temperatures are keeping potential buyers from looking around.
If you're wondering whether you should put off buying or selling a home until spring, there's no need to wait. In fact, there are several advantages to buying or selling while Jack Frost is nipping at your nose. Let's look at some of the biggest ones and go over some tips that'll get you moving in the right direction.
Tips for Selling in the Winter
Nothing says welcome home quite like the smell of a gingerbread candle and some Christmas lights—it's easier to stage a house and make it feel like home in the wintertime!
Here are a few tips to help you set the buying mood:
Keep it simple. If you're selling around a holiday and have decorations up, make sure they accent—not overpower—a room. Less is more.
Crank up the cozy. Light a fire in the hearth, play soft holiday music in the background, and prepare fresh-baked goods or mulled cider for guests.
Shine a light outside. Winter days get dark early. Brighten your home's exterior with outdoor spotlights.
Take down outside decor. Nothing says "my home won't sell" like a house with reindeer inflatables on the lawn in February.
Avoid a winter wonderland. Snow is great—unless we're talking about outside shots of your home. Buyers want to see details of the house, not a blanket of snow. Make sure you have clear-weather photos of your home.
Remember, the nicer your home looks, the more likely it is to sell—and for more money.
Advantages to Selling Your Home in the Winter
Okay, huddle up, home sellers. Let's unpack the perks of selling when the air gets chilly.
1. You'll face less competition.
Come spring, more sellers will flood the market and your home will be just another fish in a great big pond. But in winter, you've got a limited number of sellers on the market. For example, the number of active home listings in the U.S. during 2021 and 2022 dipped during the winter and didn't begin rebounding until the spring of the following year.2
If that pattern repeats in 2023–2024, you'll have less competition on the market if you list your home during the winter! Buyers have fewer homes to choose from, which means you could sell your house faster.
2. Buyers often mean business.
Most folks want to curl up under a blanket next to a warm fire on a cold winter day. If a buyer is trudging around in freezing weather or breaking away from their holiday schedule to look at your home, they must be serious. That's because many winter buyers are working against a deadline, whether it's an expiring lease, relocation or a contract on their current home. They may also be trying to snag some tax breaks before the end of the year.
3. People have time off during the holidays.
You may think people are less likely to see your home in the midst of their hectic holiday schedules. That can definitely be true. But keep in mind, many people also have more time off around the holidays. That means more time for browsing their favorite home apps, dreaming about their future decor, and even scheduling home showings.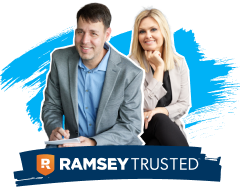 With the right agent, taking on the housing market can be easy.
Buy or sell your home with an agent the Ramsey team trusts.
Connect for Free
Tips for Buying in the Winter
Alright, home buyers. Now it's your turn. Below are some tips for buying a house when the weather outside is frightful.
Don't buy until you're debt-free with an emergency fund. Hold off on buying a home if you haven't paid off all your consumer debt (think credit cards, car notes and student loans) or saved up a full emergency fund worth 3–6 months of your typical expenses. You should prioritize those financial goals first.
Save up a strong down payment. You need to make a strong down payment when you buy a home, because a bigger down payment means smaller monthly payments and less debt overall. Aim for a 20% down payment since that'll keep you from having to pay monthly private mortgage insurance fees. (A 5–10% down payment is fine if you're a first-time home buyer, though.)
Stick to your budget. Sure, home prices might drop a bit with the temperatures. But that doesn't mean you should justify spending any more than 25% of your monthly take-home pay on monthly housing payments. To make sure your winter home purchase is a blessing and not a curse, calculate how much house you can afford and stick to it.
Negotiate with confidence. Remember, there isn't much competition. So, sellers will probably be willing to work with you. If the home inspection brings up some issues, don't be afraid to ask your seller to make repairs or lower the asking price.
Advantages to Buying Your Home in the Winter
Now, here are some of the biggest advantages to buying a home in winter:
1. You'll have less competition.
Home sellers aren't the only ones who face less competition in during the winter! As we saw earlier, home sales take a bit of a plunge during the winter. So, typically, you won't have to deal with as many competing buyers as you would if you waited to buy in spring. Which probably means you don't have to worry as much about someone else snagging your dream home before you can submit an offer, or about getting caught in a bidding war.

Find expert agents to help you sell your home.
It's kind of like when someone brings in holiday treats to share with the office but most of your coworkers are out of town. You get first dibs on the best desserts!
2. You may get a better deal.
Since supply and demand for housing are both down during the winter months, you might be able to save money on your purchase! Hard to believe? Get this: The median sales price of homes sold from December 2022 to February 2023 was about $20,000 lower than homes sold from March to May 2023.3
That means people who bought their homes during winter saved tens of thousands of dollars compared to those who waited to buy in the spring or summer! That might make any challenges of buying during the wintertime worthwhile.
3. You can lock in the current mortgage rate.
As you've probably heard, interest rates have climbed up a lot lately. Well, there's a chance that trend will continue moving forward since the Federal Reserve (the Fed) could raise the national interest rate again at its next meeting. So, if you're going to use a mortgage to buy a house, locking in your rate now could save you from paying even more down the road. And if rates wind up going down over the next year or so, you can always refinance.
If you follow these tips, there's hope you'll find the house you want and get a good price on it this winter.
Ready to Buy or Sell Your Home in Winter?
With all these advantages on your side, hopefully buying or selling your home in the winter won't feel so daunting. We know you've probably got a lot on your plate this time of year though. So, we've put together some resources to help you check everything off your list. For a step-by-step plan that'll walk you through every part of the process, use our free Home Buyers Guide or Home Sellers Guide.
If you're ready to get the job done now, your next step is to find a real estate agent. To quickly find a top-notch agent, try our RamseyTrusted program. We only recommend expert agents who are high performers with at least two years of full-time experience. Our team vets all the agents in our network to make sure they care more about your financial goals than their bottom line.
Find a RamseyTrusted agent near you!
Expert Advice Delivered Straight to Your Inbox
Our weekly email newsletter is full of practical advice you can easily apply to your daily routine so you can win with your money, relationships and career.
Did you find this article helpful? Share it!