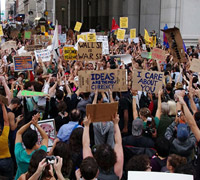 By Dave Ramsey
"I'm mad as hell, and I'm not going to take it anymore!" Yeah, that's great. But what do you want? What are your goals? What are your demands? What result are you looking for?
The beauty of being vague is that anyone who has any emotion can get caught up in the excitement and join your crusade. They'll just get mad at something and assume that you're both mad about the same thing. Put a few hundred of these people together, and boom. You've got a crowd, a headline and a lot of attention … but no message.
A lot of people on Twitter are saying I totally agree with the Occupy Wall Street (OWS) demands and goals. The only problem is that I have no idea what their demands and goals are. And neither does anyone else. If all you ever do is stomp around, yell and hold up signs protesting a million different things, sure you'll get some attention, but over time, you'll just look foolish. You end up coming across like a three-year-old having a temper tantrum.
This is what's happening to the OWS movement. They're being discredited because no one has stepped forward and really stated what it is they're after. The whole group is just coming across like a bunch of jacked-up, jobless, wannabe hippies. That's not going to change anything in this country. You've got to state your goals clearly if you want to accomplish something.
So in the absence of any clear goals, let me comment and offer some helpful advice in some areas that seem to be getting a lot of disorganized OWS attention.
"No Government Bailouts!"
Banks and big companies should not receive taxpayer money for a bailout while their CEOs are making hundreds of millions of dollars. If that's your gripe, then you're protesting in the wrong location. Pack up and head to Washington, D.C., to deliver your message to the current administration. Don't get me wrong—I totally support a company's freedom to pay their leaders well. I just don't believe that I, as a taxpayer, should subsidize those huge salaries in the form of taxpayer bailouts. I pay my own team members; I don't need to pay everyone else's too.
By the way, you may be shocked to learn that the Tea Party agrees with you on this one—and so do I.
"Down With Corporate Greed!"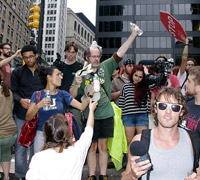 Gordon Gekko was wrong. Greed is not good. Greed is bad—very bad. It's a spiritual disease, and it is a disease that sadly affects a lot of companies across the country. If you believe a specific company is acting purely out of greed, then don't just get mad—do something. Point out where and how they're greedy and let the world know. Stop doing business with them. If enough people listen to you, the company will get the message because you'll hit them where it hurts: the bottom line. If they don't get their act together, then they'll go out of business and another business will take their place.
But if you're saying that all businesses are greedy and that capitalism itself is evil and ineffective, then I'm sorry—you're just being stupid. You're being misled and misinformed by some of the louder voices around you. Are you wearing clothes? Have you eaten any food lately? Do you have an iPhone in your pocket to check in with Twitter and Facebook while you're out marching around? Good. All of those products and services are brought to you by quality companies dedicated to serving you well in a capitalistic system that works just fine.
"Wall Street Is Evil!"
If you have this painted on a sign, well, now you just look ignorant. Wall Street is a street that people drive on. The New York Stock Exchange is a building where people exchange stocks in New York. This is the flea market of the financial world. Don't turn Wall Street into some terrible monster attacking American citizens. It's just a road with some buildings on it.
Want to build a non-anxious life? Learn how in Dr. John Delony's new book.
But here's what happens. Sometimes when people don't understand something, they start to fear it. And as the fear grows, it turns into anger. But just because you don't understand something, you shouldn't see it as bad or frightening or a conspiracy. You should just think of it as an opportunity to learn something new—something that could actually be a blessing to you.
For example, imagine a group of natives out in the jungle in the farthest part of the world. I mean, picture a group of people who have never seen anyone outside of their tribe and have certainly never seen any kind of machine. What would they think if they saw a Red Cross helicopter land near them? And what would they think of the strange-looking men and women who jump out of the chopper and start walking toward them? They'd be freaked out! They wouldn't know or care if the Red Cross was there to help them with food or medicine. They'd think it was the end of the world or something because their minds would be totally blown!
I hate to say it, but a lot of OWS protestors are just about as uninformed as those jungle natives when it comes to how the American financial system works. A road and an office building. That's Wall Street.
"Wealth Redistribution Is the Answer!"
I've heard a lot about wealth redistribution over the past few years, and I'm sure you've heard it too. Call it whatever you want, but this is how it usually sounds to most Americans: "We are the 99% of Americans who don't have as much as the 1%, so we're mad and think the government should take their wealth and property away so that I can have a piece of it. Wealth inequality is a moral breakdown! We should all spread the money around so everyone gets a fair share!"
I have my toughest critique for those who believe this: You are a thief. When someone takes my money and gives me no say in the matter, that's called theft—whether they're using a gun or the government. At the core of this demand is envy. And that's not the same as jealousy. Jealousy just says, "I want what you have." Envy is a different beast. Envy says, "I don't think I can ever have what you have, so you shouldn't have it either." Decades of horrible economic teaching and the politics of envy have kept this monster alive and growing and moving forward.
This way of thinking makes you assume that all rich people are evil and have scammed their way into wealth. That may be true in the tale of Robin Hood, but I choose to live in the real world. Sure, there are some scoundrels, but the vast majority of successful men and women got that way by working hard and serving people—lots of people. Steve Jobs and Bill Gates changed the world in ways we're just now starting to realize. Their positive impact on the world has helped all of us live better lives, and they made fortunes for themselves by doing so. Why is it that you're holy if you help one person but evil if you help a million? That's just stupid.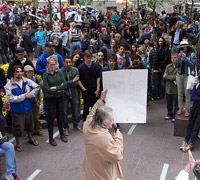 A good friend of mine is a country music legend. He's made a bazillion dollars over his career, and he just bought a $400,000 car. He's worked like a crazy person his whole life, spending decades in tour buses, writing songs in the middle of the night, and entertaining enormous crowds of cheering fans. He paid a price to get there, and I'm happy for his success. Would it be right for me to walk into his house and demand my "fair share" of his wealth? Heck no! I'm a terrible singer! I didn't do one thing to contribute to his success, so why would I be entitled to a share of his wealth? He's given me years of entertainment through his music. That's my fair share of his hard work.
My problems aren't his fault. And my problems aren't McDonald's fault or Home Depot's fault or Walmart's fault, either. My problems are my fault! And the more people these companies serve, the more money they make—and that's none of my business! If you don't like McDonald's, then here's an idea: Don't eat there. But don't walk into the restaurant and demand a portion of their proceeds for the day.
When you scream, "I'm in the 99%!" you just look like a whiner. Those of us willing to pay the price to win look at you and shrug. Heck, when it comes to the music business, I'm in the 99% myself! But that doesn't mean I have to tear Toby Keith, Brad Paisley or even Kanye down. Oh, and a special note just for Kanye: Capitalism has been pretty good to you. I celebrate your success, but you look a little hypocritical protesting capitalism while wearing a $50,000 watch.
Celebrate the Land of Opportunity
This is the greatest country on the planet, but even here, you're not guaranteed wealth, talent, fame, a full head of hair or six-pack abs. Those things are not in the Constitution. You are, however, guaranteed the freedom to make your life what you want it to be. And when you do that, when you build your life around your dreams and passions and hard work, you're guaranteed the right to keep it. No one has the right to take it away from you.
So to summarize, I'm not very impressed at the moment. I'm not impressed by your temper fit. I'm not impressed at your lack of goals and focus. I'm not impressed by the fact that the only thing I see about your movement is ignorance, immaturity and envy. Grow up—and get a job.
Yes, there are jobs out there. There are jobs out there that haven't even been invented yet. Go create the next Facebook or Weed Eater. Go pick up so much dog poop that you can start your own fertilizer company. And stop complaining that companies are TOO RICH while also complaining that they aren't RICH ENOUGH to hire you! I've seen a lot of you guys. I wouldn't hire you, either. But if you take all of that energy and excitement and pour it into something new and creative, you'll get the chance to serve a whole lot of people really well, and over a decade or two, you'll get to become the very thing you're now protesting: rich people who actually earned their money.
Did you find this article helpful? Share it!