Starting your own business was hard enough. Now you've gotta mess with getting insurance? But where do you start? How much do you need?
We get it. Business insurance can be confusing. So many options, so little time . . .
But you definitely need it. Business insurance helps pay for things like theft, employee injuries, lawsuits, medical expenses, disasters, even cyberattacks. And having the right amount can be the difference between that "open" sign staying up in your front window or closing your doors.
Our five-step guide walks you through exactly how to get business insurance.
How to Get Business Insurance
Okay, deep breath. Figuring out how to get business insurance (also called commercial insurance) can be tricky. But it doesn't have to be. We'll break this elephant down into bite-size chunks.
1. Look at how much risk your business has.
Sit down with a hot cup of coffee and think about your business. Ask questions like . . .
How many employees do you have?
How risky are their jobs?
How likely are you to be sued?
Are you selling products? (If so, you have a higher chance of being sued for stuff that breaks.)
Next, think about the industry you're in. Are you building skyscrapers in downtown Manhattan—or selling homemade gluten-free cupcakes? If you're in construction, you're at much higher risk than if you're selling T-shirts online from your living room couch. Same thing goes if you're a retailer—with customers coming in and out of your doors all day (and maybe slipping on your icy sidewalk).
And don't forget natural disasters. Is your main factory sitting on an earthquake fault line? Yeah, you might need to factor that in.
Once you've looked at your risk, you're ready to look at your options.
2. See what coverages are available.
Each business is unique. There's no one-size-fits-all business insurance policy. Kind of like an ice cream sundae bar (yum!), you can mix and match the types of business insurance until you find your sweet spot.
Here are just a few examples of business insurance coverage.
General liability business insurance is the broadest type. It covers damage to property, medical costs, lawsuits and bodily injury. And we're going to make this part easy. Every business needs some type of general liability. So add this to your list.
Health insurance for your workers is required by the Affordable Care Act if you have more than 50 full-time employees. But there are a ton of group health insurance plans out there, so you have options. Preferred provider organization (PPO) and health maintenance organization (HMO) are the most common. And good news! There's a small-business health care tax credit you might even qualify for.
Property insurance protects your equipment, physical assets, inventory and property. If you run your business at a physical location (and not inside the metaverse), property coverage will be a key part of your small-business insurance. So if a mob breaks into your family's jewelry store and steals $50,000 worth of necklaces and diamonds, you're good.
Workers' compensation covers injuries your employees suffer while on the job. It helps pay for their lost wages from time off and medical costs. It also protects you from lawsuits. Most states require it, so go ahead and add this to your list too.
These are just a few. (And don't forget to check out what other types of insurance you need if you're self-employed.)
3. Start shopping!
Now the fun part! (Maybe not.) Once you know what you need, start shopping around and getting quotes. You could go two different routes here: 1) Do it yourself or 2) use an independent insurance agent.

Protect your business and your budget with the right coverage!
Doing it on your own—If you're the lone wolf type, and want to find a plan on your own, be prepared to spend a lot of time researching. Like a lot. You can either find a business insurance marketplace or contact the insurance providers directly. Either way, you'll give them your details and they'll give you quotes.
Going with an insurance agent—If you decide to use an insurance agent, you'll start by telling them about your company and what you think you might need. They'll take a look at your specific situation and create a package that covers your bases.
4. Compare quotes.
Whether you use an agent or do it yourself, the next step is to compare quotes. Here are a few tips:
Check your limits. Each policy has limits of what the insurer will cover. For instance, a general liability policy usually has a limit of $1 million per claim. It also has a $2 million ceiling for how much the insurer will pay during the life of the policy (typically one year). Could you afford to pay costs that exceed those limits? If not, you can raise the limits. You might even look into extra coverage like umbrella insurance or excess liability coverage.
How much are your premium and deductible? In the insurance world, deductibles and premiums are like a seesaw. If your deductible (the amount you pay out of pocket before the insurance company starts chipping in) is higher, the premium (the regular payment you make to keep your coverage active) goes down. And vice versa. Premiums are usually paid monthly, but you can pay a lump sum for the year. The more coverage you need, the higher premium you'll pay.
Don't be afraid to ask questions. There's no such thing as a stupid question. Really. If you don't understand something in your policy, ask. Never pay money for something if you don't understand exactly how it works.
Don't just go with the cheapest. With insurance, cheapest is not always the best. You need to make sure your policy fits the size of your business and protects your money and future.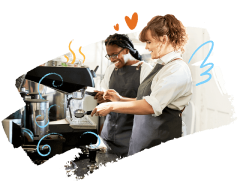 Get the right coverage to protect your business.
When a RamseyTrusted pro is in your corner, you'll have peace of mind knowing your business is protected with the right insurance.
Connect With a Pro Today
5. Sign on the dotted line.
Now that you know how to get business insurance, there's one last step. Sign up!
Once the policy starts, make sure you know when they need payment so you can keep your policy in good standing. You should also know how to file a claim. And check your coverage at least once a year. This way your policies will still fit the changing needs of your business.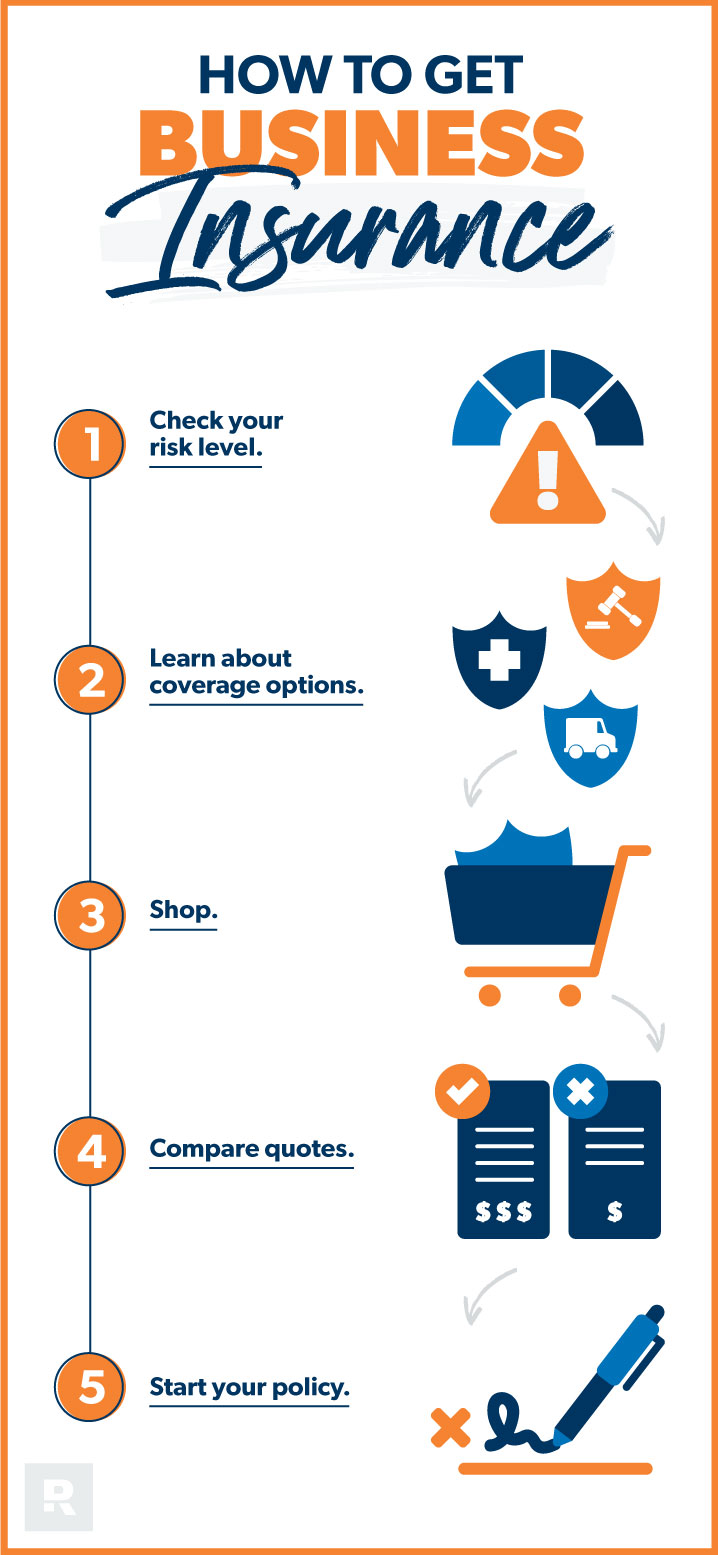 Let Us Shop for You!
So, we're gonna be honest with you. Lining up your own business insurance might not be the best use of your time. You've got a business to run, after all.
That's why we created our Endorsed Local Providers (ELP) program. To give people like you a chance to delegate some of those pesky tasks to other skilled pros.
We have an entire network of vetted and independent insurance agents who can look at your specific business and industry and customize a plan that fits your needs. They'll do all the legwork for you so you can get back to the things only you can do.
Reach out to one of our ELPs today and check this off your list.
Did you find this article helpful? Share it!