Maybe you've been looking at your premiums and scratching your head thinking, Does everyone pay this much? Or maybe you're just entering the market and your eyeballs are popping. Either way, we get it. Insurance is one of those things you know you need, but it seems to cost. A. Lot.
So, how much should you pay for insurance? Depending on what kind you need, how much is insurance a month?
Let's look at some average numbers for the four main types of insurance you should have—auto, homeowners (or renters), health insurance and life insurance—and get a feel for what people normally pay. Because while insurance is the best defense for your life and finances, that doesn't mean you have to overpay for the right coverage.
How Much Should You Pay for Auto Insurance?
Screeech! Bang! There are few things worse than the jitters you get after a car accident. It doesn't take long for the adrenaline rush to be replaced by anxiety over the cost of repairing or replacing your car. Thankfully, auto insurance softens the blow.
But how much is car insurance per month? According to a study from AAA (American Automobile Association) in 2022, the average American pays $1,588 for full coverage car insurance every year.[1] (For the average car insurance cost per month, that works out to about $132. But keep in mind, paying monthly instead of annually often leads to extra fees.)
Just to reiterate, these premiums are averages. Remember, not all car insurance rates are created equal. Let's say Bubba next door drives his truck like a maniac and gets into a fender bender (or three) every year, but your driving record is squeaky clean—who do you think will get the bigger auto insurance bill? You guessed it. The insurance company will charge Bubba more because he's riskier to insure. So don't be Bubba!
Where you live can also factor into your car insurance price. Here's a look at the average car insurance cost by state:
Average Monthly Car Insurance Rates by State 2023

State

Rate

State

Rate

Alabama

$119

Montana

$130

Alaska

$103

Nebraska

$150

Arizona

$126

Nevada

$149

Arkansas

$116

New Hampshire

$78

California

$162

New Jersey

$145

Colorado

$140

New Mexico

$116

Connecticut

$122

New York

$156

Delaware

$136

North Carolina

$94

D.C.

$149

North Dakota

$106

Florida

$199

Ohio

$84

Georgia

$118

Oklahoma

$128

Hawaii

$102

Oregon

$102

Idaho

$93

Pennsylvania

$101

Illinois

$110

Rhode Island

$146

Indiana

$101

South Carolina

$143

Iowa

$103

South Dakota

$128

Kansas

$127

Tennessee

$102

Kentucky

$145

Texas

$154

Louisiana

$198

Utah

$113

Maine

$83

Vermont

$95

Maryland

$114

Virginia

$89

Massachusetts

$120

Washington

$103

Michigan

$178

West Virginia

$120

Minnesota

$114

Wisconsin

$97

Mississippi

$123

Wyoming

$131

Missouri

$153
Data From U.S. News & World Report[2]
Keep in mind, your monthly payment could be higher because some car insurance companies tack on extra fees for paying by the month. Make sure to check with your carrier.
How Much Should You Pay for Homeowners (or Renters) Insurance?
Dorothy was right. There's no place like home. And homeowners insurance is there to help protect your finances if something terrible happens to your home and everything in it.
The average homeowners insurance annual premium is $1,428.[3] But homeowners insurance costs range widely depending on your situation.
Your cost will be based on the value of your home, your past (no, not the time you hosted a rager in your parents' house—your insurance history!), what type of coverage you need, your credit score (we're not a fan), if you need flood insurance, and how much your belongings are worth.

Do you have the right insurance coverage? You could be saving hundreds! Connect with an insurance pro today!
But here's some good news. For most homeowners, your property insurance is usually included in your mortgage payment, so it doesn't really feel like an extra expense at all.
The Most and Least Expensive States for Homeowners Insurance (Annual Premiums)
The biggest factor that impacts how much you'll pay for homeowners insurance is, of course, how well connected you are with the insurance lords . . . just kidding, it's location. Folks who live in major cities and densely populated areas will likely have higher rates than people in rural areas. And if you happen to live in a state where natural disasters are more common—think tornadoes, hurricanes and wildfires—you're more likely to have higher insurance rates too.
Looking at the states with the highest and lowest homeowners insurance rates, it's no surprise the states with higher rates have dealt with major natural disasters the past few years:
| | |
| --- | --- |
| Most Expensive | Least Expensive |
| 1. Louisiana ($2,037) | 1. Oregon ($727) |
| 2. Oklahoma ($2,000) | 2. Utah ($743) |
| 3. Florida ($1,988) | 3. Wisconsin ($750) |
| 4. Texas ($1,982) | 4. Nevada ($791) |
| 5. Rhode Island ($1,731) | 5. Idaho ($799) |
Data From Insurance Information Institute[4]
Now, if you're renting, you're not off the hook. You need enough renters insurance to replace your stuff if it gets stolen or destroyed in a fire or some other disaster. Without it, you'll have to replace everything on your own dime. And since renters insurance only costs roughly $15 per month, there's really no excuse for you not to have it![5]
How Much Should You Pay for Health Insurance?
Maybe you're healthy and fit and are thinking, Man, I'm hot. And maybe you're also thinking, My health insurance cost is high—this number can't be right. How much does the dude using the 10-pound kettlebells pay? Or maybe you've put on a few extra pounds and are wondering how much you could save if you got healthy. Everybody's unique when it comes to health insurance costs, but let's take a look at some numbers.
The average person in America pays $456 per month for marketplace health insurance.[6]
What about employer coverage? The average American worker paid $7,911 in 2022 for employer-sponsored group health insurance. For families, the total cost of annual premiums has increased 20% over the last five years. The average American family pays an estimated $22,463 every year.[7]
But costs vary pretty widely based on factors like your age, the number of people on your plan, the level of coverage, your location and your employer. And if you're looking to keep that monthly premium down to save some money in your budget, choose a higher deductible plan.
Here's a breakdown of the average costs of marketplace insurance depending on your state:
Average Monthly Cost of Health Insurance

State

2023

State

2023

Alabama

$567

Missouri

$473

Alaska

$762

Montana

$477

Arizona

$410

Nebraska

$550

Arkansas

$416

Nevada

$386

California

$432

New Hampshire

$323

Colorado

$380

New Jersey

$441

Connecticut

$627

New Mexico

$445

Delaware

$549

New York

$627

D.C.

$428

North Carolina

$512

Florida

$471

North Dakota

$475

Georgia

$413

Ohio

$413

Hawaii

$469

Oklahoma

$510

Idaho

$425

Oregon

$462

Illinois

$453

Pennsylvania

$433

Indiana

$397

Rhode Island

$379

Iowa

$484

South Carolina

$496

Kansas

$471

South Dakota

$626

Kentucky

$422

Tennessee

$473

Louisiana

$565

Texas

$461

Maine

$457

Utah

$471

Maryland

$336

Vermont

$841

Massachusetts

$417

Virginia

$371

Michigan

$362

Washington

$395

Minnesota

$335

West Virginia

$824

Mississippi

$461

Wisconsin

$456

Wyoming

$802
Kaiser Family Foundation[8]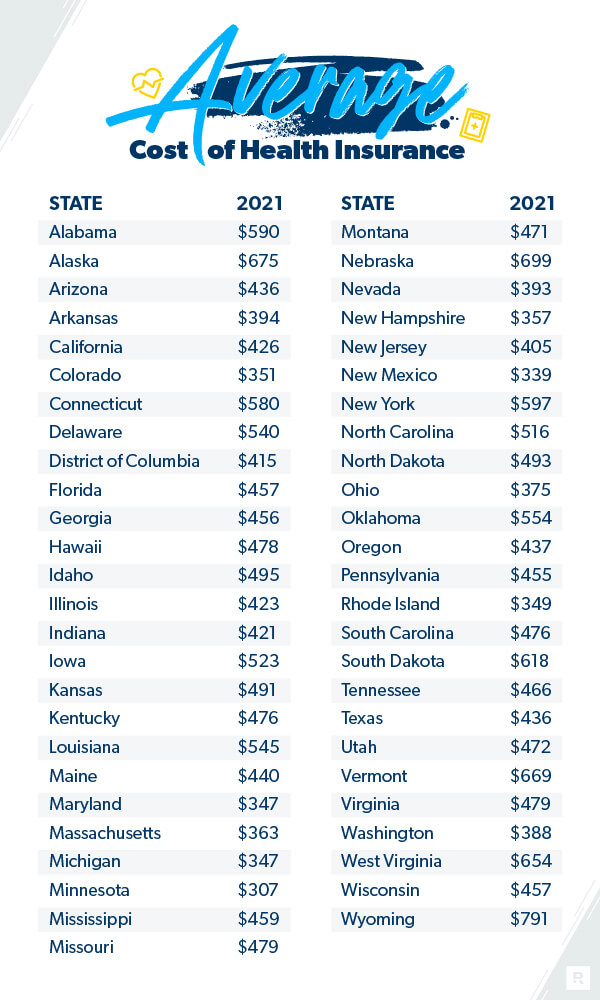 Kaiser Family Foundation, 2021.
How Much Should You Pay for Life Insurance?
Life insurance has one job: to help your family replace your income if you suddenly die. We recommend getting a 15- or 20-year term life insurance policy that covers 10–12 times the amount of your annual gross income. So how much does life insurance cost?
Well, if you're a healthy 30-year-old male who wants to take out a 20-year term life policy with $1 million worth of coverage, you'll probably pay around $648 each year, or $54 a month.[9]
But the exact amount you'll pay will vary based on the length of the policy, your age, your health history, tobacco use, gender and how much coverage you want.
The Right Coverage at the Best Price
So, how much will you pay for insurance? If you're the most average of average people and you paid for the average coverage from all four insurance types, you'd pay about $760 per month for all your insurance.
But we know not everybody's average. As we've shown, your situation will impact how much insurance runs you. But you don't have to wonder if you're paying too much for what you need.
A RamseyTrusted local insurance pro will shop the market for you and make sure you get the best deal. These pros are some of the best independent insurance agents in the country—they have the heart of a teacher, which means they'll make sure you know what you need and why. And they'll give you free quotes so you can know you're not overpaying.
Don't think you're stuck paying through the nose for insurance—you have choices! Connect with an independent insurance agent today.
Did you find this article helpful? Share it!