Impact of Financial Wellness
The Measurable Return on Investment of Financial Wellness
The majority of companies that have a financial wellness benefit say it's paying off in many different ways for both their employees and their organizations. From employees putting money into emergency savings and becoming debt-free to higher productivity levels and better retention rates, these companies can draw a straight line from the financial health of their employees to the health of their bottom line.
THE POSITIVE IMPACT OF OFFERING A FINANCIAL WELLNESS BENEFIT
Higher participation in employee-sponsored retirement savings plan
Higher productivity levels
Employees adding to their emergency savings
Higher participation in voluntary benefits
Higher employee retention rate/lower turnover
Employees becoming debt-free
Fewer days of work missed by employees
Reduction in 401(k) loans
Lower health care costs
Fewer workers' comp claims
Less reported stress from employees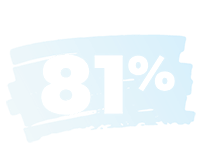 have seen positive improvements as a result of their financial wellness benefit.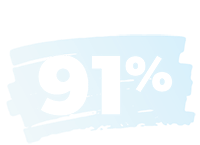 say offering a financial wellness benefit has made them more competitive in recruitment and hiring.
The Positive Impact on Employee Morale
How does that translate to employee morale? Employees who have access to a financial wellness benefit are more likely to have high morale than those who don't. And 88% of employers who offer their teams a financial wellness benefit say their employees report less stress because of it.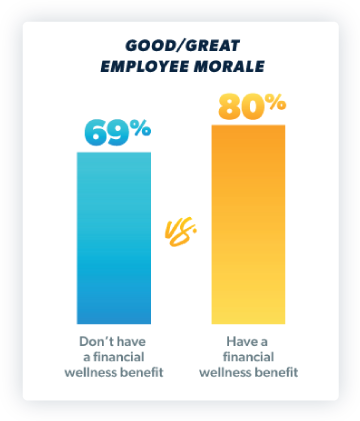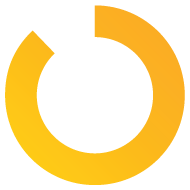 say their employees report less stress because of the financial wellness benefit.
Financial Wellness Isn't Just a Niche Benefit
It's clear that benefits decision-makers think financial wellness is a good idea and that they see employee money stress hurting their businesses. But as we just saw, it's the companies that actually offer a financial wellness benefit who are seeing the positive impact on their employees.

If you could add a benefit that helps your employees achieve true financial wellness and helps your bottom line, would you do it? It would be a mistake not to!
You just saw it: The impact that a financial wellness benefit can have on your employees and business is measurably significant—so much so that 8 in 10 employers who have a financial wellness benefit report seeing positive improvements across the board. And even though employers saw awesome improvements like higher employee morale and less employee stress, it's not just positive sentiment driving those reports. It's the boost to the bottom line from higher productivity, lower employee turnover, reduced absenteeism and lower health care costs. When you can get positive results for both employees and the business, that's return on investment!

Want to read this later?
Enter your email and we'll send you a link so you can read the study later and learn more about SmartDollar, Dave Ramsey's financial wellness benefit.