We exist for those outside our walls—those who are fed up with normal and just need HOPE. The life-change our work ignites is freaking mind-blowing. And we're just getting started!

people tune in to our radio shows, podcasts and videos weekly

national bestselling books published by our Ramsey Personalities

families changed their lives with our guided money plan

trusted pros helping our fans with taxes, real estate, insurance and more

We believe our work matters. Why? Because our work is about you. So whether you're up to your eyeballs in debt, praying for a miracle, wanting to take your small business to the next level, or spending your days in a dead-end J-O-B—there's hope. No matter what it is you're working through, we've got a solution. It's time to face the storms of life head on. We can do this . . . together.
Whatever you're walking through . . .

Whether you need advice on your finances, career path or personal development, our team of experts and trusted partners are committed to helping you get where you want to be. We've helped millions of Americans change their lives through bestselling books, sold-out events, shows and podcasts. It's what we do and what we've done for over 20 years.

This is what drives our why . . . and our who, what, where, when, how.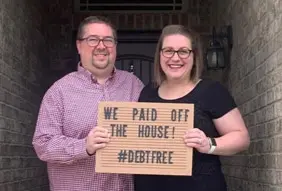 a couple pays off their house.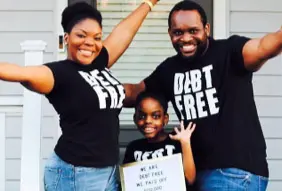 a family pays off all of their debt.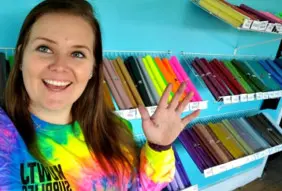 a business owner opens her first shop.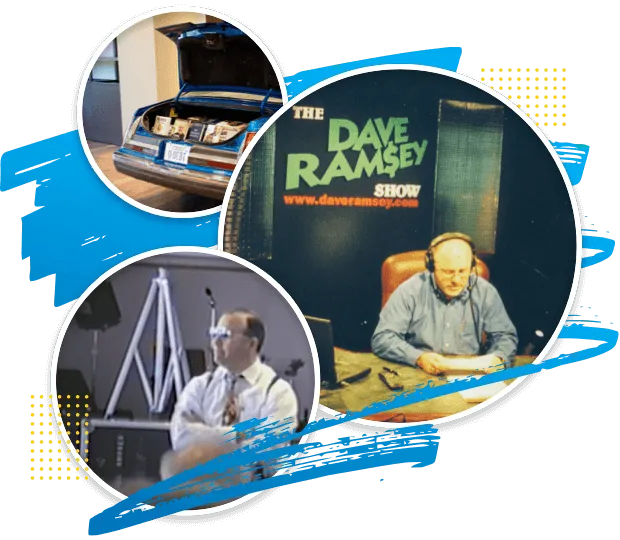 From Car Trunk to Talk Radio
Picture Dave Ramsey—fresh out of bankruptcy, teaching hard-learned money principles from an overhead projector in hotel conference rooms, and selling his self-published books from the trunk of his car. From there, Dave found his seat behind the mic on a local radio station, coaching everyday folks on God's and Grandma's ways of handling money . . . and he's never looked back.

Book sales could now fill millions of trunks, and the hotel walls and old radio desk have been exchanged for the Ramsey Solutions studio and headquarters in Franklin, Tennessee. But the purpose remains the same—to bring HOPE to everyone in every walk of life.
We Get Excited About Mondays
Nope, no dead-end jobs or corporate nonsense here. Only super smart and crazy talented thoroughbreds who work hard and play hard. For us, Mondays mean game on. We're on a serious mission—and we have a total blast doing it. We're 1,000 people strong and growing like crazy. Think you have what it takes?

Share the Profits
We win together. We lose together.
Fear Not
We don't make decisions based on fear.
Team
We are team members, not employees.
Crusade
We are crusaders doing work that matters.
Never Give Up
We impose our will on the marketplace.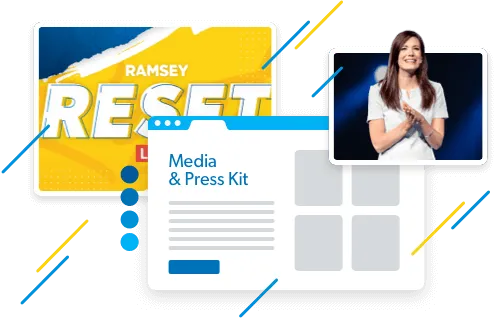 Looking for Our Newsroom?
We're in the business of life-change—plain and simple. That means we get the opportunity to do some pretty cool stuff every single week. Check out the Newsroom for the latest on Ramsey Solutions, Dave's nationally syndicated news column and how to get in touch.
RAMSEY SOLUTIONS
Mission Statement
Ramsey Solutions provides biblically based, commonsense education and empowerment that give HOPE to everyone in every walk of life.
Our Core Values
Colossians 3:23
We do our work as unto the Lord.
Crusade
We are crusaders doing work that matters.
Excellence in the Ordinary
We are faithful in the little things.
Family
We balance family and working hard.
Fear Not
We don't make decisions based on fear.
Marketplace Service
If we help enough people, we don't have to worry about money.
Momentum Theorem
We know that focused intensity over time, multiplied by God, creates unstoppable momentum.
Never Give Up
We impose our will on the marketplace.
No Gossip
We pass negatives up and positives all around.
Righteous Living
We believe character matters. All the time.
Self-Employed Mentality
We all care and take responsibility like we own the place.
Share the Profits
We win together. We lose together.
Shoot Sacred Cows
We stick by our principles. We challenge traditions.
Team
We are team members, not employees.
Rachel's Story
"Our Debt free journey started with my grandmother, who gave us FPU as an engagement gift. Scott and I completed the class, twice, and went on to become FPU coordinators because our lives were changed with that very first budget. And then... WE PAID OFF THE HOUSE! Scott and I have always been a little bit weird, but we're okay with it. We've spent the last 24 months (actually 5 years, including our down payment) packing our lunches, living below our means, and working our side hustle to make our dream become a reality. Thank you @daveramsey and @rachelcruze for guiding us through the baby steps and for our friends and family for all of the support ❤️ #debtfree #mortgagefreecommunity #babysteps #debtfreecommunity #debtfreejourney"
— Rachel
Eboni's Story
"IT'S MY BIRTHDAY!!! 🎁 and WE ARE DEBT FREE!!!! Thank you Jesus!
We paid off 16,343.95 in 8 months. No more student loans, no more credit card fees, no more car note, NO MORE!!!! 🙌🏾
This is my second time around. The first time I had 45k in debt. I paid off all my debt over many many years. I honestly didn't know how good I had it. I decided to give my old car to my dad and reward myself with a brand new car 🤦🏾‍♀️... In the beginning I would send an extra $20 payment here and there...8 months ago I finally had my I HAD IT MOMENT! I changed my habits, watched every single Dave Ramsey video known to land ☺️, started a budget by telling my money exactly where to go, I was determined! My goal was to become debt free on my Birthday. This goal has been accomplished 🙌🏾
I finally stepped out of the race that I never wanted to be in! I found my own lane and proceeded to win ❤️
With God anything is Possible! @daveramsey @rachelcruze @anthonyoneal"
— Eboni
Seannie's Story
"$110,000 paid off in 21 months!😳 No car payment! No student loan payment! No credit cards! No payments except our mortgage! We love it on this side and we'd NEVER go back! * When we started the process, we were told that we were crazy and that what we were doing is wrong and we were made fun of. We said no to our friends so many times that they eventually stopped asking us out. We literally got rid of all the distractions around us and simply leaned in and paid off all our debts. 21 months of sacrifice, intentionality, determination and motivation. We are not controlled by any bank, we are not victims. What happened? We were normal and then we found out that normal is BROKE, so we didn't want to be normal anymore, we wanted to be WEIRD! Our paychecks were going out in payments every month and we wanted to change that. We started listening to this crazy guy on youtube called @DaveRamsey who was preaching about The 7 Baby Steps to building wealth and he was saying things like... The first step to building wealth is to stop borrowing and have NO DEBT, Proverbs 22:7, the borrower is slave to the lender, live on less than you make, live like no one else so that later you could live and give like no one else. A good man leaves an inheritance for his children's children, no discipline seems pleasant at the time, you're dumb for always borrowing money, you make way too much money to be broke, stop eating out so much and cook at home, chop up those credit cards and stop using them. Make a budget before the month begins and tell your money where to go instead of wondering where it went... and the list goes on... SO WE GOT ON BOARD!!! 21 months later... WE'RE DEBT FREE!🗣 #debtfreecommunity #debtfreejourney #debtfreegoals #debtfreeliving #debtsnowball #debtpayoff #debtfreedom #debtfree"
— Seannie
Olivia's Story
"I'M DOING IT SCARED!!
& so anxious I could puke! 🤢
Shop is OPEN for the first time today!
Pretty vinyl displays will come in time but so happy to actually be inside and not on the lawn 😂"
— Olivia
Member of Ramsey Personality Christy Wright's Business Boutique Academy