Imagine your company's team members being happy, productive and loyal to the core. They can't wait to get to work in the morning, they're passionate about what they do, and they're ready to work hard all day.
If that seems like more of a dream than a reality, read on. Because this key ingredient for creating a satisfied team is super easy to add to your company culture: employee appreciation. When you make a habit of showing your team they're important, their spirits lift and the environment changes. Why? Because we all crave sincere employee recognition and praise for a job well done!
We get it though—with everything else you're juggling, you may be low on staff appreciation ideas. No worries! We've come up with some practical ideas and tips to help you recognize your team and show them you care. But before we get to that list, let's look at why employee appreciation is so important to your company.
Related article: What Is Company Culture?
The Importance of Employee Appreciation
As a business leader, you already know employee retention is a big freaking deal. But for a lot of companies, employee retention is easier said than done. More than 47 million U.S. workers left their job voluntarily in 2021—and their top reasons for leaving weren't pay or benefits either. A whopping 26% said their reasons for leaving a job were related to either management, the work environment or job factors (aka stress and power struggles).1 That goes to show people want less strain and more support. They want communication, empowerment and—you might've already guessed it—recognition. In another study, workers also said it's extremely important that their employer cares about their mental, physical, emotional and career health. Yet, only 4 in 10 workers believe their leaders really do.2
So why is staff recognition and support important? Because when your team members feel valued, they're more productive and more likely to stick around. Basically, there's no good reason not to recognize your team members—unless you just don't have any good ideas about how to do it.
And if that's the case, we've got you covered! Check out these ideas and tips for showing employee recognition in ways your team will love. Then let your bragfest begin.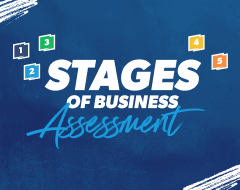 Ready to Level Up Your Business?
Find out your Stage of Business with our free assessment and get additional resources to help you level up by focusing on the right things at the right time.
Discover Your Stage
Employee Appreciation Ideas
1. When you see it, say it.
The first rule of recognizing your team is: Just do it. Make a habit of catching your people doing great work or living out your company's values—and let them know how much you appreciate it. Your words carry incredible weight when you give someone a sincere compliment or praise them for their character and attitude instead of just their work output.
2. Take a walk.
It's hard to recognize anyone if you don't step away from your desk. Schedule time to walk around your business and check out what's happening with your team. If someone is doing a good job, let them know.
3. Let your customers do the talking.
If a customer brags on your business or a team member, pass it on in your weekly staff meeting. Put real people and their stories behind the work you do to inspire your team and keep your mission front and center.
4. Put it in writing.
One of the most powerful tools in your toolbox is a pen. Send handwritten thank-you cards to team members who are killing it in their role. Don't forget to be specific about what you appreciate and how their work impacts others.

Every business goes through five distinct stages. Find out which stage your business is in with our free assessment.
Related article: How to Show Gratitude to Your Team
5. Catch them off guard.
What's one of the most effective ways to show appreciation? Surprise them—and add something clever or be a bit "extra." Give them a handshake complete with an unexpected $50 bill or a note with a gift card tucked inside—now, those are fun surprises. Want to really make a point of your appreciation? Write a thank-you note to your team member's spouse for their support of their partner during a busy season at work.
6. Say, "Happy birthday."
Who doesn't smile when you wish them a heartfelt happy birthday? Find out your team members' birthdays and send them an email with your best wishes. Even better: Drop off a handwritten card and get team members to decorate their desk. Do the same for their work anniversaries!
7. Reserve a spot.
What's the triple threat you want in your team members? Character, talent and loyalty. So when they hit a major anniversary milestone, whether that's five or 15 years on the job, honor them with their very own parking spot.
8. Shout it out.
Make time in your daily or weekly stand-up meetings for team members to recognize each other for a job well done.
9. Think (and cheer) outside the box.
Life outside the office is also worth celebrating. Encourage your team members to let you know what they're up to so you can share in their joy. Did they win a civic award, earn a degree, finish a half-marathon, or reach some other big, life-changing goal? Spread the word and give them three cheers.
10. Get creative.
Staff appreciation needs to be sincere, but it doesn't have to be expensive. Here are some employee recognition examples that are sweet and simple:
Company T-shirts and swag
Anniversary coins
Restaurant or coffee shop gift cards
Framed notes honoring the team member
Free car washes from a mobile detailing service
One-on-one lunches between you and a team member (compliments of you, of course)
In case you're looking for employee recognition ideas your team can enjoy together, here are a few more examples of fun ways to celebrate wins:
Staff outings, like bowling, mini golfing or going to an arcade
Fun food trucks (think ice cream or specialty desserts)
Special deliveries of cookies or other treats
Opportunities for them to be part of local meet and greets with customers
3 Tips to Improve Employee Recognition
You really can't go wrong when you show honest employee appreciation, but keep these three tips in mind to make sure your team members really know they matter.
1. Go public.
When bragging on someone, recognize them in front of others to pack a more powerful punch—especially if you're honoring someone the whole team loves and values. When you pour on praise for a humble rock star, everyone beams.
2. Keep it real.
Make sure the praise you're giving is sincere and specific. That will help ensure it makes your team member's day–and they don't mistake it as flattery. And remember, only compliment the actions you want repeated.
3. Share the love.
Behind most superstars is a support person who's working just as hard as the superstar to help close the deal, organize the work, or ship the product. Recognize their awesomeness too.
What's Next: Rewards for Everyone
When you do appreciation and recognition right, everyone reaps the rewards! So, take the time to recognize your team members and tell them how important they are to your mission. This is essential at every stage of business but really becomes important living out strong values, culture and communication at the Pathfinder and Trailblazer stages. (Not sure which stage you're at? Check out the EntreLeadership Stages of Business.)
Related article: EntreLeadership: What Are the 5 Stages of Business?
If you want to learn more about how to build a team that's happy, productive and successful, check out The EntreLeadership Podcast. You'll get real leadership insight from small-business expert Dave Ramsey who will inspire you to build a great culture and do work that matters.
Did you find this article helpful? Share it!