Study Summary
• 59% of American workers say the COVID-19 pandemic has changed what they value about a job or career.
• 55% of workers said they're considering changing jobs.
• 52% of workers would be willing to take a pay cut for a career that more closely aligns with their values.
• 47% of American workers feel as if they don't have clarity about what they want to do for a career.
• 52% of workers whose job can be done remotely would prefer fully remote work.
• 57% of workers view their job as just a paycheck.
The Great Resignation
According to the U.S. Bureau of Labor Statistics, 4.3 million Americans told their employers, "I quit" in August 2021.1 Over 4 million people left their jobs in one month alone! Workers across the country left their jobs for a lot of different reasons in what's been referred to as The Great Resignation.
People leaving their jobs isn't a new thing. And people changing jobs this time of the year isn't totally unheard of either. A lot of people make job changes around November so they can start fresh at the beginning of the new year. But nothing like The Great Resignation has ever happened before.
To get some clarity, Ramsey Solutions conducted The State of Work research study in August 2021. While there's not one clear reason why so many people quit their jobs, we discovered a lot of issues that could be considered contributing factors. For example, 61% of millennials and 49% of Gen X say they dread Mondays and the thought of going in to work.
The pandemic of 2020 created the highest unemployment numbers since the Great Depression. Today, more and more people are returning to work as companies seek to fill full- and part-time positions. Yet, among those who are recently unemployed, 51% are discouraged in their job search, 54% can't find a job that fits their skill set, and 57% are worried they'll have to take a step backward in their career.
When we dig a bit deeper, three main topics provide some clues about why The Great Resignation happened:
Money
Everyone took some kind of financial hit during the past 18 months. Of those not currently working, 33% were laid off, 14% resigned without another job to start, 9% were fired, and 6% were furloughed. Of the American workers surveyed, the most important thing when considering a new job is salary/compensation (48%). In the last 12 months, 41% of workers received a raise, but 1 in 4 workers don't feel adequately compensated for the work they do. Money was the driving factor in a job change for 17% of workers.

Meaning
After 2020, people have seen just how temporary and fleeting life can be, and they're driven to find work that has meaning. Millennial workers (70%) said it's important to be aligned with their employer on social and political issues. And 62% of millennials said it's important for their employer to be involved in social and political issues.

Market
Where and how people work—their environment—is also seen in the research. For those who didn't lose their jobs in 2020, most were sent home to work remotely. As a result of the pandemic, 62% of workers did their work remotely for some period of time. Today, 56% of workers who went home to work because of COVID-19 are still fully remote in their work, while another 27% do some portion of their work remotely. Of those who can work remotely, 52% prefer fully remote work, and 21% said their company has no plan to ever return to the office.

The Great Reprioritization
Call it whatever you want—The Great Resignation, The Great Reprioritization or even The Great Revelation—59% of workers (64% millennial, 54% Gen X) say that COVID-19 changed what they value in their career. That's hard to ignore.
Because of what they went through during the pandemic, these workers are making decisions based on their new value systems and new priorities. That's why the phrase The Great Reprioritization is a more accurate description of what's happened.
The impact of COVID-19, especially related to work, can be summed up in one word: change. The pandemic took one of the things workers hated—change—and made it not so scary. Because employers and employees had to deal with so much of it, our change muscles got stronger. We're all better equipped to deal with change now because of all the craziness we went through during the pandemic. Employees now have the option to work fully at home (33%), work fully in the office (46%), or work a hybrid model (21%) that combines both.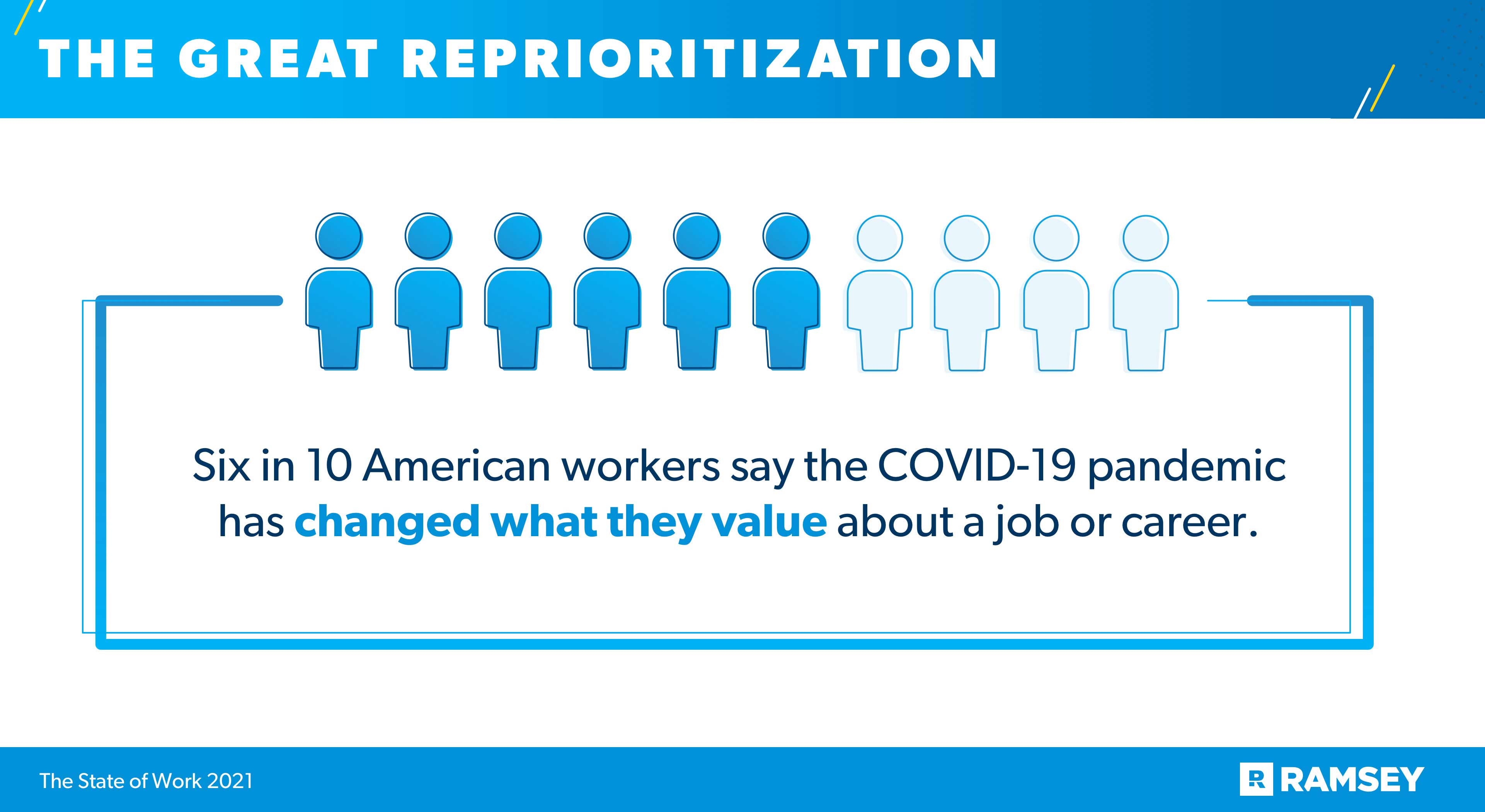 A Lack of Clarity
While 59% of American workers say their values related to work have changed, two thirds (64%) of those considering changing jobs don't feel like they have clarity about what they want to do in their career. That's a huge problem. In addition, 1 in 5 workers are extremely concerned they could lose their job.
Among those who are recently unemployed, 51% are discouraged in their job search, and 59% say they are waiting to find a job that gives them purpose. The lack of clarity can also be seen in the figures related to those interested in help: 43% are interested in help finding purpose in their work, 43% are looking for help in getting promoted, 44% desire help to find their dream job, and 54% want to know how to make more money. Of those recently unemployed, 1 in 4 have worked with a career coach.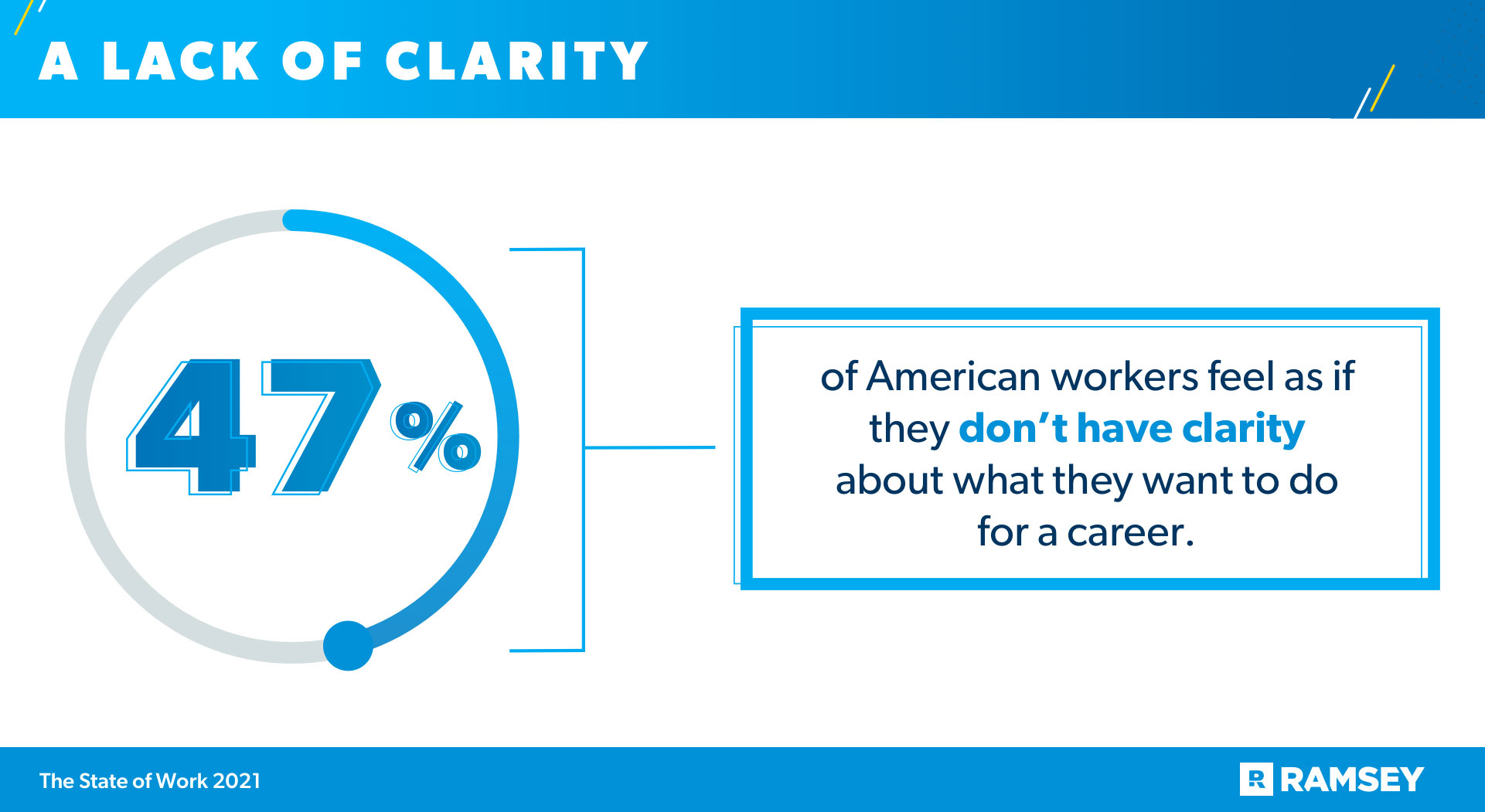 What Job Seekers Want
What are job seekers looking for in a new job or career? We found that 48% of American workers said salary was their most important consideration when looking for a new job. But 52% of workers said they would take a pay cut to work a job that more closely aligned with their values.
For some people, better benefits—such as working from home—make all the difference. In fact, 52% of workers who can work at home say they would prefer fully remote work. And 1 in 4 workers feel their current workplace culture is toxic.
Others are looking for values-driven opportunities. We found that 83% of workers said it's important that their company's mission aligns with their own personal values. And the research study shows that 29% of millennial workers changed jobs in the past 12 months, and 61% of millennial workers are considering changing jobs. These changes may be driven by a desire to better match values to work.
So, how can employers keep their employees instead of losing them to The Great Resignation? By showing that they care. Only about 4 in 10 workers believe their employers care a great deal about their lives (mental, physical, emotional and career). Yet workers said it is extremely important that their employer care about their mental health (60%), overall wellbeing (59%), physical health (59%), financial health (55%), and their career growth (54%).
When people feel valued by an organization, they're more likely to stick around and be more productive. And that leads to more people staying put and less people putting in their two weeks' notice (or just walking out the door).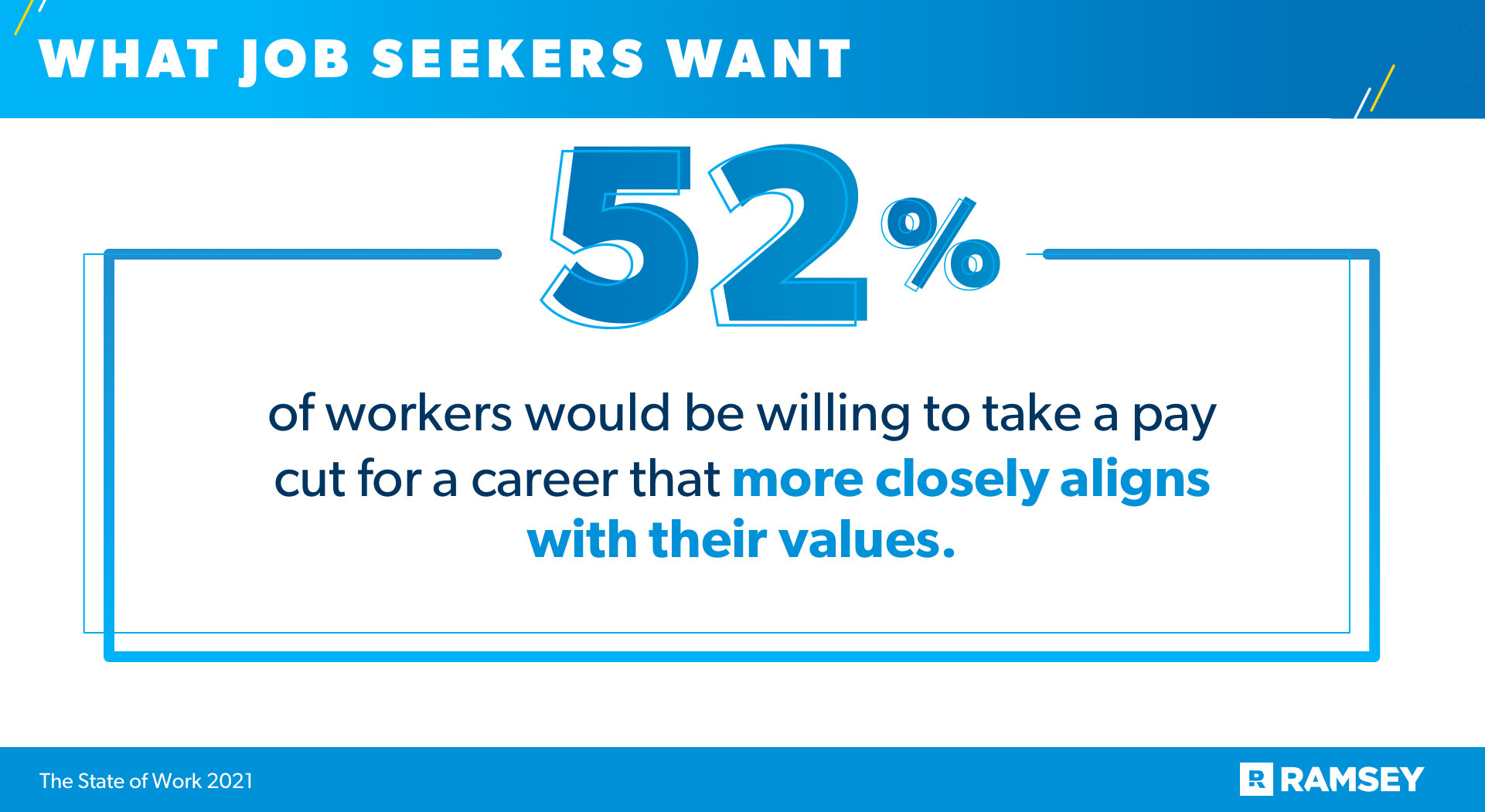 From Paycheck to Purpose
Looking at all the stats, you can see there are some gaps between the desire to do more and the clarity to take action. While 61% of millennials are considering changing jobs and 59% of American workers said their values related to a job and career have changed, 47% said they don't feel clarity about what to do. That clarity helps people move from just working for a paycheck to working with purpose.
About the Study
The State of Work is an original research study conducted by Ramsey Solutions with 1,150 American workers—both employed and unemployed—to gain understanding of trends, attitudes and opinions of workers. The sample population included all types of workers, including blue collar, white collar, salaried, hourly and various industries. The research study was conducted August 25­–31, 2021, using a third-party research panel.
Did you find this article helpful? Share it!