Life without coffee is not an option. But what about those mornings you're just trying to get out the door looking presentable when you suddenly realize the worst. You forgot to caffeinate! Oh, the temptation of that green sign and all the energy brewed up inside.
But what's that convenient caffeination costing you? About $3.50 a trip. If you do that all week, you're looking at $70 a month—which adds up to about $840 a year! Wouldn't it be nice to save some of that Starbucks-run money?
You can. And it isn't even that hard. You don't have to break the bank on your coffee, and you don't have to break up with your barista. Just use these 10 Starbucks hacks to save some serious cash on your next visit.
1. Become a Rewards Member.
Question: What's free, has loads of benefits, and gets you free coffee? Answer: a Starbucks Rewards membership. Sign up online or in the app to get all the perks. We're talking free refills on brewed coffee, exclusive offers, birthday freebies, and the chance to earn "stars" to redeem on various rewards.
Here's a venti-sized callout, though. Do not, we repeat, do not get the Starbucks credit card. When you sign up to be a rewards member, you'll get a hard sales pitch, but just say yes to the membership and no to the credit card.
2. Get Creative With Your Drink Choices.
You can drink well for less. Want a cheap latte? Order a double espresso in a venti cup, then add your own milk and sugar over at the bar area. Want something for the hot days? Ask for a regular iced coffee with a pump of classic syrup (which is free) and—again—add cream to your liking. Want a chai tea latte? Order a Tazo Chai tea. Then, you guessed it, add that free milk.
These are easy substitutes for your favorite drinks. Try them out and save big.
3. Pick a Brewed Coffee Over a Latte.
The brewed coffee options at Starbucks are cheaper than the fancy-pants coffees, but you still get the Starbucks goodness and experience. Consider these three brewed facts:
A tall coffee has more caffeine than a venti latte (235 mg to 150 mg), and it's half the price.

You get discounted refills on brewed coffee when you drink in the store (free if you're a rewards member!). So if you're putting the finishing touches on your screenplay and enjoying the coffee shop atmosphere, keep walking up to the counter for cheap re-caffeination!

If you think brewed coffee is boring coffee, think again! Try the Caffè Misto. It's half brewed coffee and half steamed milk, giving you that latte feel without that latte price.
4. Order a Short Size.
Did you know Starbucks has more than just the three sizes you see on the menu? Yes, it's true. You aren't just limited to tall, grande or venti! There's a secret smaller cup—the short size. (Shh. Keep it secret. Keep it safe. JK—tell all your friends! Help them save money too.)
On the flip side, when you need that extra oomph, save money by ordering a bigger size instead of adding an extra shot. It's one of those rare "more is less" situations.
5. Bring Your Own Cup.
Want to be good to the planet and your budget? Bring your own reusable cup to save 10 cents on every drink. It may not sound like a lot to start, but if you go often, that 10 cents really adds up. Literally. Plus, throwing fewer cups in the landfill is always a good thing.
6. Never Buy a Bottle of Water.
Sometimes you need some extra hydration. But listen: The tap water at Starbucks is filtered and even used in a lot of custom drinks. Don't pay $3 for a bottle of water when you can just ask for a cup of tap.
7. Share and Save.
The venti size is 24 ounces. The tall is 12 ounces. And it costs a lot less to get one venti than two talls. So, how about you split one venti with a friend. You both get 12 ounces of awesomeness without paying the cost of two drinks!

Try our free Meal Planner to save money on groceries!
We experimented to see about how much you'd save here. At our local Starbucks, a venti Caffé Vanilla Frappuccino with whipped cream is $5.25. One tall of the same drink is $3.95. Add that up, and you'd save $2.65 total ($1.32 each) by using our tip. That's about a 33% savings!
8. Order Through the App.
There are very few times in life when you can stride straight up to the counter in a place, grab your coffee, and walk right out. Like a boss. Or a celebrity. But that's what happens when you order through the Starbucks app. And if you wear sunglasses and a hat, people might think you actually are famous.
But even better than being mistaken for a superstar is the budget-friendly aspect of this ordering approach. Load your app with a set amount each month—and use only that to get your Starbucks fill. With that predetermined amount, you can use all the tricks above to stretch your money as far as possible throughout the month.
And the best part of ordering on the app is knowing your total before you finish the order—that way you can tweak it to something cheaper if you realize you went a little too far with the extras. When you're in the store, it's easy to overspend because you might not know the final total until they tell you at the register. With the app, you're in the know the whole time. Hey, you are a boss—a budgeting and coffee boss.
9. Be Your Own Barista.
Here's an insider secret: You can make your own coffee at home. (Yes, really.) Buy the beans or grounds from your supermarket when they're on sale and be your own barista. You'd be looking at around $10 a month instead of $70. That's a savings of at least $720 a year.
10. Set a Budget and Stick to It.
We touched on this above—but no matter how you order your brew, it's up to you to stay in budget. So go ahead and add a budget line for coffee, but make it something you'll actually stick to. Balance your adoration of caffeination with all the other budget lines and money goals you've got.
Because let's get real: Coffee may be a need, but Starbucks is a want. If you've got enough green in the budget to cover trips to the green siren, then do it! But never go overboard. Think of all the money goals you could hit that much quicker with all the money you'll save by sticking to your budget.
Speaking of budgets, if you don't already have EveryDollar, check it out! From your desktop or phone, your free EveryDollar budget goes where you go so you can—and will—show your money who's in charge. Coffee is. Just kidding. You are!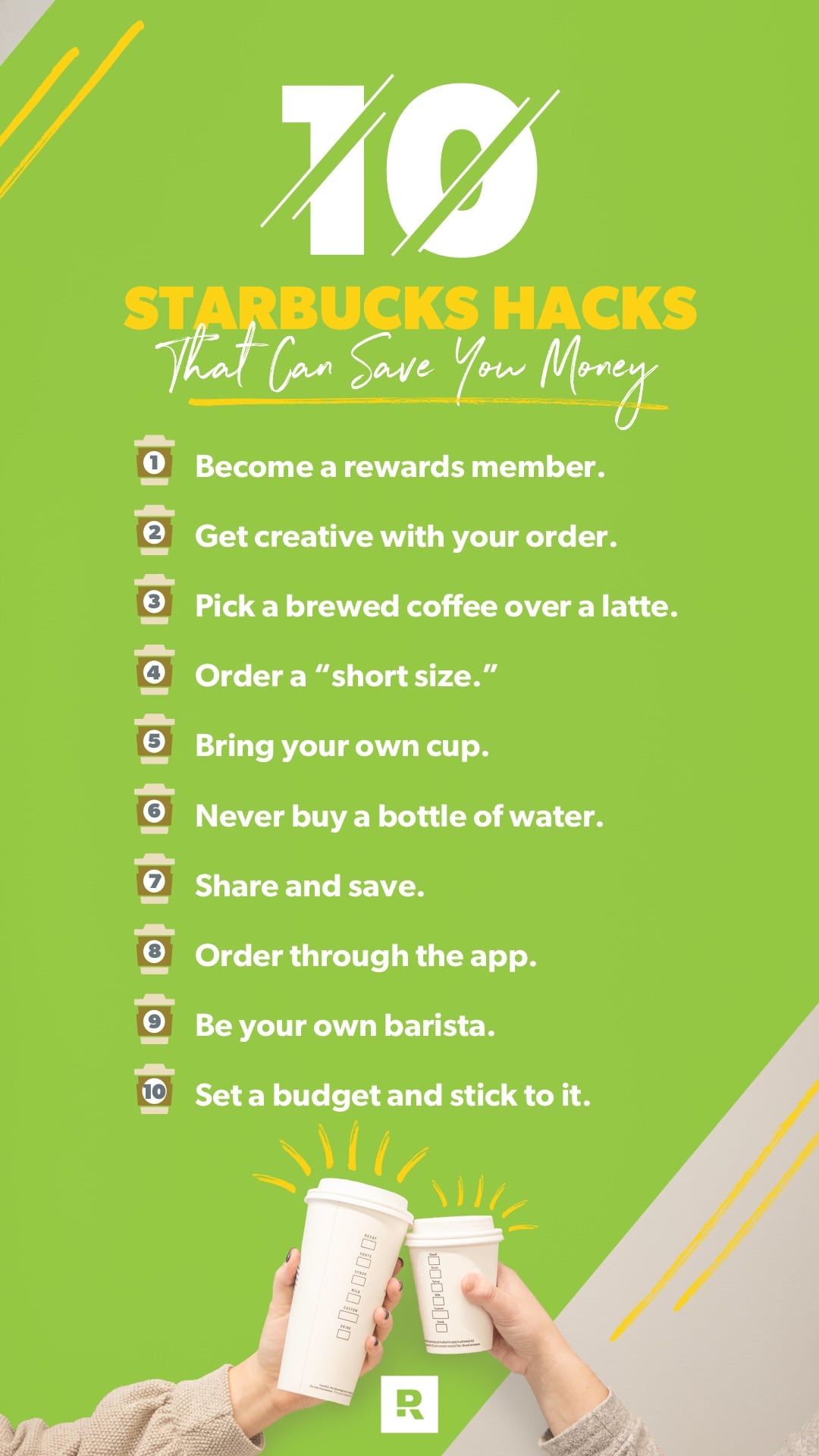 Start budgeting with EveryDollar today.
Did you find this article helpful? Share it!