Taking a vacation is a great way to unwind and relax. But getting prepped and ready for vacation can be a real pain in the neck! It's easy to forget something along the way or miss a step in the planning process. And the last thing you want to take with you on your trip is stress!
Check out these travel checklists so you can be prepared before you hit the road.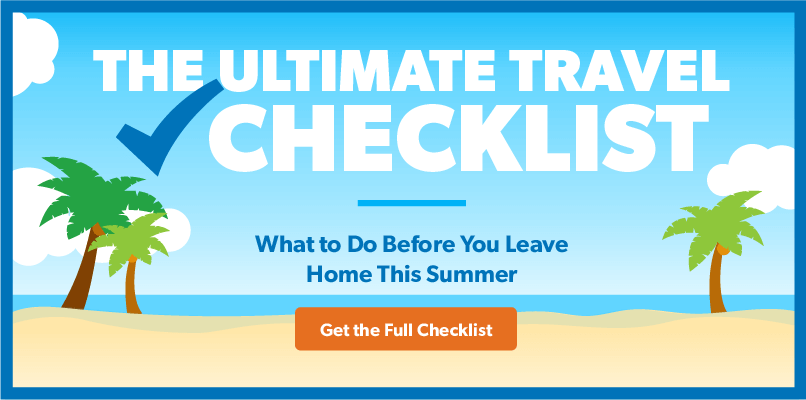 Travel Checklist #1: Getting Your House Ready
Here comes the "fun" part of walking through your home and doing the check. You know how it goes: it's when you double- and triple-check everything before you can walk out the door in peace. Cross these things off your travel checklist when preparing your home for vacation.
Cut the lawn. Or ask a friendly neighbor to do it while you're gone.
Take out the trash. Or roll it to the curb if you'll be gone during trash pickup.
Finish the laundry. Don't leave clothes in the washer or dryer. You don't want to come home to mildewed clothes!
Change your bedsheets. You can't beat the feeling of jumping into a freshly made bed, especially when it's your own.
Set your thermostat to a lower level. Or turn it off completely. This will help you save on energy costs while you're gone.
Get a timer for your outdoor lights. You don't have to go Home Alone-style to make it look like you're still there. A couple of well-timed lights will get the job done.
Leave a key with a neighbor (if you're comfortable with it). This way, they'll be able to keep an eye on the place for you and get in if there's an emergency.
Check your water main and consider turning off the water supply. This will help you avoid a leak or—even worse—a burst pipe.
Unplug your electronics. We're talking your computer, toaster and anything else you don't need to run on a consistent basis. Your electric bill will thank you.
Clean out the refrigerator. Because really, no one wants to come home to molded food.
Clean up the kitchen. To avoid coming home to stink, don't leave dirty dishes in the sink. And make sure to run the dishwasher before you leave!
Stock your shelves with nonperishables. That extra cereal and coffee will come in handy if you get back home and don't want to go to the store.
Check your windows and doors. Make sure everything is shut tight and locked up.
Travel Checklist #2: Setting Your Itinerary
Now that you've gotten the pesky tasks of preparing your home for vacation out of the way, it's time to make your trip itinerary.
Figure out what days you want to be gone. Decide how long you want to take off and get to planning! The earlier you decide, the better everyone can stay in the loop with your travel plans.
Decide where you want to stay. Are you thinking a beach trip or just a quick getaway? Start checking those prices and pick what budget-friendly vacation you want to go on.
Send out your itinerary to emergency contacts. Share details like what days you'll be in certain places, and don't forget to include your flight and hotel information too!
Make copies or take pictures of important documents. This could include things like your reservations, itinerary, confirmation numbers, and driver's license (just in case you lose the hard copies).
Travel Checklist #3: Getting Packed
Knowing you're about to go on vacation is a great feeling. That is, until the realization hits that you need to pack! Ugh. Since we don't live in the Jetsons' world (yet!), that bag isn't going to pack itself. Don't stress! Think through the things you use on a daily basis and the things that'll be needed on the trip—like your favorite pair of shades.
Clothing (don't forget to check the weather report!)
Phone and tablet chargers
Umbrella(s)
Raincoat(s)
First-aid kit
Toiletries
Prescription medication
Travel Checklist #4: When Traveling by Airplane
Did you know air travel was once considered glamorous? It's hard to imagine, isn't it? People used to get dressed to the nines and relax as they flew the friendly skies. But just because air travel is a bit more frazzled these days doesn't mean you can't be prepared.
Check your flight status online 24 hours prior to departure.
Check-in for your flight via their app.
Put toiletries and liquid items that are going through security in clear, zip-close bags. Remember, keep it under 3.4 ounces!
Are you leaving your car at the airport? Take a picture of where you parked so you can find it easily when you get back.
Gather email addresses or phone numbers in case you need to contact your airline.
Travel Checklist #5: When Traveling by Car
If your summer excursion has you taking a long trip in the car, here are a few things to think about before you hit the road.
Get an oil change.
Fill the car with gas.
Check your jumper cables and emergency kit.
Make sure you have up-to-date insurance. Connect with an Endorsed Local Provider in your area to get the best rates!
Pack snacks and drinks. Loading up on snacks before you leave home will help you avoid paying high prices at gas stations along the way.
Decide if you'll need extra pillows and blankets.
Grab some activities for the kids, like games, coloring books, tablets, and DVDs.
Gather some reading material or audiobooks. You can pass the time by learning more about how to jump-start your goals with our best-selling audiobooks.
And of course, make sure the car is stocked with all the music you could possibly need!
Travel Checklist #6: Staying Safe
Don't get so caught up in the excitement of your vacation that you forget to focus some attention on your security. Here are some important steps you can take to keep your home and money safe while you're traveling.
Put your mail on hold or have a family member or friend gather it for you. Letting mail linger in your mailbox for days puts you at greater risk of becoming a victim of identity theft.
Put your newspapers on hold or have them delivered to charity. One of the biggest giveaways that you're out of town is a pile of newspapers in your driveway. You might as well just tape a sign to your front door that says, "Hey, world! We're not home!"
Pay your bills. The last thing you want is to be greeted by late notices when you get back. Don't let late fees for missed payments sneak up on you.
Call your bank to let them know the dates of your vacation. They can monitor your accounts for irregular activity and unauthorized transactions.
Confirm that your health insurance is up-to-date.
Secure your life insurance and personal documents in a safe or fireproof lockbox. Don't have life insurance? Get a free life insurance quote from Zander Insurance!
Make sure you have an up-to-date will. This information should always be updated, but especially when you're about to travel.
Use one debit card to minimize risk. And pay with cash at gas stations to avoid card-skimming devices at the pump.
Update and password-protect your smartphone in case it gets lost or stolen.
Keep your receipts so you can match them up with your statements later to confirm your expenses.
Secure valuables when you're out of your room if you're staying in a hotel.
Now comes the final step on our travel checklist—and it's a big one: get out there and enjoy yourself!

Every savings goal starts with a budget. Create yours today with EveryDollar.
Don't go on vacation without peace of mind! With identity theft protection from Zander Insurance, you can focus on your vacation without having to worry about all the what-ifs.
Did you find this article helpful? Share it!