Buying or selling a house is probably the biggest financial transaction you'll ever make—after all, there are hundreds of thousands of dollars at stake. That's a lot of money! Because buying or selling a house is so expensive and complicated (hello, paperwork!), having a good real estate agent in your corner is a must.
Remember this: When you're buying or selling, you are the boss. And like any good boss, you'll want to interview at least three real estate agents before deciding who will represent you. But what if you don't know how to interview a real estate agent? Or what if you don't know what to ask an agent? And how do you know the right answers?
No need to worry! Here's a look at 10 questions you can ask potential agents—and the answer you're looking for.
10 Questions to Ask a Real Estate Agent
1. How long have you been a full-time real estate agent in my market?
This isn't the time to give a big break to your buddy's cousin who just got his real estate license or someone you barely know from a small group. A great agent usually has been working full time in your market for at least four years. So if the agent's response is, "Well, real estate is my side job. My day job is selling encyclopedias," then you can politely inform them you're going with someone else.
An agent with four years of experience has learned things you can only learn on the job as a full-time real estate professional. If you find someone who's been working in your market for 10 years or more, that's even better. You know you have someone with a track record of success.
Location is also important. If you're looking to buy a house in Nevada, it does you no good to have an agent who specializes in Wisconsin. That's just common sense, right?
2. How many homes do you close each year?
This is another important question to ask your real estate agent about their job. Not to pick on your buddy's cousin again, but it's key that your agent has a track record of actually closing homes sales. You want someone who closes more homes than 90% of the agents in your market—in most markets, that means at least 35 closings per year. Don't forget: Experience usually means an agent has learned lots of important lessons they couldn't get from a book.
3. Who will be my primary point of contact?
Communication is important, and bad communication is one of the most frustrating parts of dealing with a so-so agent. Who will you be able to contact and when? Home sales happen very quickly and taking three days to respond to a text message or email is unacceptable—especially if you've been led to expect a three-hour response window.
Many top-notch agents have a team that supports them, so make sure you'll have one dedicated person who will answer your questions whenever you have them—and make sure you get a guaranteed response time.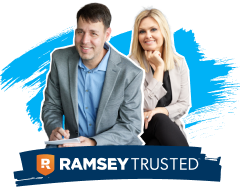 With the right agent, taking on the housing market can be easy.
Buy or sell your home with an agent the Ramsey team trusts.
Connect for Free
4. What qualities or certifications set you apart from other agents?
An awesome agent stays on top of changes in tax and zoning laws that may affect the area where you're trying to buy or sell. As part of an agent's continuing education, they may have a number of certifications. Here are some credentials they might have:
REALTOR®: This is a real estate professional who's a member of the National Association of Realtors.
CRS (Certified Residential Specialist): These guys are rock stars. Only top-performing agents get this distinction.
ABR® (Accredited Buyer Representative): These agents have completed specific training in representing buyers in a real estate transaction.
SRS (Accredited Seller Representative): These agents have completed specific training in (you guessed it) representing sellers in real estate transactions.
SRES® (Seniors Real Estate Specialist): These are agents who have completed training in helping buyers and/or sellers who are over the age of 50.
What if the agent you're talking to has some of these qualifications and they're one of our RamseyTrusted agents? Well, then you've got yourself a dadgum good real estate agent.
5. How will you help me sell and/or buy a home in a competitive market?
Are there very few houses for sale in your area? Are the ones that are on the market selling, like, immediately? Are sellers getting multiple offers? Are there tons of cash offers?

Find a trusted real estate agent we recommend in your area.
If the answer to any one of these questions is yes, then you're in a red-hot, competitive market. You need someone who really knows what they're doing. Again, this is not the time to call mild-mannered Aunt Sally who sells a few houses on the side each summer.
If you're looking to buy, you'll want someone who knows the community inside and out—and is an expert negotiator. If you're selling, you want to know how accurate their pricing is.
6. What's your commission fee?
This is more important for a seller because the buyer doesn't typically pay the agent's commission—it comes out of the final sale price. The standard commission for a real estate transaction is usually 6% of the final sale price (due at closing) and split between the seller's agent and the buyer's agent.
Commissions can vary depending on the situation, though, which is why you always need to discuss real estate costs openly with the agent on the front end so you know exactly what to expect.
Now, this doesn't mean you should run full speed ahead toward the cheapest agent. Your goal is to net the most money, not pay the least in fees. It's always better for you in the long run to partner with the best agent you can find—not necessarily the one with the lowest fees. Don't cut corners here!
7. Do I have to sign a contract, and can I cancel without a penalty?
It's typical for an agent to have you sign an exclusive listing or buyer's agreement that lasts for a specified period, but be leery of an agent who wants you to sign a lengthy contract you can't break but allows them to get out. Ask if you can cancel the contract without a penalty if you're not satisfied with their service. Some agents will charge a termination fee to cover out-of-pocket marketing expenses.
8. How will you communicate with me?
Does the agent prefer to talk on the phone? Are they more comfortable texting? What about email? Whichever you prefer, be sure you and your agent agree on a primary communication method so you'll know what to expect. Many agents use a smartphone app to schedule showings and provide important updates. If so, make sure they take the time to help you install the app and teach you how to use it.
9. What are your realistic expectations for house hunting in this market?
Dreaming big is great for people trying to discover their purpose in life. For real estate agents trying to make a deal, it's a no-go.
You don't want an agent who's got their head in the clouds and gives you pie-in-the-sky predictions for everything, because that's just not helpful. If your budget is $300,000 and you're looking in a town with a median price of $1 million, your agent shouldn't be telling you you'll find your dream home in no time. Being positive is one thing, but giving you unrealistic expectations that leave you disappointed in the end is no good.
So, ask your agent about their realistic expectations and make sure they're committed to telling it like it is.
10. Who can I contact for a reference?
Finally, if you want to know how good an agent really is, talk to their past clients. Listen to their personal experiences. Get the good, the bad and the ugly. If you're interviewing an agent and they refuse to provide a list of past clients, make like Ray Charles and hit the road, Jack!
Find an Agent With All the Right Answers
Want a rock-star real estate agent who gives you the right answers to all of these questions? Do you want someone with the heart of a teacher who will walk with you through the process of buying or selling a house?
Then you need one of our RamseyTrusted agents. They sell more houses than 90% of the agents in their markets. They're rooted in and invested in the communities they serve. You can't beat their customer service, and we make sure they're the best of the best—that's the only way to get our endorsement.
Best of all, it's free to get connected. Simply enter your contact info and we'll give you a list of the top agents in your area.
Connect with a RamseyTrusted agent today!
Frequently Asked Questions
Are Real Estate Agent Fees Included in Closing Costs?

Yes, real estate agent fees are included in home closing costs. The commission fees are typically 6% of the home price. This commission is split in half—3% for the seller's agent and 3% for the buyer's agent. It's common for the seller to pay for both agent commissions. In other words, working with an agent is usually free for the buyer—woo-hoo!

Can You Change Real Estate Agents?

Yes, in most cases, you can switch real estate agents. The only time this gets tricky is if you've signed an agreement to work with the agent for a period of time. If the time period hasn't ended yet and you changed real estate agents, that'd violate the agreement. But if you have a really good reason for ending the agreement early, talk it out with the agent. A good agent will likely let you break the contract in order to maintain a solid reputation in the community.

Can You Negotiate a Real Estate Agent Commission?

Yes, you're allowed to negotiate the real estate agent commission. Keep in mind, commission fees are usually 6% of the home price. So if you're going to try and knock them down in price, make sure you do your research and have a specific reason why. You'll want to ask any questions you have about the commission early in the process before you sign any legal documents agreeing to pay your agent a specific amount.
Did you find this article helpful? Share it!