Feeling overwhelmed about your mortgage options? No wonder! You've got plenty of choices when it comes to financing the purchase of your home, and it can be hard to know which one is best.
Dave's favorite way to pay for a home is with cash. It may sound crazy, but people like you do it every day! If that's not feasible for you, the next best thing is a smart home mortgage loan. It may be easy to dive headfirst into the mortgage option that will allow you to buy a home with next to nothing down. But a bad mortgage product can be a liability in your financial portfolio. A home should be a blessing to your family, not a financial nightmare!
That's why it's a good idea to know what's out there and why you need to avoid some of the more popular mortgage options.
If you need help with mortgages, we recommend talking with Churchill Mortgage. They can answer any mortgage questions you have.
Adjustable Rate Mortgage (ARM)
A low interest rate sounds pretty great, right? That's how ARMs hook home buyers. They offer a low initial rate, then, after a designated period, the rate fluctuates for the remainder of the life of the loan. This kind of loan actually transfers the risk of rising interest rates to you, the homeowner. Right now, interest rates are incredibly low, and they have been for some time. But once rates start to adjust, there's only one direction they can go: up!
Is that a risk you want? We don't think so! Do not finance your home with an ARM. It's one of the worst options out there!
Federal Housing Administration (FHA) Loan
FHA loans are another popular mortgage option, designed specifically for first-time home buyers. FHA loans make it easier for first-time buyers to make the leap to home ownership by requiring as little as 3.5% down. Plus, these loans are backed by the government, which means the government insures the bank so it won't lose its money if you don't make your payments. What's the downside? New regulations require you to keep private mortgage insurance (PMI) for the life of the loan. PMI can cost around $100 a month per $100,000 borrowed, and it doesn't go toward paying off your mortgage. That's a cost you can do without!
Department of Veterans Affairs (VA) Loan
VA loans are a great idea in theory! They were designed to make it easier for our country's military veterans to purchase homes, but the program falls short in practice. VA loans are backed by the Department of Veterans Affairs and allow veterans to purchase a home with practically no down payment.
When you buy a home with nothing down, a slight shift in the market could mean you owe more than the market value of your home. That's a recipe for disaster because it could leave you stuck in a home until the market recovers. VA loans also have lot of fees, and interest rates are usually higher than those for conventional loans.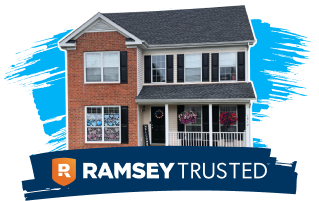 Get the right mortgage from a trusted lender.
Whether you're buying or refinancing, you can trust Churchill Mortgage to help you choose the best mortgage with a locked-in rate.
Connect With a Mortgage Expert
Buying the Right Way
We've already talked about the best way to buy a home—the 100% down plan! It may not be easy, but it's worth it. People just like you save for years to achieve this goal! If you're going to buy a home with a mortgage, you need to have the basics covered. Here's what we mean:
You're completely debt-free.
You have three to six months of expenses saved in an emergency fund.
You've saved a big down payment. We recommend at least 10%, but 20% is even better since it will allow you to avoid PMI payments.
Your home loan should be a conventional, fixed-rate mortgage with a 15-year (or less) term. Do not get a 30-year mortgage! A $175,000, 30-year mortgage with a 4% interest rate will cost you $68,000 more over the life of the loan than a 15-year mortgage will. That's a lot of money you could use to build up your retirement fund or save for your kids' college.

Dave Ramsey recommends one mortgage company. This one!
Your monthly payment should not exceed 25% of your take-home pay. Any more than that will tie up too much of your income and slow your progress through the remaining Baby Steps.
One of the best places to start your house hunt is our free mortgage calculator to get a better idea of what you can afford.
House Hunt With a Pro
Once you have your bases covered financially, it's time to start house hunting and go through the home buying process. Talk with a professional agent about your financial goals so they can help you find a home that fits your budget.
Dave's real estate Endorsed Local Providers (ELPs) understand how important it is to you to buy a home you can afford, so you can trust that your ELP won't pressure you to consider homes that would bust your budget.
Let us help you find a real estate agent today!
Did you find this article helpful? Share it!