What can I do to make my home sell faster and for as much money as possible? It's a question all home sellers ask. It can be difficult to know exactly what buyers are looking for. Will new hardwood floors make an elegant first impression? Or do buyers want plush new carpet instead?
If you want to make potential buyers swoon, you've got to invest in the right projects! A good real estate pro can point you toward updates that pay off in your area before you start busting out walls or digging up the backyard.
Here are the top home renovations that give you a good bang for your buck, according to the latest Remodeling Cost vs. Value report!
You Get One Shot at a Good First Impression
Do you believe in love at first sight? Most home buyers do! If they don't like what they see when they pull into your driveway, you'll be left cleaning up the tire tracks after they peel out to visit a prettier option.
Give buyers a reason to stick around! Spruce up your curb appeal with some of these updates:
Project
Average Job Cost
Average ROI
New Garage Doors
Nothing says your home has been well kept quite like pristine garage doors. Go with neutral colors and sleek designs that match your home's exterior.
$3,470
98.3%
New Manufactured Stone Veneer
If you have existing vinyl on your home's exterior, replacing it with manufactured stone veneer takes the elegance factor way up.
$8,221
91.5%
Steel Front Door
A fresh front door can make a great first impression on potential home buyers. Catch buyers' attention by painting it a bold, eye-catching color!
$1,471
91.3%
If you can't afford a major facelift, that's okay! There are still ways to boost your curb appeal without a big price tag. Take landscaping for instance. The right upkeep adds instant curb appeal and can offer you as much as double your investment when you sell your home, according to HGTV. Not too shabby!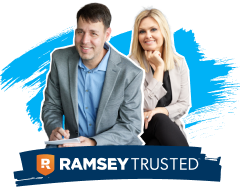 With the right agent, taking on the housing market can be easy.
Buy or sell your home with an agent the Ramsey team trusts.
Connect for Free
It's What's on the Inside that Counts
Of course, great curb appeal only goes so far. You might get buyers in the door, but the inside of your home is what makes the sale. According to Cost vs. Value, these three interior renovations are high-payoff crowd pleasers.
Project
Average Job Cost
Average ROI
Minor Kitchen Remodel
Want to get a good return on kitchen renovations? Here's the key: Don't overdo it. Instead of trying to turn your space into a high-end gourmet kitchen, stick to modernizing outdated features like cabinets, counters, appliances and paint colors.
$21,198
81.1%
Vinyl Window Replacement
New vinyl windows mean you can boast to your buyers about increased energy efficiency and low maintenance. Vinyl windows feature a low-gloss finish that looks attractive, won't chip or peel, and will never need painting!
$15,955
74.3%
Universal Design Bathroom
Installing a walk-in shower that's flush with the floor makes a bathroom feel more luxurious and creates instant wheelchair-accessibility. Other appealing updates include taller toilets, wider doorways, and support bars and seats.
$16,393
70.6%
Even if you only spend a couple hundred bucks instead of thousands, there are still ways to spruce up your home's interior. Simple strategies, like updating your décor, can make a big difference. Try out some of these ideas:
Brighten up the corners with new floor lamps.
Add a fresh rug in the living room.
Buy a few new throw pillows for the couch.
The key is to create a cozy environment so buyers feel at home as soon as they walk in the door!
Choose Your Updates Wisely
If you want to make smart renovations, national averages are a great place to start. But don't stop there. Remember, buyers in your neighborhood might value certain projects over others. What's true on a national scale may not be true on a local one.

Find expert agents to help you sell your home.
That's why it's important to talk with a real estate professional before investing in major home updates. The right agent can help you decide which renovations will pay off in the long run based on recent sales in your area. The last thing you want to do is outprice your neighborhood and lose money on all of your hard work.
Ready to make buyers fall head over heels for your home? Connect with a real estate pro who's an expert in your local market today!
Did you find this article helpful? Share it!