You've watched so many episodes of Fixer Upper you can practically guess what new home remodel miracle Chip and Joanna Gaines are about to pull off. And sure, their projects look hard, but you're up for the challenge. Now you're thinking of buying a fixer-upper yourself.
Whether you're a first-time home buyer, want to live in a better neighborhood, or just have a passion for restoring homes, buying a fixer-upper can be a great way to save money when you're house hunting.
But if you're not careful, a fixer-upper can quickly become a costly pain in the built-in bookshelves. That doesn't mean buying a fixer-upper is a bad idea—you just need to know what you're getting yourself into first. If you want to buy a fixer-upper that's a dream and not a nightmare, here are the top things you need to know.
Is It Worth Buying a Fixer-Upper?
Buying a fixer-upper comes with pros and cons: You get a lower price tag than move-in ready homes in the same neighborhood, but there's plenty of work to do (and money to spend) to make it feel like home.
For example, let's say you find a $150,000 fixer-upper in a $210,000 neighborhood. By using our mortgage payoff calculator, you can get a glimpse of how much more you save by buying a fixer-upper:
| | | |
| --- | --- | --- |
| Cost Type | Fixer-Upper Home | Move-In Ready Home |
| Home price | $150,000 | $210,000 |
| Down payment (20%) | $30,000 | $42,000 |
| Loan amount | $120,000 | $168,000 |
| Mortgage payment (15-year term) | $1,010 | $1,380 |
| Total interest (2.5% rate) | $24,000 | $33,600 |
Compared to the move-in ready house, the fixer-upper allows you to save $60,000 on the overall price of the home. Plus, with a less expensive home, you'll save $12,000 on the down payment compared to the move-in ready home and almost $10,000 in total interest. With less going toward mortgage payments every month, it'll be easier to cash flow renovations to fully restore your home.
With a discount like that, it's easy to see why some people get excited about fixer-uppers. Just keep in mind, there's a reason it's a fixer-upper. And buying a fixer-upper with bad bones or skimping on the renovation plan can easily skyrocket your overall costs, eating into the money you saved by skipping the move-in ready option. To buy one that's worth it, work with an expert real estate agent who can find you a really good fixer-upper. It also helps if you're handy with a hammer!
How to Find a Fixer-Upper
Before you go house hunting, figure out your must-haves (and your spouse's, if you're married)—including renovation projects you're willing (and unwilling) to tackle. After that, an experienced real estate agent can help you narrow down your best options.
Here are some of the most important things to consider in order to find the best fixer-upper:
Location. You can fix many things about a house, but there's nothing you can do about a lousy neighborhood or a 20-minute drive to the nearest grocery store. So don't compromise on those. Look for a house in an awesome community that fits your lifestyle and that future buyers will like too.
Appreciation. This is just a fancy term for home value growth. Look for a fixer-upper that'll grow in value over time. Research the history of home values and businesses in that area. Are home values rising? Is the number of businesses increasing? Those are good signs! A hip location that's in high demand is definitely going to help boost value.
Inspection. While a home inspection is important to do before buying any home, you definitely want to pay attention to the results on a fixer-upper. An inspection can confirm issues you already plan to fix, but it can also reveal layout or foundation issues that prove the house to be too big of a project for your budget.
Buying a fixer-upper in cash is the best way to go. But if you're getting a mortgage, never buy a home with a monthly house payment that's more than a fourth of your take-home pay—otherwise you'll be house poor! You especially want to keep yourself well within that recommended range if you know you're going to be spending additional money fixing up the home.

See how much house you can afford with our free mortgage calculator!
That 25% limit includes principal, interest, property taxes, homeowner's insurance and, depending on your situation, private mortgage insurance (PMI) and homeowners association (HOA) fees. Use our mortgage calculator to enter your down payment amount and try out different home prices within your budget.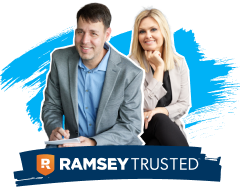 With the right agent, taking on the housing market can be easy.
Buy or sell your home with an agent the Ramsey team trusts.
Connect for Free
How to Handle Renovations
While you might picture yourself laughing wildly in cute coveralls while swinging a sledgehammer or slinging paint, renovating a fixer-upper doesn't always look like what you see on TV. In real life, you'll get ready for work with sawdust on your clothes and paint in your hair. But it could be worth every minute if you enjoy it and love the house.
Here are some tips for planning your fixer-upper renovations:
Make a budget. To prevent costs from spiraling out of control, you need a home renovation budget. Lay out the projects you want done and price them before you buy. Get bids and time estimates for each individual project, then rank them according to priority and start a detailed budget for the project you want done first.
Decide whether to DIY or hire a contractor. Once you know what you want fixed, you can either tackle home projects yourself or—if a project is beyond what you're willing to handle—hire a contractor. Be real about what you can do yourself or what may need a professional's touch. If you go the DIY route and then decide halfway through to bring in a pro, your costs can easily explode outside of your budget—so stick to a plan!
Don't outbuild the neighborhood. Be careful not to go switching everything out for marble or adding too many custom features. If you go all out and upgrade the house to be the most expensive one in the neighborhood, it'll be hard to get your money back when it's time to sell the house.
Cash flow project by project. If you don't have the money to get everything done all at once, it's okay—but move at the speed of cash. Hold off on starting a project until you have the cash to get it finished. That way, you won't be burdened by debt—and you'll thank yourself when the unexpected costs of homeownership come your way.
How Much Does It Cost to Fix a Fixer-Upper?
In a nutshell, these days the average home renovation or remodel costs about $47,000.1 Your renovations could set you back $15–60 per square foot, with some projects costing up to $250 per square foot.2 In other words, after buying a 2,000 square-foot fixer-upper, you could spend another $28,000–115,000 fixing it up.3
Experts recommend adding an additional 20% into your renovation budget for those unplanned setbacks or last-minute changes that cost a little extra—aka what we call Murphy (you know, Murphy's Law) coming for a visit. And when it comes to fixing a fixer-upper, you can almost bet the whole Murphy family will want to take up residence! So you definitely want to have a firm budget in mind about how much you're willing to spend before buying a fixer-upper.
You probably won't be surprised to learn that kitchen and bathroom overhauls are the most popular—and most expensive—home repairs. They'll gobble up your budget faster than you can pick out that new garbage disposal. As a rule of thumb, don't go crazy spending half the price of your home to renovate a room or two—that probably won't add a balanced value to the house.
Is Buying a Fixer-Upper for a First Home a Good Idea?
The short answer is: probably not. Buying a fixer-upper can definitely save you money on your down payment and total interest paid. And sure, a fixer-upper sounds fun and challenging. But for a first-time homeowner, buying a fixer-upper has the very real potential of turning into a nightmare in the flip of a brand-new light switch.
Buying a move-in ready home—and moving itself—is already very stressful. And first-time home buyers don't have the experience yet of what homeownership actually looks like in real life. It's not all backyard barbecues and man caves—it's a backed-up toilet, an overflowing water heater, an HVAC system that refuses to play nice at each season's change. And that's in a move-in ready home!
With a fixer-upper, you could be looking at large and expensive projects like ripping out cabinets, tearing down walls, installing new pipes—all things that someone with even a little homeownership under their belt will be better able to handle. Finding a contractor, getting permits, and knowing about how much things should cost make for pretty unfamiliar territory for someone who's had a landlord take care of everything up until now.
Unless you're familiar with renovations, you may want to save yourself the headache on this first go-round and aim for a move-in ready home. If you're looking for a home-repair challenge, even move-in ready homes will come with projects you can get your hands on. (New deck, anyone?)
What Kinds of Loans Are Available for Buying a Fixer-Upper?
First, as you're shopping for a fixer-upper, you need to know your down payment amount. There are plenty of mortgage options that let you get a house with little or no down payment (more on that bad idea later). But the smartest down payment is 20% or more. Your goal should be to save a down payment of at least 10% or more (although 20% is better because you can avoid paying private mortgage insurance). Anything less than 10% will drown you in extra interest and fees and keep you in debt for decades!
If putting 10–20% down isn't doable right now, hold off on purchasing a home until you can get control of your finances—fixer-upper or not. You'll thank yourself later!
Buying a Fixer-Upper With a Mortgage
If you're already debt-free and have a solid 3- to 6-month emergency fund, you're in good shape to get a home mortgage you can pay off fast. In that case, talk to our friends at Churchill Mortgage about getting a 15-year fixed-rate conventional loan—the overall least expensive mortgage and the only type we recommend.
Beware of Rip-Off Renovation Mortgages
You can find renovation loans out there that allow you to buy a fixer-upper and pay for improvements at the same time. These loans usually let you buy the home with little or no down payment—but don't forget, doing that loads you up with huge amounts of interest and extra fees. You're much better off taking your time on repairs by saving up to pay for them in cash than sinking yourself into a bad mortgage.
To safeguard yourself, here are some rip-off mortgages with renovation options to avoid:
FHA 203(k). The Federal Housing Administration's FHA loan has a 203(k) option that allows you to borrow anywhere from $5,000 to hundreds of thousands of dollars on top of your home purchase loan for renovations.4 The draw here is that you can buy your fixer-upper and get money for improvements with a down payment as little as 3.5%. But in exchange, you'll be charged PMI for the life of the loan, extra fees for processing architectural documents and a higher appraisal—on top of all the extra interest you'll pay and decades you'll spend in debt for not saving up a 10–20% down payment.
HomeStyle Renovation mortgage. A HomeStyle Renovation mortgage is pretty much Fannie Mae's answer to the FHA 203(k)—but allows for an even lower down payment of 3%!5 Again, a down payment that low will crush your financial goals by racking up your interest payments and keeping you in debt for way too long. It's not worth it.
CHOICERenovation loan. Of course, Freddie Mac couldn't let FHA and Fannie Mae hog all the fun, so they came up with another copycat loan to lump home financing and improvements into one mortgage. Again, same problem here: The CHOICERenovation product allows you to get a house with as little as a 3–5% down payment.6 Don't overlook how much extra in interest that will cost you in the end.
VA renovation loan. The U.S. Department of Veterans Affairs' VA loan also comes with a renovation option that helps veterans get into a fixer-upper and pay for certain types of improvements—with no money down at all! (And you know what they say about things that sound too good to be true.) But when you purchase and renovate a home with zero money down and things change in the housing market, you could end up owing more than the market value of your home—yikes! Also, VA loans come with a funding fee that's 1.4–3.6% of your total loan amount.7 No thanks.
Home equity loan or home equity line of credit (HELOC). You might hear about this option after you purchase a home and have some equity in it (equity is how much the home is worth minus how much debt you owe on it). Basically, what you'd be doing here is borrowing against your house to free up some money for renovations. Don't do it! This backtracks all the progress you made in building home equity. Imagine how painful it will be to pay back all that you already invested in the house—plus interest!
Bottom line: If you can't afford to make at least a 10–20% down payment on your fixer-upper, you're not in an ideal place to handle all the costs that come with homeownership—especially renovations. Don't let renovation mortgages lure you down a financial hole. Remember, the only mortgage that will save you the most money is a 15-year fixed-rate conventional loan.
Ready to Find Your Fixer-Upper?
Buying a fixer-upper is no small task. It takes time to find a home that's priced right (even for a fixer-upper) and that's in the right condition so you can give it a facelift and stay on budget. So, you need someone you can trust to help you. An expert real estate agent who knows the area will be able to help you pick the fixer-upper that's right for you.
For a quick and easy way to find one of the best agents in your area, try our Endorsed Local Providers (ELP) program. Your ELP agent will help you spot great deals with tons of potential.
Did you find this article helpful? Share it!